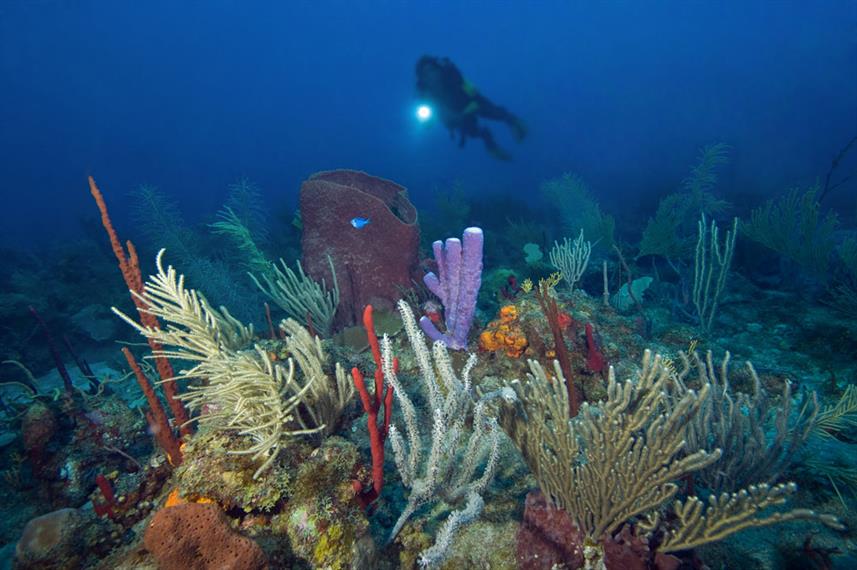 This is the fifty-first in a series of reviews of the best scuba diving destinations around the world.  In this post, the focus is on the Turks and Caicos.
In addition to this series on dive resort locations, the best worldwide liveaboard dive locations and services are reviewed in their own series.  To check them out, or others in this series, click on Liveaboards/Resorts on the menu at the top and choose a title from the list.
Have you ever been diving in Turks and Caicos?  If so, I'd love to know about your experience.  What dive shop or liveaboard did you use?  Which dive spots are the best and what are the conditions there regarding the visibility, current, water temperature, sealife attractions, etc.?  Please post your response in the comments section at the bottom and we'll all learn something we can use.
Scuba Diving in Turks & Caicos
Background – The Turks and Caicos Islands are a British Overseas Territory consisting of 8 main islands and over 299 smaller ones that are part of the Lucayan Archipelago along with the Bahamas.  Located southeast of the Bahamas, northeast of Cuba and Hispaniola (the Dominican Republic and Haiti), and 1,042 kilometers (647 miles) east southeast from Miami, Turks and Caicos has a total landmass of 616.3 square kilometers (238 square miles) and a population of 32,000.  23,000 of them live in Providenciales on the Caicos Islands.  Cockburn Town on Grand Turk Island is the capital.
Originally depopulated of the indigenous people in 1523 when they were removed to work elsewhere, repopulation came in the 17th century primarily for salt collection done by African slaves brought from Bermuda at that time.  Today 87% of the population has African ancestry and the people speak English and Turks and Caicos Creole, which is similar to the Creole dialect on the nearby Bahamas.  Salt collection along with sponge and hemp exports have been replaced by financial services and tourism as the main drivers of the economy which imports most of its food and until fairly recently still received international aid.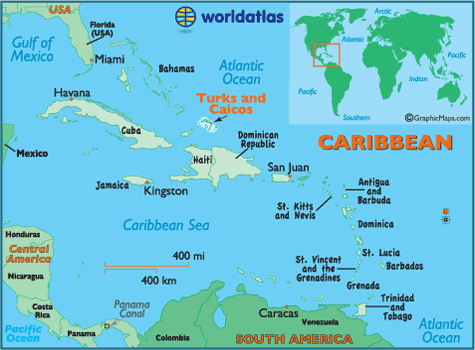 Undersea World – The National Park Ordinance protects most of the coastline of the Turks and Caicos Islands helping assure a pristine reef environment. The crystal clear water is a photographer's delight with impressive seascapes decorated with huge sponges, gorgonians and other colorful encrusting life, macro critters and fish.
The 2,150-meter (7,000-foot) deep Columbus Channel (otherwise known as the Turks and Caicos Channel) separating the Turks Islands from the Caicos Islands is a great place to watch migrating rays, dolphins, humpback whales, and turtles from January to March.  The reefs on the eastern side near Salt Cay and Grand Turk have great diversity and density of sea life, yet the underwater terrain of the Caicos Islands with sheer walls tends to be more impressive.
Other notable wildlife includes a variety of soft and hard corals, barrel sponges, southern stingrays, yellow snappers, queen, grey and French angelfish, groupers, black durgons, trumpetfish, blue tangs, blue chromis, queen triggerfish, goatfish, cowfish, butterflyfish, rock beauties, lobsters, octopus, squid, nurse sharks, squadrons of eagle rays, cruising Caribbean reef sharks and schools of big-eye trevallies and barracuda.  There are many dozens of sites to choose from including several intriguing wrecks.
For reviews of diving in eastern Florida and other Caribbean locations, please check out these posts:
Seasons and Conditions – It is warm all year in Turks and Caicos with highs of 27°C (81°F) in January and 31°C (88°F) from July through September.
Water temperatures range from averages of 24°C (75°F) from December through March and 32°C (90°F) in August.  During the coolest times, a 3 mm wetsuit will suffice for most divers.
The hurricane and rainier season are from June through December with the wettest months from September through December.
The islands are famous for great visibility which is typically from 18-30 meters (60-100 feet).
Currents are mild at most sites most of the time, though on occasion can be stronger.
Diving in Turks and Caicos is suitable for all levels.  There are at least 14 dive shops that are equipped with a full range of coursework, equipment rental, guiding and boat cruises to the offshore wrecks.  Most are located on the three main tourist destinations of Providenciales, Grand Turk, and Salt Cay.
Two great liveaboards cruise Turks and Caicos which makes going to sites all around the islands much more convenient while providing full accommodation and food.  Here is my review and links to the Turks and Caicos liveaboards: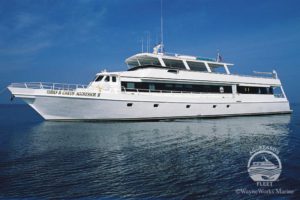 Turks & Caicos Aggressor II – Check the Price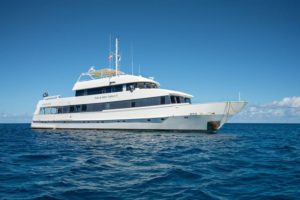 Turks & Caicos Explorer II – Check the Price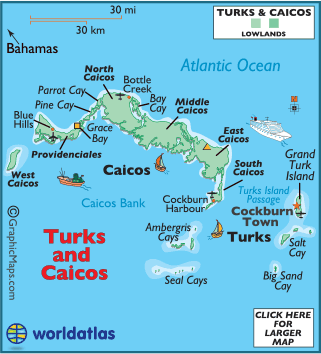 A Sampling of Turks and Caicos Dive Sites
Grace Bay:  30 meters (100 feet) maximum depth, on the north of Provo (Providenciales), many sites, small walls starting at 9 meters (30 feet), deep canyons with rich coral, snapper, barracuda, Caribbean reef sharks, grunts, manta rays, turtles, all levels
Northwest Point (of Provo): from 11 meters (38 feet), descends to 900 meters (3,000 feet), walls with cracks and crevices, many sites, rich hard and soft corals, sponges, gorgonians, black coral, macro life including crabs and lobster, goatfish, angelfish, horse-eye jacks, barracudas, Caribbean reef sharks, eagle rays, all levels
West Caicos: island southwest of Provo, uninhabited, wall dives rich with sponges including barrel sponges and elephant ear sponges, staghorn corals, rich marine life with groupers, grunts, snappers, blue tangs and pelagics, all levels
French Cay: 27 meters (90 feet) average depth, small cay south of Provo, vertical wall descending 2,000 meters (6,500 feet), known for spectacular sea life including moray eels, Caribbean reef and hammerhead sharks, manta rays and humpback whales, all levels
Grand Turk: 25 site moorings in the Columbus National Marine Park, shallow reefs and walls, garden eels in the south, the famous McDonald's coral arch dive site, rich coral reef with huge sponges, Nassau groupers, yellowtails, triggerfish, razorfish, batfish, flying gurnards, nurse sharks and hawksbill turtles, all levels
Salt Cay: located in the Columbus Passage, humpback whale migrations from their Dominican breeding area during January to March, walls with pristine encrusting life, the site also of the HMS Endymion shipwreck from 1790, all levels
Turks and Caicos Photos
With the interesting wrecks, colorful corals and encrusting life, gorgonians, macro critters, schools of fish, rays, sharks, whales, turtles, and fascinating scenes on land, as well, there are many excellent photo opportunities.  For information and reviews of dive cameras, click here:
Several US airlines make daily flights to Providenciales International Airport.  Domestic flights go to a total of seven airports, one on each populated island.  Ferry service also travels between the islands.  There is no public transport, but there is a taxi service (no taxi stands) and airport shuttles.  Car, jeep, scooter and bicycle rental is possible.
At least 14 dive shops are operating on Turks and Caicos that provide a full range of services including equipment rental, dive courses, guiding and boat dive cruises.  Hotel and resort pricing starts at $140 and range on up to $3,700 per night.  Several hotels and resorts have in house dive operations.  The website linked below is a good source for the available options and can arrange the booking.  Their rates are the lowest and it is free to cancel or change dates.
Things to Do on Turks and Caicos (aside from scuba diving)
With such long beautiful sandy beaches, water activities are the backbone of recreation on Turks and Caicos.  Kayaking, paddleboarding, jet-skiing, kite surfing, sailing, boat tours and rental, whale watching, and snorkeling are the obvious attractions.  Onshore exploration can happen by taxi, truck, Vespa or on foot to maybe do a little bird watching, hoping to see frigate birds, whistling ducks or peregrine falcons.  Take a tour of Iguana Island on Little Water Cay, Conch Bar Caves and The Hole at Long Bay Hills (a sinkhole), do some horseback riding or visit the National Museum, Cheshire Hall or Turk's Head Brewery.  You can go to a fish fry, listen to some ripsaw music, buy a locally crafted straw hat or basket or enjoy the shopping, restaurant and night scene in Providenciales.  Check out the video below for a look at life on Turks and Caicos and a few additional leisure options.
A cushion for emergencies provides peace of mind when on vacation.  I recommend this diving insurance as they have worldwide coverage and provide scuba divers a quality insurance and medical assistance service.
Feedback and Comments
I hope you found this post on Turks and Caicos scuba diving interesting and useful. If you have any questions or ideas, please feel free to share them in the comments section.  I'd love to know of any experience you have diving there.  If there is no comments section directly below, click here:  >>comments<<