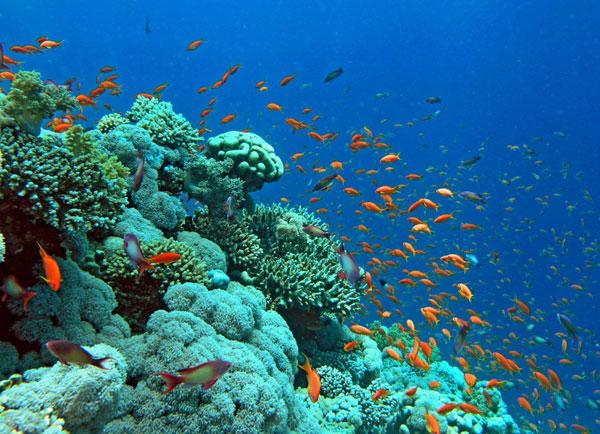 Updated June 10, 2021
This is the one hundred and thirteenth in a series of reviews of the best dive resort locations around the world.  In this post, the focus is on Aqaba, Jordan. In addition to this series on dive resort locations, the best worldwide liveaboard diving locations and services are reviewed in their own series.  To check them out, or others in this series, click on Liveaboards/Resorts on the menu at the top and choose a title from the list.
Have you been diving in Aqaba before?  If so, I'd love to know about your experience.  What dive shop or liveaboard did you use?  Which dive spots are the best and what are the conditions there regarding the visibility, current, water temperature, sealife attractions, etc.?  Please post your response in the comments section at the bottom and we'll all learn something we can use.
Scuba Diving Aqaba Jordan
Background
The only coastal city in the Kingdom of Jordan, Aqaba, has a coastline of 26 kilometers (16 miles) and a population of 150,000.  Historically from ancient times a part of Eilat, it is now bordered by Eilat, Israel to the west, and Saudi Arabia to the southeast.
With scuba diving, the seaside scene, and proximity to the magnificent Wadi Rum landscapes and modern wonder of the world Petra, Aqaba is a major part of Jordanian tourism.
It is also within the Aqaba Special Economic Zone, the center of international trade for the country.
Undersea World
The 25-kilometer (16-mile) coastline on the Gulf of Aqaba has a fringing reef that benefits from enriched up-welling waters from the deep.
Most of the sites can be reached from a shore entry without a long swim to the marine-rich areas.  However, dive shops sponsoring deep or technical dives have boats available for safety and convenience.
In all, there are around 25 dive sites, most in the protected Aqaba Marine Park.
The spectacular marine life that has made the Red Sea famous such as a large volume of manta rays, big sharks, and cetaceans is not what you will find diving off of Aqaba, but there is a very rich and improving coral reef of soft and hard corals, sponges, gorgonians, a variety of reef tropicals and macro critters, and a few of the more spectacular attractions like barracuda, stingrays, eagle rays, and sea turtles that are common, with the occasional dolphin, and whale sharks during plankton blooms.
Reef tropicals and macro critters include scorpionfish, stonefish, lionfish, frogfish, crocodile fish, nudibranchs, crustaceans, octopus, moray eels, sea snakes, parrotfish, butterflyfish, angelfish, pufferfish, triggerfish, fusiliers, and surgeonfish, among many others.
There are several intriguing wrecks to explore, as well.
Most of the dive sites are in the south beach area where the bulk of dive shops are located.  If your dive center is situated right in town, the maximum ride to the dive site is only 15 minutes.
Seasons and Conditions
Diving is possible all year in Aqaba. There are two high seasons for tourism, one in April-June and the other in September-October.  It's all relative, though, as it is never so busy as to be a bother or inconvenience for diving.
Air temperature varies significantly throughout the year with daily average highs of 40°C (104°F) in July and August which fall to 21°C (70°F) in January.
Water temperature follows the air temperature with highs in summer of 29°C (84°F) and lows in winter of 19°C (66°F).  A 7mm wetsuit or a drysuit with a hood and gloves will suit many divers when the water is at its coolest.
This a desert area that is dry all year but bone dry from June through September.
Currents are generally mild but can become a little stronger at times on some sites.
Visibility is usually excellent in the 40-meter (130-foot) range.  During the plankton bloom in March and April or when the wind kicks up, it may decrease to the 15-21 meter (50-70 foot) range.
There are sites suitable for all levels of diver. The 20 or more dive shops, many in the south beach area, and some in hotels offer a full range of diving coursework, equipment rental, guiding, and boat cruises.  However, a lot of the diving is done from shore without a boat being needed.
Liveaboard Diving
There is no liveaboard yacht directly cruising the Aqaba area.  However, there are many doing dive safaris in the Red Sea.  Here is my review of them and some links to vessels: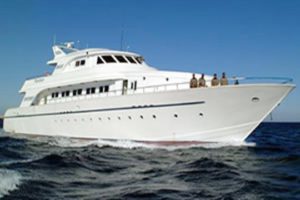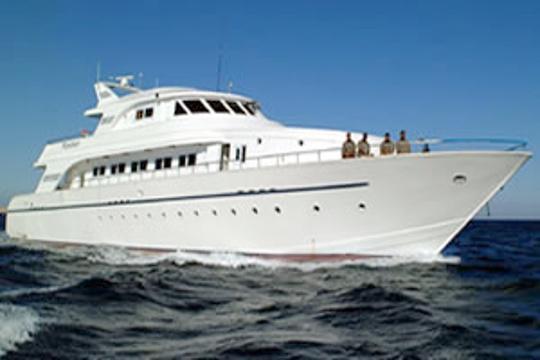 MY Excellence, Red Sea Liveaboard Diving – Check the Price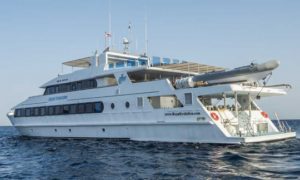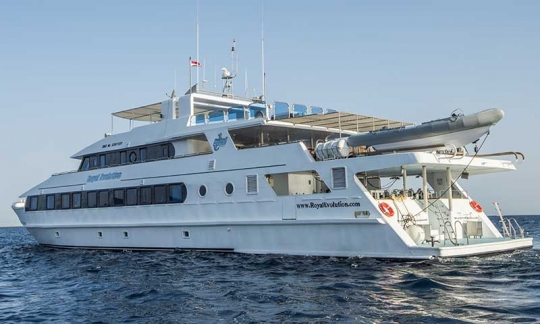 MS Royal Evolution, Red Sea Liveaboard Diving – Check the Price

MY Emperor Elite, Red Sea Liveaboard Diving – Check the Price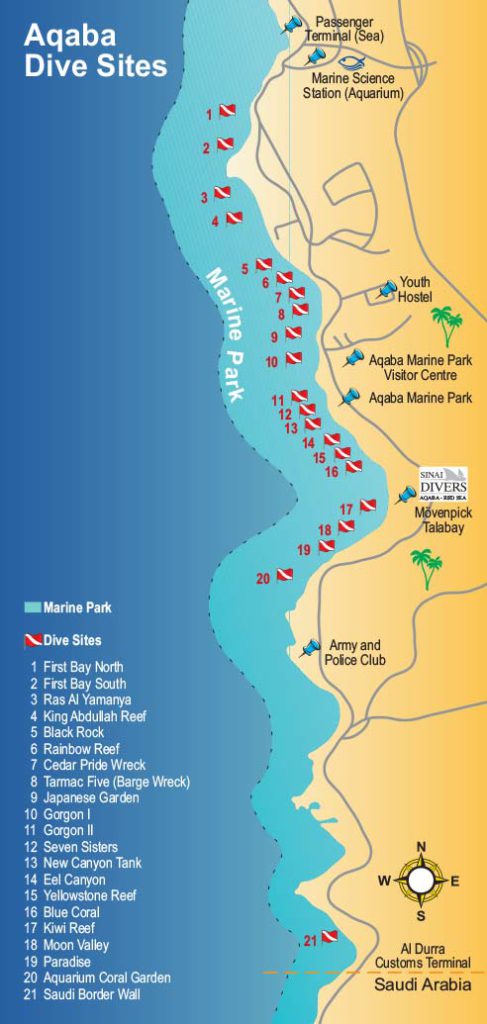 Selected Aqaba Dive Sites
4) King Abdullah Reef: 24-40 meters (80-130 feet), boat or shore access, named for the deceased King who was a big promoter of scuba diving, from shore there is a long swim, dense corals and sponge growth, big schools of pennant fish, bluespotted stingrays and hawksbill turtles are attractions, suitable for experienced divers at this depth
6) Rainbow Reef: 6-18 meters (20-60 feet), sandy swim down the slope to the reef starting at 6 meters (20 feet), attractive macro critters including Spanish dancers, crinoids, lobster, moray eels, and lionfish, great for night dives, suitable for all levels of diver  
7) Cedar Pride Wreck: 10-27 meters (35-90 feet), shore or boat access, 74-meter (243-foot) Lebanese cargo ship that suffered fire damage in 1982 and was scuttled in 1985 to become an artificial reef, resting 200 meters (656 feet) from shore on her port side across two reef patches, the starboard side can be reached at 10 meters (35 feet), largely intact and richly encrusted with hard and soft corals, the crow's nest stands out with its rich corals and fish, macro life includes urchins, Spanish dancers, shrimps, and crabs, lots of schooling fish, and the occasional barracuda, suitable for all levels of diver depending on depth and penetration
9) Japanese Gardens: 30 meters (100 feet) maximum depth, shore entry, gully with an eelgrass bed at 5 meters (16 feet), on descent are snowflake moray eels, schools of reef tropicals like damselfish, anthias, and sergeant majors, lettuce, table, and black coral, and gorgonians as you descend further, cornetfish, Napoleon wrasses, angelfish, grouper, hawksbill turtles, and eagle rays are all possibilities, suitable for all levels of diver
10) Gorgone I: 18 meters (60 feet) maximum depth, shore or boat access, a sloping reef with 3 coral pinnacles and a huge gorgonian at 16 meters (53 feet), dense corals including a large cabbage coral, shrimps, moray eels, Arabian angelfish, and butterflyfish, suitable for all levels of diver
12) The Seven Sisters: 18 meters (60 feet) maximum depth, shore access, pinnacles, fire corals, rich marine life with blennies, damselfish, butterflyfish, and barracuda, suitable for all levels of diver
15) Yellowstone Reef: 15-50 meters (50-164 feet), shore or boat entry, named for the US national park for one large yellow pinnacle visible from the surface, one section is a flat colorful reef with macro life including nudibranchs and red sponges, another option is to go left (south) from the oil-drum markers to 18 meters (60 feet) to a reef that begins there, suitable for experienced and technical level divers
16) Blue Coral: 10-25 meters (35-82 feet) or deeper, boat or shore entry, named for the abundance of blue-colored Acropora coral there, a number of pinnacles and 3 coral shelves, sandy bottom with a seagrass bed, suitable for all levels of diver
19) Paradise: 18-24 meters (60-80 feet), boat access, several small coral pinnacles, seagrass beds at 18 meters (60 feet), with turtles and stingrays, down the slope the corals get richer,  short wall at 25 meters (82 feet) and a small cave below that, moderate current possible, suitable for experienced level divers
C-130 Hercules Plane Wreck: 12-17 meters (40-56 feet), boat or shore entry, large aircraft scuttled to become an artificial reef in 2017 in the marine park, interesting penetration possible, resting close to the famous shallow water military tank, suitable for all levels of diver
Things to Do in Aqaba (aside from scuba diving)
Aqaba is not a lively tourist town like its nearby neighbor, Eilat, Israel.  The restaurants and cafes are a good place to participate in the local culture and enjoy the great Jordanian style of food.  Being a port city, seafood is an attraction.  Some notable eateries to check out include the Arab Moon Restaurant, Syrian Palace Restaurant, The Royal Yacht Club, Casalingo, Red Sea Grill, and Alerzal Restaurant.  For a massage or body cleansing experience, check out Zara Spa or Hannam.  For a list of more classically tourist sites, you can consider these: Aqaba Castle, Ayla, 4th Century Roman Church, Aqaba Flagpole, Sheik Zayad Mosque, Marine Science Center Aquarium, Mount Umal Nasaylah, Mamluk Castle, Palm Beach, Petra, Wadi Rum, Aqaba Archaeological Museum, Sherif al-Hussein bin Ali Mosque, Berenice Beach Club, Aqaba Bird Observatory.
This video gives you a quick glimpse of some of what Aqaba has to offer.
Aqaba Transportation, Hotels, and Diving Services
Transportation
Air – King Hussein International Airport 9.6 kilometers (5.6 miles) north of Aqaba handles two flights daily between Amman and Aqaba on Royal Jordanian Airlines.  Less frequent and sometimes seasonal flights from London, Berlin, Cologne, Athens, Sofia, and Istanbul have direct flight service.  The nearby Ramon International Airport in Eilat has many flights from a variety of locations that may be more convenient.  For details of making an entrance to Aqaba from Eilat, please check this:  Aqaba – Wikitravel.
Ferries – Regular service linking Aqaba to Nuweiba, Taba, and Sharm el-sheik, Egypt is available.
Bus – Frequent buses from Amman take the highway to the terminal in Aqaba near the mosque.  It takes around 4 hours to cover the distance.  There are many destinations along the highway, as well.  Pricing is reasonable.  Within Aqaba, a minibus system links residential areas to downtown.
Taxis – From Eilat a sort of Taxi Mafia controls service.  For tips on how to handle it, go here:  Aqaba – Wikitravel.  Taxi service around Aqaba is readily available.  Be careful when negotiating the price.  If a hotel books for you, the price may double to accommodate the hotel's kickback.  In talking to the driver, make sure it is clear that you are talking about a price for the trip and not by the person.
For more complete details on tourist information, please go here:  Aqaba – Wikitravel
Hotels and Diving
Lodging options in Aqaba start at $13 and run to around $250 per night.  There are more than 20 dive shops in operation, many in the south beach area, and some located in or associated with hotels.  On offer is a full range of services that include equipment rental, diving certification classes, dive guides, and boat tours.
The website linked below has the details and can arrange a booking for the lodging.  You can easily find the location on the map provided on this site.  Their rates are guaranteed to be the lowest and it is free to cancel or change dates.
Photography in Aqaba
With the pristine coral reefs, a variety of fish, macro critters, stingrays, and scenic shoreside targets, as well, there are many excellent photo opportunities.  For information and reviews of dive cameras, click here:
Scuba Diving Trip Insurance
A cushion for emergencies provides peace of mind when on vacation.  I recommend this diving insurance as they have worldwide coverage and give scuba divers quality insurance and medical assistance service.
Feedback and Comments
I hope you found this post on Aqaba scuba diving interesting and useful. If you have any questions or ideas, please feel free to share them in the comments section.  I'd love to know of any experience you have.  If there is no comments section directly below, click here:  >>comments<<