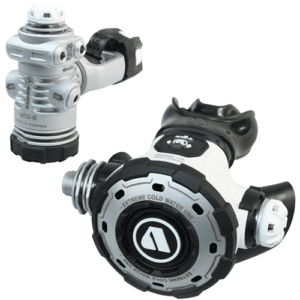 Updated June 14, 2021
When diving in cold water you need to make adaptations so that not only your body can resist it effectively by wearing exposure protection, but also your other equipment needs adaptation appropriate for the challenge, especially your regulator.  Regulators are susceptible to freezing and freeflow in cold water and can be produced to avoid these dangerous situations with special designs and more robust materials.
Below is a buying guide with factors and special features to consider when choosing a regulator for cold water diving.
After that is the list of the best cold-water regulators followed by individual reviews and a comparison table.
If you have any questions or concerns, please use the comments section at the bottom.  I'd love to know your thoughts.
For other scuba regulator reviews, please check out these popular posts:
Best Regulators     Budget Regulators
Things to Consider in Choosing the Best Cold Water Regulator
Cold versus Warm Water
How warm is the water where you plan to dive?  This will determine whether a sealed or unsealed regulator first stage is the suitable choice.
Unsealed Regulators – An unsealed regulator is one that is open such that water can flow into the first stage.  This is acceptable for warm water diving.  The unsealed models also tend to be less expensive than sealed models.
Sealed Regulators – When the water temperature is much lower than 24°C (75°F), you need a sealed regulator.  This is because freezing water inside the first stage can block airflow.  An environmental seal also has the benefit of keeping sediments, salt, or other contaminants out as well.
Diaphragm or Piston
There are two basic structural designs for first stage regulators, diaphragm or piston.  For basic recreational diving, both are okay.  With fewer moving parts, piston first stages are considered more reliable by many divers.  Deep divers tend to prefer them.  Both designs, however, are well tested and there are top-rated high-performance regulators of both designs.
Balanced or Unbalanced
Regardless of your depth or how much air is left in the tank, a balanced regulator will have consistent airflow.  With an unbalanced regulator, it will become harder to breathe the deeper you go and as the air supply is depleted.  This is most noticeable on deep dives.  Many of the unbalanced models are very easy to maintain and reliable, as well as cheaper, so dive shops often use them as rental gear when deep diving is not planned.
DIN or Yoke
DIN Valve – The DIN system which is common in Europe and with Europeans involves screwing the regulator first stage directly into the tank valve for a reliable, strong seal that is also more streamlined.  Technical and cold water divers prefer the security of the connection afforded.
Yoke Valve – The yoke system is prevalent in North America and where Americans dive.  This is the method where the regulator is mounted over and around the tank valve using a yoke or A-clamp to make the connection with an O-Ring completing the seal.
If you do decide to go with a DIN system, you can get a DIN to yoke adapter that will allow you to use a DIN regulator on a yoke valve.
Number of Ports
In recreational diving, the standard regulator setup has a primary second stage, a backup octopus, a BC inflator hose, and a high-pressure gauge.  Accommodating this set up most regulator first stages come with 1 or 2 high-pressure (HP) ports and 4 low-pressure (LP) ports.  2 HP ports are handy if you are using an air-integrated dive computer with a transmitter that will need an HP port to attach to.  Generally, the more ports you have, the more options available for comfortably setting up, which is especially important for technical diving.
Diver Adjustable
There are several features that some of the higher-end regulators employ to help you customize your breathing or avoid free flows.  For cold water use, you will be using gloves so it is important to select adjustment mechanisms that are easy to grip on and manipulate.
An Inhalation Adjustment Knob allows you to increase or decrease breathing resistance by turning a knob on the second stage.
A Venturi Switch adjusts a Venturi inside the second stage that can enhance ease of breathing underwater and help prevent free flows on the surface.
A Pre-Dive Switch on the second stage can be used on the surface prior to descent that precludes free flow.
Best Cold Water Regulators
With the MK 25 Evo A700, you can easily breathe irrespective of the position and depth that you have reached.
This is a lightweight, top-quality, reliable regulator. It has 5 low-pressure ports on a swivel and opposing high-pressure ports, allowing you to mount the regulator up or down.
Tech divers can easily configure it for sidemount or doubles.
Attractive chrome-plated brass body
Durable metal second stage
Extended Thermal Isolation System (XTIS) increases cold water performance by 30%
Adjustable Venturi and inhalation airflow with easy-grip knobs for use with gloves
Weight:  2.4 lbs
Ports:  5 LP, 2 HP
The M1 has a quality lightweight design based on the platform of the famous T2 and B2 regulators from Atomic Aquatics.
It is durable, easy breathing, and set up especially for extra cold water use.
Factory prepared for 50% Nitrox and oxygen mixes to 80%, it's ready to go for most technical diving applications.
Chrome-plated brass first stage body with durable Monel used for key internal components
Factory sealed balanced piston first stage for freeze protection and to keep out silt and sand
The second stage has a thermal heat sink and improved super-dry exhaust valve for cold water diving
Automatic Flow Control (AFC) Venturi system which is also manually adjustable
High-flow second stage for ease of breathing with rapid adjustment knob
Limited lifetime warranty
Only needs servicing every 300 dives/3years
Weight: 2.3 pounds
Ports:  5 LP, 2 HP
The Legend LX Supreme is lightweight and suitable for all-around use including cold water.
The over-balanced diaphragm design makes for ease of breathing at depth and is environmentally sealed.
Other features are a single knob for Venturi and airflow adjustment and an auto-closure dust cap for the forgetful diver.
It's also factory prepared for Nitrox.
Smaller and lighter than earlier models
Environmentally sealed first stage keeps contaminants out and for freeze protection
Over balanced diaphragm first stage compensates for increased density of breathing gas at depth
Venturi switch and breathing flow adjustment knob are combined
ACD auto-closure device automatically closes the first stage dust cap preventing flooding
Light-weight braided hoses are included
Limited lifetime warranty
Weight: 2.4 lbs
Ports: 4 LP, 2 HP
The MTX-R is extremely rugged based on a military design and especially effective in extremely cold icy environments to depths below 60 meters.
Maintenance at the dive site is easy requiring no special tools.
Over-balanced diaphragm design for ease of breathing at depth
Overmoulded first stage endcap for ice build-up and impact damage prevention
Environmentally dry seal eliminates maintenance with silicone, oil, or grease fillers, keeps out contaminants, and prevents icing
Lightweight braided hoses are included
Weight: 2.6 lbs
Ports: 5 LP, 2 HP
The Hollis DC7 500SE has a side exhaust design that is great for photography sending the bubbles outside the frame of the camera.
This lightweight, sturdy, and reliable regulator has an overbalanced first stage that provides greater intermediate pressure to the second stage for ease of breathing and is environmentally sealed for cold water environments.
Mounting from the left or right, it is suitable for different configurations including doubles and sidemount.
Great for photography with a side exhaust system
Environmentally sealed to avoid freeze-up and entry of contaminants
Orthodontic mouthpiece for comfort and less fatigue
Can be configured for sidemount or doubles
Includes lightweight braided hoses
Weight:  2.4 lbs
Ports:  4 LP, 2 HP
Slightly heavier than many models, the Mares Abyss 22 is extra sturdy and collision-resistant with its metal construction second stage.
The VAD ease of breathing feature and environmental seal make it great for cold water diving.
It doesn't require frequent service and is lower priced than most cold-water regulators.
Brass and nickel first stage is environmentally sealed to keep out contaminants out and protect against freeze-up
Metal body second stage is extra durable
Mesh-grid second stage grill design optimizes water-flow around the second stage diaphragm to minimize the chance of free-flow
Second stage VAD Vortex Assisted Design for ease of breathing at all depths
Only needs servicing every 200 dives/2 years
Reasonably priced
Weight: 3.11 lbs
Ports: 4 LP/2 HP
The Cressi Ellipse Titanium MC9 is a high-performance, versatile regulator at a moderate price.
Small and lightweight with titanium and plastic components, it is environmentally sealed for good performance in cold water.
The balanced second stage has an elliptical shape that permits a larger diaphragm which along with a high-performance downstream valve design results in less breathing effort.
Environmentally sealed
Adjustable venturi and inhalation
Jacketed hose
Ultralightweight
Reasonably priced
Weight:  2 lbs
Ports:  4 LP, 2 HP
Knobs for airflow and Venturi control are easy to grip for use with gloves.
The balanced diaphragm design and improved exhaust valve make for easy breathing no matter the depth and less exhalation effort.
Fully environmentally sealed first stage for freeze prevention and fouling by contaminants
Pre-dive airflow switch, easy to grip for use with gloves
Adjustable Venturi
Turreted first stage for more versatility
Easy-grip mouthpiece
Lightweight
Weight:  2.6 lbs
Ports:  5 LP, 2 HP
The MK17 is the balanced diaphragm counterpart to Scubapro's top-of-the-line MK25 balanced piston model.
Paired with the Evo A700, it's a highly crafted system that will perform well in all settings from dirty to very cold water.
Like the MK25 system, it is a work of art.
Environmentally sealed for freeze and contaminants prevention
Durable metal second stage
First stage heat exchanger to help prevent freeze-up
Adjustable Venturi and inhalation airflow with easy-grip knobs for use with gloves
Balanced diaphragm design for easy breathing at any depth
Weight:  2.4 lbs
Ports:  4 LP, 2 HP
The Blizzard Pro has a tried and true 30-year-old design known for ease of breathing at depth at very low temperatures.
This regulator's environmentally dry sealed first stage is effective against very cold water as is the self-warming second stage.
Even with gloves on, the oversized pre-dive switch on the second stage is easy to manipulate.
Pricing is reasonably low, there is a limited warranty, and it is set up for Nitrox to 40% out of the box.
Pre-dive switch to limit free flows at the surface
Heat vanes in the second stage to keep the second stage warm and more comfortable in the mouth
Environmentally dry sealed (no grease, silicon, gels, etc.) to protect against freeze-up and contaminants
Free parts for life warranty
Reasonably priced
Weight:  3 lbs
Ports:  4 LP, 2 HP
Comparison Table – Best Cold Water Regulators
Picture
Picture
Regulator
Scubapro MK25 Evo A700
Atomic Aquatics M1
Aqua Lung Legend LX Supreme
Apeks MTX-R
Hollis DC7 500SE
Mares Abyss 22X
Cressi Ellipse Titanium MC9
Zeagle F8
Scubapro MK17 Evo A700
Sherwood Blizzard Pro
Regulator
1st Stage Type
Balanced Piston
Balanced Piston
Over-Balanced Diaphram
Over-Balanced
Diaphram
Over-Balanced
Diaphram
Balanced Diaphragm
Balanced Diaphram
Balanced Diaphram
Balanced Diaphram
Balanced Piston
1st Stage Type
2nd Stage Type
Balanced
Balanced
Balanced
Balanced
Balanced
Balanced
Balanced
Balanced
Balanced
Balanced
2nd Stage Type
Ports
2HP/5LP
2HP/5LP
2HP/4LP
2HP/5LP
2HP/4LP
2HP/4LP
2HP/4LP
2HP/5LP
2HP/4LP
2HP/4LP
Ports
Adjustable Inhalation
Yes
Yes
Yes
No
No
No
Yes
Yes
Yes
No
Adjustable Inhalation
Adjustable Venturi
Yes
Automatic
Yes
No
No
No
Yes
Yes
Yes
Yes
Adjustable Venturi
Price
$$$
$$
$$$
$$$
$$
$
$
$$
$$$
$
Price
Rating
5
4.9
4.8
5
4.8
4.6
4.6
4.8
5
4.8
Rating
For other scuba regulator reviews, please check out these popular posts:
Best Regulators     Budget Regulators
Feedback and Comments
I hope you have found this review of the best cold water scuba regulators to be useful.  If you have any questions or comments or your own personal review, please feel free to share in the comments below.  If there is no comments section directly below, click here:  >>comments<<