We may earn money or products from the companies mentioned in this post.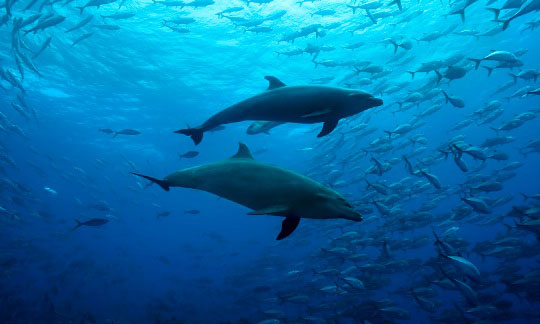 This is the forty-second in a series of reviews of the best scuba diving destinations around the world.  In this post, the focus is on Costa Rica.
In addition to this series on dive resort locations, the best worldwide liveaboard dive locations and services are reviewed in their own series.  To check them out, or others in this series, click on Liveaboards / Resorts on the menu at the top and choose a title from the list.
Have you ever been diving in Costa Rica?  If so, I'd love to know about your experience.  What dive shop or liveaboard did you use?  Which dive spots are the best and what are the conditions there regarding the visibility, current, water temperature, sealife attractions, etc.?  Please post your response in the comments section at the bottom and we'll all learn something we can use.
Scuba Diving Costa Rica
Background – Bordered on the north by Nicaragua, the south by Panama, the east by the Caribbean and the west by the Pacific is the Presidential Constitutional Republic of Costa Rica.  The population of around 5 million is renowned for having a universally high educational level with most speaking English in addition to Spanish, the national language.  Having a relatively small area of 51,000 square kilometers (19,700 square miles) there is extreme biodiversity with the greatest density of species of any region in the world.  There are numerous rivers, forests, tall mountains, and 14 volcanoes, some of which have been active in the last 75 years, not to mention occasional earthquakes.
When the Spaniards started arriving in the 16th century the population of indigenous people was very sparse.  Today Amerindians make up less than 3%.  About 84% are people of European or mixed European and Amerindian heritage.  About 1% can claim Afro-Caribbean heritage.  Since declaring independence from the Mexican Empire in 1847, Costa Rica, unlike the other countries in the region, has had a stable, prosperous and progressive society.  After their civil war was settled in 1949 they became a democracy and have been so ever since. Coffee was a very important part of the economy for much of their history, but today the drivers are finance, corporate services, pharmaceuticals, and eco-tourism.  There is also a Free Trade Zone which encourages foreign investment through tax incentives.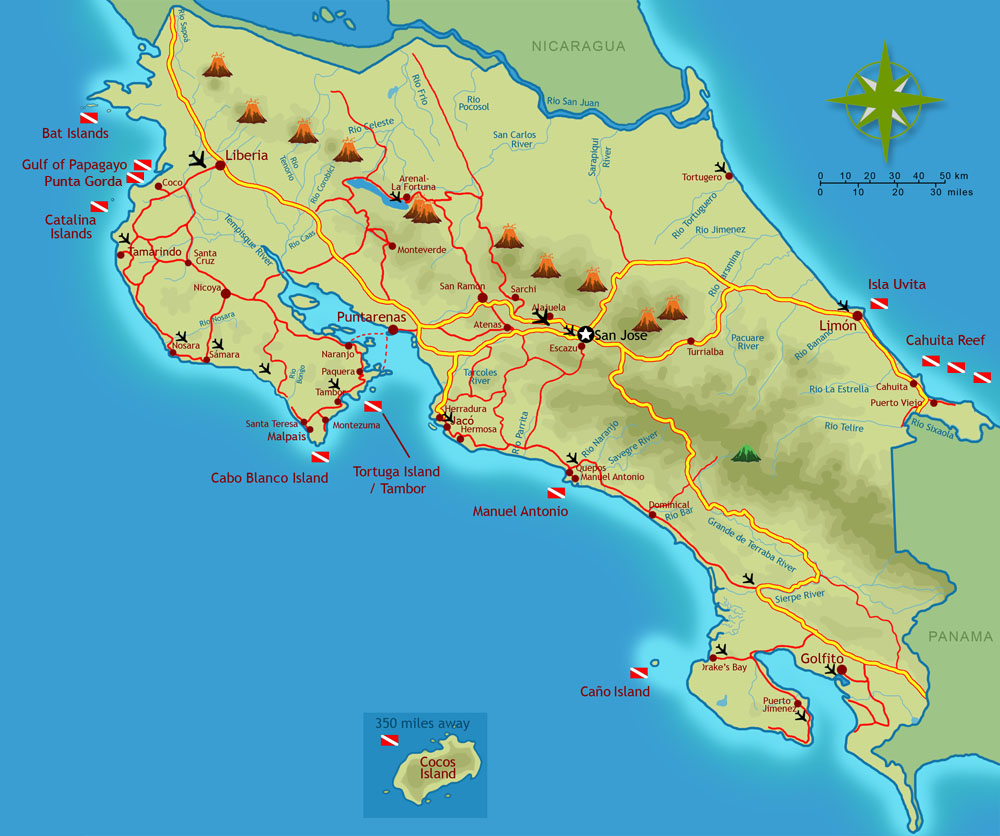 Undersea World – Costa Rica is one of the few places where you only need to travel a short distance to have access to the Pacific and Caribbean.  For diving purposes the country can be divided into 5 areas:
Guanacaste (North Pacific Coast)
Central Pacific Coast
Drake Bay (South Pacific Coast)
Cocos Island
Caribbean
Guanacaste (North Pacific Coast)
Bat Island: off the coast of Santa Rosa National Park, a marine preserve, highlights include bull sharks up to 6 at a time and hammerhead sharks
Gulf of Papagayo: more than 20 sites, 10 to 20 minutes from shore, many pinnacles, schools of eagle and cow-nosed rays, whitetip reef sharks, horse-eye jacks, grunts, snappers, pufferfish
Catalina Islands: 20 small islands, stingrays, giant manta, devil, mobula and bat rays, turtles and morays
Central Pacific Coast
Tortuga Islands: usually reached on day trips, several shipwrecks, lots of inhabitants like parrotfish, moray eels, angelfish, scorpionfish, stingrays
Herradura: dives within 10 minutes offshore, a highlight is giant mantas coming to this cleaning station
Manuel Antonio: caves and caverns, rocky volcanic terrain, angelfish, eels, lobsters, octopus, puffers, seahorses, sharks, turtles
Drake Bay (South Pacific Coast)
Osa Peninsula and Caño Island Biological Reserve: protected area, great biodiversity, healthy coral reef, archways, rocky outcrops, swim-throughs, excellent visibility, big schools of grunts, snapper, barracuda, angelfish, sergeant majors, whitetip reef sharks and rays, dolphins, pilot and humpback whales, nearby pinnacle (Devil's Rock) attracts giant mantas and mobula rays
Cocos Island
Cocos Island: liveaboard takes 36 hours to get there, world-class, sometimes called "Little Galapagos", tremendous biodiversity and 27 endemic fish species, volcanic pinnacles, ocean currents and upwelling brings lots of nutrients and pelagics, including tiger, bull, hammerhead and whale sharks, manta rays, resident whitetip reef sharks, strong current, for advanced level divers
Caribbean
Caribbean: less developed as a diving destination, shallow coral reef running to Panama, soft corals, schools of small fish, dolphins, turtles, more volatile weather conditions than on the Pacific side
To check out Costa Rica liveaboard diving opportunities, please click here:
For my review on Cocos Island Liveaboards, please click here:
Seasons and Conditions – It is warm year-round with the coolest time in February and March with average highs then of 25ºC (77ºF).
Water temperature is variable getting as low as 21°C (70°F) at depth from December through March and ranging from 24-29ºC (75-84ºF) the rest of the year.  For most divers, 3 mm of neoprene will be enough protection.  Perhaps some will want 5 mm at the coolest temperatures which is the best period for whales and manta rays.
The rainy season is a long one running from June to November.  It is warmer at that time and the rain does not interfere too much with diving.
Visibility can go from 6-30 meters (20-100 feet), based on the season.  During the plankton blooms in the winter months, the water is less clear.
Currents can be strong around Cocos and some of the other islands on occasion.  Inexperienced divers should not try diving at Cocos Island.  Most of the other sites close to shore that are not too deep and don't require significant penetration are suitable for all levels.
Costa Rica Photos
With the interesting underwater terrain, macro life, wrecks, huge rays, sharks, schools of colorful reef fish and big pelagics, dolphins, and whales, and beautiful forests, landscapes and historical onshore targets, there are many excellent photo opportunities.  For information and reviews of dive cameras, click here:
Costa Rica Hotels, Resorts, Transportation and Dive Shops
There are 4 international airports, 18 "major" domestic airports and 47 airports total with paved runways.  Doesn't that seem like a lot for such a small country?  The road and transport system is extensive, though in some disrepair, with many options including public buses, ferries, vans, shuttles, rental cars, motorbikes and scooters, taxis, uber and horseback.
There are many full-service dive shops close to all the major sites (save Cocos).  Some hotels will have them, as well.  The full range of services is available including equipment rental, dive courses, guiding and cruises year-round.
There are hundreds of resorts, hotels, guest houses and condos available in Costa Rica from $1(today) to $800 per night.  The website linked below is a good source for the available options and can arrange a booking.  Their rates are the lowest and it is free to cancel or change dates.
Costa Rica Things to Do (aside from scuba diving)
Costa Rica is well known as a premier eco-tour destination and vacation paradise with a stable government.  The seaside is a great attraction, but the rain forests, mountains, volcanos, rivers, lakes, and extreme biodiversity is probably even more famous.  On top of that is the rich cultural history on display.  Here is a list of activities and sites:  national parks, wildlife refuges, forests, jungles, mangroves, rare animals, birding, waterfalls, hot springs, volcanoes, rafting, canyoning, kayaking, surfing, paddle boarding, fishing, birding, hiking, golf, yoga, mountain biking, horseback riding, spelunking, city life, shopping, historic buildings and sites, coffee tours, restaurants, food, music and nightlife, tours of all kinds, museums, galleries. It's a very rich cultural and natural scene with countless activities.  Please check out the video below for a glimpse.
A cushion for emergencies provides peace of mind when on vacation.  I recommend this diving insurance as they have worldwide coverage and provide scuba divers a quality insurance and medical assistance service.
Feedback and Comments
I hope you found this post on Costa Rica scuba diving interesting and useful. If you have any questions or ideas, please feel free to share them in the comments section.  I'd love to know of any experience you have diving there.  If there is no comments section directly below, click here: