We may earn money or products from the companies mentioned in this post.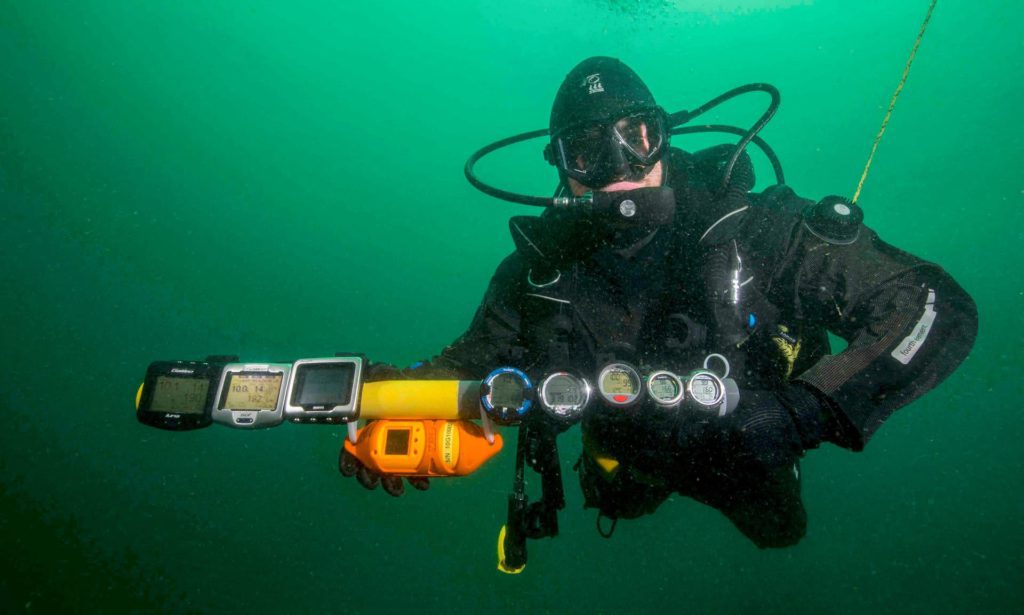 Diving is an exciting and fascinating activity, where a relatively unresearched and unknown portion of the planet is explored. But when in the underwater world it is easy to become disoriented in terms of direction, depth, and execution of the dive plan. A dive computer can make things simpler and provides a useful aid in the prevention of decompression illness. It is much easier to use than dive tables and instantaneously and continuously does all the calculations without guesswork and keeps you safe without complications.
Dive Computer Buying Guide
Shopping for a dive computer, though, can be tedious, confusing and complicated. The development of dive computers has advanced rapidly recently to a very high level that adds greatly to diver enjoyment. Since introduction in the 1960s, they have decreased substantially in size while simultaneously increasing in functionality. Few divers today are without one relying on them to provide accurate depth reading, dive time and ascent rates.
Features to Consider
There are numerous dive computers available on the market today. It is important to consider which features are most important for the diving that you will do. Here are 6 key factors to keep in mind when shopping for your next computer.
1. Your Level Of Experience
What is your skill level? Technical and professional divers have different technological requirements than a beginner. Novices have no use for some higher-level features. If they won't be used, there is no need to pay for them, so the top of the line dive computers may not be for them. But, on the other hand, it is good to think ahead and plan for the level of diving you will advance to in the foreseeable future. More experienced divers will want to choose a model that meets their skill level and has the features that they require, such as air integration, for example.
2. Your Budget
You will need to think about how much can you afford to spend. This will help reduce the number of dive computers to be considered. A dive computer is such a great safety device, it is recommended to have some flexibility in your budgeting as this is not an item to skimp on. Also, it is important to select the model you want based on your skill level in order to maximize the efficiency-of-use of your dive computer. If your budget isn't a concern, then you can consider the full range of devices available.
3. Nitrox Compatibility

You may not be diving with nitrox now, but being able to use it in conjunction with your computer, later on, would be good to plan for.  I suggest choosing a nitrox integrated dive computer. It would allow you the option to dive with or without nitrox, giving you the freedom to choose.
4. Data Transfer Option
Keeping a digital record of your dives is useful and popular.  A data transfer option would give you the capability to safely upload the log of your dives to a personal computer where you can track them in terms of dive time, depth, air consumption rate, ascent rate and percentage of oxygen.
5. Digital Compass
A digital compass is more ergonomic than having a dedicated analog setup and will allow you to see which direction you are going without having to carry an additional device.
6. Replaceable Batteries
A replaceable battery system is strongly recommended.  If for some reason you run out of power, planning ahead you could bring a replacement to make sure you can complete the dives you planned.
7. Air Integration
This allows you to monitor air consumption on your dive computer.  There are two styles, wrist and hose mounted.  A hose mounted computer attaches to your high-pressure hose and directly measures gas levels in the tank.  These generally will be a little heavier and bigger than wrist-mounted models.  Wrist mounted models access wirelessly using a screw-on transmitter to your first stage.  Keep in mind that this style is not as flawless as your SPG, so it would be wise to continue the use of that.
Best Dive Computers of 2019
Oceanic Geo 2.0 Air/Nitrox Dive Computer Wrist Watch


Considerations:
Best for: Recreational & Advanced
Gases: Air, Nitrox
User Changeable Battery: Yes, CR2430
Features: 4 modes including watch and freediving modes, audible alarm with flashing led light, two algorithms
Pros: Great watch style computer for scuba and free diving with easy navigation through menus, affordable
Cons: Light color display can be difficult to read in low vis, can only store 24 dives
Overall Rating:  4.2/5
Suunto D6i Novo Dive Computer


Considerations:
Best for: Recreational and Advanced
Gases: Air, Nitrox to 99% Oxygen/3 Gases
User Changeable Battery: No
Features: Steel casing, tilt-compensated 3D digital compass, free dive mode, anti-reflective coated glass face, hoseless air integration option
Pros: Can be worn as a watch out of the water thus keeping your dive info with you, strong and durable steel case, wireless air integration option
Cons: Dive algorithms are conservative, the strap is not metal like the computer housing, expensive
Overall Rating:   4.6/5
Considerations: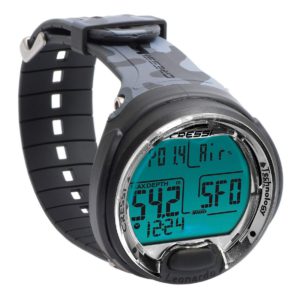 Best for: Recreational
Gases: Air, Nitrox
User Changeable Battery: Yes, CR2430
Features: Oxygen toxicity indicator, user-adjustable conservatism levels, easy to program single button navigation with large digits
Pros: High-definition screen, has a battery save mode, ability to reset, low price
Cons: Large with a super long wristband
Overall Rating:  4.2/5

Shearwater Research Perdix AI Dive Computer with Transmitter
Considerations:
Best for: Advanced, Technical & Rebreather
Gases: Air, Nitrox, Trimix
User Changeable Battery: Yes, standard replaceable AA battery, the transmitter uses a 3V CR2 lithium
Features: 5 open-circuit gas switch presets, full-color screen, 850 ft operating depth, Bluetooth connectivity with iOS devices, capable of displaying tank pressure in all modes, 2.2-inch display with a vivid, enhanced color range and saturation, simple to navigate, state-aware menu structure, hoseless air integration
Pros: Mountable on either wrist, features for use with a rebreather, full information provided for decompression diving
Cons:  Expensive
Overall Rating:  5/5
Suunto Zoop Novo Dive Computer

Best for: Recreational and Back-up
Gases: Air, Nitrox
User Changeable Battery: No
Features: Easy four-button navigation, gauge mode, altitude, and personal conservatism adjustments, integrated apnea timer
Pros: Can be used on wrist or in modular console, large easy to read display, great performance considering the low price
Cons: PC integration is a separate purchase, the large size is uncomfortable outside of the water, small buttons harder to use with gloves
Overall Rating:  4.5/5
Mares Puck Pro Wrist Dive Computer


Considerations:
Best for: Recreational and Back-up
Gases: Air, Nitrox
User Changeable Battery: Yes, user-replaceable CR 2450
Features: Stopwatch, fresh and saltwater settings, altitude adjustment, calendar, bright LCD display,
Pros: Out of water "auto-off" saves battery life, large and easy to read face, affordable
Cons: Single button interface, no depth alarm
Overall Rating:  4.3/5
Considerations:
Best for: Recreational
Gases: Air, Nitrox
User Changeable Battery: Yes
Features: Backlight, switch between scuba and free diving on the same day, gauge mode when using it for a timer, audible alarms and additional high-visibility LED warning light for additional safety
Pros: Simple, user-friendly, very affordable
Cons:  Very large
Overall Rating:  4.2/5
Suunto Cobra 3 Scuba Diving Computer 
Considerations:
Best for: Recreational
Gases: Air, Nitrox
User Changeable Battery: Yes
Features: Hose mounted air integration, matrix display, electronic 3D compass tilts to 45 degrees and is still readable, 4 button operation
Pros: Quick disconnect, reliable
Cons:  Accessing different menus a bit difficult
Overall Rating:  4.8/5
For other reviews regarding dive computers and compasses, please check these three:
I hope you have found this review of dive computers to be useful.  If you have any questions, ideas or personal experience, please feel free to share them in the comments.  If there is no comments section directly below, click here:  >>comments<<