We may earn money or products from the companies mentioned in this post.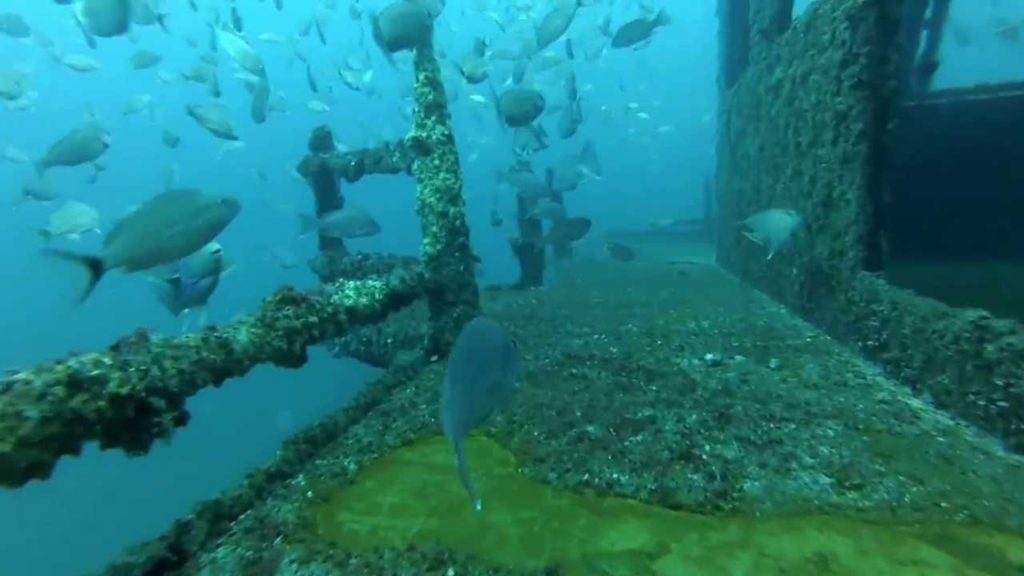 This is the twenty-ninth in a series of reviews of the best dive resort locations around the world.  In this post, the focus is Pensacola, Florida.
In addition to this series on dive resort locations, the best worldwide liveaboard dive locations and services are reviewed in their own series.  To check them out, or others in this series, click on Liveaboards / Resorts on the menu at the top and choose a title from the list.
Have you ever been diving in Pensacola before?  If so, I'd love to know about your experience.  What dive shop or liveaboard did you use?  Which dive spots are the best and what are the conditions there regarding the visibility, current, water temperature, sealife attractions, etc.?  Please post your response in the comments section at the bottom and we'll all learn something we can use.
Scuba Diving Pensacola
Background – Pensacola Bay is nestled in the westernmost portion of the Florida panhandle off the Gulf of Mexico.  The city of Pensacola sits on the northern shore of the bay and with a population of 52,000 would appear to be medium-sized.  However, the combined metropolitan area has nearly half a million people and an abundance of big-city features and culture.  It is the seaport of the bay and home to the U.S. Naval Air Station, the base of the Blue Angels.
Undersea World – With dozens of shipwrecks and hundreds of artificial reefs, Pensacola has something for all divers.  These man-made structures are the home of an extraordinary number of fish, and rich reef life.  There are big engulfing schools of small baitfish and others like amberjacks.  The sponges and corals aren't huge like you might see in the Caribbean, but encrusting life is rich in all the categories.  Macro life is also worth exploring with octopus, crabs, starfish, lobsters, blennies, damselfish, sea cucumbers, tunicates, and many others.  In addition, there are reef fish like blue angels, butterflyfish, triggerfish, spadefish and very large grouper and snappers.  Other attractions include sheepshead, pompano, mahi-mahi, wahoo, blackfin tuna, barracuda, eagle and manta rays, dolphin, nurse sharks, green, hawksbill and loggerhead turtles, and occasional whale sharks.  Historically intriguing wrecks, oil rigs, barges, and other structures provide interesting challenges and opportunities for penetration and discovery, some of which are accessible to beginners and some of which demand advanced and technical skills.
Seasons and Conditions – Florida is known for its warm and sunny climate.  It is not quite always that on the panhandle.  There are a short mild winter season and a hot humid summer.  It rains a fair bit throughout the year with afternoon and evening rains.  The wettest time is from June through August when it rains 11-14 days a month.  Pensacola is subject to hurricanes every few years.  Hurricane Ivan in 2004 caused serious damage, but since that time the area has escaped fairly well intact.  The average temperature in January is 52°F (11°C). From December to February it may get down to freezing.  In July the average high is 90°F (32°C).  Water temperatures can get as low as 65°F(18°C) in February and up to 84°F(29°C) in July and August. A 5 mm wetsuit and hood would be the choice of many in winter and 3 mm or less for summer insulation.  Visibility is variable based on location, weather and season, but generally, inshore sites have 25-50 feet (9-15 meters) and sites farther out from 50-100 feet (15-30 meters).
For my review of another Florida Panhandle diving area, please check out this review of the diving around Panama City, Florida:
For Information about rebreathers, like those used in the video of the Oriskany Wreck, please click these links: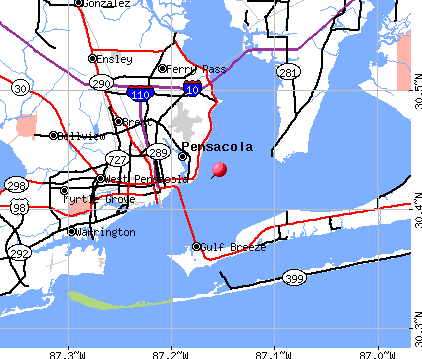 Selected Pensacola Dive Sites
USS Massachusetts: 26 feet (8 meters), in the mouth of Pensacola Bay, 350 foot (105-meter) armored Indiana class battleship commissioned in 1896, decommissioned in 1919 and scuttled in 1921 when used as target practice, hull intact, partially buried, wheelhouse breaks the surface, rich encrusting life of sponges, corals, anemones, tunicates and algae, sea cucumbers, urchins, baitfish, damselfish, blennies cigar minnows, menhaden, leatherjackets, severe tidal current possible, time diving with high tides, beginner to experienced level
Tex Edwards: 65 feet (19 meters), 6.5 miles (10.4 km) from Pensacola Pass, intact deck barge, sunk for reefing in 1982, large overhangs, triggerfish, snappers, groupers, amberjacks, angelfish, considered safest Pensacola wreck, beginner level
San Pablo (aka Russian Freighter): 80 feet (24 meters), 315 foot (95 meter) freighter built in Belfast in 1915, first sunk by U-161 in 1942, refloated and resunk in 1944 after use as a target vessel for experimental weapons, 9 miles from Pensacola Beach, on port side, largely dismembered, with bow upright, boilers, refrigerator coils, and twisted metal, grouper, snappers, butterflyfish, leopard toadfish, if visibility is limited, can be disorienting, experienced level
Pete Tide II: 105 feet (31 meters), 180 foot (54 meter) oil field supply ship, sunk by Escambia County as an artificial reef in 1993, 12 miles south of Pensacola Pass, intact and upright, tower to 60 feet (18 meters), penetration possibilities including wheelhouse, long stretch of metal deck, triggerfish, schooling red snapper, amberjacks, mahi-mahi, blackfin tuna, dolphin, spadefish, hydroids, sea cucumbers, experienced level
YDT-14, YDT-15:  90 feet (27 meters), sunk (or reefed) in 2000, upright and 300 feet (90 meters) apart, 24 miles (38 km) east southeast of Perdido Pass, 132 foot (40 meter) navy support vessels, superstructure to 60 feet (18 meters), YDT-15 has nestled in the seabed to the main deck due to hurricanes, swim throughs, many fixtures in place, spearfishing for invasive lionfish, lots of Mexico staghorn corals, small tropicals, octopus, barracuda, experienced level
Tenneco Oil Rig: 90-175 feet (27- 52 meters), 22 miles (35 km) south southeast of Pensacola Pass,  2 x 500 ton complete platforms donated by Tenneco for reefing in 1982, large variety of sea life, lobsters, good advanced/technical training site, up to 100 foot (30 meter) visibility
Chevron Oil Rig: 75-135 feet (23-40 meters), 18 miles (29 km) from Pensacola Pass, 2 oil platform jackets donated by Tenneco in 1993 for reefing, a large variety of sea life, amberjacks, barracuda, angelfish, snappers, triggerfish, damselfish, spadefish, lionfish, lobsters, experienced level
Antares: 130 feet (40 meters), 21 miles (33.6 km) southeast of Pensacola Pass, 347 foot (104-meter) freighter sunk by Hurricane Opal in 1995, broken apart and scattered, moray eels, grouper, snappers, cobia, amberjacks, experienced level
Avocet: 115 feet (34 meters), 21 miles (33.6 km) south southeast of Pensacola Pass, clamshell dredge built in 1943, sunk for reefing in 1991, hull in two sections, upper section broken off and scattered, 3rd deck wheelhouse is at 68 feet (20 meters), rich sea life, experienced level
USS Oriskany: 212 feet (62 meters), crown at 84 feet (25 meters), 22.5 miles (36 km) southeast of Pensacola Pass, 911 foot (270 meter) US Navy aircraft carrier launched in 1945, scuttled for reefing in 2006, rich and diverse sea life,  blennies, damselfish angelfish, snappers, grouper, amberjacks, sharks, pelagics including manta rays and whale sharks, advanced and technical level
There are hundreds of dive sites near Pensacola that are there largely due to the work of the county government. Here is a fairly exhaustive list of the various dive sites, including wrecks, oil rigs, bridge rubble, military tanks, reef balls, pyramids, limestone modules, and culverts.  The second link provides an explanation and overview of this extensive artificial reef program.
Air Travel – Pensacola International Airport, located less than 4 miles (6 km) to the northeast of downtown Pensacola, services the domestic market only.  No international flights land there, in spite of its name.
Diving – There are at least 19 dive shops operating in the Pensacola metropolitan area for instruction, guiding, charters and rentals.
Housing – There is a full range of hotels available in the various cities of the metropolitan area and on the beach starting at $60 per night.  This website can introduce you to many dozens of them and arrange a booking:
Pensacola Things to Do (aside from scuba diving)
Pensacola has a big range of southeastern American cultural activities: walking tours of the 18th century restored neighborhoods, historic tours, landmarks, restaurants, arts and theater, live music, college and professional sports, a children's art festival, seafood and crawfish festivals, boating, fishing, snorkeling, beach activities.
Pensacola Photo Opportunities
With the wrecks and hundreds of dive sites, macro life, beautiful, diverse reef life, lots of fish and scenic shore-side environment, there are many excellent photo opportunities.  For information and reviews of diving cameras, click here:
A cushion for emergencies provides peace of mind when on vacation.  I recommend this diving insurance as they have worldwide coverage and provide scuba divers a quality insurance and medical assistance service.
Feedback and Comments
I hope you found this post on Pensacola scuba diving interesting and useful. If you have any questions or ideas, please feel free to share them in the comments section.  I'd love to know of any experience you have diving there.  If there is no comments section directly below, click here:  >>comments<<