We may earn money or products from the companies mentioned in this post.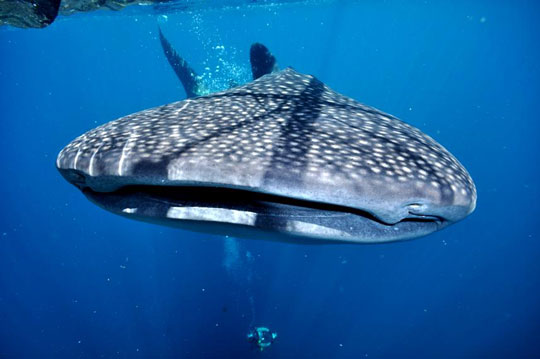 This is the thirty second in a series that introduces and describes the various dive services and sites for worldwide liveaboard dive safaris.  This one focuses on Cenderawasih Bay, Indonesia liveaboards.
In addition to this one on liveaboards, the best worldwide dive resort locations and services are reviewed in their own series.  To check them out, or other liveaboards, click on Liveaboards / Resorts on the menu at the top and choose a title from the list.
Have you ever been diving in Cenderawasih Bay before?  If so, I'd love to know about your experience.  What dive shop or liveaboard did you use?  Which dive spots are the best and what are the conditions there regarding the visibility, current, water temperature, sealife attractions, etc.?  Please post your response in the comments section at the bottom and we'll all learn something we can use.
Cenderawasih Bay Diving
Cenderawasih Bay, which means Bird of Paradise Bay in Indonesian, located to the northwest of the Indonesian province of Papua and east of West Papua Province, is more than 300 kilometers (187.5 miles) wide and 700 kilometers (437.5 miles) long with several rivers emptying into it.  The western portion of the bay is a protected marine reserve that is part of Teluk Cenderawasih National Park.
For the scuba diver, the highlights are whale sharks, manta rays, great bio-diversity, and macro life. Dr. Gerald Allen, the prominent ichthyologist, refers to Cenderawasih Bay as "the Galapagos of Indonesia's reefs."  This remote area has very healthy reefs, World War II wrecks and moderate to strong current making it suitable for intermediate to advanced divers.
The most spectacular attraction is the whale sharks that live there year-round.  Adults, the newborn and juveniles congregate in masses around fishing platforms at depths of a few meters, feeding on fish fry and don't appear to be bothered by snorkelers and divers swimming among them.  This makes for some great photo opportunities with several sharks and humans in the same frame.
During World War II the Japanese anchored in the bay near Manokwari, while the allies were located at Biak Island to the east.  There were many altercations resulting in numerous planes, ships and boats now resting on the seabed. Some are yet to be discovered and several are not often dived.
Cenderawasih Bay is also renowned for muck diving with a great variety of macro life and for the four species of turtle (green, hawksbill, Pacific Ridley and leatherback) which can be observed.
Popular Cenderawasih Bay Dive Sites
Kwatisore Bay – This is a famous whale shark area on the southern coastline of Cenderawasih Bay near the town of Nabire. As described above, whale sharks can be found in numbers there that allow swimmers and divers to mingle with them.
Shinwa Maru – Resting on the seabed near Manakwari at depths from 16-34 meters (53-112 feet), this 120 meter (394 foot) vessel is a Japanese transport ship.  Two blast holes on the starboard side sent her to her fate.  Her name translates as "friendly spirit" which didn't help her much that day.  Today she is richly covered with sponges and corals with schools of jacks, moray eels and great macro life including nudibranchs.  The scattered cargo of dishes, beer and sake bottles, batteries, chopsticks, and two old-style diving helmets still remains in place.
Sungei Omiand is one of many muck diving sites around the bay.  It has black volcanic sand with rocks and coral clusters which are the home to a great diversity of macro creatures such as pygmy seahorses, sea kraits, snake eels, tiger prawns, cuttlefish, frogfish, nudibranchs and blue-ringed octopus.  Many of the best places to discover such creatures are in areas of marine rubbish close to settlements.  Of course, the rubbish is off-putting but does have the benefit of providing great habitat for such animals.
Seasons and Conditions
Liveaboard diving in Cenderawasih Bay only takes place from July to September.  There are no local dive shops in the area.  From July to September the winds and rain can make the surface conditions a little rough outside the bay, so several of the Raja Ampat liveaboards opt to cruise to Cenderawasih because it is better protected from the elements and has some fantastic diving.
Whale sharks are in the bay year-round.  There is no special season for them.
There are two wet seasons, November/December and July/August, but the region has rain throughout the year.
Water temperatures run to 27°C (81°F) from May to October and 30°C (86°F) from November to April. I can't imagine you will want any thicker than a 3mm wetsuit.
Conditions Summary
Depth: 5-40+m (16-130+ft)
Visibility: 10-30m (33-100ft)
Currents: moderate to strong
Surface conditions: usually calm
Number of dive sites: >50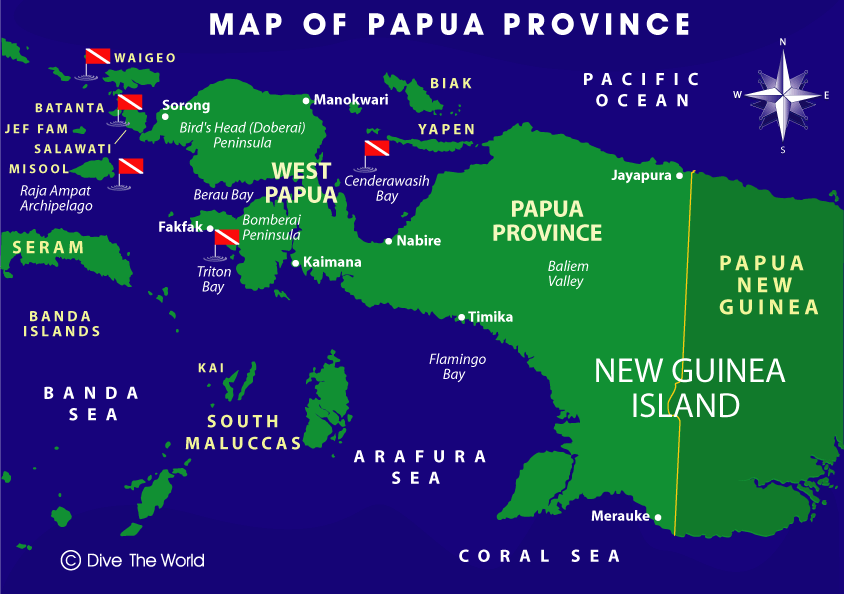 Cenderawasih Bay Liveaboard Dive Boats
There are four excellent yachts cruising Cenderawasih Bay.  The Dewi Nusantara has a slightly higher level of service and facilities and is a bit more expensive.  Unfortunately, three out of the four only do 2-3 cruises to the bay annually.  Only the KLM Sea Safari has a substantial number at ten.  So, without local dive operators and so few liveaboards, I can suggest that it is a rare opportunity to go to and enjoy such a remote and special place.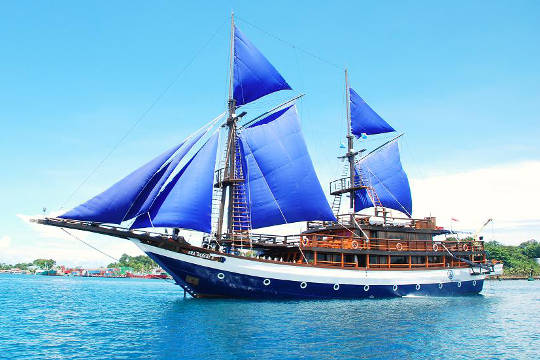 7-day cruises to Raja Ampat and Cenderawasih Bay
10 trips to Cenderawasih Bay from July-September
Cenderawasih Bay itinerary includes – Purup Island, Lonley Rock, The Corner, Small Lagoon, Tanjung Ayami, Tanjung Busura, Ayami Corner, Tanjung Kecil, Silver Linning, Tanjung Batu, Whale Shark Point, Ripon Island, Zero Airplane, Pulo Kecil, The Corner, Rippon Reef, Wairundi Reef
Laundry service, daily housekeeping, air-conditioned saloon, aircon cabins, ensuite bathrooms, warm water showers, library, audio & video entertainment
Leisure deck, sun deck
Photography station, separate rinse for u/w camera
Non-diver (snorkeler) friendly
Indonesian and international dishes, including Chinese, Japanese and BBQs, and vegetarian options
The crew speaks English and Indonesian
Non-diver (snorkeler) friendly
Nitrox available, tech diving, rebreather support, sidemount diving
Dive deck
3 x Life rafts
3 x Yamaha tenders – 1 x 85 HP and 2 x 40 HP
Check it out on Liveaboard.com
8-11 day cruises to Raja Ampat and Cenderawasih Bay
4 trips to Cenderawasih Bay in July and August
Cenderawasih Bay itinerary includes – Manokwari: Wrecks, Butsiuri Reef, Maruni and Tanjung Mupi; Yembekiri Island, Roon Island and Mangguar: Weka's Point, Tanjung Mangguar, Ben Mon Wall, Napenyaur Village; Kwatisore: Kwatisore Beach and Kwatisore Home Reef; Pulau Roon: Groovy Passage, Pulau Auri, Tanjung Ayami, Pulau Roon (North Point); Yembekiri: Tanjung Cidi; Yali Ali: Tanjung Kalung; Pulau Purup; Warkopi Oni: Sungai Omi
Laundry service, daily housekeeping, air-conditioned saloon, aircon cabins, ensuite bathrooms, warm water showers, library, audio & video entertainment
Sun deck
Photography station, separate rinse for u/w camera
Asian and international meals
The crew speaks English and Indonesian
Non-diver (snorkeler) friendly
Nitrox available, sidemount diving
Shaded dive deck
2 life rafts (for 15 passengers each)
2 x 40 HP Yamaha motorized dinghies
Dewi Nusantara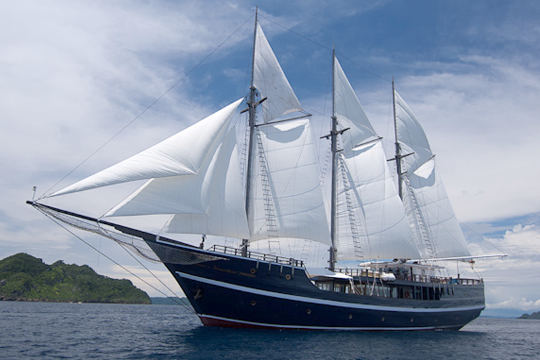 10-12 day cruises to Raja Ampat, Cenderawasih Bay
3 trips to Cenderawasih Bay in July and August
Cenderawasih Bay itinerary includes – North of the Birds Head, Amsterdam, Cenderawasih Bay, Whale Shark Bagans (Fishing platforms)
Extra large cabins, ensuite bathrooms, hot water showers, 45m² air-conditioned saloon with TV, DVD, iPod docking station and sound system, Computer with CD burner – Photo and video editing, movie and book library, games and magazines – fish ID and diving books
Dedicated air-conditioned restaurant, outdoor dining area
Shaded outside area – 100m² sun decks with sun loungers and hammocks
Onboard boutique
Separate rinse tank for cameras, camera table
Massage (after-dive and full body)
International cuisine, Chinese and Japanese cuisine, local specialties, BBQs and vegetarian
The crew speaks English and Indonesian
Sea kayaks
Non-diver (snorkeler) friendly
100m² dive deck
Nitrox available
2 Yamaha 200 HP dinghies
50 person capacity life raft
Check it on Dive the World by clicking the banner in the right sidebar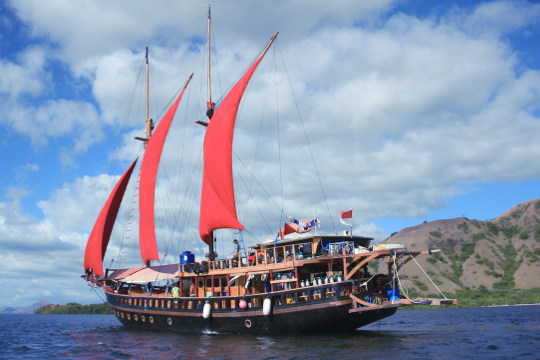 9-12 day cruises to Raja Ampat, Banda Islands & Ambon, Cenderawasih Bay
2 trips to Cenderawasih Bay in August and September
Cenderawasih Bay itinerary includes – Numfor, Num, Rumberpon, Mios Waor, Roon, Tanjung Ayami, Tanjung Manguwar, Kwatisore, and Ahe
Laundry service, daily housekeeping, aircon cabins, en-suite bathrooms, air-conditioned indoor saloon & dining area, audio & video entertainment, library
Shaded open-air social area, sun deck, leisure deck
Charging stations
Photography Station
Chinese, Italian, BBQ and international main dishes, outdoor dining
Warm Water Showers
Onboard kayaks
Non-Diver (Snorkeler) Friendly
Nitrox available
Shaded diving deck
Life rafts (20 pax)
85 HP and 40HP Yamaha dive dinghies
KLM Sea Safari 8
MV Pearl of Papua
Dewi Nusantara
Calico Jack
Length

34 m
28 m
57 m
30 m
Guests

24
15
18
10
Crew

18
13
22
11
Equipment

$35/day
$45/day
$300/trip
$38/day
Nitrox

$20/day
$5/fill
(only one per day)
$10/fill
€15/day

Snorkeler
Friendly
Yes
Yes
Yes
Yes
Kayaks
Yes
No
Yes
No
Single Supplement
+75%
+$175
+65%
+80%
Non-diver Rate
$30/day off
10% off
None
10% off
Price/Day

$373
$244
$571
$308
Cenderawasih Bay Photos
With the macro life, beautiful, diverse coral reef, megafauna, and lots of fish, there are many excellent photo opportunities.  For information and reviews of diving cameras, click here:
Scuba Diving Trip Insurance
A cushion for emergencies provides peace of mind when on vacation.  I recommend this diving insurance as they have worldwide coverage and provide scuba divers a quality insurance and medical assistance service.
Feedback and Comments
I hope you found this post on Cenderawasih Bay scuba diving interesting and useful. If you have any questions or ideas, please feel free to share them in the comments section.  I'd love to know of any experience you have diving there.  If there is no comments section directly below, click here:  >>comments<<