We may earn money or products from the companies mentioned in this post.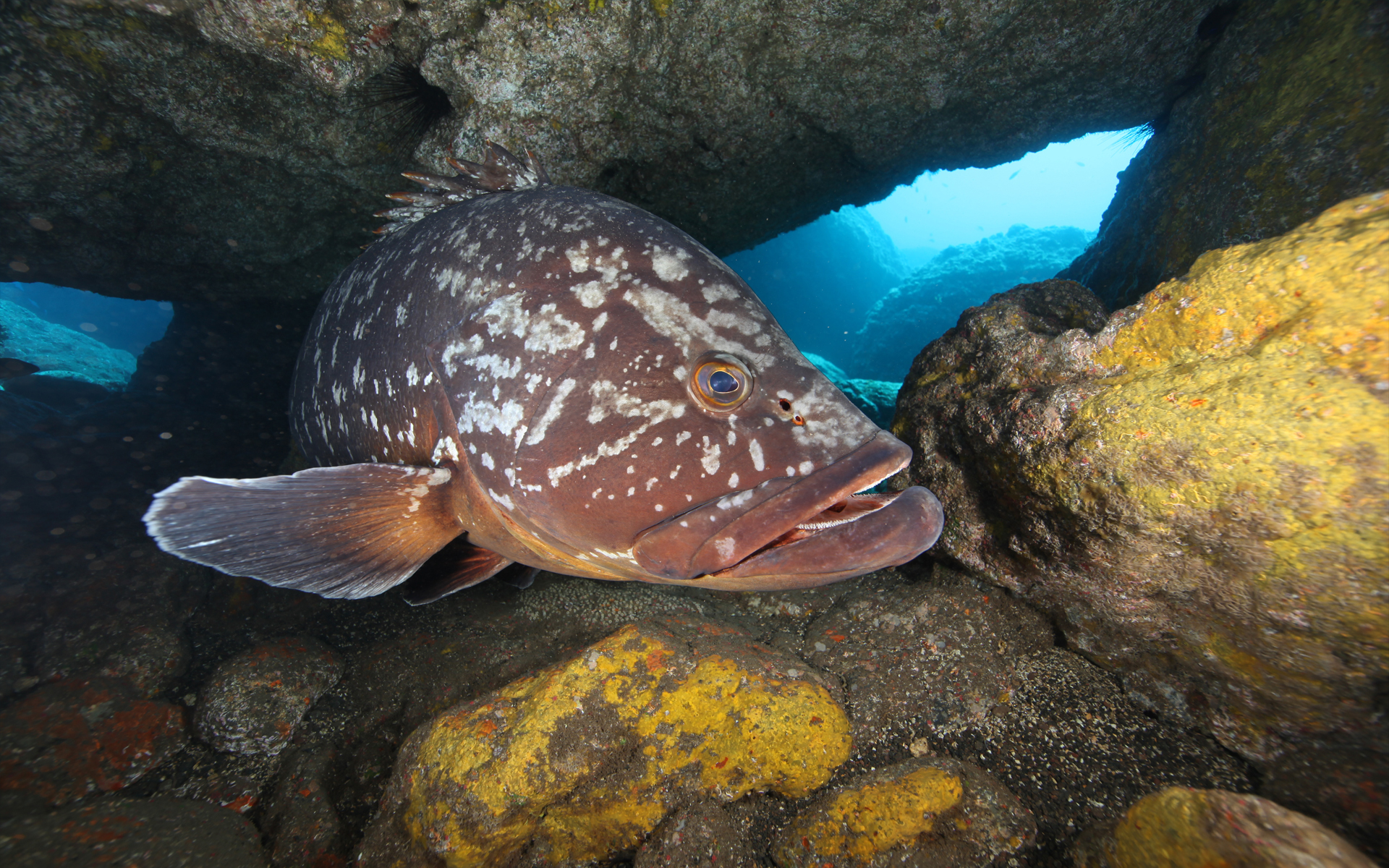 This is the thirty-ninth in a series of reviews of the best dive resort locations around the world.  In this post, the focus is Madeira, Portugal.
In addition to this series on dive resort locations, the best worldwide liveaboard dive locations and services are reviewed in their own series.  To check them out, or others in this series, click on Liveaboards / Resorts on the menu at the top and choose a title from the list.
Have you ever been diving on Madeira before?  If so, I'd love to know about your experience.  What dive shop or liveaboard did you use?  Which dive spots are the best and what are the conditions there regarding the visibility, current, water temperature, sealife attractions, etc.?  Please post your response in the comments section at the bottom and we'll all learn something we can use.
Scuba Diving Madeira Islands Portugal
Background – The Madeira Islands, an Autonomous Region of Portugal, are situated 864 kilometers (540 miles) southwest of Lisbon, 400 kilometers (250 miles) north of the Canary Islands and 864 kilometers (540 miles) due west of Morocco.  They are small islands with Madeira only 57 kilometers (35 miles) long and 23 kilometers (14 miles) wide.  The archipelago is of volcanic origin and includes Porto Santo to the northeast and the Desertas Islands just to the southeast.  The warm summers and mild winters, scenic hilly landscape,  a unique culture, and geographic location have made it a prime tourist destination, which is the driver of the economy.  With a population of 270,000 ethnic Portuguese citizens, Madeira welcomes more than 1.4 million tourists annually.  It is a major cruise line stopover on trips from Europe to Africa and the Caribbean and has attractions which include Madeira wine, dining specialties, unique embroidery style, historical sites, interesting flora, and fauna, and it is a UNESCO World Heritage Site. In an effort to attract foreign industries, Madeira has become a Free Trade Zone with incentives and reduced business taxes.  The capital, Funchal, on the south coast, is a modern city. Porto Santo Island is also populated and has a highly developed community and infrastructure, as well.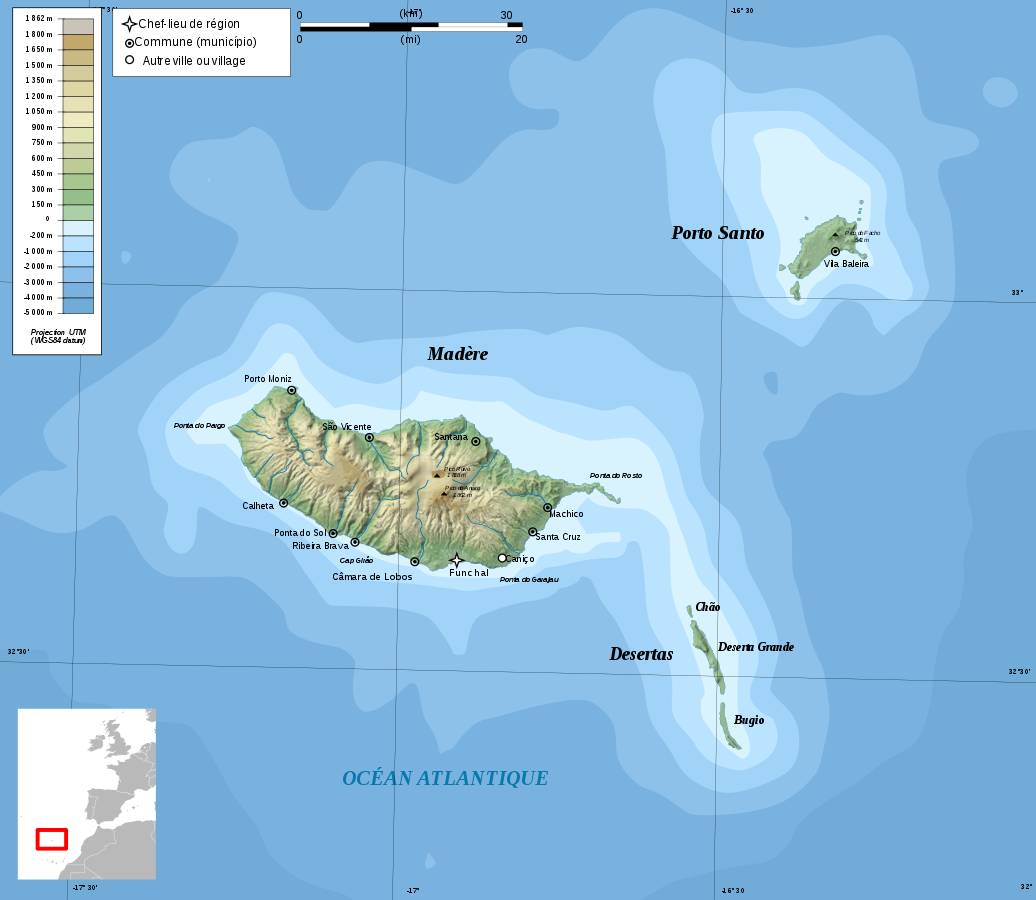 Undersea World – Due to its position in the Atlantic, the Madeira Islands are bathed by the Gulf Stream and Canary Current bringing more of a tropical influence to the wildlife than one might expect at this latitude.  The volcanic origin has left an underwater terrain with a panorama of rocks, canyons, walls, crevices, caverns and a multitude of nooks and crannies to harbor a large variety of plants, corals, sponges, and other invertebrates, fish and mammals.  Macro photographers can delight in a long list of critters including cleaner shrimp, scorpionfish, spiny fan mussels, spiny starfish, purple sea stars, warty umbrella snails, nudibranchs, cotton spinners, fireworms, anemones, frogfish, seahorses, blennies, octopus, several species of moray eel, and many others.  Sandy areas may harbor garden eels and massive stingrays.  Other attractions of note are Turkish wrasses, huge friendly groupers, cuttlefish, red hogfish, sharpnose puffers, trumpetfish, triggerfish, turtles, manta, eagle and butterfly rays and big schools of many species including jacks and barracuda. Several sites are commonly frequented by monk seals and dolphins.  In fact, 4 varieties of dolphins and 5 species of whale all have the possibility of being sighted.  In addition, there are several intact large wrecks at 30 meters (100 feet) or shallower.
Seasons and Conditions – Diving is good year round, but there are seasonal temperature variations. The coolest months are January and February with an average high of 19.7 °C (67.5°F).  The warmest months of August and September have average highs of 26.4 °C (79.5°F).  Water temperatures average 24°C (75°F) in summer and 18°C (64°F) in winter.  3 to 5 mm wetsuits are appropriate for most divers.  From October to March is the wet season with 9-12 days of the month having rain.  Usually, the surface is smooth and there is minimal current.  The visibility runs from 10-30 meters (35-100 feet).  Sites and conditions are available to suit all levels of diver.  Dive courses from introductory to technical are available at the many dive shops on Madeira Island and the several on Porto Santo.
Madeira is not an area renowned for liveaboard diving, but there are many cruises in other not too distant areas and around the world.  Click here to book a liveaboard holiday.
Here are reviews of other Macronesia scuba diving areas:
A Selection of the Best Scuba Diving Sites of Madeira
Porto Santo Wrecks
Madeirense: to 33 meters (110 feet), 70 meter (235 foot) cargo vessel commissioned in 1962 and sunk as an artificial reef in 2000, became a marine park in 2008, sits upright, covered in encrusting plants, coral and sponges, scorpionfish, nudibranchs, sole, big stingrays, huge groupers, schools of barracuda, manta rays, lots of penetration possibilities, experienced level, good for nitrox (see video below)
Corveta General Pereira d 'Eça: to 30 meters (100 feet), 85-meter (279 foot) Portuguese Navy Patrol Boat commissioned in 1970, scuttled  in 2016 to become an artificial reef, sits upright, has already attracted rich life, largely intact, easy penetration possibilities, experienced level, good for nitrox (see video below)
Madeira Island Sites
T-Reef (Mamas): 30 meters (100 feet) maximum, Garajau National Reserve site, two rocky pinnacles 10 meters (35 feet) apart, rising from the sandy bottom to 12 meters (40 feet), barracudas, morays, amberjacks, mackerel, and rays, all levels
Cap Garajau: 28 meters (93 feet), in the center of Garajau National Reserve, huge brown groupers, great schools of fish of several varieties, amberjacks, big barracudas and roughtail stingrays, experienced level
Blue Hole: 18 meters (60 feet), tunnel starting at 9 meters (28 feet) lit by sunlight, descending to 18 meters (60 feet), Atlantic cornetfish, schooling yellow-finned grunts, butterfly rays on the sandy bottom, all levels
Atalaia Cave: 12 meters (40 feet), 50-meter (168 foot) long and 20-meter (66 foot) wide cavern, an exit is always visible, air pocket at the back of the cavern, black corals, lobsters, boxer and mechanical shrimp, the potential of monk seals, experienced level
Ponta da Oliveira: 30 meters (100 feet), in front of Atalaia Cave on the edge of Garajau National Reserve, a steep wall from 10 meters (35 feet) down to 30 meters (100 feet), pompanos, barracudas, giant groupers, blacktail combers, experienced level
Reis Magos: 20 meters (66 feet), great macro life including seahorses, frogfish, sea spiders, scorpionfish, cuttlefish, stingrays, all levels
Desertas Islands Nature Reserve: 19 kilometers (12 miles) from Madeira Island, variety of dive sites, sea lions, a nesting area for seabirds, biodiversity, excellent visibility to 60 meters (200 feet), all levels
Madeira Photos
With the macro life, wrecks, rays, giant groupers, monk seals, dolphins, clear water, diverse underwater terrain, lots of fish, and beautiful and historical onshore targets, there are many excellent photo opportunities.  For information and reviews of dive cameras, click here:  Best Underwater Cameras Compared and Reviewed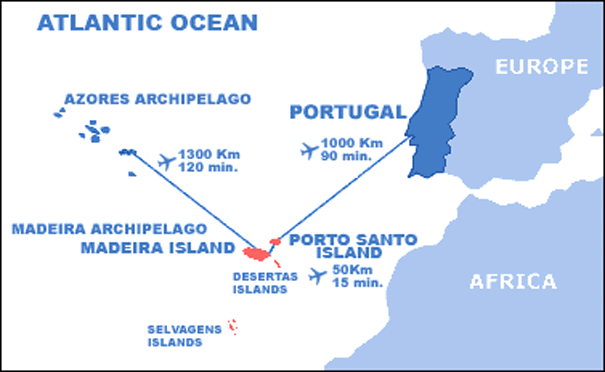 Cristiano Ronaldo Airport on Madeira Island has daily flights to Lisbon and service to over 30 other airports in Europe and nearby islands.  Porto Santo Airport has flights to Madeira and other nearby islands, as well.  Ferries also serve the two main islands.  Funchal has a bus system with regular services to all areas of the island.  Taxis are numerous and car rental is also popular.
There are at least 100 inns, resorts, hotels, guest houses and bed and breakfasts on Madeira Island and 13 or more dive shops.  On Porto Santo, there are also a number of accommodation options and several scuba diving operations.   Some of the hotels have diving and accommodation packages.  Be sure to ask.  This website is a good source for the available options and can arrange a booking:
Madeira Things to Do (aside from scuba diving)
With such a rich cultural, historical and natural environment there are heaps of things to do when you are not diving.  Here are some possibilities:  beaches, whale watching, cruises, waterfalls, Laurel Forest, rain forest hikes, Cabo Girao, many museums, historical sites, churches, scenic views, caves, botanical gardens, shops, restaurants featuring Madeiran cuisine, winery tours, mountain tramways, day trips, ATV off-roading, mountain biking, local traditional music, nightlife.  Check out a sampling in the video below.
A cushion for emergencies provides peace of mind when on vacation.  I recommend this diving insurance as they have worldwide coverage and provide scuba divers a quality insurance and medical assistance service.
Feedback and Comments
I hope you found this post on Madiera scuba diving interesting and useful. If you have any questions or ideas, please feel free to share them in the comments section.  I'd love to know of any experience you have diving there.  If there is no comments section directly below, click here:  >>comments<<