We may earn money or products from the companies mentioned in this post.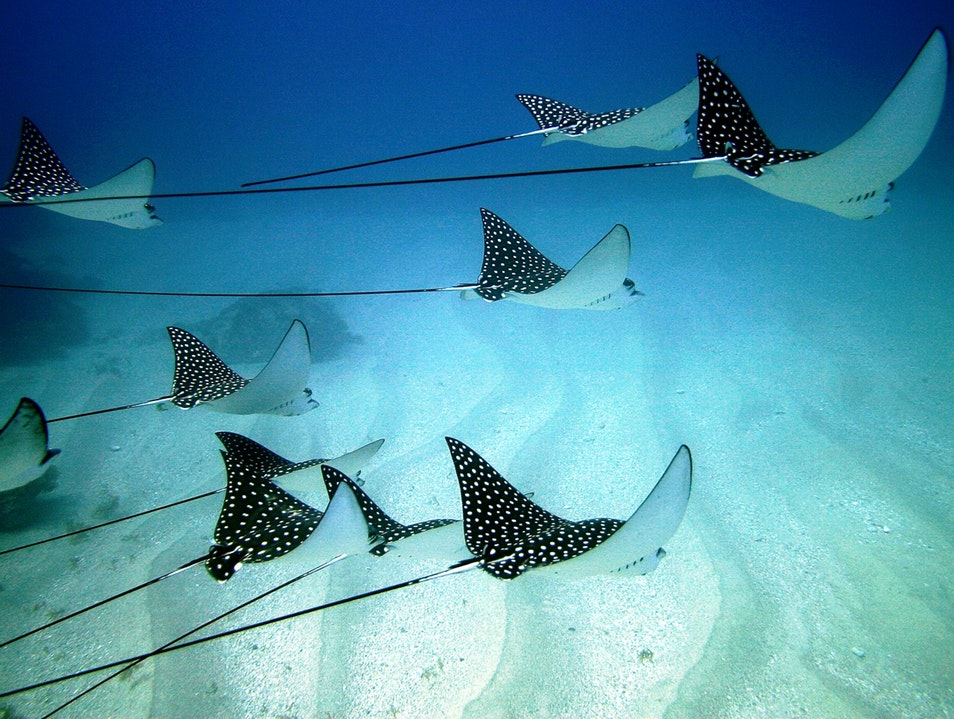 This is the thirty-ninth in a series of reviews of the best dive resort locations around the world.  In this post, the focus is Fernando de Noronha, Brazil.
In addition to this series on dive resort locations, the best worldwide liveaboard dive locations and services are reviewed in their own series.  To check them out, or others in this series, click on Liveaboards / Resorts on the menu at the top and choose a title from the list.
Have you ever been diving on Fernando de Noronha before?  If so, I'd love to know about your experience.  What dive shop or liveaboard did you use?  Which dive spots are the best and what are the conditions there regarding the visibility, current, water temperature, sealife attractions, etc.?  Please post your response in the comments section at the bottom and we'll all learn something we can use.
Fernando de Noronha Brazil Diving
Background – Situated 4 degrees south of the equator and 200 miles (320 kilometers) to the northeast of Natal, Brazil is the 21 volcanic islands of Fernando de Noronha.  This UNESCO World Heritage Site eco-sanctuary occupies 7.1 square miles (18.4 square kilometers) and has a population of 3,500 all on the main island.  To maintain conditions a maximum of 460 visitors is allowed at any given time.
Undersea World – Lying south of the Orinoco and Amazon outflows the life around Fernando de Noronha has a significantly different flavor to it when compared to the Western Atlantic Caribbean Island sites to the north.  Relying on African currents to provide nutrients the amount of coral is noticeably less.  However, there are 15 species of coral, 230 species of fish, a number of cetaceans and a rich array of invertebrate life.  The undersea terrain has an array of large rocky areas, crevices, swim-throughs, caverns and walls and a number of wrecks.  Wildlife highlights include moray eels, octopus, sole, crabs, parrotfish, trumpetfish, triggerfish, southern stingrays, Goliath groupers, French angelfish, jacks, huge barracuda, eagle and manta rays, several species of sea turtle, nurse, reef, lemon, hammerhead and whale sharks, mola mola, resident pods of spinner dolphins, and less frequent sightings of pantropical spotted dolphins, short-finned pilot whales, melon-headed whales and humpback whales.
Seasons and Conditions – Diving is good year-round.  Some of the sites can have a strong current and there is often significant surface chop.  Average air temperature highs are 82-86°F (28-30°C) with water temperature hovering around 80°F (27°C) year-round.  A 3 mm wetsuit is the maximum thermal protection likely to be necessary.  The rainy season is from February through July with March through May the wettest.  Visibility is excellent ranging to 165 feet (50 meters).  There are conditions suitable for all levels of diver including absolute beginner.  PADI and NAUI courses are available.
Fernando de Noronha is not an area renowned for liveaboard diving, but there are many cruises in other nearby areas and around the world.  Click here for info on Caribbean liveaboards: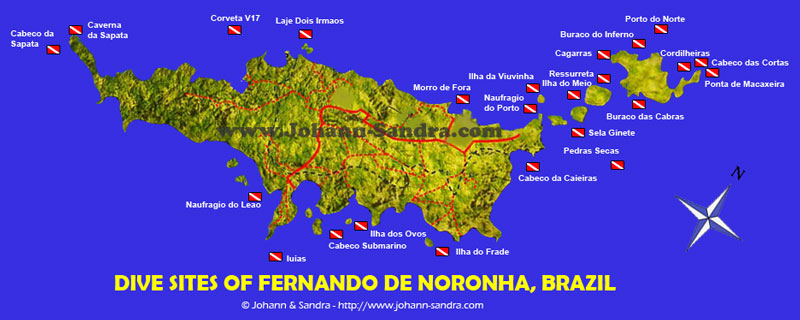 A Selection of the Best Scuba Diving Sites of Fernando de Noronha
Naufragio da Porto: 25 feet (8 meters), Greek cargo ship ran aground, was dynamited, boilers, parts of the engine, propeller and rudder still there, small tunnels, colorful sheltering fish, good night dive, beginner level and snorkeling
Buraco das Cabras: 53 feet (16 meters), drift dive from the outside sea to the inside between Rata and Meio Islands,  rocky formations, colorful encrustations of coral and sponges, octopus, lobsters, blackjacks, barracuda, queen angelfish, turtles, manta rays and hammerhead sharks, all levels
Buraco do Inferno: 55 feet (17 meters), a small cave with an air pocket in the ceiling, exterior rocky formations, no current, French angelfish, turtles, stingrays with following trevallies, nurse sharks, manta rays, whale sharks
Pedras Secas: 56 feet (17 meters), famous highly rated site worldwide, rocky formations rising to the surface with arches, canyons, caverns and tunnels, rocky bottom, hydrocorals, sponges, grunts, black margates, squirrelfish, big trevallies, nurse sharks, turtles, surf zone at the surface, all levels
Cabeco Submarino: 66 feet (20 meters), rocky seafloor with sponges and seaweed, which huge green turtles come to feed on, an undersea mountain rising nearly to the surface, various big fish, lobsters, barracuda, huge schools of sea chubs, all levels
Caverna da Sapata: 90 feet (27 meters), huge sandy-bottomed cave, resting stingrays, Goliath groupers, big jewfish, turtles, lots of corals and sponges, experienced level
Cordilheiras: 82 feet (25 meters), rocky formations with nurse and reef sharks, rock hinds, eagle rays, experienced level
Cabeco da Sapata: 143 feet (43 meters), from a sandy bottom a pinnacle rises to nearly the surface, strong currents possible, good visibility, schooling horse-eye jacks, grunts, chromis, triggerfish, sharks, black groupers, snappers, rock hinds, grunts, advanced level
Corveta V17: 207 feet (63 meters), intact naval vessel sitting upright on a sandy bottom, encrusting sponges, pelagics including mackerel, eagle and manta rays, mahi-mahi, whale sharks, penetration possibilities, advanced technical level
Fernando de Noronha Photos
With the macro life, wrecks, sharks, rays, pelagics, spinner dolphins, clear water, a beautiful underwater terrain, lots of fish, and beautiful onshore targets, there are many excellent photo opportunities.  For information and reviews of dive cameras, click here:  Best Underwater Cameras Compared and Reviewed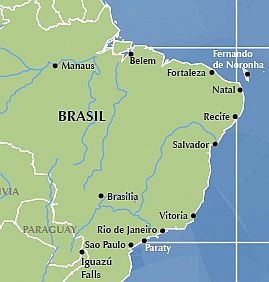 Flights of less than two hours arrive at Fernando de Noronha Airport daily from Recife, Natal, and Rio.  There is a road that goes around the main island.  Car or buggy rental runs $50-70 per day and there is regular cheap bus service running continuously from one end of the island to the other.  Hitchhiking is also common.
There are around 70 inns, resorts, hotels, guest houses and bed and breakfasts on Fernando de Noronha and 3 dive shops, two of which are affiliated with PADI and one with NAUI.  With the limits on the number of visitors set at 460, it is best to book well in advance.  This website is a good source for the available options and can arrange a booking:
Fernando de Noronha Attractions (aside from scuba diving)
Many of the things to do relate to nature including beautiful sunsets, several world-class beaches, snorkeling, surfing, kayak, catamaran, boat and buggy tours, dolphin and whale watching, trekking, and parks and marinas.  There are several endemic birds, mammals and plants and a hawksbill turtle nesting area.  In addition, numerous landmarks and museums document the rich history and restaurants featuring Brazilian and Italian specialties with an emphasis on seafood await.  Nightlife, outside of the restaurants, consists of a couple of bars.
A cushion for emergencies provides peace of mind when on vacation.  I recommend this diving insurance as they have worldwide coverage and provide scuba divers a quality insurance and medical assistance service.
Feedback and Comments
I hope you found this post on Fernando de Noronha scuba diving interesting and useful. If you have any questions or ideas, please feel free to share them in the comments section.  I'd love to know of any experience you have diving there.  If there is no comments section directly below, click here:  >>comments<<