We may earn money or products from the companies mentioned in this post.
This is the twentieth in a series of reviews of the best scuba diving destinations around the world.  In this post, the focus is Martinique.
In addition to this series on dive resort locations, the best worldwide liveaboard dive locations and services are reviewed in their own series.  To check them out, or others in this series, click on Liveaboards / Resorts on the menu at the top and choose a title from the list.
Have you ever been diving in Martinique?  If so, I'd love to know about your experience.  What dive shop or liveaboard did you use?  Which dive spots are the best and what are the conditions there regarding the visibility, current, water temperature, sealife attractions, etc.?  Please post your response in the comments section at the bottom and we'll all learn something we can use.
Scuba Diving Martinique
Background: Located 450 kilometers (281 miles) northeast of South America, Martinique is part of the French Antilles, where the local languages are French and Antillean Creole, and English is widely spoken.  It is one of the Windward Islands, along with Santa Lucia, Dominica, and Barbados that have a coastline on both the Atlantic Ocean and the Caribbean Sea.  The mountainous island is volcanic in origin with black sand beaches in some locations and white sand in others.  The population of 385,000 focuses on rum, bananas, and petroleum as the major exports, and tourism to drive the economy.  Paul Gauguin, The French impressionist, lived there for a portion of his world tour, painting colorful landscapes and islanders, and helping to popularize the beautiful natural scene.  Today there is a museum documenting his art and life in Martinique.
For more demographic, geographical and cultural information on Martinique, click here:  Martinique (Wikipedia)
Undersea World: Martinique has world-class diving on a very beautiful coral reef with a distinctive look.  It has a rich display of hard and soft coral and gorgonians, but what stands out is the quantity and size of the tube and barrel sponges which provide the backdrop for the macro life of small crustaceans, lobsters, shrimps, urchins and a multitude of reef fish like sergeant majors, gobies, angelfish, moray eels, frogfish, scorpionfish,  and parrotfish.  Wide-angle attractions include three species of turtle, leatherback, green and hawksbill, snappers, trevallies, barracuda, stingrays, eagle rays, dolphins, blue, nurse and hammerhead sharks, and blue marlins, not to mention numerous shipwrecks.
Seasons and Conditions: The best time to dive is from December to May.  July to October is the rainy season with the dry from December to April.  Martinique is blessed with a warm tropical climate year-round with a matching warm water temperature range of 26-28°C (79-82°F).  Visibility is generally quite good at 10-39 meters (35-130 feet) with the low end coming during rains.  Current is mild to non-existent most of the time but can be strong, on occasion, at some sites.
Diving is available for all levels, with deeper and wreck dives suitable for more advanced divers.  The dive shops are mostly affiliated with CMAS, but PADI and/or SDI are represented in most.  They are capable of providing full services and training.  A few of the dives are accessible from shore with most requiring a boat.
Martinique is not an area renowned for liveaboard diving, but there are many cruises in other areas around the Caribbean.  Click here for details and pricing for a Caribbean Liveaboard:
For reviews of diving in eastern Florida and other Caribbean locations, please check out these posts: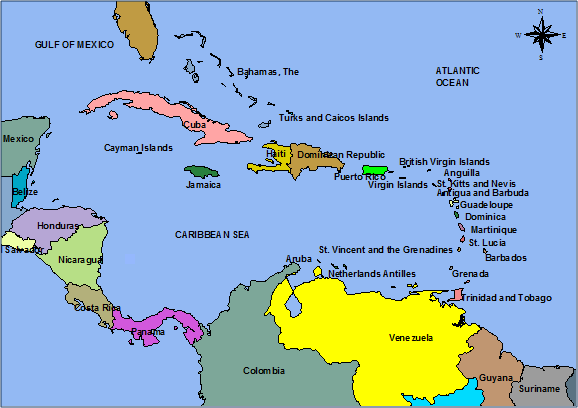 Caribbean Islands Map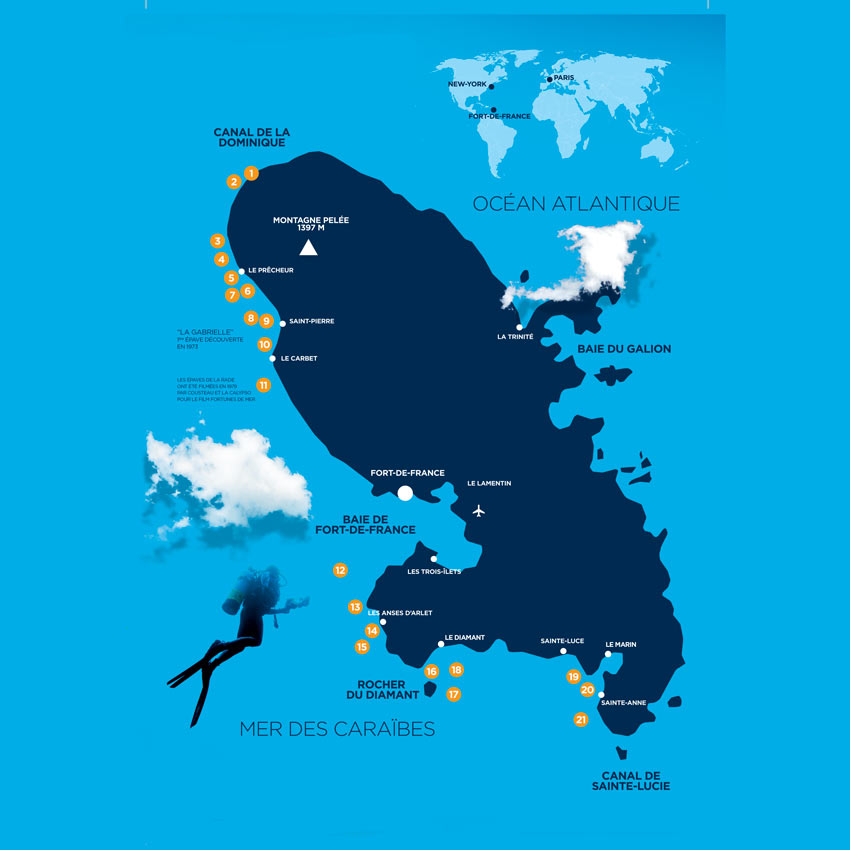 Selected Popular Martinique Dive Sites
There are at least the 21 dive sites indicated on the map on the west side where there is more natural protection from the forces of the open sea and a rich developed coral reef.  There are also a number of wrecks with several in the St. Pierre area.  It is also possible to dive on the eastern Atlantic side where there are more abrupt slopes with sandy plateaus and not as much coral development, but still with interesting rays, turtles, and pelagics.
Pearl Rock (1): to 165 feet (49 meters) maximum depth, rock with drop-offs, strong currents, parrotfish, triggerfish, fusiliers, trevally, barracuda, experienced level
Babodi Canyons (5): to 200 feet (60 meters), rocks, drop-offs, sand plateaus, lava flows, leaf coral, stingrays, beginner and experienced level
Le Roraima (9): to 180 feet (54 meters), 150 x 15 meter (500 x 50 foot) wreck broken into three pieces, experienced level
Nahoon (12): to 115 feet (34 meters), 3 mast steamer launched in 1911, resurrected twice and scuttled for an artificial reef in 1993, corals, gorgonians, sponges, angelfish, trevallies, king mackerel, barracuda, experienced level
Diamond Rock (16): to 200 feet (60 meters), rock and drop off, huge 100-foot (30-meter) swim through a hole at 42 feet (13 meters), arches, caves, old anchors, sponges, coral, schools of fish, turtles, barracuda, beginner, and experienced level
The Grand Kaye of Sainte-Luce (19): to 115 feet (34 meters), rock and drop off, gorgonians, rock lobsters, parrotfish, butterflyfish, moray eels, squid, beginner and experienced level
Three Valleys (20): to 115 feet (34 meters), coral canyons with sand in between, lettuce coral, gorgonians, rock lobster, parrotfish, butterflyfish, moray eels, squid, snapper, queen conch, peacock flounder,  electric rays, schools of fish including blue creole wrasse, yellowhead jawfish, stingrays, turtles, king mackerel, barracuda, beginner to experienced level
The Martinique Aimé Césaire International Airport provides service to 15 different airlines from the US, Canada, France, and other countries in the Caribbean.  There are also boats and ferry services from several nearby islands.
On Martinique, there are dozens of hotels and resorts.  Pricing runs from around $50/night on up.  As for the diving, at least a dozen dive shops are in operation, most of which are located in the southern half of the island.  This website is a good source for the available housing options and can arrange a booking:
Martinique Things To Do (aside from scuba diving)
There are a great many interesting activities and events in Martinique to round out a vacation there: Mt. Pelee crater trip, Habitation Ceron biological reserve, Caravelle Peninsula hiking, Rum at Rhum J.M. refinery, island hopping by boat to various shallow shoals, other beach, and water sports and the local restaurant and night scene.
Martinique Photo Opportunities
With the macro life, beautiful, diverse coral reef and lots of fish, there are many excellent photo opportunities.  For information and reviews of diving cameras, click here:
A cushion for emergencies provides peace of mind when on vacation.  I recommend this diving insurance as they have worldwide coverage and provide scuba divers a quality insurance and medical assistance service.
Feedback and Comments
I hope you found this post on Martinique scuba diving interesting and useful. If you have any questions or ideas, please feel free to share them in the comments section.  I'd love to know of any experience you have diving there.  If there is no comments section directly below, click here:  >>comments<<