We may earn money or products from the companies mentioned in this post.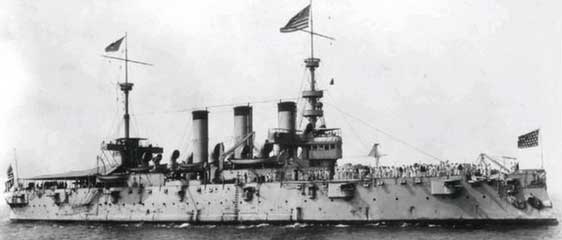 Are you looking for your dream dive vacation? This is the sixth in a series of reviews of the best dive resort locations around the world.  In this post, the focus will be Subic Bay in the Philippines.
In addition to this series on dive resort locations, the best worldwide liveaboard dive locations and services are reviewed in their own series.  To check them out, or others in this series, click on Liveaboards/Resorts on the menu at the top and choose a title from the list.
Have you ever been diving in Subic Bay before?  If so, I'd love to know about your experience.  What dive shop or liveaboard did you use?  Which dive spots are the best and what are the conditions there regarding the visibility, current, water temperature, sealife attractions, etc.?  Please post your response in the comments section at the bottom and we'll all learn something we can use.
Diving in Subic Bay
From June 12-16, 1991, Mt. Pinatubo erupted 4 times launching over 200 million tons of ash and debris into the sky which created a cloud that encircled the earth.  For the locals in Pampanga and Zambales about 2 feet of this ash landed on the buildings and roads causing massive damage to the infrastructure and economy.  It also caused enough of a disturbance to the US military bases at Clark Field and Olongapo, that, along with political pressure from the Filipino people and government, the bases were packed up and closed by the end of 1992.  The attitude of the US government seemed to be that the bases were such a mess, the timing looked right to go.  Shortly thereafter, with the blessing of the Subic Bay Metropolitan Authority, the first commercial scuba diving operation was opened in the new Freeport Zone.  Up to that point, there was little access by local people to the wrecks and dive sites on the old base.  This meant that they had not been salvaged and were largely intact.  The wrecks located in Subic Bay that were not included within the base boundaries were not so lucky.  There was the story of an LST that sat in 30-40 meters that was cut up with torches and completely recovered without a trace left by Filipino hookah divers.  Another story had a concrete barge that hookah divers chiseled into a mound of debris to salvage out the iron re-rod infrastructure. Far-fetched stories, but told to me by someone who would seem to know such things.
The dive shop there that opened in 1993, initially known as Subic Bay Aquasports, later morphing into Scuba Shack, was the only authorized dive shop at that time allowed to dive in the new government-controlled zone.  I arrived there in early 1994 to start work as a diving instructor.  The area got covered by about 2 feet of ash from the volcano and that included the wrecks in the bay.  The rich encrusting corals and sponges that were the foundation for other life that had developed on them starting upon their sinking in the 1940s, was mostly covered in ash.  Brian Homan, from the dive shop, actually undertook to remove ash from the New York wreck with a lifter he mounted on a small wooden barge.  It was slow work, but a substantial amount was removed.
It was several years before other dive operators were allowed in the zone. It took a special permit to bring your boat there and attempt any diving.  After a few years, other dive shops were allowed to open up outside the zone and have access to the sites.  In 1994, though, it was just us.  We were still "discovering" wrecks.  Although they were pretty easy to "find," we were the first to take divers to the Japanese Patrol Boat, the LCU located in the vicinity of the end of the runway and the San Quentin.
Since that time with the development of technical diving and the ingenuity and exploration by the generation of divers that followed, many wrecks have been located and become part of the diving itinerary, albeit requiring advanced technical skill and ability to dive deep, in some cases.
Subic Bay is located about 100 km from Manila and is the smaller bay to the west of Manila Bay on the map.  It takes 3-4 hours to drive from Manila, but there is the former naval base airport there with a limited number of flights landing in the SBMA zone.
As a diving area, its claim to fame is the 20 or so wrecks mostly dating from the Japanese occupation during World War II.  There are reefs aside from the wrecks that make for interesting exploration, but without the wrecks, there would not be a large crowd of divers clamoring to dive them.  There is entertaining reef life, though, that includes schools of jacks, barracuda and tuna, blue-spotted stingrays, octopus, cuttlefish, puffers, rabbitfish, sweetlips, snappers, fusiliers, interesting macro critters, corals, sponges, and the occasional shark or turtle.
There are dive sites suitable for all levels of diver and it is an excellent location for introductory dives, courses, and snorkeling.  Deep and penetration opportunities for very advanced technical diving is also available, as well.  Many operations are running technical training, particularly on the New York wreck and others that are deep.  The Ocean Adventure people also run dives with dolphins and pilot whales.
There is little to no current on the sites inside the bay.  Visibility can be as good as 30 meters, but it is often much less, down to a few meters, particularly on the inner wrecks closest to Alava Pier, like the Oryuko Maru, the Seian Maru, and even the New York, slightly further out.  Water temperatures are from 27-29°C (80-84°C) and the best time to dive is from November to May.  When the rainy season starts in June, the surface can be rough and visibility reduced significantly.
Subic Bay also offers jet skiing, windsurfing, water toys, and other beach activities.  There are casinos, restaurants and a lot of bar and club activity available.  In the economic zone, the near virgin forests have wild monkeys and the Zoobic tiger safari that allows you to ride through uncaged tigers.
Major Subic Bay Wrecks
New York (ACR-2) – Depth: 16-30 m (55-100 ft)
El Capitan (USS Majaba) – Depth: 4-22 m (13-73 ft)
"Nikko Maro" – Banshu Maru No. 52 – Depth: 56 m (180 ft)
San Quentin  – Depth: 12-16 m (39-52.5 ft)
Landing Craft Utility (LCU) – Depth: 9-22 m (30-73 ft)
Landing Craft Mechanized (LCM) – Depth: 41 m (135 ft)
Upside Down LCU – Depth: 36 m (120 ft)
Kyo Maru  – Depth: 69 m (226 ft)
USS Lanikai – Depth: 34-36 m (112-120 ft)
Seian Maru – Depth: 16-27 m (53-89 ft)
Japanese Patrol Boat – Depth: 18-24 m (60-80 ft)
SS Oryoku Maru 'The Hellship' – Depth: 17-25 m (56-82 ft)
Landing Ship Tank (LST) – Depth: 26-32 m (85-105 ft)
Arizona House Wreck – Depth: 18-21 m (59-69 ft)
Douglas Skyraider  – Depth: 36 m (118 ft)
L2D "Tabby" (Japanese DC-3/C-47) – Depth: 42-44 m (138-145 ft)
McDonnell Douglas F-4 Phantom 2 – Depth: 40 m (131 ft)
Savage A2 (AJ-2) Bomber – Depth: 70 m (230 ft)
Bailey Bridges – Depth: 26-32 m (85-105 ft)
Beer Barrels – Depth: 25-30 m (82-98 ft)
M3 Half-Tracks – Depth: 37 m (121 ft)
Barges – Depth: 4-34 m (13-11.5 ft)
Cage and Barrel – Depth: 37 m (121 ft)
For a detailed description of these sites with photos and a map, go to this website:  click here
Subic Bay Beach Resorts
The Subic Bay Metropolitan Authority (SBMA) zone is a higher end more organized area with attractive hotels, restaurants, dive shops and beaches that is much more comfortable logistically if you have a car.  A good many of the businesses cater to Koreans, along with those that aim at a generalized community of locals and internationals.
Out in Barrio Barretto and Baloy Beach, a few miles west of SBMA, it is more of a hodgepodge of businesses, hotels and dive shops with an emphasis on an easygoing beach lifestyle and nightlife.  I lived in Barretto in the 90s and I can say that now it is more raucous than ever, though with more services and better quality, as well.
For accommodations in Subic Bay, this website is a good reference that can help with booking:
For other posts about Philippine diving, check these:
To check out liveaboard diving opportunities, click here: Philippines liveaboard diving
Subic Bay Photos
With the historic wrecks, macro life, coral reef, and lots of fish, there are many excellent photo opportunities.  For information and reviews of diving cameras, click here:
Scuba Diving Trip Insurance
A cushion for emergencies provides peace of mind when on vacation.  I recommend this diving insurance as they have worldwide coverage and provide scuba divers a quality insurance and medical assistance service.
Feedback and Comments
I hope you found this post on Subic Bay scuba diving interesting and useful. If you have any questions or ideas, please feel free to share them in the comments section.  I'd love to know of any experience you have diving there.  If there is no comments section directly below, click here:  >>comments<<