We may earn money or products from the companies mentioned in this post.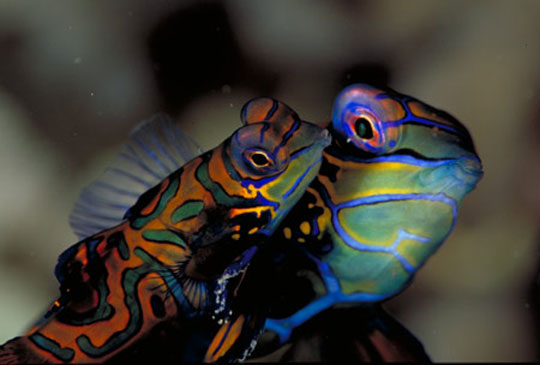 This is the thirty-first in a series which introduces and describes the various dive services and sites for worldwide liveaboard dive safaris.  This one will focus on Wakatobi, Indonesia liveaboards.
In addition to this series on liveaboards, the best worldwide dive resort locations and services are reviewed in their own series.  To check them out, or others in this series, click on Liveaboards / Resorts on the menu at the top and choose a title from the list.
Have you ever been diving in Wakatobi before?  If so, I'd love to know about your experience.  What dive shop or liveaboard did you use?  Which dive spots are the best and what are the conditions there regarding the visibility, current, water temperature, sealife attractions, etc.?  Please post your response in the comments section at the bottom and we'll all learn something we can use.
Wakatobi Diving
Wakatobi, a marine conservation area that is part of the Wakatobi National Park, is situated southeast of Sulawesi between the Banda Sea to the northeast and the Flores Sea to the southwest.  The name comes from the first two letters of four of the bigger islands in the group, Wangi Wangi, Kadelupa, Tomea, and Binongki.  In all, there are 143 islands, only 7 of which are inhabited, with a total population of around 100,000.  The indigenous people living in the park are seafaring nomads known as the Bajau people.  There are strict fishing limitations that the local people are willingly maintaining.
The climate is quite dry, for the region, so that run-off is minimal and the water is remarkably clear. There is a good variety in the underwater topography which is formed from uplifted limestone, the result of fossilized reefs.  Several types of reef are in the park including coral atolls, fringing reefs, and Indonesia's largest barrier reef.
The underwater life is characterized by big schools of fish, healthy hard and soft corals, pelagics and great macro life.  When Jacques Cousteau went there he described it as "underwater nirvana" and the "finest dive site in the world."  Wikipedia indicates Wakatobi has the highest number of global fish species (942) and 750 out of the 850 coral reef fish species in the world.  Many locations these days are describing their area as having great diversity, so you can take such claims with a grain of salt, but in this case, you ought to be able to believe Cousteau.  In addition to very rich fish life, Wakatobi also has 396 different soft and hard coral species in a distinctive seascape with bommies, pinnacles, walls, ledges, overhangs, drop-offs, and boulders.  With great visibility, an abundance of small animals and a very healthy reef, the diving is very attractive for photographers and marine biologists.
Animal diversity highlights include: whale sharks, whitetip reef sharks,  nurse sharks, manta, eagle and mobula rays, blue-spotted stingrays, pilot whales, dolphins, flounders, snake and garden eels, resident schooling trevallies and barracuda, shrimp gobies, shrimp, crabs, nudibranchs, scorpionfish, batfish, fusiliers, red-tooth triggerfish, pygmy seahorses, banded sea snakes, leaf fish, comet fish, goatfish, green, hawksbill and less frequently olive ridley turtles and a pristine coral reef with many, many small critters.  Take a look a the video below for a concrete view.
March to December is the high season with busiest times in April/May and July/August.  July/August is particularly attractive as this is the spawning season luring a great volume of fish. Mantas and whale sharks can be seen year-round with November through April the season for pilot whales.
January and February are the wettest time of the year, but it is still reasonably dry, not interrupting the diving to any great extent.  Water temperature ranges from 25°C (77°F) in August to 30°C (86°F) in October.
Reef Summary
Depth: 5 to  >40 meters (16 to >130 feet)
Visibility: 15 to 80 meters (50 to 260 feet)
Currents: gentle
Surface conditions: calm
Water temperature: 25-30°C (77-86°F)
Experience level: beginner-advanced
Number of dive sites: >50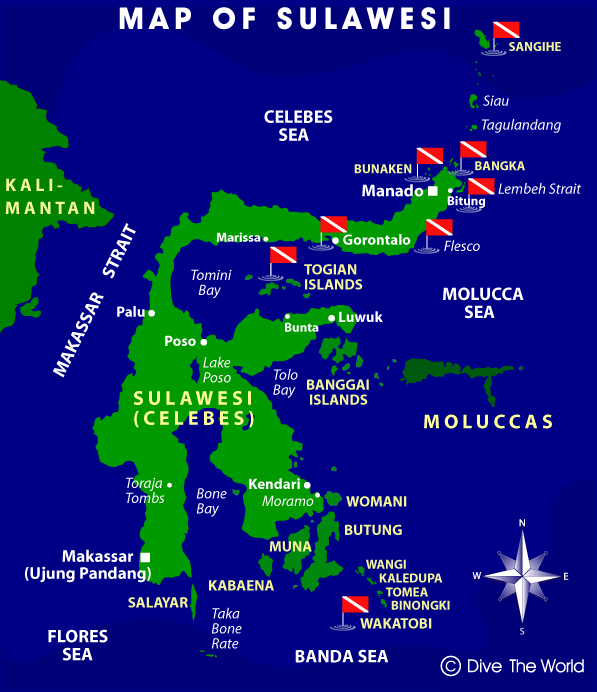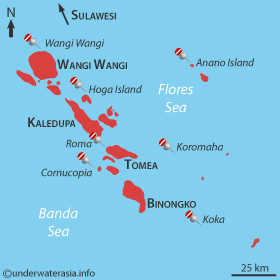 Wakatobi Liveaboard Dive Boats
There is only one yacht devoted to touring the Wakatobi Archipelago, based out of the Wakatobi Dive Resort.  It provides luxury service for a maximum of 10 guests, including the round trip air charter from Bali to the resort.
MY Pelagian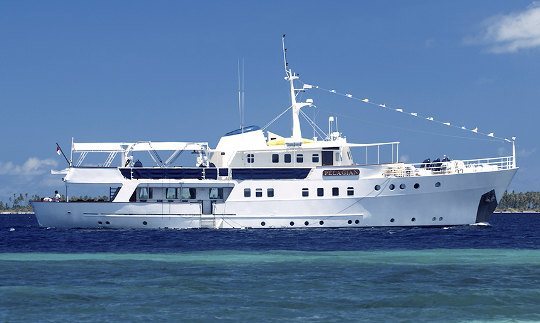 Cruises Wakatobi Archipelago based out of the Wakatobi Dive Resort
Itinerary: Tomia, Kaledupa, Binongko, Hoga, Kapote, Wangi Wangi, and Buton – Pasar Wajo and Batuturo
Air service from the international airport in Bali to Wakatobi is arranged
Ensuite bathrooms, air-conditioned saloon with library, VCD & music system, free wi-fi
Asian & international main meal dishes and continental breakfast
Sundeck with deck chairs
Camera workshop with E-6 photo processing
English and Dutch speaking crew
English-speaking divemasters (max 5 divers per DM)
Tanks filled on dive tenders
Rebreather friendly
Snorkeler friendly
Kayaking
Diving suitable for beginners to advanced
Diving deck
2 x 5.8m 60 HP rigid (RIB) motorized dinghies
4 life rafts
Check further details and book by clicking the Dive the World Banner on the right sidebar.
MY Pelagian
Length

36 m
Guests

10
Equipment

$45/day
including computer
Nitrox

$200/7 nights
Snorkeler
Friendly
Yes
Kayaks
Yes
Single Supplement
+75%
Non-diver Rate
$80/day off
Price/Day

$439
Wakatobi Photos
With the macro life, beautiful, diverse coral reef, megafauna, and lots of fish, there are many excellent photo opportunities.  For information and reviews of diving cameras, click here:
Wakatobi Dive Resorts
If you would like to have a dive adventure and be based on land with a beach and seaside activities, there are a couple of resorts in Wakatobi that provide air transfers from Bali and also in house dive shops to accommodate you. This website is a good source for available options and can arrange a booking:
Scuba Diving Trip Insurance
A cushion for emergencies provides peace of mind when on vacation.  I recommend this diving insurance as they have worldwide coverage and provide scuba divers a quality insurance and medical assistance service.
Feedback and Comments
I hope you found this post on Wakatobi scuba diving interesting and useful. If you have any questions or ideas, please feel free to share them in the comments section.  I'd love to know of any experience you have diving there.  If there is no comments section directly below, click here:  >>comments<<