We may earn money or products from the companies mentioned in this post.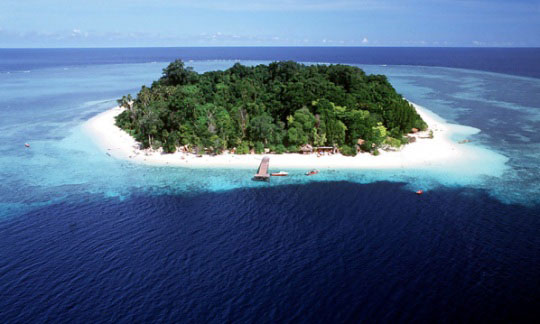 Are you looking for your dream dive vacation? This is the first in a series of reviews of the best dive resort locations around the world.  In this post, the focus will be Sipadan, where arguably more diverse sea life is jam-packed into a relatively small area than anyplace else.  In addition to this series on dive resorts, the best worldwide liveaboard dive locations and services are reviewed in their own series.  To check them out, or others in this series, click on Liveaboards/Resorts on the menu at the top and choose a title from the list.
Have you been diving in Sipadan before?  If so, I'd love to know about your experience.  What dive shop or liveaboard did you use?  Which dive spots are the best and what are the conditions there regarding the visibility, current, water temperature, sealife attractions, etc.?  Please post your response in the comments section at the bottom and we'll all learn something we can use.
Scuba Diving in Sipadan Island Malaysia
Located in the Celebes Sea off the east coast of the State of Sabah on the island of Borneo, Sipadan is an island formed from coral growth over thousands of years on an extinct volcano with walls dropping to 2,000 feet (600 meters).  It is the home of more than 400 species of fish and hundreds of coral species and is rated as one of the premier diving locations in the world, up there with the Galapagos Islands and Truk Lagoon, according to Rodale's Scuba Diving Magazine.  Classic huge schools of bigeye trevally, barracuda and bumphead parrotfish are resident there. Pelagics like manta and eagle rays, hammerheads and whale sharks are also frequently seen along with resident whitetips and leopard sharks and abundant smaller reef critters like ghost pipefish, nudibranchs, and scorpionfish on the extremely bountiful coral reef.  Green and hawksbill turtles massively come ashore for egg-laying from April to September but are ever-present year-round to swim with divers.  The famous turtle tomb in a limestone cave is a favorite spot to explore.
The best time to dive is April to December when the surface is calm and visibility at its best.  The rainy season typically runs from December to March creating cooler conditions and decreased visibility.  Diving is limited by permits to keep the pristine ecosystem intact and resorts are frequently busy, so early booking is recommended.  Particularly busy times are from March to August and at Christmas, New Year's and the Chinese New Year.  When permits aren't available you can still dive on the sites around Mabul and Kapalai Islands, as well as other local spots.  While not as spectacular as those around Sipadan, the diving is excellent and many are renowned for muck diving and an abundance of macro critters.
Non-dive activities on Borneo are also worthwhile and fascinating with eco-tours, trips to the rain forest and the orangutan sanctuary, and mountain climbing at Mt. Kinabalu.
Summary of Diving Conditions
Depth: 5-40+ meters
Visibility: 10-30 meters (33-100 feet)
Currents: possibility of being strong
Surface conditions: calm – April to December, at other times can be choppy
Water temperature: 26 to 30°C (79 to 86°F)
Experience level: intermediate to advanced
Distance: 12 km south of Mabul and 10 km southwest of Kapalai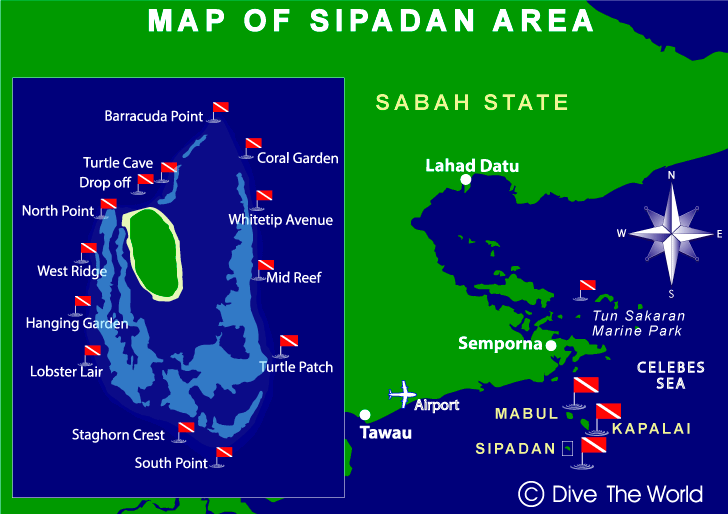 Selected Sipadan Dive Sites
Barracuda Point:  steep wall to 22 meters (72 feet), highlights are a massive schools of barracudas and jacks, dozens of turtles, batfish, bumphead parrotfish, eagle rays, and whitetip and grey reef sharks, strong current is possible, done as a drift dive finishing in a shallow coral garden, suitable for experienced level divers
Whitetip Avenue: 17-40 meters (56-130 feet), coral reef and a vertical drop-off with crevices and rocky formations, and chimneys, lots of sponges, sea whips, feather stars, black coral and sea fans, highlights are whitetip and grey reef sharks, turtles, bigeye jacks, mantas, hammerheads, bumphead parrotfish, groupers, emperor angelfish, cowfish, Moorish idols, triggerfish, barracuda, and scorpionfish, most can be seen in less than 30 meters (100 feet), suitable for experienced level divers
Mid-Reef: 15-20 meters (50-68 feet), a rich coral site with colorful sea fans with anemones and a variety of reef tropicals including Moorish idols, good spot to see green turtles, suitable for all levels of diver
South Point:  20-40 meters (68-130 feet), ledge at 20 meters (68 feet) and steep drop-off, in the shallows above the ledge is a rich coral reef with moray eels, bannerfish, turtles, and a multitude of reef tropicals, moving down the wall highlights are schools of barracuda and jacks, shoals of hammerheads, manta rays, and deep the occasional thresher shark, strong current is possible, suitable for experienced and technical divers
Hanging Garden:  5-16 meters (16-52 feet), wall with rich hard and soft corals, barrel sponges, gorgonian fans, and black coral, lots of reef tropicals including chromis, damselfish, and sweetlips,  look for lobsters and nudibranchs, and dozens of turtles, some current is possible, suitable for all levels of diver
Drop-Off/Sipadan Jetty: 25-40 meters (83-130 feet), steep drop-off close to the jetty to 600 meters, along the wall look in the cracks and nooks and between the hard and soft corals for macro critters, highlights are huge schools of barracuda and mackerel, batfish, turtles, bumphead parrotfish, leopard sharks, and whitetip and grey reef sharks, suitable for experienced level divers
Turtle Cavern:  20 meters (68 feet), entrance to a cavern system at 18 meters (60 feet), outside are many turtles, penetration is possible into several chambers and tunnels, in one chamber are a number of turtle skeletons, suitable for technical divers,
There are currently no liveaboard yachts cruising the Sipadan area.  There are, however, a couple of wonderful boats doing safaris further south on the east side of Borneo to the Derawan Islands and other great Indonesian sites.  Here is my review and links to the vessels: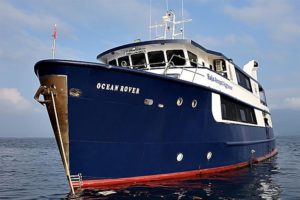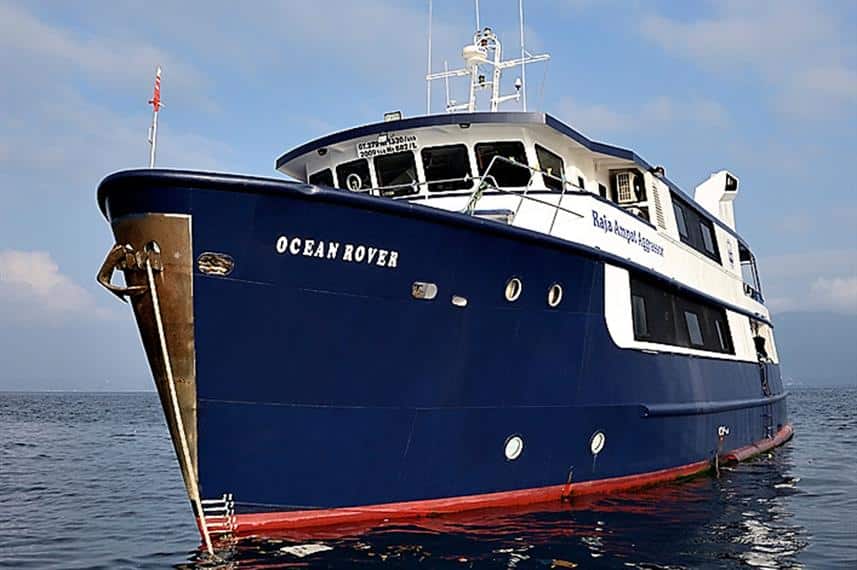 Raja Ampat Aggressor, Derawan Islands Liveaboard Diving – Check the Price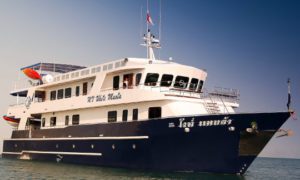 Raja Manta, Derawan Islands Liveaboard Diving – Check the Price
For reviews of diving at other Malaysian locations please check these posts:
Getting in – The closest access by air is to Tawau Airport on a 3-hour flight from Kuala Lumpur or a 50-minute flight from Kota Kinabalu.  From there it is a 1-2 hour ride by minivan or taxi to Semporna.  Since 2002 there is no longer any accommodation on Sipadan Island, itself.  Some resorts around Semporna dive on Sipadan.  If you are staying on Mabul or Kapalai Islands, you can take a boat organized by your resort for the 45-minute trip.  From Mabul to Sipadan the dive boat takes about 15 minutes and from Kapalai 25 minutes.
Hotels and Diving – In the Semporna area there are at least 112 lodging options from $5 to $410 per night and a dozen or more dive shops in operation offering a full range of services that include equipment rental, diving certification classes, dive guides, and boat tours.  There are only 176 permits per day for diving on Sipadan Island, itself.  The most recent allocation shows that 24 different resorts, dive shops, and travel agents have them.  Make sure to book a permit through your dive shop, supporting hotel, or agent.  The website linked below has the details for lodging and can arrange a booking.  You can easily find the location on the map provided on their site.  The rates are guaranteed to be the lowest and it is free to cancel or change dates.
Scuba Dive Insurance
A cushion for emergencies provides peace of mind when on vacation.  I recommend this diving insurance as they have worldwide coverage and provide scuba divers a quality insurance and medical assistance service.
Feedback and Comments
I hope you found this post on Sipadan scuba diving interesting and useful. If you have any questions or ideas, please feel free to share them in the comments section.  I'd love to know of any experience you have.  If there is no comments section directly below, click here:  >>comments<<