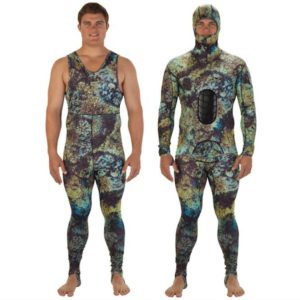 This post defines and describes Lycra dive skins for freediving and scuba diving in the buying guide just below.  Afterward, 10 of the top models are reviewed with photos, several videos, and a comparison table.
Lycra Dive Skin Buying Guide
Exposure Protection – For scuba diving, snorkeling, and freediving, as well as all water sports, we look for exposure protection based on environmental factors including water temperature.  When the water is warm, the exposure protection provided by a wetsuit or drysuit is not necessary to fend off the cold, but protection from UV rays, sunburn, stings from jellyfish, sea lice, and abrasions is still desirable.
Lycra Dive Skins – That's where wearing a Lycra suit, otherwise known as a skin suit or rash guard comes in.  Made of lightweight elastic fabricated materials using nylon, polyester, and others, Lycra is the brand name of the original material used which has become generic in usage.  Just wearing some material between your skin and the sun provides protection.  An added coating of a particular UV material can enhance protection.  A common rating for this type of protection on skin suits is UPF 50.  Long sleeves and hoods provide fuller protection from the sun and against various stingers that are uncomfortable to health-threatening anywhere on the body, but particularly so on the head.
Use as an Undergarment – The use of a skin suit underneath a wetsuit makes it easier to don and doff and helps prevent chafing from friction between the skin and wetsuit.
Features – Most modern materials used are quick drying.  Another feature to consider is the position of the zipper on the front or back.  You may have a preference.  To reach it a back zipper will require a long strap.  Foot and thumb loops are advantageous in keeping the suit in position rather than riding up.  Knee and elbow pads and other reinforced areas may suit your activities or style of diving.  Spear fishermen would like a chest pad for cocking the speargun.  Color of the suit is a factor for hunting or photography.  Camouflage and colors that allow you to blend into the background inhibit detection by targets.
Best Lycra Dive Skin Reviews
Best Use: spearfishing
Material: super stretch lycra
Style: full suit, thumb loops, and foot stirrups, SupraTex knee pads, rear zip with Velcro closure and comfortable neoprene neck, neoprene loading pad, flatlock stitching
Colors: dual camo
Women's Version: not available
Pros: high-quality construction and design with spearfishing in mind
Cons: a touch expensive, but reasonable for all the specialized features
Best Use: scuba and freediving
Material: super stretch lycra
Style: full suit with hood, thumb loops and foot stirrups, front zipper with flap on the inside to cover the zipper preventing abrasion
Colors: black with blue sleeves
Women's Version: unisex
Pros: good UV protection for the head as well as the rest of the body, easy on and off
Cons: let me know
Best Use: scuba and freediving
Material: premium grade lycra
Style: full suit, thumb loops, and foot stirrups, front zipper, durable overlock stitching
Colors: blue, camo, and free dive
Women's Version: unisex
Pros: top brand name, good UV protection, favorite of photographers and budget spearfishermen
Cons: the sizing runs to the small side for some divers
Best Use: scuba and freediving
Material: high-quality nylon spandex
Style: full suit, form-fitting, thumb loops, and foot stirrups, YKK back zipper with a flush guard, high neckline for decreased chafing, multiple sizes
Colors: Aegian (blue/light blue), graphite
Women's Version: available
Pros: comfortable and durable polyester, good UV protection, dries quickly, stylish look
Cons: a little pricy
Best Use: scuba and freediving
Material: lycra spandex
Style: full suit with a hood on men's model, thumb loops and foot stirrups, front zipper, multiple sizes, UPF 50 protection
Colors: women's blue and men's hooded blue
Women's Version: available
Pros: low priced, good quality suit
Cons: sizing can be off a bit, but the seller will replace
Best Use: spearfishing (as part of a set with the bottom below)
Material: Lycra
Style: pullover top, multiple sizes, UV and stinger protection, loading pad for spearfishing
Colors: green or blue camo
Women's Version: not available
Pros: comfortable, set up for spearfishing
Cons: a little expensive, especially when combined with the bottom
Best Use: spearfishing (as a part of a set with the top above)
Material: Lycra
Style: pull on bottom, ankle straps, tied waistband, UV protection
Colors: green camo, brown camo, brown
Women's Version: not available
Pros: comfortable, set up for spearfishing
Cons: a little expensive, especially when combined with the top
Best Use: scuba and freediving
Material: lycra spandex
Style: full suit, thumb loops, and foot stirrups, anatomical cut, long front #10 YKK zipper, multiple sizes, over lock-stitched seams and rolled edges, internal key pocket, machine washable, UPF 50+ protection
Colors: black or black with blue, lavender, purple, or yellow trim
Women's Version: unisex
Pros: moderately priced, good quality, comfortable suit, easy on and off
Cons: let me know
Riffe Digi-Tek Lycra Hooded Top
Best Use: spearfishing (as a set with the farmer john below)
Material: 4-way stretch Impermeaflex lycra spandex
Style: pullover hooded top, slip resistant, raglan sleeve construction, cushioned loading chest pad, thumb connectors on the wrist cuffs, added protection on the bottom and back arm panels, Velcro connection at the padded beaver tail, UV protection
Colors: Digi-Tek camo
Women's Version: not available
Pros: good set-up for spearfishing
Cons: expensive as a set
Riffe Digi-Tek Lycra Farmer John
Best Use: spearfishing (as a set with the top above)
Material: 4-way stretch Impermeaflex lycra spandex
Style: farmer john, added protection on the shins, flexible foot bands, UV protection
Colors: Digi-Tek camo
Women's Version: not available
Pros: good set-up for spearfishing
Cons: expensive as a set
| Picture | Dive Skin | Good For | Rating | Price |
| --- | --- | --- | --- | --- |
| | Ocean Hunter Chameleon | Spearfishing | 4.8 | $$ |
| | Aropec Hooded Unisex | Scuba & Freediving | 4.5 | $$ |
| | Henderson Camo Lycra Hotskin | Scuba & Freediving | 5 | $$ |
| | Scubapro Men's UPF 50 Steamer | Scuba & Freediving | 5 | $$ |
| | Skyone Lycra Dive Skin | Scuba & Freediving | 4.5 | $ |
| | Mares Lycra Rash Guard Top | Spearfishing | 4.7 | $ |
| | Mares Lycra Rash Guard Bottom | Spearfishing | 4.7 | $ |
| | Neosport Unisex Sports Skin | Scuba & Freediving | 4.6 | $ |
| | Riffe Digi-Tek Lycra Hooded Top | Spearfishing | 4.8 | $$$ |
| | Riffe Digi-Tek Lycra Hooded Farmer John | Spearfishing | 4.8 | $$ |
| | | | | |
| | | | | |
Here are my other posts regarding exposure protection:
Feedback and Comments
I hope you have found this review of Lycra dive skins to be useful.  If you have any questions, ideas or personal experience, please feel free to share them in the comments.  If there is no comments section directly below, click here:  >>comments<<