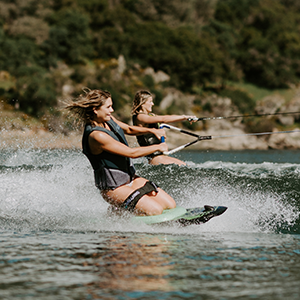 Kneeboarding has been steadily gaining in popularity due in major part to the adrenaline rush and amount of excitement it can generate.  It is notably similar to wakeboarding, especially, and water skiing, without requiring the same skill level.  Many use kneeboarding as a stepping stone toward mastery of the other two.
The sophistication of kneeboarding, however, is increasing markedly all the time.  The difficulty of stunts and skills riders are able to do can be miraculous and board manufacturers are in a constant battle to make design and feature modifications to keep up with the performance of riders.
What is the best kneeboard?  For you to select a kneeboard suitable for what you would like to do can be a little confusing with the large variety on the market today.  To help you in the process top models are reviewed below with key features, photos, and videos, followed by a comparison table, a simple buying guide, and an instructional video for beginners.
If you have any questions or concerns, please let me know in the comments section at the bottom.
Best Kneeboard of 2020
Driftsun, with quality models across water sports including kayaking and other types of boards, has another excellent offering in the Driftsun Crush Kneeboard.  Lightweight at 12 pounds with a high-quality durable EPS core and construction, it has features like a continuous rocker, and performance bottom design great for tricks, and effective padding for the knees and strap for comfort and safety.  Riders of all levels will appreciate the Driftsun Crush.
Level: beginner-advanced
Rotomolded shell with EPS core
Molded EVA knee pad
Integrated tow hook
Adjustable 3-inch padded knee strap
Dual twin-tip design
Continuous rocker
Rounded square nose
Dimensions: 52 x 22 inches
Weight: 12 pounds
SereneLife Water Sport Kneeboard
The SereneLife Kneeboard is an ultra-lightweight model suitable for a range of ages from children through adults.  The durable construction includes a polyurethane deck, comfortable strap, and form-fitting knee slots.  The twin tip design is great for kneeboarding tricks but is also suitable for bodyboarding and other use.  It's easy on the pocketbook and most suitable for beginner through intermediate riders.
Level: beginner-intermediate
Water and corrosion-resistant polyurethane construction
Twin tip design
Form-fitting knee slots
Adjustable strap
Comes in black/blue, black/green, and black/red schemes
Dimensions: 50 x 20 inches
Weight: 8.7 pounds
Low-priced
The Hydroslide Magna is a thin-bodied model designed for individuals smaller than 120 pounds.  It's easy to ride and great for beginners with a patented hydro hook, full-size EVA pad, padded strap, and comfortable knee slots.  Young riders can practice tricks for the first time on this lightweight and reasonably priced kneeboard.
Level: beginner
Full-size EVA pad
3-inch padded strap
Patented hydro hook tow-point
Thin profile
Dimensions: 42 x 8 inches
Weight: 11.5 pounds
Low-priced
The O'Brien Black Magic has the quality and features for beginners to get their start at kneeboarding that can satisfy experts and trick riders, as well.  It has an aquatic hook for hands-free starts and a stable, smooth bottom contour that gives a newbie a more secure feeling, and cable-activated retractable fins for maneuverability.  An EVA pad cushions landings and padded adjustable straps add to the comfort and security of this durable model.
Level: beginner-advanced
Durable plastic base
EVA pad
Aquatic hook for hand-free starts
3-inch adjustable, padded strap
Cable-actuated retractable fins
Dimensions: 51.5 x 21.3 inches
Weight: 16 pounds
Another great board that can be appreciated by all levels of rider, the Leader Accessories Kneeboard is also priced very reasonably.  With durable PE core construction, it has an integrated hook making starts for novices easy and a beveled edge that enables a low ride and expert cuts.  Well padded knee contours and the padded adjustable strap add to the comfort and the graffiti-style top design comes in a choice of five color themes.
Level: beginner-advanced
Polyurethane core
¾-inch EVA pad
Integrated hook
Beveled edge
3-inch adjustable padded strap
Graffiti design comes in blue, golden, green, red and yellow
Dimensions: 50 x 20 inches
Weight: 13 pounds
Low-priced
View More From Leader Accessories
With great durability provided by the roto-molded PE construction, the O'Brien Voodoo has quad molded fins on each corner for superb tracking and a curved bottom with a variable beveled edge for smooth transitions.  Landings are softened by the padded strap and EVA knee cutout padding and newbies have the integrated hook for getting up easily.  All levels of rider will enjoy the performance and moderate pricing.
Level: beginner-advanced
Roto-molded polyurethane construction
¾-inch EVA pad
Integrated hook
Curved bottom
Variable beveled edge
Adjustable padded strap
Quad molded fins on the corners
Dimensions: 51.25 x 22 inches
Weight: 14 pounds
ZUP You Got This 2.0 Kneeboard
The ZUP You Got This 2.0 can be used as a traditional kneeboard or you can switch gears and take a different position kneeling, lying, standing, or using your imagination as a guide to how you'll do it.  The durable roto-molded ABS foundation has an integrated tow-hook, along with side handles, slip-in foot straps, and flat textured padding enabling the variety of positioning options.  It has built-in fins for carving so that it is a fairly high-performance kneeboard that at the same time offers the range of other styles that make it unique.  Suitable for beginners and experienced riders, the pricing is a little higher than the other models reviewed here.
Level: beginner-intermediate
ABS roto-molded construction
Textured EVA padding
Integrated hook
Integrated side handles
Slip-in foot straps
Choice of blue or lime
Dimensions: 51.25 x 22 inches
Weight: 14 pounds
The O'Brien Ricochet Kneeboard is a step up from basic recreational boards with the features and construction at a professional level, capable of high flying jumps and spins, and conditions and obstacles in cable parks.  Lightweight with compression molded construction and a molded-in hook for training, it has a twin tip V-hull bottom with substantial tip and tail rocker giving it the capability of such high-level performance.  A padded strap and molded flex pad provide comfort and cushioned landings on this model that comes in at a very moderate price for such high quality.
Level: intermediate-advanced
Compression-molded construction
Feather core
Molded-in handle hook
Twin tip V-hull bottom
Molded flex pad
3-inch padded strap
Dimensions: 51.5 x 22.3 inches
Weight: 11.02 pounds
Hydroslide Revolution Kneeboard
The Hydroslide Revolution Kneeboard is low-priced, slim, and lightweight.  It has a proprietary spring-loaded hook making it easy for beginners to get up and a classic spoon shape for stability and reliable performance.  Well padded knee wells and a 3-inch belt will keep you comfortable on this model that is suitable for all levels.
Level: beginner-advanced
Twin-tip parabolic shape
EVA padded knee wells
3-inch padded belt
Patented spring-loaded hook
Comes in white or black themes
Dimensions: 52.25 x 20.5 inches
Weight: 11 pounds
Low-priced
The HO Electron Kneeboard is a great moderately priced board for the rider who is ready to take a step up to some serious shredding.  The molded-in fins, diamond tip and tail, V-bottom, and large surface area with low center balance provide the foundation for maximum stability and control when working on moves like a back wrap 180° or hand to hand 360°.  In addition, it is well padded for comfortable riding and has an easy to use handle hook to get you started.
Level: intermediate-advanced
Diamond tip and tail
Molded-in handle hook
4 molded fins
V-bottom
Large kneepad
Single locking knee strap
Dimensions: 53 x 22 inches
Weight: 13 pounds
Best Kneeboard of 2020 Comparison Guide
| Kneeboard | Photo | Level | Length | Weight | Price |
| --- | --- | --- | --- | --- | --- |
| Driftsun Crush Kneeboard | | Beginner-Advanced | 52 x 22 inches | 12 pounds | $ |
| SereneLife Water Sport Kneeboard | | Beginner-Intermediate | 50 x 20 inches | 8.7 pounds | $ |
| Hydroslide Magna Kneeboard | | Beginner | 42 x 19.8 inches | 11.5 pounds | $ |
| O'Brien Black Magic Kneeboard | | Beginner-Advanced | 51.5 x 22.3 inches | 16 pounds | $$ |
| Leader Accessories Kneeboard | | Beginner-Advanced | 50 x 20 inches | 13 pounds | $ |
| O'Brien Voodoo Kneeboard | | Beginner-Advanced | 51.25 x 22 inches | 14 pounds | $$ |
| ZUP You Got This 2.0 Kneeboard | | Beginner-Intermediate | 52 x 25 inches | 18 pounds | $$$ |
| O'Brien Ricochet Kneeboard  | | Intermediate-Advanced | 51.5 x 22.3 inches | 11.02 pounds | $$ |
| Hydroslide Revolution Kneeboard | | Beginner-Advanced | 52.25 x 20.5 inches | 11 pounds | $ |
| HO Electron Kneeboard | | Intermediate-Advanced | 53 x 22 inches | 11.2 pounds | $$ |
| Kneeboard | Photo | Level | Length | Weight | Price |
Best Kneeboard of 2020 Buying Guide
For a detailed description of kneeboard key features, check out this article:  Kneeboard/Buying Guide
How to Kneeboard Basics
Feedback and Comments
I hope you found this post on kneeboards interesting and useful. If you have any questions or ideas, please feel free to share them in the comments section.  If there is no comments section directly below, click here:  >>comments<<