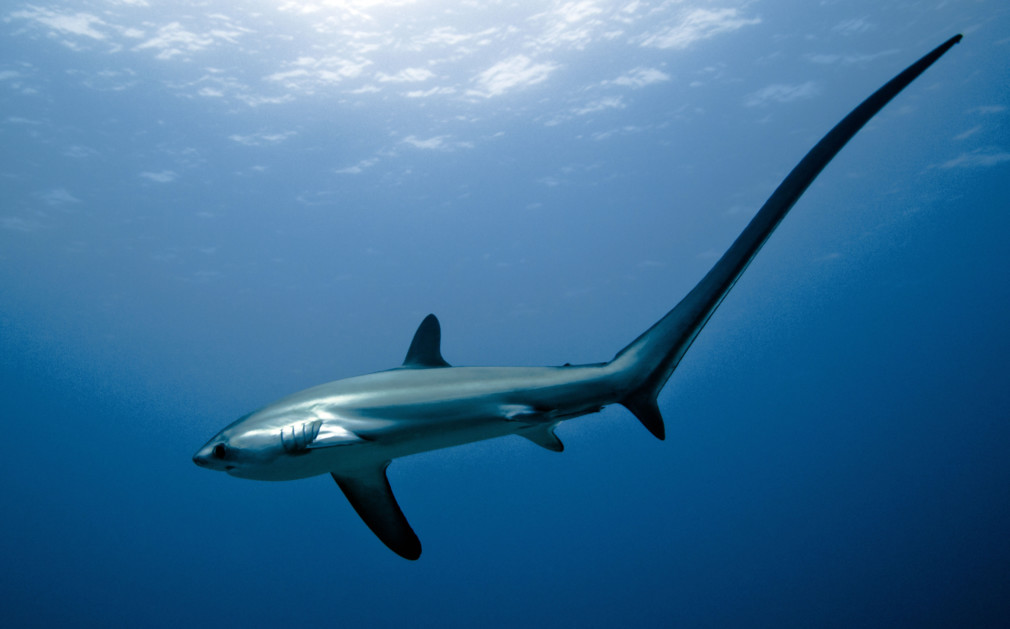 Malapascua Thresher Shark
Updated April 6, 2023
This is the first in a series that will introduce and describe the various dive services and sites for worldwide liveaboard dive safaris.  We'll start in this post with the Philippines, specifically Malapascua, and the Visayas.
In addition to this series on liveaboards, the best worldwide dive resort locations and services are reviewed in their own series.  To check them out, or others in this series, click on Liveaboards/Resorts on the menu at the top and choose a title from the list.
Have you been diving in the Philippines before?  If so, I'd love to know about your experience.  What dive shop or liveaboard did you use?  Which dive spots are the best and what are the conditions there regarding the visibility, current, water temperature, sealife attractions, etc.?  Please post your response in the comments section at the bottom and we'll all learn something we can use.
Best Liveaboard Diving Philippines in Malapascua & the Visayas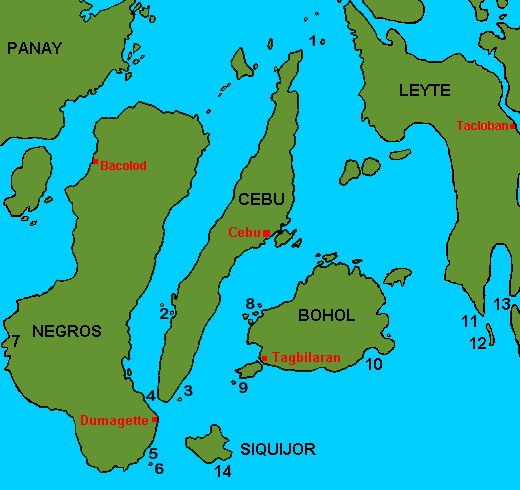 1. Malapascua  2. Pescador Island 3. Sumilon Island  4. Sibulan  5. Dauin 6. Apo  7. Sipalay  8. Cabilao  9. Panglao (Alona)  10. Anda  11. Padre Burgos  12. Limasawa  13. Liloan, Sogod Bay  14. Siquijor
Best Liveaboard Diving Philippines, Malapascua & the Visayas – Selected Dive Sites
Malapascua Scuba Diving
Malapascua has become world-famous in the last 25 years due to the very high probability of seeing thresher sharks there in relatively shallow water.  Years ago we thought it was great to go to Tingo Point off Olango Island (off Mactan) where we had a chance of seeing them in 45-60 meters if we were lucky.  Now there is Monad Shoal near Malapascua where you can plan on diving within 5-10 meters of them at depths of 20-27 meters.  Kimud Shoal is also nearby where hammerheads are often spotted.
Other highlight areas are Chocolate and Gato Islands.  There are some fascinating sites with devil and eagle rays, whitetip reef sharks,  turtles, and rich hard and soft coral areas that host sea horses, frogfish, and other great smaller critters.
In addition, you can visit the awesome cave and wreck sites, including the Tapilon Wreck and the MV Dona Marilyn, where 389 people died in the 1988 tragedy.
Cabilao Island Diving
There are great walls to 30 meters with a very rich coral reef at every dive site around the island.
From December to April hammerheads and whitetips are possible.
Frequently there are strong currents that often bring the big schools of barracudas and jacks.
A full range of corals and sponges abound and the smaller critters including ghost pipefish, seahorses, crabs, anemones, and nudibranchs are the delight of photographers. Visibility is usually great, from 15-30 meters.
Balicasag Island Diving
Balicasag is a sort of continuation and perhaps moves up to a little higher level from Cabilao.
There are the large schools of jacks and barracuda, as well as mackerel along with turtles, white and blacktip reef sharks, and mantas for the diver or photographer that likes the wide angle.
At the macro level are ghost pipefish, pygmy and thorny seahorses, nudibranchs, and abundant hard and soft corals with a huge variety of colorful reef fishes.
As you dive your way around this small island every section has its strengths and unique characteristics including intriguing walls and a "black forest" of black corals.
Moalboal Scuba Diving
There are several diverse great dive sites in the Moalboal area with the most spectacular being Pescador Island.  It is becoming redundant here to describe another fabulous site for wall diving with extraordinarily rich reef life.
Frogfish, stonefish, barracudas, and turtles are common with the chance of seeing threshers, as well.  The sardine swarms are also world-famous here.
Little Apo Island Diving
This is another great small island located just off Dumaguete that is also a marine sanctuary.  It has the usual rich coral reef and diverse fish life in the same vein as the other great locations in the Philippines.
Some wildlife of note includes sail fin gobies, radial filefish, schooling fish, bumphead wrasse, and the possibility of large pelagics.
It is most famous for a large number of turtles in shallow water that are willing for divers and snorkelers to join them for a swim.
Other Sites
I've not discussed a number of wonderful dive sites here including those in the Mactan/Olango area that I personally dove daily for more than 4 years.
Also, well worth visiting are Sumilon Island, Oslob, Dauin, Siquijor, and the many sites around Panglao Island.  These are all available within the itinerary of at least one of the three great liveaboard vessels doing the Philippines dive safari.
For other posts about Philippines diving, check these:
Philippines Liveaboard Dive Boats (Malapascua and the Visayas)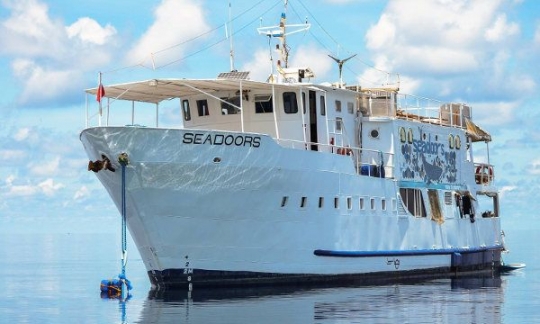 July – February Itinerary: Malapascua: Monad Shoal, Bohol: Balicasag, Rudy Rock, Cabilao Light House, View Point, and Little Apo Island
March – June Itinerary: Tubbataha
All cabins have ensuite bathrooms, windows
Local and French cuisine
Experienced English and French-speaking divemasters (max 4 divers per DM)
Nitrox available for enriched air certified divers
Rebreather facilities
Underwater scooters available for Visayas trips
Steel-hulled boat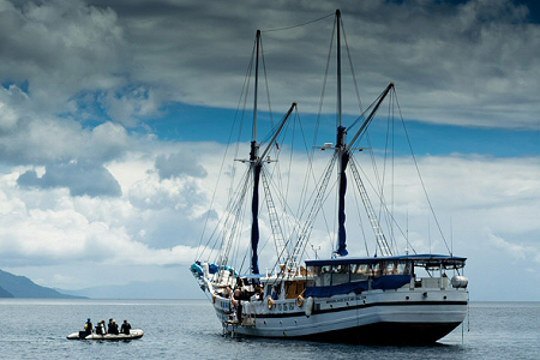 October – January Itinerary: Malapascua: Monad Shoal, Kimud Shoal, Gato Island, Dona Marilyn Wreck, Tapilon Wrecks, Moalboal, Pescador, Sumilon, Oslob, Apo Island, Dauin, Balicasag, Cabilao, Olango Island, and Mactan
March – June Itinerary: Tubbataha
Cabins have ensuite bathrooms, TV, DVD & music players
Asian and International cuisine
Free local beers
Massage, laundry service, sea kayaks
Experienced English-speaking divemasters (6 divers per guide)
Free Nitrox for enriched air certified divers
Large boat
2 automated life rafts, each accommodating 25 passengers
2 motorized dinghies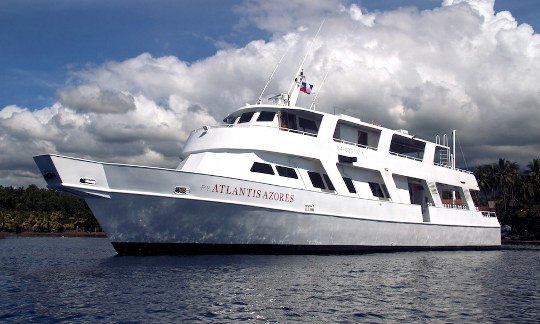 June – December Itinerary: Moalboal, Sumilon, Balicasag, Panglao, Apo island or Siquijor
April – June Itinerary: Tubbataha
All cabins have ensuite bathrooms
Filipino and International cuisine
Nitrox available for enriched air certified divers
Re-breather facilities
Cameras: 3-tier table, charging station, rinse tanks
Aluminum hull boat
3 Life rafts, each accommodating 12 passengers
Philippines Liveaboard Dive Boats (Malapascua and the Visayas) Comparison Table
MV Seadoors
SY Philippine Siren
PY Atlantis Azores
Length

25 m
40 m
107 feet
Guests

16
16
16
Equipment

18 EUR/day
18 EUR/day
$35/day
Nitrox

12 EUR/day
12 EUR/day
$180-364/trip
Snorkeler
Friendly
Yes
Yes
Yes
Price/Day

$261
$321
$341
MV Seadoors
SY Philippine Siren
PY Atlantis Azores
Malapascua and the Visayas Photo Opportunities
With the macro life, beautiful, diverse coral reef, and lots of fish, there are many excellent photo opportunities.  For information and reviews of diving cameras, click here:
Scuba Diving Trip Insurance
A cushion for emergencies provides peace of mind when on vacation.  I recommend this diving insurance as they have worldwide coverage and provide scuba divers a quality insurance and medical assistance service.
Feedback and Comments
I hope you found this post on the Philippines scuba diving interesting and useful. If you have any questions or ideas, please feel free to share them in the comments section.  I'd love to know of any experience you have.  If there is no comments section directly below, click here:  >>comments<<