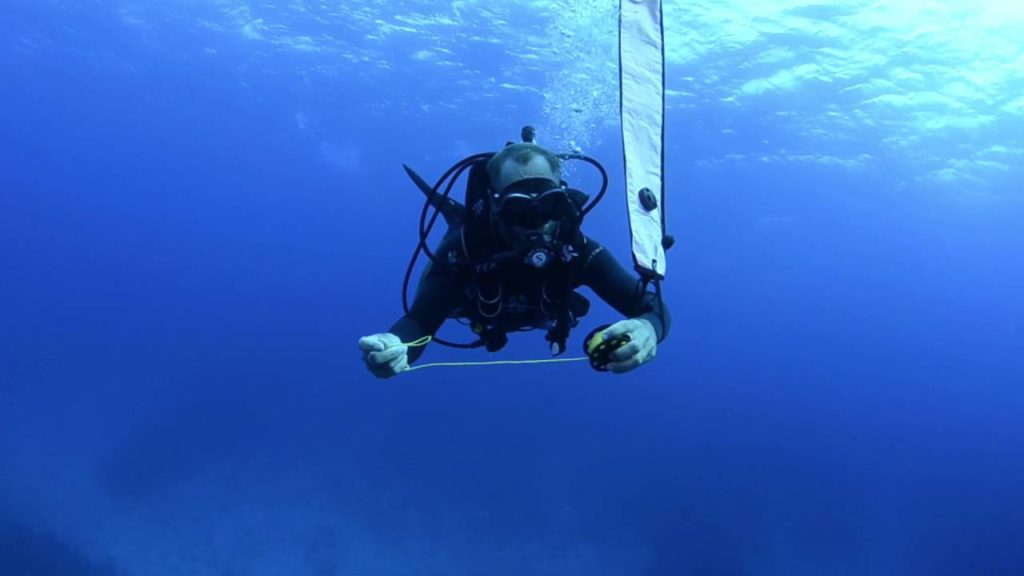 A surface marker buoy or SMB is an important safety accessory that can alert boats on the surface of the position of divers so as to avoid contact or reveal the location for pick-up.  It provides an easily visible marker that can be seen from a distance when surface conditions are rough or drift is causing the divers to travel a significant distance.
What are the important features?
Visibility – Bright colors, preferably yellow or orange, make the SMB easier to see in contrast to the colors of the
water and sky.  A reflective strip at the top or running along the side can aid and is particularly useful for night diving.
Size – Ideally it is small and light enough to roll up and store in an easily attached bag or BCD pocket.  It should be long enough when inflated to be seen above the water surface conditions.  4-8 feet (120-240 cm) long and 4-12 inches (10-30 cm) wide is the basic range in size available, the point is to select one that it is large enough to be seen from a distance where you will be using it.  I recommend one longer than 5 feet (150 cm).
Open-End vs. Closed – An open-ended SMB can be inflated with exhalation bubbles or a second stage regulator.  The gas will escape if the opening is above part of the buoy or as it expands when pressure changes on deployment from depth to the surface.  A close-ended buoy is inflated by various means and then sealed.  Air won't escape unless an air dump valve is part of the design.  This avoids rupture by releasing gas through the valve on ascent or when the buoy is full in the original inflation.
Line/Reel – If the SMB is deployed at depth, there will need to be a line attached.  For a safety stop, it should be at least 15 feet (5 meters) for that purpose.  For decompression depths or deeper deployment, an appropriately longer line is necessary.  Particularly when a longer line is used, a reel makes storage and deployment simpler and decreases tangling possibilities.
Attachment Options – A D-ring on the end of the buoy can be useful for attaching a strobe or other light for increased visibility or to clip onto your equipment.
Budget – Pricing starts below $10 for SMBs of the lightest materials and extends to the $100 range based on the strength and quality of the line and reel.
Best SMB For Scuba Diving
Fluorescent orange color
7 by 60 inches
Can purchase with 45 or 100-foot finger reel
Oral inflate valve
Overpressure relief valve
Pros: compact, overpressure valve
Cons: separate ties necessary for BCDs other than Zeagle brand, no reflective material
72-inch length
Orange color
Includes plastic finger spool with double ender snap and 100 feet of line
Open bottom SMB
Storage bag and mesh safety pocket
Pros: storage bag, length
Cons: no reflective material
65 by 8 inches
Line/Reel purchased separately
Yellow with reflective strips
Closed-circuit/one-way valve construction
Overpressure relief valve
Handle at the top to attach light or slate
Pros: sturdy, overpressure valve
Cons: doesn't come with line/reel, bulky
DiveSmart 5 ft Scuba Diving Open Bottom Surface Marker Buoy (SMB) Kit 
Heavy-duty 400 Denier polyurethane coated nylon
5 by 45 inches
Orange, purple or yellow with reflective band
D-ring for attaching a light
ABS finger spool with 100 feet of #24 braided nylon line
Inflate with the regulator or orally
Overpressure relief valve
Whistle
Pros: overpressure valve, sturdy material
Cons: bulky, not too long
Promate Scuba Diving Inflatable Safety Tube
210 Denier polyurethane coated nylon
48 and 72-inch length options
Neon yellow or orange
Binding taped trim
Oral inflation
Overpressure relief valve
Pros: sturdy material, overpressure valve, affordable
Con: no reflective material
Mil-Spec, urethane backed, nylon material
84 by 22 inches
Red
Large reflective tape on both sides
Stainless steel D-ring
SS D-ring at top
Elastic loop for light attachment
Overpressure relief valve
Pros: 7-foot length, sturdy material, many attachment devices
Cons: line and reel not included
Rubber composite material
75 by 9 inches
Orange
No line or reel included
Oral inflation only
Snap clip
Pros: lightweight, affordable
Cons: no reflective material
Blue Reef Aqua Safety Sausage Marine Rescue Tube Signal
Lightweight material
78 inches long
Bright orange
No line or reel included
Inflatable with the second stage
Pros: lightweight, affordable
Cons: no reflective material, thin material
| Picture | SMB | Material | Length | Over Pressure Valve | Reflector | Rating | Price |
| --- | --- | --- | --- | --- | --- | --- | --- |
| | Zeagle Deluxe Signal Tube | Not Specified | 60 inches | Yes | No | 4.8 | $$ |
| | OMS Safety Set II | Not Specified | 72 inches | No | No | 4.7 | $$$ |
| | Dive Alert SMB | 400 Denier polyurethane coated nylon | 65 inches | Yes | Yes | 4.5 | $$ |
| | DiveSmart 5 ft Scuba Diving Marker Buoy Kit | 400 Denier polyurethane coated nylon | 45 inches | Yes | Yes | 4.6 | $$ |
| | Promate Scuba Diving Inflatable Safety Tube | 210 Denier polyurethane coated nylon | 48 or 72 inches | Yes | No | 4.2 | $ |
| | XS Scuba Safety Sausage | Rubber composite | 75 inches | No | No | 4.1 | $$$ |
| | XS Scuba Surface Marker Buoy | Urethene backed nylon | 84 inches | Yes | Yes | 4.3 | $ |
| | Blue Reef Aqua Safety Sausage | Not Specified | 78 inches | No | No | 4.0 | $ |
| | | | | | | | |
| | | | | | | | |
Care of Your SMB 
rinse in freshwater, inside and out
dry and store out of the sun
Feedback and Comments
I hope you found this post on scuba diving hoods interesting and useful. If you have any questions or ideas, please feel free to share them in the comments section.  If there is no comments section directly below, click here:  >>comments<<