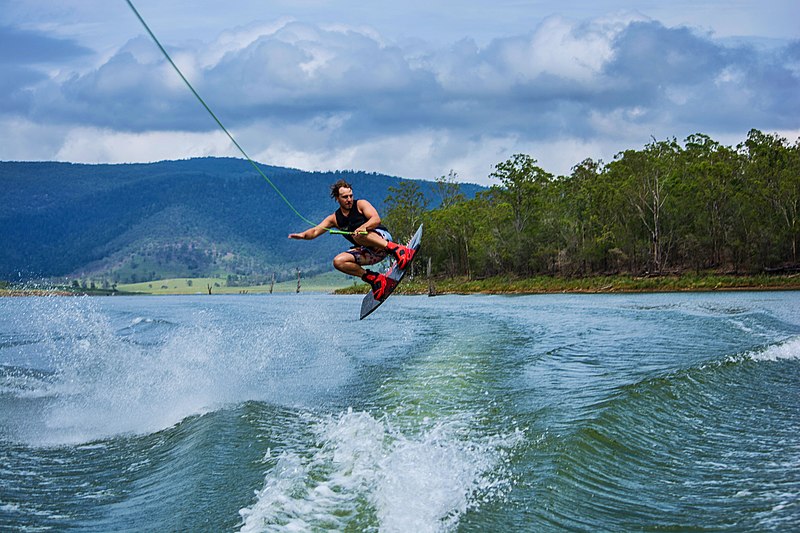 The options for summer fun and adventure out on the water enjoying the sun and exercise are countless.  If you are thinking to up the adrenaline level wakeboarding is an excellent choice.  A combination of surfing, waterskiing, and snowboarding you'll have a chance to enjoy some time on the water, show your athleticism, and learn a few exciting tricks.
Many wakeboards are on the market today with a large number of possible features to consider depending on your skill level and the style for you to embrace.  To help you in the selection process top models are reviewed below with key features, photos, and videos, followed by a comparison table, a simple buying guide, and a couple of brief instructional videos for beginners.
If you have any questions or concerns, please let me know in the comments section at the bottom.
Best Wakeboards in 2020
The Connelly Reverb Wakeboard with its package of features is recommended for intermediate and advanced riders by the manufacturer but will also be appreciated by many beginners as well.  Suitable for any style of riding the deep center channel provides excellent edge control, the 3-stage rocker gives a nice pop off the wake to work on some tricks, and the V-tech in the tip and tail along with the full-length center spine make landing smoothly again easier.  Available in four lengths from 131 cm to 146 cm there is a model to support a large range of body weights.
Level: intermediate-advanced
System 80 core
V-tech in tip and tail
Deep center channel
Full center spine
3-stage rocker
4×4 molded fins
2 bolt-on plastic 1-inch center fins
Available in 4 sizes
The Slingshot Nomad Wakeboard lauded as a crossover between park and boat styles is a bigger more stable model even at lower speeds on smaller wakes suitable for all levels.  It has a stiff belly and slick ballistic base for a smooth ride that can deliver pop and smooth landings.  Four sizes are available from 145 cm to 160 cm.
Level: beginner-advanced
Vertically laminated wood core
.7 mm ballistic base
Carbon fiber bedrock inserts
Belly channels
Bolt-on fins
Continuous rocker
Available in 4 sizes
View More From Slingshot Sports
The Hyperlite State 2.0 Wakeboard is great for beginners with an entry-level deck and an asymmetrical design with a shorter edge on the toe-side that makes learning wake jumps easier. Toe-side footbed risers were added for leverage to compliment the longer heel-side edge to take advantage of natural body position for speed and stability.  (Check the below video for further explanation and rationale.)  Durable monocoque integration of the layered fiberglass on the top and bottom will resist delamination for many years of usage.   Four sizes are available from 130 cm to 145 cm.
Level: beginner-intermediate
Layered glass with integrated top and bottom
Center spine
M6 inserts
Asymmetrical design
Molded-in toe side footbed risers
Molded-in fins
Abrupt continuous rocker (continuous line with exaggerated tip and tail rocker)
Available in 4 sizes
The Ronix RXT Wakeboard is a professional performance level board with the secret "Blackout" technology that Ronix is rife to reveal in detail.  Slightly larger than models from earlier years it is still lightweight, smooth, fast, lively, and responsive with pop off the wake due to the special design with saw cut rails and channels, a continuous rocker, 1-inch ramp fins and .8-inch free agent fins.  Pricing is fairly high for such quality but it comes in four lengths from 136 cm to 148 cm to fit a range of riders.
Level: intermediate-advanced
Blackout technology (secret advanced core)
Speedwalls
Saw cut rails and channels
Continuous rocker
4 fiberglass 1-inch ramp fins, 4 fiberglass .8-inch free agent fins
Available in 4 sizes
The Ronix Vault Wakeboard is another great model for beginners to develop on with a wide stable profile and asymmetrical design.  It has a thinner, sharper toe-side rail and a fuller, vertical heel-side rail along with similarly asymmetrical molded-in fins that take into account that a rider's shoulders and hips are not always parallel, and provides a more secure feel and better maneuverability.  The rest of the features combine to make an excellent platform to develop skills on with a subtle 3-stage rocker, built-in, and hook fins, and speedy low-friction base.  The package comes with Ronix Divide boots and is available in 3 sizes from 134 cm to 144 cm.
Level: beginner-intermediate
Foam core
Fiberglass wrap
M6 mount pattern
Low-friction base
G & R Technology channels
Thinner, sharper toe-side rail
Fuller, vertical heel-side rail
3-stage rocker
4 molded-in asymmetrical fins
Two 1.7-inch fiberglass hook fins
Includes Ronix Divide boots
Available in 3 sizes
The Rave Sports Lyric Wakeboard is a reasonably priced durable board suitable for intermediate to advanced riders.  The 3-stage rocker, progressive edges, channels, and fins set you up well for tricks but it isn't as speedy in and out of the wake as the most expensive top-notch models.  Nonetheless, with the Advantage boots included, durability, good general performance, and low price for the package, it is a bargain.  It is suitable for riders over 125 pounds.
Level: intermediate-advanced
High-density laminate core
RIM molded PU with carbon fiber reinforcement
Progressive end, rounded center, sharp top, and tail
3-stage rocker
2 tracking channels
2 fins
Includes Lycra-lined multi-point adjustable Rave Advantage boots
Available in 141 cm length
Hyperlite Murray Pro Wakeboard
The Hyperlite Murray Pro comes with design oversight from pro-surfing legend Shaun Murray.  Major features include an extra-light Biolite 3 core, a center landing spine for softer landings, and a subtle 3-stage rocker that has no significant flat spot for explosive take-offs.  It has variable edge design which means the edges at the center of the rails are sharp and moving toward the ends become rounded for good tracking with forgiveness where it's needed.  It also has four 8-inch P-wing fins for maneuverability and tracking and integrated top and bottom glass for durability.  Available in 4 lengths from 134 cm to 150 cm it is very moderately priced for the quality and design features, and best suited to intermediate and advanced riders.
Level: intermediate-advanced
Biolite 3 core
M6 inserts
Layered fiberglass deck
Integrated top and bottom fiberglass
Center landing spine
Subtle 3-stage rocker
Variable edge design
Four 8-inch P-wing fins
Available in 4 lengths
The Slingshot Bishop is primarily a park wakeboard designed with the influence of pro-rider Blake Bishop.  The vertically laminated wood core with carbon bedrock inserts provides strength to the stiff belly while still allowing the signature flex tips.  The narrow board has a smooth .07mm ballistic base that can take all the pounding you can dish on it and this year Blake got rid of the channels for a looser feel.  It comes in 3 lengths from 142 cm to 150 cm and has an eye-catching graphic design that no one will forget.
Level: intermediate-advanced
Graphics by Wesley Mark Jacobsen & Blake Bishop
Vertically laminated wood core
Stiff belly with no channels
Narrow outline
.07 mm ballistic base
Carbon bedrock inserts
Single-shot fusion sidewalls
3-stage rocker
Flex tips
No fins
Available in 3 lengths
View More From Slingshot Sports
The Connelly Surge Wakeboard is a great kids starter board that can deliver a smooth, stable and forgiving ride.  Not to sound like there is no excitement to be had, the 3-stage rocker can deliver a little pop and the molded fins, removable center fins, and channels provide tracking and maneuverability.  A full spine aids in smooth, easy landings on this lightweight, fairly durable, light-density foam core model.  The modest pricing is sweetened by including Optima boots in the deal.
Level: kids
System 80 light density closed-cell polyurethane foam core
Laminated nexus shell with UV protection
Full spine
Edge channels
3-stage rocker
2 bolt-on 1.9-inch center skater fins
4×4 molded fins
Comes with Optima boot/binding (size 5-8)
Available in 125 cm length
Ronix Quarter 'Til Midnight Wakeboard
Ronix created the Quarter 'Til Midnight Wakeboard by taking one of their best selling models and transforming it into a design more suitable to a woman's physiology by making it lighter, more responsive, and capable of softer landings.  A hybrid between a 3-stage and continuous rocker has pop for take-offs from the wake and is still fast.  4 ramp fins, a concave bottom, and variable rails are great for maneuverability and tracking and a narrower profile slices across the wake like a knife.  It comes in 3 lengths from 129 cm to 138 cm accommodating a wide range of body weights.
Level: intermediate-advanced (women's)
Flex construction (a Ronix secret)
Concave bottom
G & R technology channels
Variable edge design
Thinner profile
Hybrid 3-stage middle/continuous rocker
4 fiberglass 1-inch ramp fins
Comes in 3 sizes
Best Wakeboards in 2020 Comparison Table
Wakeboard
Photo
Level
Length
Price
Connelly Reverb Wakeboard
Intermediate-Advanced
131 cm 136 cm
141 cm 146 cm
$
Slingshot Nomad Wakeboard
Beginner-Advanced
145 cm 150 cm
155 cm 160 cm
$$
Hyperlite State 2.0 Wakeboard
Beginner-Intermediate
130 cm 135 cm
140 cm 145 cm
$
Ronix RXT Wakeboard
Intermediate-Advanced
136 cm 140 cm
144 cm 148 cm
$$$
Ronix Vault Wakeboard Package
Beginner-Intermediate
134 cm 139 cm
144 cm
$$
Rave Sports Lyric Wakeboard
Intermediate-Advanced
141 cm
$
Hyperlite Murray Pro Wakeboard
Intermediate-Advanced
134 cm 139 cm
144 cm 150 cm
$
Slingshot Bishop Wakeboard
Intermediate-Advanced
142 cm 146 cm
150 cm
$$
Connelly Surge Kids Wakeboard
Kids
125 cm
$
Ronix Quarter 'Til Midnight Wakeboard
Intermediate-Advanced (Great for Women)
129 cm 134 cm
138 cm
$
Wakeboard
Photo
Level
Length
Price
Best Wakeboards in 2020 Buying Guide
Length – The length and size of the board you select should be based on your riding style and weight.  It has to be buoyant enough for the rider to float over the wake.  Lengths are expressed in centimeters and range from around 125 cm for children's boards to 160 cm.  Each manufacturer will have guidelines for maximum weight tolerances.
Short wakeboards glide over the water more slowly than longer boards but are easier to maneuver and do tricks with in the air like spins and flips.  Landing takes more skill, though, to avoid the nose digging into the water and toppling you.
Long wakeboards are easier to learn on and most suitable for beginners.  They carry more speed in the water than shorter boards but are heavier and more cumbersome for doing jumps and air tricks.
Materials – The majority of wakeboards are made from some sort of plastic foam that is wrapped in fiberglass.  Some will use graphite or carbon fiber.  These are lightweight, durable, and low-cost.  Other more traditional boards use a wood core that top riders like due to more responsiveness and better lift.
Rocker – This is the curve in the shape of the bottom. All boards have it but there are a couple of major ways the curve is configured which will affect performance.
Continuous rockers have a smooth uninterrupted curved shape.  These move quickly through the water, are more maneuverable, and generally easier to handle.  The speed can send you greater distances off the wake and they carve better on flat smooth water.
3-stage rockers have a more distinct bend in the curve which can be described as cup-shaped.  They aren't as fast on the water but generate high flight off the wake.  Landings are more difficult and impactful on the body.  After landing they are slower to get back up to speed and don't carve in flat water as well.
Flex – This refers to the amount of bend in the board.  It can add to the performance by giving you a bit of pop or spring off the wake.  It can also help in maneuvering and carving.
Wakeboard Base – The features and characteristics of the base are extremely important in defining the performance capabilities of the wakeboard.
Concaves – These are special indentations on the bottom that reduce suction and add lift so that the board rides higher in the water
Channels are grooves along the base that direct the flow of water when landing which makes it easier on the body.
V-shaped spines work like v-shaped boats that allow you to roll from side to side to soften landings.  These are often used on boards with 3-stage rockers.
Fins are used on wakeboards much as they are on surfboards, skis, and paddleboards.  They influence the channeling and direction of movement.  Some fins are molded-in and are a permanent fixture and others are removable.  Molded-in fins tend to be near the outer edges whereas removable fins are more toward the center.  Longer fins make for a stable ride but reduce the ability to perform tricks.
Featureless boards have no channels, fins, or concave features and leave performance to the shape of the board.
Style – Wakeboards fit into two basic types based on how they will be used, either pulled by a cable at a park, or from a boat.
Park Boards – These boards are designed to take the wear and beating inflicted by the ramps and rails they will encounter.  This calls for a smooth base that is reinforced for durability.  Edges will be more defined to enable performance on corners.  Park boards will be thin and flexible to make them easy to be thrown into corners and pop higher without the benefit of any wake.
Boat Boards – These boards will be towed by boats and use the wake created by it.  Not as much flex is needed and the bottom will be configured with a variety of performance features missing from park boards because they would get demolished by use there.
How to Get Up on a Wakeboard
How to Wakeboard at a Cable Park
Feedback and Comments
I hope you found this post on wakeboards interesting and useful. If you have any questions or ideas, please feel free to share them in the comments section.  If there is no comments section directly below, click here:  >>comments<<