We may earn money or products from the companies mentioned in this post.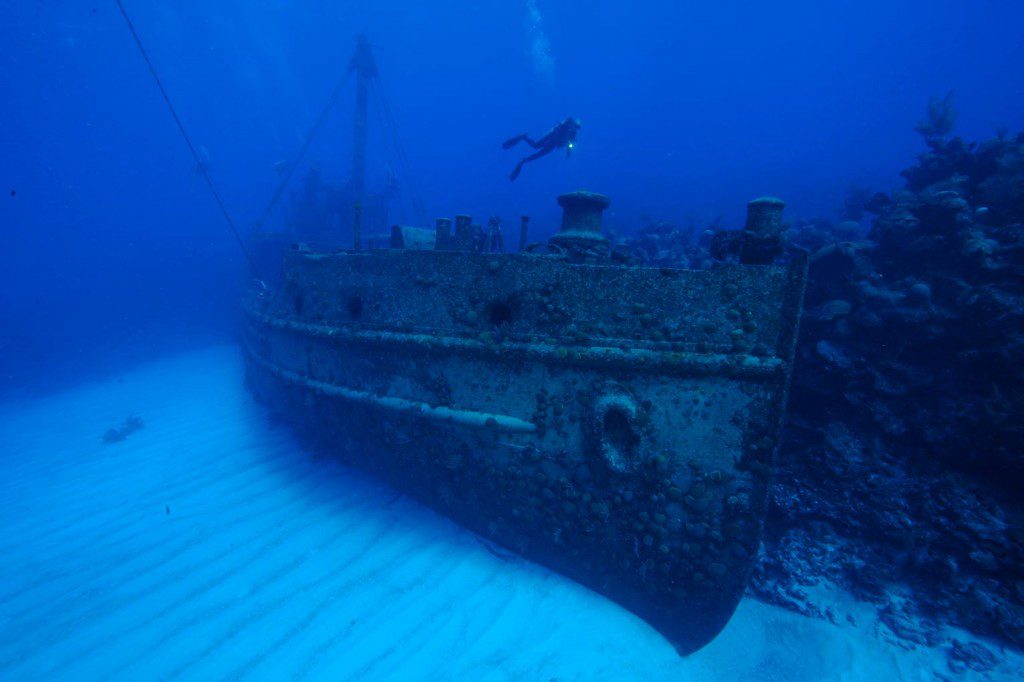 This is the twenty-fourth in a series of reviews of the best scuba diving destinations around the world.  In this post, the focus is on Bermuda.
In addition to this series on dive resort locations, the best worldwide liveaboard dive locations and services are reviewed in their own series.  To check them out, or others in this series, click on Liveaboards / Resorts on the menu at the top and choose a title from the list.
Have you ever been diving in Bermuda?  If so, I'd love to know about your experience.  What dive shop or liveaboard did you use?  Which dive spots are the best and what are the conditions there regarding the visibility, current, water temperature, sealife attractions, etc.?  Please post your response in the comments section at the bottom and we'll all learn something we can use.
Bermuda Scuba Diving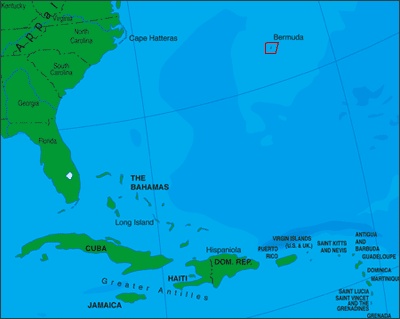 Background – Bermuda, the British Overseas Territory, is situated 1,663 km (1,033 miles) from Miami and 1,070 km (665 miles) from Cape Hatteras, North Carolina, on the North American mainland.  These 150 islands (with 5 main islands) have a coastline of 103 km (64 miles) and are in the far northern edge of the subtropical hurricane belt.  The coral reefs surrounding Bermuda provide a degree of protection that takes the edge off the severity of any storms or hurricanes but also has been the major impediment to safe sea travel that has left 300 ships wrecked on the seabed.  Most of these wrecks are in shallow water not too far from the distinctive pink sandy beaches.  The English speaking population of 64,000 has a very high per capita GDP mostly gained in the insurance and reinsurance businesses and tourism.
Sealife – Bermuda is of volcanic origin with a lagoon and fringing and terrace reefs and 29 protected marine areas.  The south shore reefs are the most dramatic with a rich variety of corals, sponges, and invertebrate life and caves, ledges and swim-throughs.  Fish life includes this long list of attractions: snappers, damselfish parrotfish, doctor fish, chubs, sergeant majors, blue angelfish, cleaner, Creole and bluehead wrasses, pufferfish, moray eels, parrotfish, trumpetfish, Bermuda killifish (endemic in fresh and saltwater), American eels, Bermuda bream, hogfish, blue tangs, Nassau groupers, seahorses, surgeonfish, speckled moray eels, peacock flounders, red hinds, tarpon, spotted eagle rays and whale sharks.
Conditions – May to October is the best time to dive with air temperatures ranging from 23-29 °C (75-85 °F).  In the winter months, the average temperature is 21°C (70°F).  The average water temperature in January is 20°C (68°F) and in August is 28°C (82°F).  A number of the dive shops close in the winter months, so if you plan to dive you should bring your own gear. It is possible to obtain bottles of gas and organize some diving.  A lot of the sites are accessible from the shore and relatively shallow.
Visibility – Also, visibility is excellent.  During the May to October season, it averages 25 meters (83 feet).  In winter it may increase to as high as 60 meters (200 feet).
Bermuda is not an area renowned for liveaboard diving, but there are many cruises around the Caribbean you could consider.  Click here for details and pricing for a Caribbean liveaboard:
Bermuda Dive Sites
Selected Reef Sites
Blue Hole: to 18 meters (60 feet), pristine reef with circular area of sand that looks like a blue hole, multilevel, overhangs, caverns, lobsters, flatworms, trumpet triton conchs, golden crested sea goddesses, and other nudibranchs, groupers, schools of hundreds of parrotfish, blue angelfish, eagle rays, tarpons, 30 meter (100 feet) visibility, beginner level
North Rock: to 10 meters (35 feet), nature preserve, a shallow reef with 1,000-meter radius, pink sand, rich corals, large purple sea fans, many wrecks nearby, many channels and coral heads, lots of small fish, macro critters, beginner level
The Aquarium: 15 meters (50 feet), rich coral reef, teaming fish life (like an aquarium), vertical walls from just below the surface to 15 meters (50 feet), swim through arches, long sand corridor, 2 meter (7 foot) tarpons, cowries, trumpet triton conchs, lizard fish, razorfish, spiny and slipper lobsters, glass-eyed sweepers, eagle rays, turtles, beginner level
Mill's Breaker: 6-8 meters (20-25 feet), southeast of North Rock, shallow breakers, demolished wreck artifacts, like propellers, winches, deck plates and anchors, coral heads a few feet from the surface, maze of channels between coral heads, nooks and crannies to explore for macro life, sandy bottom, excellent visibility in winter months, a little worse in summer, beginner level
South West Breaker: average depth of 9 meters (30 feet), fossil formation breaker reef, variety of fish found in drop-offs and overhangs, schools of snapper, hogfish, and grunts, moray eels, spiny lobsters, glass-eyed sweepers, central tunnel formation with large groupers, large yellow brain coral with yellow cleaner wrasse, beginner level
Cathedral: 12 meters (40 feet), protected area, an underwater dome with light penetration, lots of marine life, canyons and crevices, tarpon, snappers, crabs, lobsters, parrotfish, beginner level
Selected Wreck Sites
Hermes: 24 meters (80 feet), in protected area, 60-meter (165-foot) freighter scuttled in 1984 to become an artificial reef, sitting upright with a 10-degree list, fully intact, wheelhouse 13 meters (45 feet) from the surface, engines, mast, toilet, washbasin and cargo boom in place, hatches removed, substantial reef and fish life, experienced level
Virginia Merchant: 14 meters (45 feet), wooden sailing ship sunk in 1661, mostly deteriorated, a pile of granite ballast stones, wood debris, large metal hook, cannon was salvaged, shoals of horse-eye jacks, grouper, sandy sea bed, beginner level
Mary Celestia: 18 meters (60 feet), 68.5-meter (225-foot) Confederate side-paddlewheel steamer used as blockade runner in the Civil War, ran aground in 1864, bow, anchor, paddlewheels, boilers, parts of wheelhouse discernable, lumps of coal on the seabed, 5 bottles of French wine and perfume located in 2011, beginner level
Constellation: 9 meters (30 feet), 4 mast 58-meter (190-foot) schooner used for cargo in WWII, sunk in 1943 with cargo of building materials, scotch whiskey, and medicine, broken hull on coral and sand bottom, 50-pound sacks of cement, glassware, building supplies, a snooker table, glass bottles, algae, parrotfish, trumpetfish, Bermuda chubs, barracuda, groupers, sergeant majors, beginner level
Cristobal Colon: 18 meters (60 feet), 152-meter (499-foot) Spanish cruise liner with three decks built-in 1923, crashed onto north shore coral reefs in 1936, looted and eventually sunk by the British when used as shell practice in WWII, much wreckage intact including engines, propellers, steam turbines, prop shafts, winches, and part of the bow, unexploded artillery shells, hard and soft corals, barracuda, groupers, reef fish, turtles, macro life, beginner and experienced level
For descriptions of a more exhaustive list of Bermuda's dive sites and wrecks, click here: Bermuda 100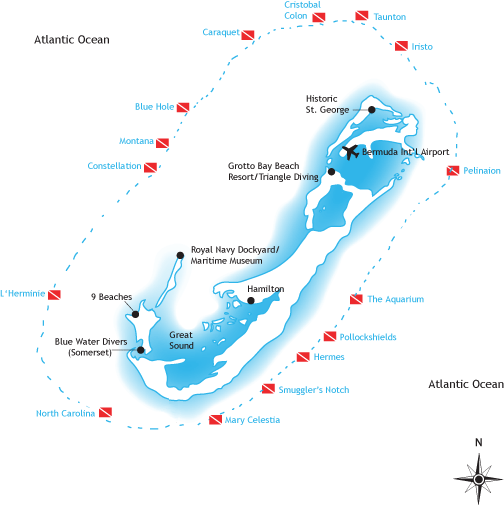 Discover Scuba Diving
For vacationers who would like to get their feet wet with the scuba diving experience, but are not sure they would like to spring for a full certification course, "Discover Scuba Diving" can provide an exciting introduction.  It is authorized by PADI, the biggest diver training organization, and can be accomplished in about 3 hours or less.  To start there is an interactive discussion of basic diving practices and safety.  Next is a session in a pool or shallow protected environment to get acquainted with the equipment and practice basic diving skills.  After that, the experience moves to a shallow open water setting, not deeper than 40 feet (12 meters), with the instructor supervising very closely.  It provides the opportunity to meet the fish in their habitat up close and personal and allows you a chance to see if scuba diving is something you would like to pursue further.  With the excellent shallow dive sites in Bermuda, it is an excellent place to do it.  The following video gives you an idea of how it works.
Discover Scuba Diving at The Fairmont Southampton
Bermuda Accommodations
L. F. Wade International Airport has regular non-stop service from seven major Canadian, American and British airlines. Land transportation includes private cars, taxis, buses, and trains.  Ferries and high-speed catamarans also provide cheap service around the 5 main islands.
In Bermuda, most of the hotels are in the 3 to 5-star range starting at around $150 per night.  Many of the major hotels also have their own in-house dive shop.  Otherwise, there are 5 major dive operations: Blue Water, Fantasea, Dive Bermuda, Triangle, and Tucker's Point. Several of these run in house shops in major hotels.  There are also several rental and air fill stations available year-round.   For a website that is a good source for the available housing options and can arrange a booking, click here:
Bermuda Things To Do (aside from scuba diving)
There is a rich cultural life on Bermuda and a great variety of interesting activities and events to round out a vacation: Bermuda Aquarium, Bermuda Museum, Bermuda Zoo, the Underwater Exploration Institute, botanical gardens, Masterworks Museum of Bermuda Art, lighthouses, crystal caves, music, dance, sports including football, cricket, golf, sailing, fishing, equestrian activities, rugby, basketball, beach and seaside activities, not to mention shopping, restaurants, and nightlife.
Bermuda Photography
With the macro life, beautiful, diverse coral reef, lots of fish and wrecks, there are many excellent photo opportunities.  For information and reviews of diving cameras, click here:
A cushion for emergencies provides peace of mind when on vacation.  I recommend this diving insurance as they have worldwide coverage and provide scuba divers a quality insurance and medical assistance service.
Feedback and Comments
I hope you found this post on Bermuda scuba diving interesting and useful. If you have any questions or ideas, please feel free to share them in the comments section.  I'd love to know of any experience you have diving there.  If there is no comments section directly below, click here:  >>comments<<