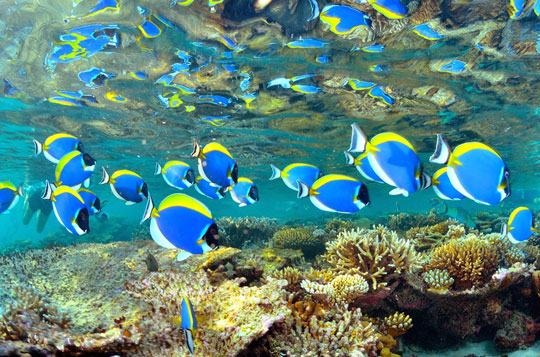 Updated May 24, 2021
This is the twelfth in a series that introduces and describes the various dive services and sites for worldwide liveaboard dive safaris.  This one focuses on the Maldives liveaboards.  In addition to this series on liveaboards, the best worldwide dive resort locations and services are reviewed in their own series.  To check them out, or others in this series, click on Liveaboards/Resorts on the menu at the top and choose a title from the list.
Have you been diving in the Maldives before?  If so, I'd love to know about your experience.  What liveaboard or dive shop did you use?  What are the best dive spots and the conditions there like the visibility, current, water temperature, sealife attractions, etc.?  Please post your response in the comments section at the bottom and we'll all learn something we can use.
Maldives Liveaboard Diving
Location
Lying southwest of Sri Lanka, the Maldives consists of 26 atolls and 1,190 coral islands with a mass of 298 square kilometers (115 square miles) covering an area of 90,000 square kilometers (56,250 square miles), and with a population of 427,756, it is the smallest country in Asia.  The image of white sandy beaches and turquoise water there evokes the image of an island vacation paradise.  On leaving shore for the undersea world one discovers beautiful coral reefs and abundant sea life with a tremendous density of fish including mantas, hammerheads, and whale sharks, and an intriguing undersea landscape of caves, caverns, and walls dotted with several notable shipwrecks.  For more geographical, geological, demographic, and historical information on the Maldives, click here.
Conditions
Diving is not suitable, for the most part, for absolute beginners due to potentially strong currents.  But with control of some basic skills like buoyancy, the drift can provide the framework for some real excitement.  With so many atolls and islands relatively crowded into a limited area, the water is squeezed through narrow channels creating these currents that bring nutrients to encourage and nurture bountiful marine life, which also includes sweetlips, parrotfish, snappers, Napoleon wrasse, tuna, and trevallies.
Liveaboard Diving
A liveaboard is really the most convenient way to fully enjoy the many dive sites in comfortable and even luxurious circumstances and has an all-inclusive tropical vacation.  The onboard experience for most of the vessels is enhanced by the use of a dhoni, a sizable dedicated dive boat.  The gear, equipment, and compressors are kept there, clearing up space on the main vessel, resulting in a much more peaceful and relaxing overall environment before and after dives for the guests.
Maldives Dive Sites
The islands can be divided into the central and outer atolls.  Some of the boats dive on the central atolls only and some on both.
Central Atolls
The central atolls are made up of Ari and North and South Male and the region surrounding them.  Sometimes Felidhoo, Vaavu, and Rasdhoo atolls are also featured in central atolls safaris.  Weather conditions will help the captain decide which to be included.  The central atolls are more traveled and have more tourist and dive traffic than the outer atolls.  Divers will encounter lots of reef fish and often whale sharks, hammerheads, and manta rays are also there to enjoy.
Outer Atolls
Northern Atolls – In the far north are the Haa Alifu and Haa Dhaalu atolls which are remote from the main tourist center in the central atolls.  Other liveaboards are unlikely to be encountered there.  Diving conditions are excellent with chief attractions being schools of barracuda, lots of blacktip, whitetip, and leopard sharks, and large groups of mantas.  A little south at Baa, Lhaiyani, Noonu, and Raa atolls, manta rays are also known to cruise in great numbers along with a huge volume of other fish.  Noonu is particularly famous for its regiments of grey reef sharks.
Southern Atolls – The southern atolls of Vaavu, Meemu, Laamu, and Thaa provide thrilling drift diving in the current swept channels.  Frequent sightings are made of tuna, trevally, Napoleon wrasse, grey reef, hammerhead, tawny nurse and whale sharks, and manta and eagle rays.
Seasons and Conditions
You can scuba dive year-round in the Maldives, but getting a confirmed reservation from June through October is more difficult.  The best advice is to book 6 months in advance for that time frame.
There are two monsoon seasons that affect diving conditions.  From December to May is the northeast monsoon with winds coming from the northeast.  Monsoon, in this case, isn't referring specifically to lots of rain.  During this season winds are not strong and the sky is generally clear.  This results in visibility on the eastern side at 20-30+m (70-100+ft) and 15-20m (50-70ft) on the western side.  Currents pass through the channels from east to west resulting in reef sharks in large numbers congregating in channel entrances on the eastern side.  Where the water flows out of channels into the open sea on the western side the water is full of nutrients and plankton resulting in a greater number of mantas there to feed.  The current is stronger during this season, as well.
The opposite of this process occurs from June to November during the southwest monsoon.  Currents move through the channels from west to east with the visibility better to the west, reef sharks on the western channel openings, and mantas on the eastern side.  The wind is stronger and seas choppier with the skies more cloudy, though not continuously overcast.  Surface swells can reach 2m (6-7ft) from May through November and in June and July, it normally rains for 3-4 hours per day.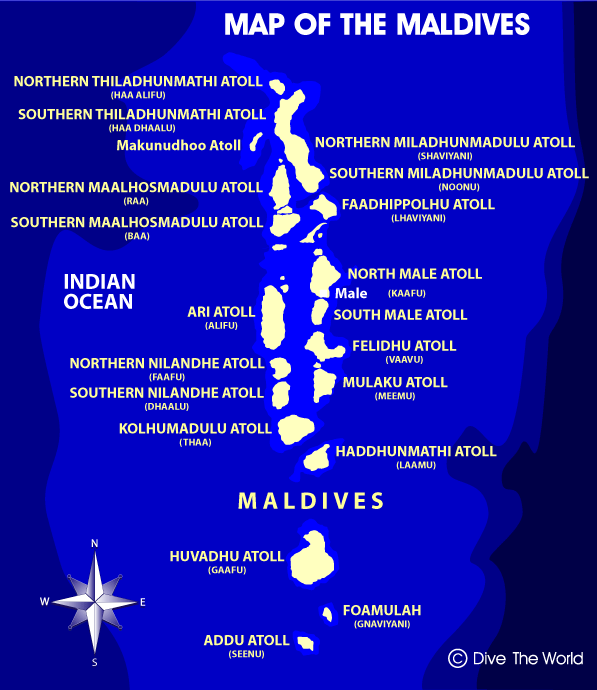 Water temperature is warm all year running from 26-29°C (80-84°F), except for the southernmost atolls where it gets as low as 24°C (75°F) during the northeast monsoon.
Regardless of the season, a number of the most attractive wildlife including whale, reef, and hammerhead sharks, turtles, and mantas are resident all year.  Whale sharks are sighted more at high tide and hammerheads come to shallower water at sunrise.
Maldives Liveaboard Dive Boats
There are 39 dive boats available for safaris on the central and outer atolls.  To check out any of the boats cruising the Maldives, you can find them here:
Here are 6 of the best with photos, features, videos, and finally a comparison chart.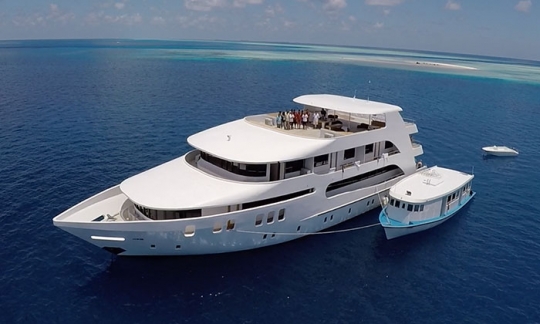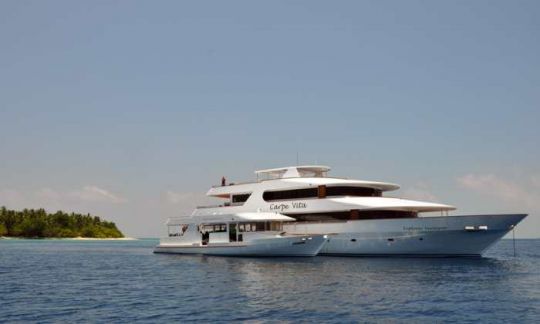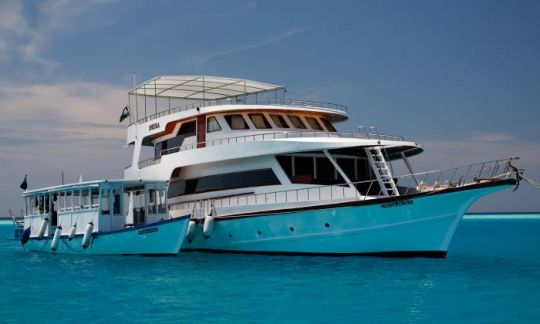 Photographers' Favorite – Maldives Aggressor II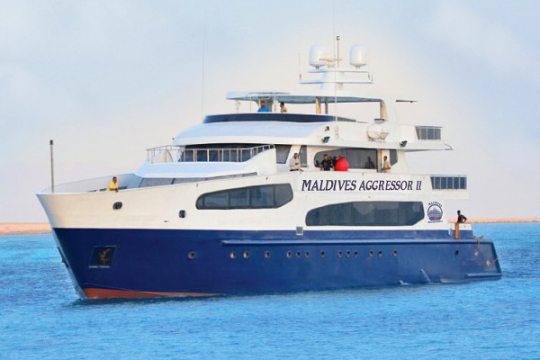 Maldives Dive Boat Comparison Table
|   | MV Adora | MV Emperor Leo | MV Amba | MV Carpe Vita | MY Sheena | Maldives Aggressor II |
| --- | --- | --- | --- | --- | --- | --- |
| Length | 32 m | 35 m | 33 m | 38 m | 24 m | 41 m |
| Guests | 21 | 24 | 20 | 20 | 14 | 22 |
| Crew | 14 | 12 | 11 | 13 | 11 | 16 |
| Equipment | $390/week | $336/week | must provide own | $280/7 nights, $370/10 nights | $269/week | $170/7 nights |
| Nitrox | yes | free | $68/week | $168/7 nights, $224/10 nights | yes | $100/7 nights $150/10 nights |
| Single | +50% | +80% | +65% | +80% | price on request | +65% |
| Price/Day | $194 | $192 | $147 | $142 | $250 | $224 |
| Central Atolls | yes | yes | yes | yes | no | yes |
| Northern Atolls | yes | no | yes | yes | no | no |
| Southern Atolls | yes | no | no | yes | yes | yes |
Maldives Islands Resorts
The liveaboards to the Maldives are so popular that they are fully booked at times.  In that case or if you would prefer a land-based dive vacation there is a full range of accommodation available.  Many of them are equipped with dive shops.  Otherwise, there are a fair number of quality diving operations nearby.
This website is a good source for the available options and can arrange a booking:
Maldives Photos
With the macro life, beautiful, diverse coral reef, and lots of fish, there are many excellent photo opportunities.  For information and reviews of diving cameras, click here:
Scuba Diving Trip Insurance
A cushion for emergencies provides peace of mind when on vacation.  I recommend this diving insurance as they have worldwide coverage and provide scuba divers quality insurance and medical assistance service.

Feedback and Comments
I hope you found this post on Maldives liveaboards interesting and useful. If you have any questions or ideas, please feel free to share them in the comments section.  If there is no comments section directly below, click here:  >>comments<<