We may earn money or products from the companies mentioned in this post.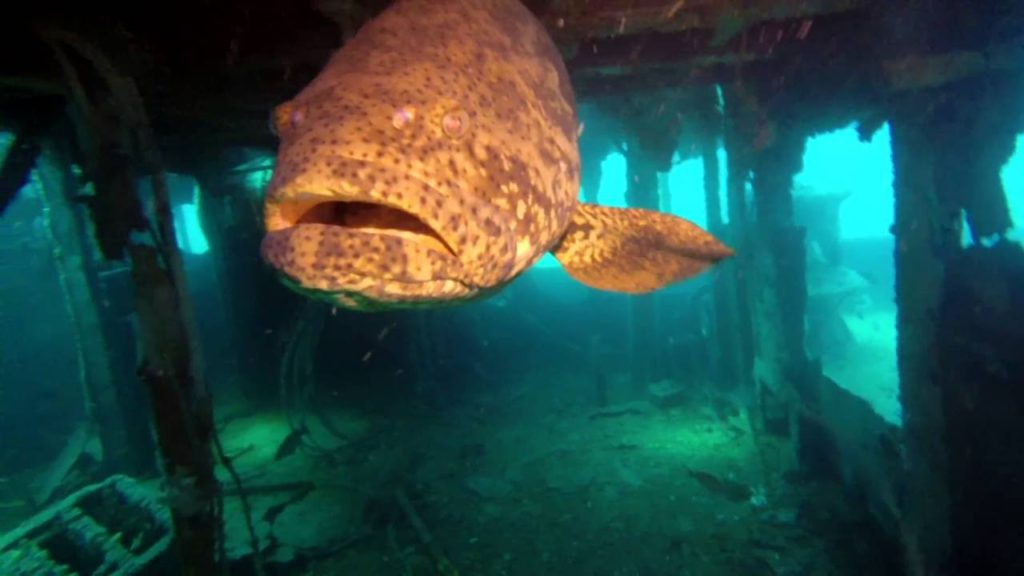 This is the thirtieth in a series of reviews of the best dive resort locations around the world.  In this post, the focus is Panama City, Florida.
In addition to this series on dive resort locations, the best worldwide liveaboard dive locations and services are reviewed in their own series.  To check them out, or others in this series, click on Liveaboards / Resorts on the menu at the top and choose a title from the list.
Have you ever been diving in Panama City before?  If so, I'd love to know about your experience.  What dive shop or liveaboard did you use?  Which dive spots are the best and what are the conditions there regarding the visibility, current, water temperature, sealife attractions, etc.?  Please post your response in the comments section at the bottom and we'll all learn something we can use.
Panama City Diving (Florida)
Background – Set inside St. Andrews Bay in the middle of the Florida panhandle is Panama City, just across the bay from the famous Spring break party site, Panama City Beach, with its sugar-white sand.  They have a combined year-round population of around 50,000, with 185,000 in the entirety of Bay County.  There are two military bases and shipbuilding is the major manufacturing industry, with hundreds of thousands of tourists annually playing a major economic role.
Undersea World – Like Pensacola on the northwest of the panhandle, Panama City has dozens of shipwrecks and hundreds of artificial reefs nearby.  Bay County and area sportsmen have created habitat for a near-miraculous amount of sea life.  At times the schooling bait and game fish are so thick that visibility is affected.  There is rich encrusting life of hard and soft corals, hydroids, gorgonians, sponges and tunicates with tropicals like butterflyfish, angelfish, and damselfish.  The many nooks and crannies give excellent cover to macro critters like octopus, crabs, lobster, and mollusks.  Big resident groupers are a major attraction in addition to barracuda, blackfin tuna, several species of turtle, nurse sharks, wahoo, mahi-mahi, pompano, amberjacks, eagle rays, large pods of dolphins, and the occasional manta or whale shark.  The county has supplemented naturally occurring wrecks with dozens they have scuttled along with bridges, and all manner of other materials to create reefs.  There are shallow opportunities for beginners and others at greater depth with penetration possibilities suitable for advanced and technical divers.
Here is a fairly exhaustive list, put together by the Bay County government, with locations of the hundreds of various dive sites, including wrecks, bridge rubble, construction equipment, reef balls, pyramids, limestone modules, culverts, and others:
Seasons and Conditions – Panama City is warm year-round with average highs from June to August of 100°F (38°C) and 82°F (28°C) in February.  Correspondingly, water temps run from 82-86°F (28-30°C) in July and 61-68°F (16-20°C) in February.  It rains every month with July-August getting 13 days/month and April-May 5 days/month.  Hurricane Eloise caused significant damage to Bay County in 1975 and Mexico Beach, 25 miles (40 km) down the beach, got wiped out last October by Hurricane Michael.  I guess the law of averages would indicate it will be a while before there is another major hurricane in Bay County.  A 5 mm wetsuit and hood would be the choice of many in winter and 3 mm or less for summer insulation.  Visibility is variable based on location, weather and season, but generally, inshore sites have 25-50 feet (9-15 meters) and sites farther out from 50-100 feet (15-30 meters).
For my review of Pensacola diving, please click here:  Best Scuba Diving Sites Pensacola Wrecks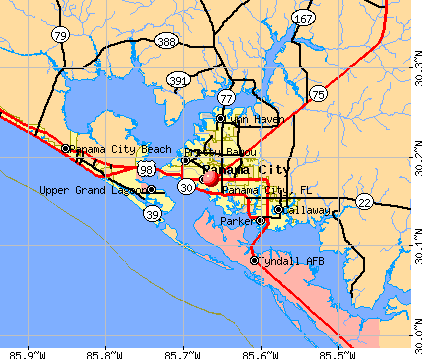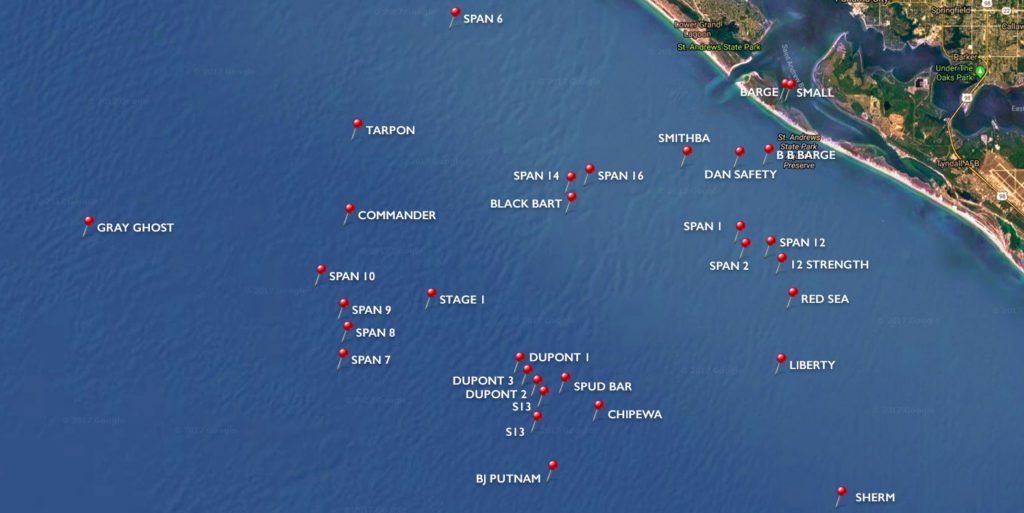 Selected Panama City Dive Sites
Simpson Tug: 18 feet (6 meters), 93-foot (28-meter) tug built in 1879, capsized when pulling a fishing boat free in 1929, at East Pass, scattered with boiler, bulkhead, and smokestack, which breaks the surface at low tide, turtles, stingrays, baitfish, squid, stone crabs, best at low tide, all levels
Black Bart: 80 feet (24 meters), christened Vulcano del Gulfo, 185-foot (55-meter) oil rig supply vessel, sunk for reefing in 1993, holds at 80 feet (24 meters), deck at 60 feet (18 meters), superstructure at 40 feet (12 meters), wheelhouse, galley and head penetrable, galley appliances there, goliath grouper, beginner to experienced
USS Chippewa: 100 feet (30 meters), 205-foot (60-meter) navy tug launched in 1942, sunk in 1990 as a training platform, sitting upright, lots of structure in place, experienced level
USS Strength: 80 feet (24 meters), 185-foot (54-meter) admiral class minesweeper, damaged by kamikaze and midget sub in WWII, sunk and resunk for training, finally sunk for reefing in 1987, rested on its side until hurricane righted her in 1995, hull in two pieces, deck at 60 feet (18 meters), schools of fish, goliath grouper, all levels
Red Sea: 75 feet (22 meters), 130-foot (32-meter) tug sunk for a reef in 2009, the newest such ship used for an artificial reef in the area, beginner and experienced level
USS Accokeek: 100 feet (30 meters), 143-foot (42-meter) fleet tug, built in 1944, sunk, refloated and sunk again, in salvage and ordnance training, reefed in 2000, experienced level
FAMI (Twin) Tugs: 100 feet (30 meters), 11 miles from St. Andrews Bay Pass, 85 and 95 foot (25 and 28 meter) tugs, reefed in 2003 nose to nose, a storm moved one on top of the other, large eagle rays, goliath groupers, experienced level
SS Tarpon: 95 feet (28 meters), 130-foot (32-meter) steamer built in 1887, sunk in 1937, considered an archaeological preserve with no touch regulations, some original bottles still there, experienced level
Hathaway Bridge Spans: built in 1929, 14 spans sunk for reefs in 1985 in different areas and depths
Dupont Bridge Spans: Panama City to Tyndall AFB bridge built in 1927 and 1929, 3 spans sunk in 2008, each span is 180 feet (54 meters) long and 35 feet (10 meters) high
Grey Ghost: 110 feet (33 meters), 105-foot (31-meter) tug, 22 miles (35 km) offshore, sunk in reef program in 1978 next to a natural reef, very rich combo reef today, experienced level
Empire Mica: 115 feet (34 meters), 479-foot (144-meter) British tanker built in 1941, torpedoed by a u-boat in 1942, 20 miles (32 km) south of Panama City, past Cape San Blas and Port St. Joe, used for torpedo practice later creating large debris field, part of bow section rises up 60 feet (18 meters) above the bottom, 2 boilers, propeller shaft, and rudder still there, amberjacks, grouper, barracuda, rays, sharks, experienced level

Getting There – Bay County has the Northwest Florida Beaches International Airport served by Southwest, Delta, United, and American Airlines.
Diving – There are at least a dozen shops operating in the Panama City area for instruction, guiding, charters and rentals.
Housing – There is a full range of hotels available in the various cities of the metropolitan area and on the beach starting at $50 per night.  This website can introduce you to many dozens of them and arrange a booking:
Panama City Beach Activities (aside from scuba diving)
The beach, beachside activities, restaurants, and nightlife are of course the main draw.  In addition, there are a great many tourist attractions around Panama City including fishing, airboat tours of inland waterways, ocean boat tours, some to find dolphins, a pirate cruise, Gulf World Aquarium, Zoo World (zoo and botanical garden), Man in the Sea Museum, Coconut Creek amusement park, Conservation Park, St. Andrews State Park, several water parks, various other parks, and beach tours.
Panama City Beach Photos
With the wrecks and hundreds of dive sites, macro life, beautiful, diverse reef life, lots of fish and scenic shore-side environment, there are many excellent photo opportunities.  For information and reviews of diving cameras, click here:
A cushion for emergencies provides peace of mind when on vacation.  I recommend this diving insurance as they have worldwide coverage and provide scuba divers a quality insurance and medical assistance service.
Feedback and Comments
I hope you found this post on Panama City scuba diving interesting and useful. If you have any questions or ideas, please feel free to share them in the comments section.  I'd love to know of any experience you have diving there.  If there is no comments section directly below, click here:  >>comments<<