We may earn money or products from the companies mentioned in this post.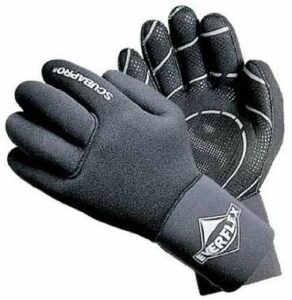 When you go diving you want to enjoy yourself or complete your mission most effectively and comfortably.  Gloves can play a major role in keeping your fingers and hands warm and safe from other external factors that might cause cuts, abrasions or punctures.
Scuba Diving Gloves Buying Guide
What type of environment are you entering?  Based on the temperature of the water, you should provide a level of thermal protection as a sort of extension of your wet or drysuit.  When the water is cold enough for a heavy wetsuit or a drysuit, you will need a measure of insulation on your hands to make sure they are warm enough to have the necessary dexterity to be safe and comfortable.  If you are doing a penetration into a cave or wreck, protection from abrasion is important.
What is the purpose of your dive?  If you are doing construction or salvage work, you need a very sturdy glove.  A photographer will need to have fairly articulate use of hands and fingers.  Night diving or penetration has the risk of damage to the hands and warrants protection.
How thick should the gloves be?  Generally speaking, the colder the water, the thicker the glove.  The available range is .5-7 mm.  A general guideline is:
1-3 mm: water between 16-24°C (61-75°F)
5-7 mm: water between 8-16°C (46-61°F)
The basic material used for thermal protection is neoprene.  It is flexible and adheres well to the hands.  When the material is thin, it is easier to put them on and take them off.  When the material is thicker, not only is donning and doffing more difficult, there is also decreased flexibility and dexterity.  For warm water dives, other materials including textiles and leather can be used.
Aside from neoprene, textiles, and leather, several other materials are used.  Amara is synthetic leather that can be used on the palm for added grip.  Kevlar is a synthetic fiber that is used to reinforce against abrasion and general wear and tear, which is important on work gloves.  Dyneema is another new polyethylene fiber that is also very strong that is appearing on some models.
There are also some design variations.  The basic style is the normal five-finger glove.  For the coldest of water, mittens may be the ticket, but some dexterity will be forfeited.  Donning and doffing is a consideration.  Solid wrist gloves are more difficult in that regard.  The elasticity of the neoprene is important for easy on and off.  Split wrist designs with velcro or a zipper make donning and doffing easier, but perhaps the water flow in through the wrist will be greater.
The below selection provides a range for you to consider in your selection process, based on the type of diving you do.
Best Scuba Diving Gloves
ScubaPro Seamless Glove 1.5 mm
1.5 mm neoprene
Very light at 4 oz
Heat taped seams for easy on and off
Printed palm aids in gripping
Fourth Element 5 mm Neoprene Gloves
5 mm stretch neoprene
7.2 oz
Coldwater glove with thermoflex lining for added warmth
Easy on and off, snug fit and minimal water entry due to stretch material and seams that are stitched, welded and glued
5 mm Nylon II Neoprene for cold water
12.8 oz
Water-resistant finish
1.5-inch velcro wrist closure
Ergonomic flexible pre-bent fingers
Palm of woven, durable Akona ArmorTex material for resistance to abrasion and punctures with flexibility
Glued and blind stitched
NeoSport Premium Wetsuit Gloves
Flexible premium neoprene in 3mm or 5mm thicknesses
Very light 4 ounces
Velcro elastic wrist enclosure
Textured palm for a good grip
Glued and sewn seams ensure no leakage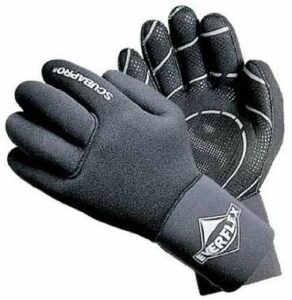 3 or 5 mm Everflex neoprene
Contoured shape for flexibility
Silverskin nylon lining with metalite coating for warmth retention
Comfortable, quick-drying inner plush lining
Textured fingers for a good grip
2 mm neoprene and Nappa leather
Abrasion-resistant palm
Good sensitivity and dexterity in the fingers
Large velcro area on the wrist for adjustment
Cressi 2.5 mm High Stretch Gloves
2.5 mm high stretch neoprene
Metalite lining for a smooth surface and easy on and off
Preformed semi-bent fingers
Non-slip finish for good grip
Seavenger Abyss 1.5 mm Reef Gloves
1.5 mm neoprene mesh back and Lycra panel insertion make for flexibility
Amara leather palms for good grip
Reinforced palm and thumb
Durable blind stitched seams
Adjustable wrist band
Protection from scratches and punctures
Warm water use
1.6 oz
| Picture | Glove | Thickness | Rating | Price |
| --- | --- | --- | --- | --- |
| | Scubapro Seamless Glove 1.5 mm | 1.5 mm | 4.3 | $$ |
| | Fourth Element 5 mm Neoprene Gloves | 5 mm | 5 | $$$ |
| | Akona ArmorTex Kevlar Gloves | 5 mm | 4.3 | $$ |
| | NeoSport Premium Wetsuit Gloves | 3 and 5 mm | 4.5 | $ |
| | Scubapro Everflex Gloves | 3 and 5 mm | 4.6 | $$ |
| | Cressi Tropical 2 mm Glove | 2.5 mm | 4.2 | $ |
| | Cressi 2.5 mm High Stretch Gloves | 2.5 mm | 4.3 | $ |
| | Seavenger Abyss 1.5 mm Reef Gloves | 1.5 | 4 | $ |
| | | | | |
Dive Glove Care and Maintenance
Rinse in fresh water after each dive (just like a wetsuit).  Don't machine wash or use detergent.
Allow them to thoroughly dry out of the sun in a ventilated place.  Textile gloves will take longer than neoprene models.
I hope you found this post on dive knives interesting and useful. If you have any questions or ideas, please feel free to share them in the comments section.  If there is no comments section directly below, click here:  >>comments<<