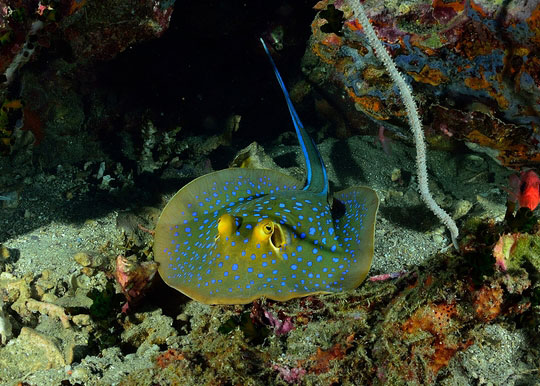 Updated March 19, 2022
Are you looking for your dream dive vacation? This is the seventh in a series of reviews of the best dive resort locations around the world.  In this post, the focus will be Koh Tao in the Gulf of Thailand.
In addition to this series on dive resort locations, the best worldwide liveaboard dive locations and services are reviewed in their own series.  To check them out, or others in this series, click on Liveaboards / Resorts on the menu at the top and choose a title from the list.
Have you ever been diving in Koh Tao before?  If so, I'd love to know about your experience.  What dive shop or liveaboard did you use?  Which dive spots are the best and what are the conditions there regarding the visibility, current, water temperature, sealife attractions, etc.?  Please post your response in the comments section at the bottom and we'll all learn something we can use.
Koh Tao Thailand Diving
Koh Tao or Turtle Island is in the Gulf of Thailand southwest of Bangkok and just north of Koh Phangan and Koh Samui.  Long known as a favorite of backpackers and travelers, there are more PADI diving students trained there than any place outside of Australia. People go not only for the diving and snorkeling but perhaps even more so for the beach and resort atmosphere, as well.
The diving is pretty good, but not quite at the elite level of the Andaman Sea diving in the Similan and Surin Islands.  The coral reef is rich and diverse and whale, leopard, reef, and bull sharks, turtles, lots of schooling fish, pelagics, and barracuda can be found there.
A lot of the diving in the many bays is suitable for students and beginners, but there are some more challenging dives, too.
Koh Tao Diving Sites
Chumphon Pinnacle: Koh Tao's most famous site, granite pinnacle starting at 12 meters at the peak to a maximum depth of 35 meters, anemone covered rocks at the base, batfish, big grouper, yellowtail barracuda, big schools of jacks, leopard sharks on the sandy bottom or reef edge, lionfish fusiliers, rabbitfish, bannerfish, cobia, queenfish, rainbow runners and whale sharks, can be some current, depth and current make it an advanced dive
Ao Leuk (translated Deep Bay) – actually paradoxically is a shallow bay with a sandy bottom, maximum depth of 20 meters, variety of hard corals, lots of reef fish, schools of juvenile yellowtail barracuda, goatfish, gobies, stingrays, and turtles, suitable for beginners
Hin Wong Pinnacle – in Hin Wong Bay,12-30 meters, tabletop formation, lots of purple soft corals and sea fans, whip and black corals, swarming damselfish, Christmas tree worms (tubeworms), white-eyed moray eels, big groupers, snappers, sweetlips, boxfish, queenfish, barracuda, schools of fusiliers and other small reef fish, turtles, open water to advanced level
Koh Nang Yuan – small islet connected by a thin strip of sand to Koh Tao, several relaxed easy sites for scuba or snorkeling, lots of reef fish
Nang Yuan Pinnacle – on the east coast of Koh Tao, peaks reach 2 meters in depth, nooks, crannies, boulders, swim-throughs, crevices, Moorish idols, oriental sweetlips, angelfish, octopus, cuttlefish
Green Rock – big rocky boulder formation northwest of Koh Nang Yuan from 5 to 28 meters, small caverns, swim-throughs, overhangs, lots of nudibranchs, trevallies, stingrays, morays, angelfish, groupers, batfish, sea snakes, titan and yellow margin triggerfish (can be aggressive when nesting), beginner to advanced level
Twins – south of Koh Nang Yuan, 2 rock reef patches from 6-18 meters, rich marine life, lots of anemones and clownfish, blue-spotted stingrays, angelfish, gobies, grouper, beginner level
Shark Island – shaped like a shark, boulders on the east side, lots of reef fish, the rare orange-spined unicornfish, on the south side a soft coral garden at 14 meters with occasional leopard shark and turtle sightings, on the east side hard coral shallows with large schools of small reef fish, crocodile long-toms, snapper, angelfish, bannerfish, stingrays, blacktip reef sharks, occasional strong currents, without the current, good for beginners
Southwest Pinnacle – 13 km southwest of Koh Tao, similar to Chumphon Pinnacle, 6-28 meters, limestone boulder mount covered in pink and gold anemones with spine cheek anemonefish, black corals, sea fans, leopard sharks, blue-spotted stingrays, hexagon, coral, and marbled groupers, large cobia, bull and whale sharks, schools of reef fish and juvenile yellowtail barracuda and squid, in the open, no protection from waves
White Rock – midway between Mae Haad Pier and Koh Nang Yuan, 2 large boulders with a few meters between them, patches of coral and smaller rocks, 6-22 meters, wrasse, butterflyfish, angelfish, white-eyed morays, blue-spotted stingrays, a resident green turtle
Mango Bay – sheltered bay, rich corals, sandy bottom good for training, 6-18 meters, various wrasses, batfish, triggerfish, and parrotfish
Red Rock Drop-off – split rocky pinnacle west of Koh Nangyuan, 5-20 meters, shrimp, moray eels, boulders, swim-throughs, turtles, pipefish, triggerfish, Jenkin's whip ray, advanced level
MY Trident – scuttled in 2010 to create a reef, south of Shark Island, 36 meters, moderate current, advanced dive, good for nitrox, lots of fish and crustaceans
HTMS Sattakut – troop carrier scuttled in 2011 to create a reef, near Hin Pee Wee of the east coast of Koh Tao, 16-30 meters, bigger ship with anti-aircraft guns on bow and stern, intermediate level, big snappers, barracuda, pufferfish, triggerfish, and crustaceans
Sail Rock – 30-meter tall granite pinnacle, halfway between Koh Tao and Koh Phangan, no other rocks nearby, provides a focus for all fish in the area including whale sharks, big schools of trevallies, king mackerel, queenfish, grouper, and whale sharks, smaller rocks around it provide habitat for reef sharks, has a "chimney" formation with an entry at 20 meters and exits at 15 and 10 meters with many macro critters within, like boxer shrimps and moray eels
The water temperature ranges from 27-30°C throughout the year.  The best time to dive is from May to August. November to January is the rainy season with wind and rain peaking in November. December and then again in July and August, it is very busy with tourists and the accompanying price hikes.  March through June and then again in September tourist traffic is down and it's a bit more peaceful and cheaper.
Visibility ranges from 5to 25 meters. When there are rain and wind it moves toward the bottom end of the range.
Dozens of dive shops operate in Koh Tao and Koh Samui.  There will be different styles and competencies, so you would be well advised to look around a bit before selecting one to provide services, particularly dive courses.
Reef Summary
Depth: 5-40 meters
Visibility: 5-25 meters
Currents: from non-existent to strong
Surface conditions: smooth to choppy
Water temperature: 27-30°C
Experience level: beginner to advanced
Koh Samui Scuba Diving
Koh Samui is particularly known for its wonderful resorts, nightlife, and excellent beaches.  Most of the diving around it isn't too outstanding, though.  A lot of the time the visibility on the sites nearest the island is very poor.  The dive operators there make a lot of trips up to Koh Tao to take advantage of the diving there, in spite of the fact that it can take an hour or more by speedboat to reach some of the sites.  There are a few more or less local sites that rise above the rest.
Koh Samui Diving Sites
Koh Yippon – sheltered site north of Angthong Marine Park to the west, 18-meter maximum depth, barrel sponges, soft corals and anemones in the shallows, blue-spotted stingrays, big snappers, yellow-tailed barracuda, and schools of reef fish like fusiliers as depth increases, suitable for divers and snorkelers
Koh Wao (Dragon Island) – looks like a sleeping dragon, boulders in a shallow bay with rich reef life, calm water, hard corals, anemones, sand bottom at 20 meters at the base big rocks with stingrays, snappers, fusiliers, barracuda, and trevallies, appropriate for all levels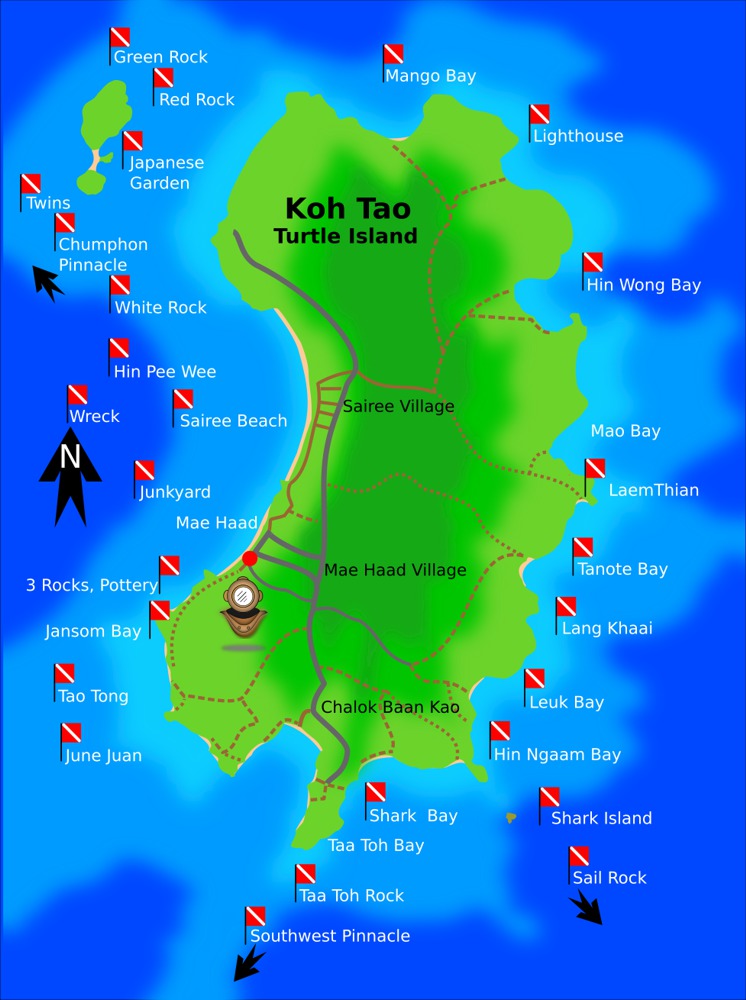 Koh Tao Dive Site Map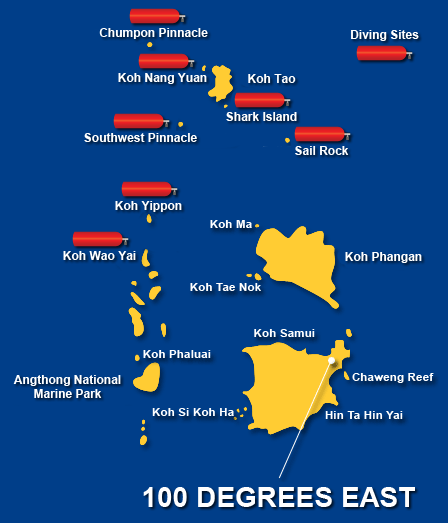 Koh Tao Photos
With the macro life, beautiful, diverse coral reef, megafauna, and lots of fish, there are many excellent photo opportunities.  For information and reviews of diving cameras, click here:
Koh Tao and Koh Samui Accommodation
Koh Tao and Koh Samui have many hotels and resorts from the lowest price backpacker hostel to the most luxurious full-service resorts.
This website is a good source for the available options and can arrange a booking:
Scuba Diving Trip Insurance
A cushion for emergencies provides peace of mind when on vacation.  I recommend this diving insurance as they have worldwide coverage and provide scuba divers a quality insurance and medical assistance service.
Feedback and Comments
I hope you found this post on Koh Tao scuba diving interesting and useful. If you have any questions or ideas, please feel free to share them in the comments section.  I'd love to know of any experience you have diving there.  If there is no comments section directly below, click here:  >>comments<<