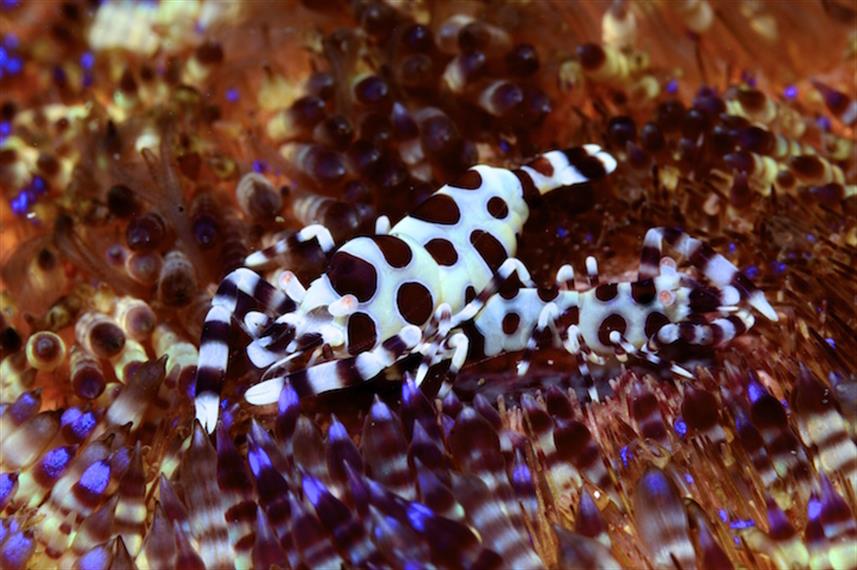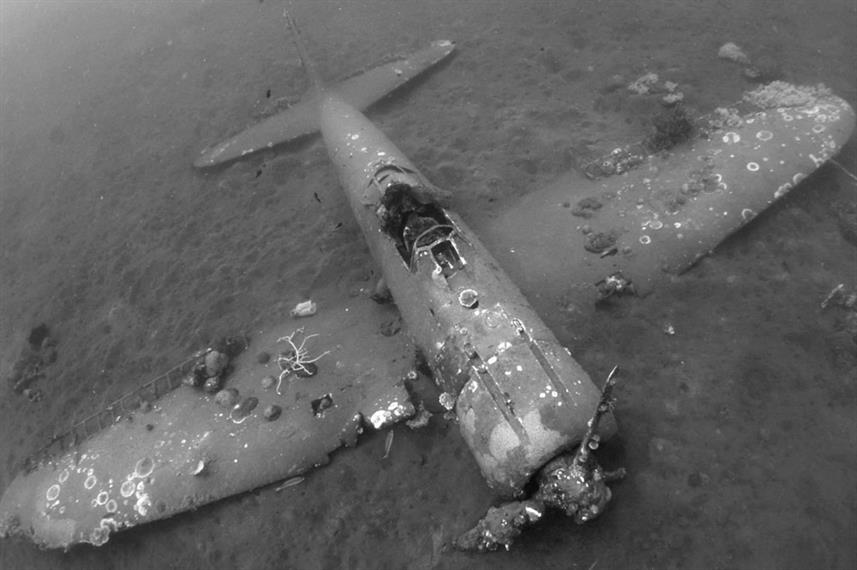 This is the twenty first in a series which introduces and describes the various dive services and sites for worldwide liveaboard dive safaris.  The focus in this one is on Papua New Guinea liveaboards.
In addition to this series on liveaboards, the best worldwide dive resort locations and services are reviewed in their own series.  To check them out, or other liveaboards, click on Liveaboards/Resorts on the menu at top and choose a title.
PNG Scuba Diving
Papua New Guinea is largely a mysterious place for most of us.  We can see on National Geographic TV the people that live in the forests much as they have for a thousand or more years with stories of cultures having contact with the outside world for the first time.  It is large with a major land area and lots of coastline on the smaller and larger islands that make up the country.  PPG is a remote place, but surprising to many, it is fairly easily accessible by air and even by sea from Australia and the Solomons.
There are a lot of areas of great biodiversity on healthy reefs of great variety, from barrier reefs, walls, pinnacles and coral gardens, to a large number of WWII ship and plane wrecks that are accessible even to relatively inexperienced divers.  Muck divers can also find excellent life to observe.
The PNG sea life can provide a feast for naturalists and photographers.  Macro highlights include a variety of exotic seahorses, pipefish, nudibranchs, shrimp, crabs, frogfish, scorpionfish and other invertebrates.  There is an equal diversity of reef fish like clown and other triggerfish, moray eels and large schools of yellow back fusiliers and surgeonfish.  And then there are the pelagics and big creatures that include turtles, grey reef, silvertip, hammerhead and whale sharks, dolphins, whales, dugongs, eagle and manta rays, dogtooth tuna and big schools of jacks and barracuda.
Diving is good year round.  The rainy season is December to March, which does affect the visibility some.  Best vis from May to November can be as good as 45m (150ft).  It is quite warm all the time, being so close to the equator.  Water temperatures go from 79-84°C (26-31°F).  No thicker than 3mm of protection would seem to be needed.
There are a number of resorts that cater to divers around this large country.  A liveaboard, though, receives a strong recommendation as a good way to do your diving because safety and service standards are very high and a number of dispersed dive sites can be visited comfortably in a relatively short time frame.  Most of the great sites around Papua New Guinea are served by the liveaboards.
I urge you to take a look at the maps, itineraries and videos below to get a more concrete idea of the locations, conditions and great sea life to dive with.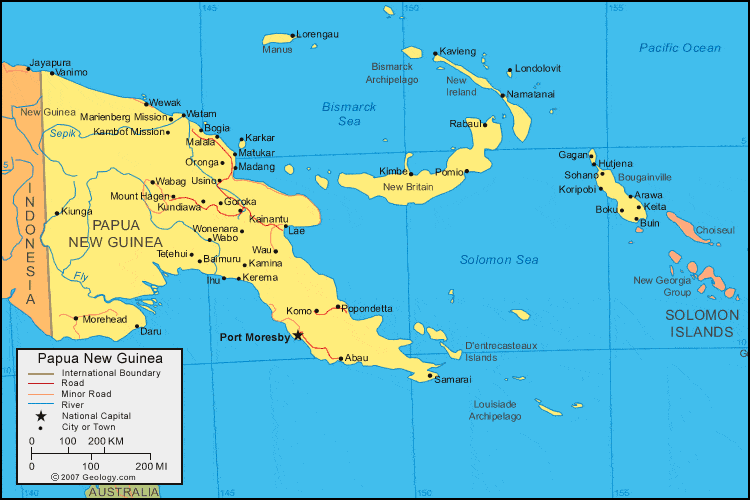 Papua New Guinea Liveaboard Dive Boats
The five boats diving Papua New Guinea each have specific strengths and varied itineraries to consider.   The Solomons PNG Master and True North are very part-time in the PNG liveaboard business.  The other three each spend a significant part of the year there.  Guests are advised to book as early as possible as popular times and itineraries can get reserved pretty quickly.
Solomons PNG Master ($425/day) – only two December, 2019 cruises to PNG
MV Febrina ($288/day) – 7 months/year cruising PNG
MV Chertan ($344/day) – 10 months/year cruising PNG
MV Spirit of Niugini ($343/day) – 11 months/year cruising PNG
True North ($572/day) – only three cruises in November and December to PNG, already fully booked, two cruises in December, 2019
Solomons PNG Master ($425/day)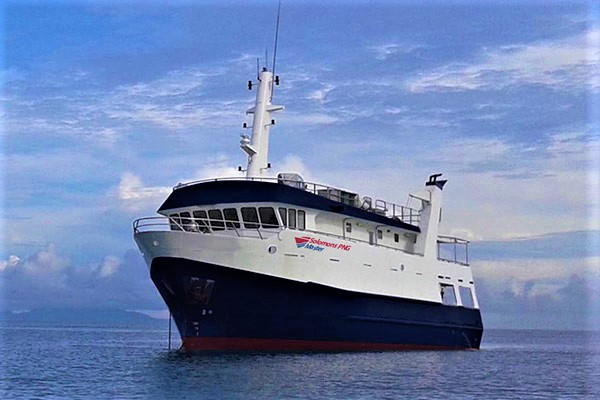 Year round diving to the Solomons with 8-11 day trips, 6-7 different itineraries that can vary based on conditions, explores the many WWII wrecks in the Iron Bottom Sound
December, 2019 PNG 11 day itineraries includes: Byron Strait, Chapman's Reef on Ao Island, Three Island Harbour – 3 wrecks (Sanku Maru, a Type C midget submarine, and Subchaser # 39), Tsalui, Tsoilaunung and Selapiu Islands, Kavieng – wreck of an Aichi E13 "Jake" floatplane, Albatross Channel
Comfortable cabins, all upper deck cabins have private en-suites
Large sundeck with optional shade cover
Excellent comfort and privacy with spacious relaxation areas
Western and local cuisine
The crew speaks English, German, Spanish, Russian, and Italian
Photography station & camera room with table and charging point
Open dive deck with hot water showers
Two large skiffs for pick ups and tours
Life rafts
Nitrox available, rebreather support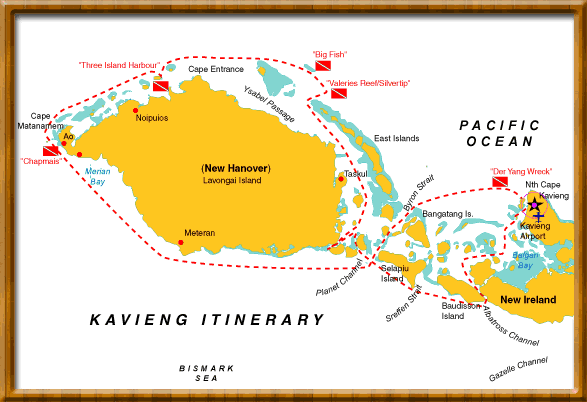 MV Febrina ($288/day)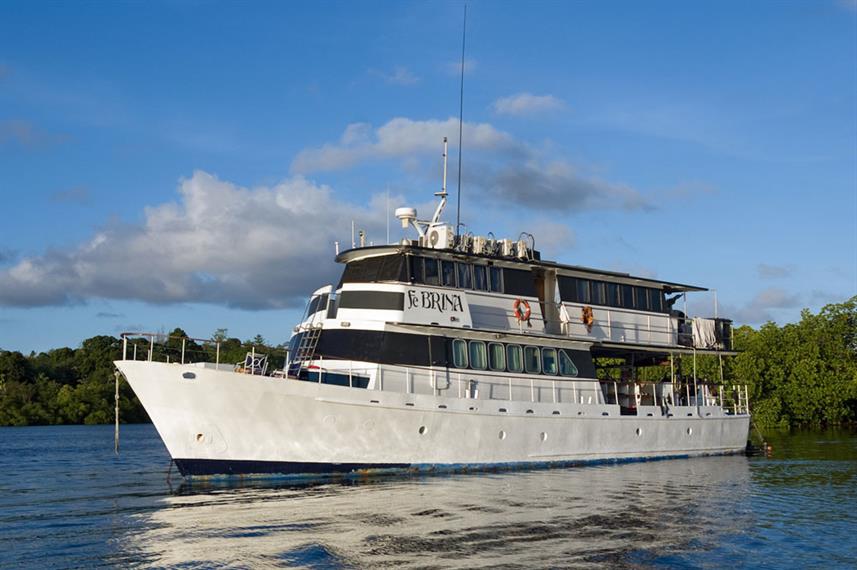 MV Febrina
9-11 day itineraries include: Walindi – Kimbe Bay, Father's Reef, Witu Islands,  and Rabaul – South Coast New Britain
Laundry service
Leisure deck, shaded diving deck, sun deck
Daily housekeeping
Air conditioned saloon, aircon cabins
Warm water showers
Western and local food
Separate rinse for u/w camera
English speaking crew
Non-diver (snorkeler) friendly
Nitrox available
Emergency rafts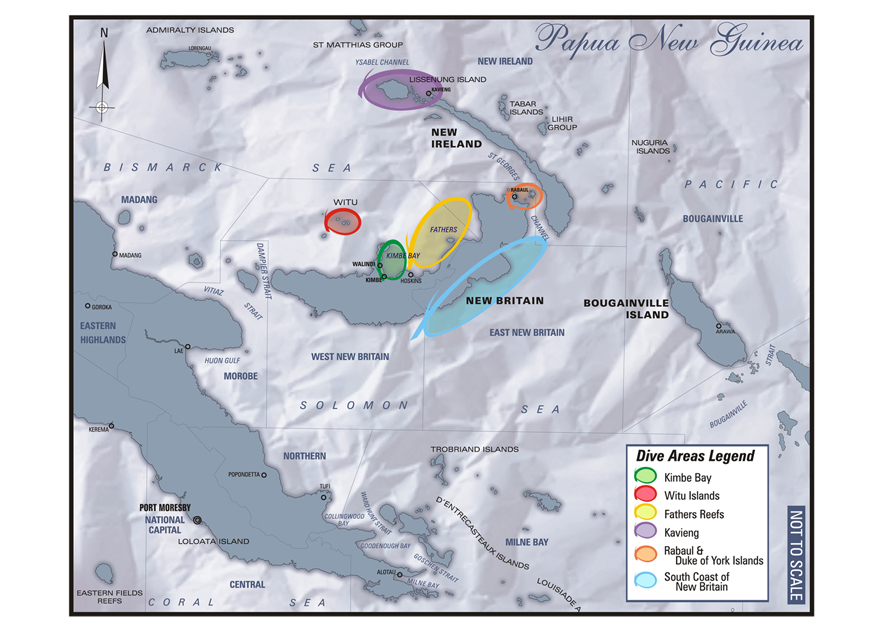 MV Chertan ($344/day)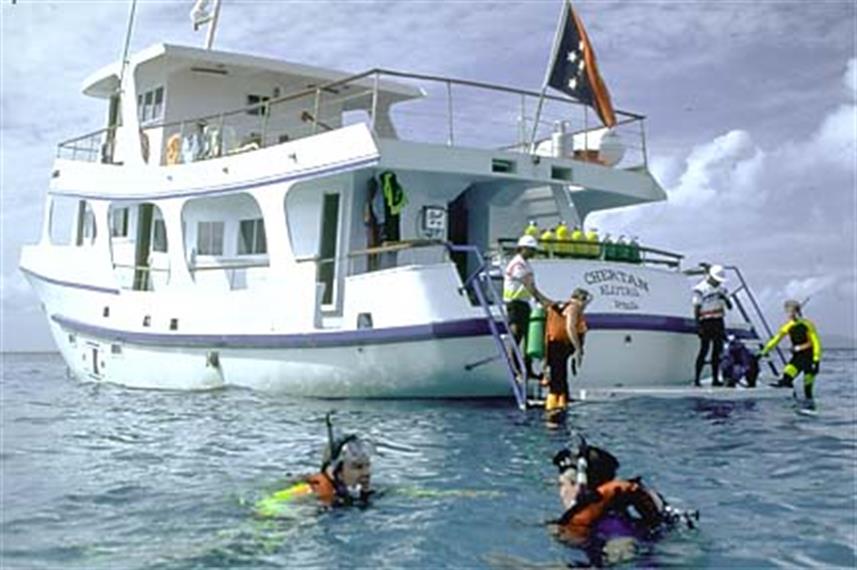 7-13 day itineraries include: Milne Bay Reef and Muck
Indoor saloon
Aircon cabins, en-suite bathrooms
Warm water showers
Leisure deck, shaded diving deck, sun deck
Daily housekeeping
Outdoor dining
Audio & video entertainment
Camera room with table and charging point, photography station, separate rinse for u/w camera
Charging stations
Library
English speaking crew
Non-diver (snorkeler) friendly
Western and local foods
Nitrox available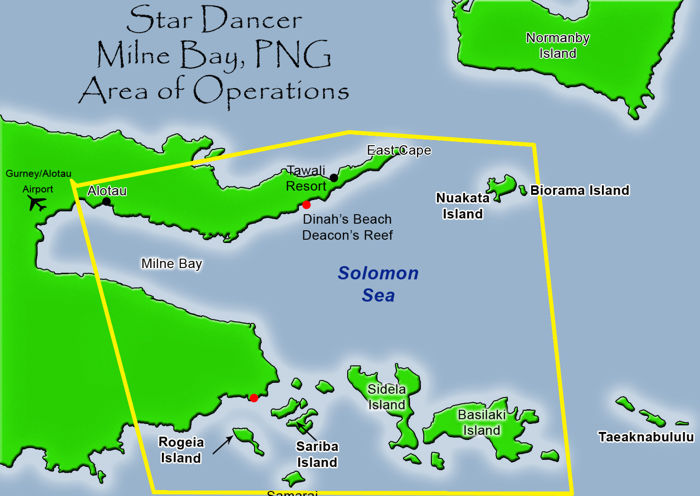 MV Spirit of Niugini ($343/day)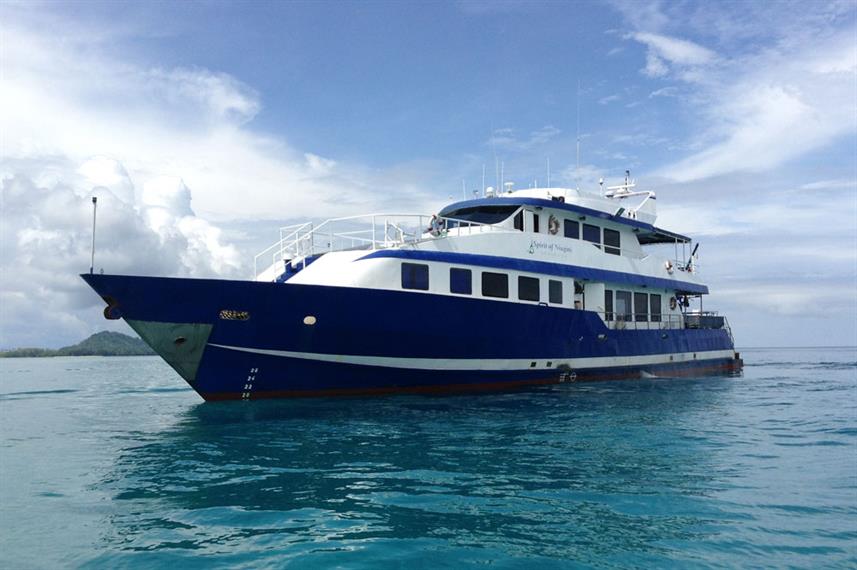 From November, 2018 through February, 2019, the Spirit of Niugini runs a sharing program with resorts. Part of the itinerary is from the resort and part is on board.  This practice ends thereafter and the entirety of the diving will be accomplished on the liveaboard expedition.  The resorts used are the Tawali Resort hotel, Tufi Resort and the Stanley Hotel.
From March, 2018 itineraries include: Tawali Northern Sites – Amphlett Islands, Cape Vogel, North East Coast Reefs, Tawali Nuakata Reefs – Engineering Group, Samarai, Tawali Conflicts – Engineering Group, Samarai, Nuakata Reefs, Tawali Nuakata reefs – Dutches reefs, North east coast
Laundry service, daily housekeeping
Indoor saloon, Air conditioned saloon, aircon cabins, en-suite bathrooms
Sun deck
Warm water showers
Separate rinse for u/w camera, camera room with table and charging point
Charging stations
English speaking crew
Western and local food
Non-diver (snorkeler) friendly
Dive deck
Nitrox available
Tenders for diving
True North ($572/day)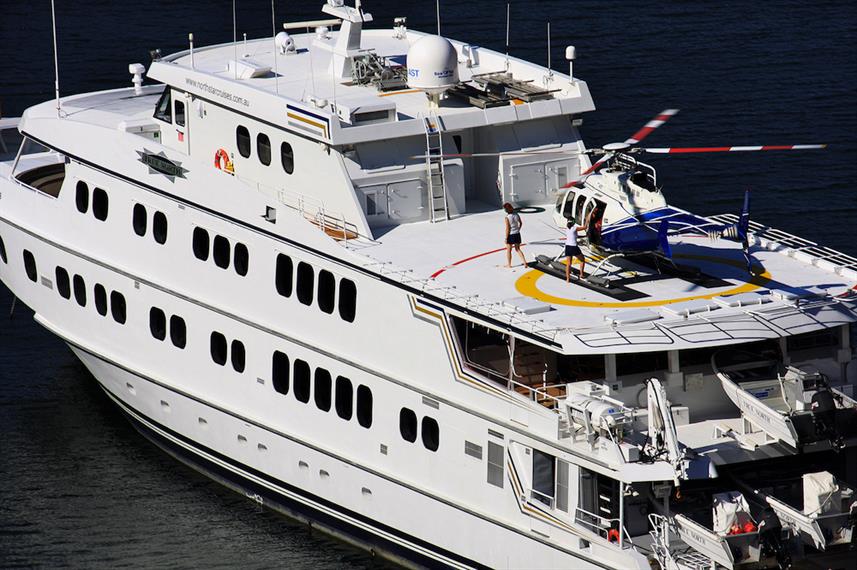 Only three cruises in November and December to PNG all fully booked
Other cruises in Australia and Raja Ampat until December, 2019
Two cruises in PNG in December, 2019
Laundry Service
Daily housekeeping
TV in cabins, air conditioned saloon, aircon cabins, en-suite bathrooms
Sun deck, observation deck
Indoor saloon, outdoor dining
Warm water showers
Paid internet
Audio & video entertainment
Library
Western and local food
English speaking crew
Non-diver (snorkeler) friendly
6 tenders  (3x150hp + 3 x 115hp)
| | Solomons PNG Master | MV Febrina | MV Chertan | MV Spirit of Niugini | True North |
| --- | --- | --- | --- | --- | --- |
| | | | | | |
| Length | 30 m | 22 m | 20 m | 32 m | 50 m |
| Guests | 20 | 12 | 12 | 16 | 36 |
| Crew | 12 | 5 | not listed | not listed | 20 |
| Equipment | Pricing To Be Arranged | $77/day (full equipment) | Pricing To Be Arranged | $40/day (full equipment) | Pricing To Be Arranged |
| Nitrox | Pricing To Be Arranged | $11/fill | $22/day | $20/day | No |
| Snorkeling Friendly | No | Yes | Yes | Yes | Yes |
| Price/Day | $297 | $288 | $344 | $343 | $572 |
I hope you found this post on Papua New Guinea liveaboards interesting and useful.  If you have any questions or ideas, please feel free to share them in the comments section.  If there is no comments section directly below, click here:  >>comments<<