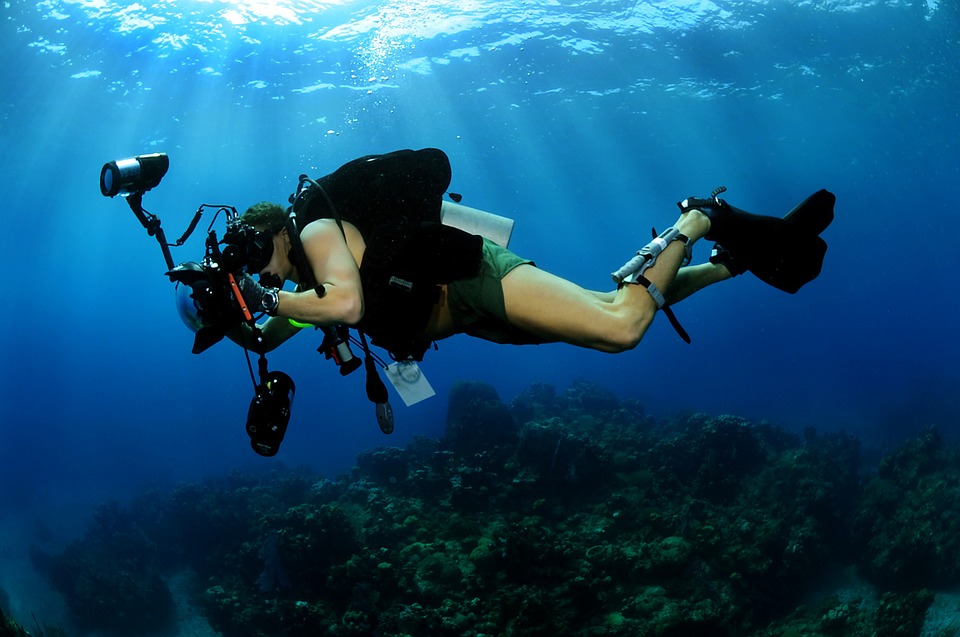 Underwater photography can only happen when the workings of the camera are dry.  Some compact cameras have been designed to be waterproof to a degree to relatively shallow depths.  If you want to go deeper or take a high-performance professional level camera to depth, you will need a waterproof housing for protection.
There are a variety of cameras and housings out there to choose from.  Here we will present some guidelines to help you choose and introduce top housing models that fit popular cameras in different categories for your consideration.
Underwater Camera Housing Buying Guide
When you embark on the idea of underwater photography, pricing can be a major concern.  Budget and compact cameras can be fairly low priced.  As you move to more professional level DSLR and mirrorless cameras the price goes up considerably.  When you add a housing to your costs, the expense usually doubles at a minimum.  The price of budget and compact camera housings are likely about the same price as the camera, with a few exceptions.  For the professional level camera housings, the price is probably double or more the price of the camera.  You would be wise to plan on the combined price when deciding on the camera to begin with.
Availability – Some camera models only have matching housings offered by the camera maker.  Others have housings made by other companies with some different features and pricing.  Popular cameras will offer a bigger choice.  This is an additional factor for considering the combination before buying.
Access to Controls – The most suitable housing will allow complete and easy access to the controls.  Some models are cheaper, trying to cut costs, or just poorly designed not allowing full access and making the camera/housing combo more difficult to use.  Symptoms are hard to reach or difficult to access controls.  Ideally, controls like buttons are large and ergonomically positioned.  It would be useful to check reviews of the housing on Amazon or Google or a forum like this one before purchase:
Ergonomics – This refers to how well laid out for ease of use the design is.  The underwater world can be a little disorienting and the use of gloves can make activation and usage more complicated.  The sort of fine control needed to effectively activate the shutter is a good example.  Large buttons or a lever can make this easier.  The size of the housing and ability to use it with one hand are also factors.  For a few pointers on this issue, please go here:
Depth Rating – Housings are rated for how deep they can go before the pressure starts to cause leakage or damage to the system including malfunctions.  Most housings are rated to go to at least the recommended maximum recreational limit of 130 feet (40 meters).  If you are a technical diver and want to go deeper you will need to make sure your housing is rated to handle the pressure at your planned depth.
Material – Underwater housings are generally made from aluminum or a durable form of plastic, polycarbonate.  Polycarbonate housings are cheaper, lighter in weight, more buoyant, and rated for shallower depths than aluminum housings.  Aluminum housings are more durable, bulky, rated for greater depths, and generally better quality.  In addition, they can be much more expensive.
Expandability -This refers to accessories that can be added to enhance or change the performance of the camera.  The housing you select will determine which add-ons are possible.  The add-ons can be placed into three categories, strobes, wet lenses, and trays and arms.
Strobes are flash units that emit a brief very bright burst of light.  The light is brighter than alternative continuous sources and is an effective means of bringing back the color lost as you go deeper.  There are two means of triggering the strobe.  One is through the use of an optical link which relies on the camera's flash unit.  The other is an electronic link using a hot-shoe to activate the strobe.  The system used will be a factor in the selection of your housing or strobe.
Wet Lenses – These are attached outside the housing on top of the port and include macro, wide-angle and others.  Wet lenses can be added in the middle of the dive providing the freedom to change to different styles of photography without having to open the housing.
Trays and Arms – A tray fits underneath the camera and can have flexible arms to attach strobes to permitting best positioning.  There are also housings that have handles the arms can be attached to.
Best Underwater Camera Housing List
Key Features:
Polycarbonate construction
Depth rated to 200 feet (60 meters)
Housing and tray have dual quick release handles
Slight negative buoyancy
Compatible with Four Lock system lens ports
The built-in flash cannot be used with this housing
Allows use of wet lenses
Summary: quality at a moderate price with easy access to important camera functions
Key Features:
Clear polycarbonate construction
Depth rated to 200 feet (60 meters)
Tray and handle have a quick release function
Slight negative buoyancy
Easy access to all important camera functions
Ikelite bulkhead connector with built-in TTL circuitry for strobes
You need to provide a compatible mirrorless port for the lens you choose
Summary: quality at a moderate price with easy access to important camera functions
Key Features:
Polycarbonate construction
Depth rated to 150 feet (45 meters)
Port adapter compatible with a number of wet lenses
Fiber optic strobe connection
Summary: moderately priced housing with a range of accessories, easy access to all camera functions
Key Features:
Body and ergonomic handles made of corrosion-resistant aluminum alloy
Depth rated to 330 feet (100 meters)
Controls glow in low light
Leak sensor
Diopter adjustment dial
External port lock and lens release
Summary: high-quality housing, probably the best for the Nikon D500, pretty expensive
Key Features:
Clear polycarbonate body
Depth rated to 200 feet (60 meters)
Ikelite 5-pin bulkhead strobe connector
Summary: brand name housing for this popular compact camera at a moderate price
Key Features:
Clear polycarbonate construction
Depth rated to 130 feet (40 meters)
Rotary lens-ring dial, large shutter button lever, zoom lever
Allows use of camera's built-in flash
Comes with a detachable diffuser for minimizing vignette
67 mm filter thread for lens and filters color correction
Detachable diffuser
Allows use of the camera's flash
Summary: housing made by the camera manufacturer, very low priced, easy to use, with many functions on this compact camera
Key Features:
Polycarbonate construction
Depth rated to 150 feet (45 meters)
Full functionality
Optional adapter for other lenses
Summary: this budget, compact, waterproof camera has its depth range extended with this low priced housing, easy access to all camera functions
Key Features:
Polycarbonate construction
Depth rated to 200 feet (60 meters)
Summary: for use with the GoPro Hero5, 6, and 7 budget compact models, extends the depth with the same functionality at an extremely low price
Comparison Table – Best Underwater Camera Housings
| Picture | Housing | Material | Depth Rating | Rating | Price |
| --- | --- | --- | --- | --- | --- |
| | Ikelite Nikon D810 | Polycarbonate | 200 feet/60 meters | 4.8 | $$$ |
| | Ikelite EM5 Mark II | Polycarbonate | 200 feet/60 meters | 4.7 | $$$ |
| | Olympus PT-EP 13 | Polycarbonate | 150 feet/45 meters | 4.6 | $$$ |
| | Sea & Sea MDX-D500 | Aluminum Alloy | 330 feet/100 meters | 4.9 | $$$$ |
| | Ikelite Panasonic LX100 | Polycarbonate | 200 feet/60 meters | 4.7 | $$$ |
| | Sony RX100 | Polycarbonate | 130 feet/40 meters | 4.6 | $$ |
| | Olympus TG-5 | Polycarbonate | 150 feet/40 meters | 4.5 | $$ |
| | GoPro Hero7 | Polycarbonate | 200 feet/60 meters | 4.0 | $ |
| Picture | Housing | Material | Depth Rating | Rating | Price |
For more information concerning underwater photography, please check these reviews:
Comments and Feedback
I hope you found this post on underwater camera housings interesting and useful. If you have any questions or ideas, please feel free to share them in the comments section.  If there is no comments section directly below, click here:  >>comments<<