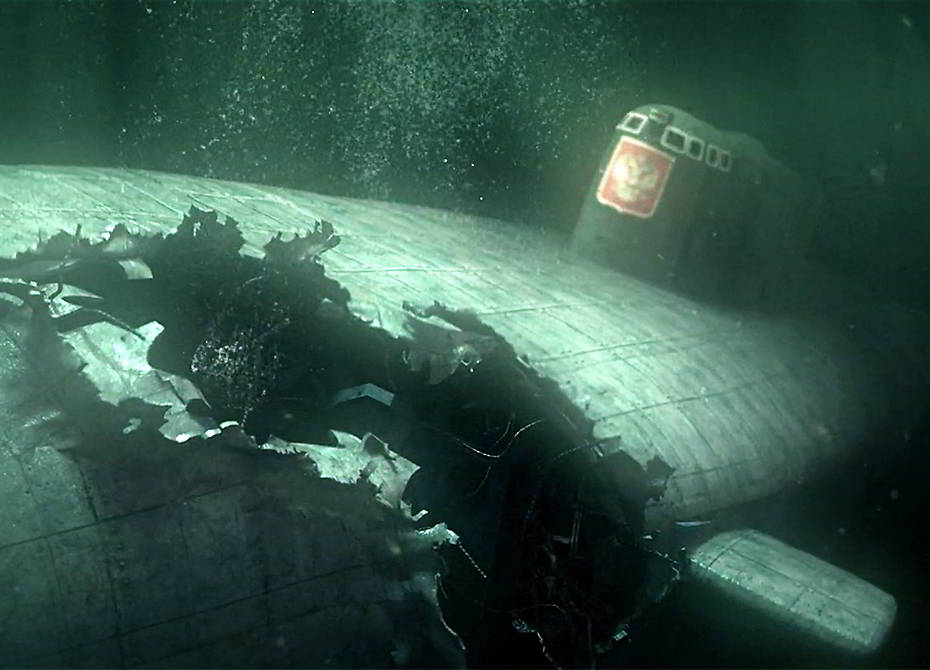 "It's immense," Degener said of the Kursk, which was photographed in the Barents Sea.
Updated May 10, 2021
I met my best friend Don Degener when we were in first grade at Graden School in Parkville, Missouri in 1958.  We crossed paths occasionally for some years after that playing together at school and in the same Cub Scout pack.  During this period I went to his big old stone house on the top of a wooded hillside a few times and marveled that he had a swimming pool.  His father was an airline pilot for Braniff Airlines, which was quite a good-paying and prestigious job in that era.  We played a bit of little league summer baseball together for a couple of years, but really got close when I joined the high school swim team in my sophomore year.  He had started with the team a year earlier and was the only freshman letterman at our school.  After that, we spent most of our spare time together working on his family property repairing fences, and cutting brush and firewood and trying to figure out adventurous things to do when we were finished.  We were kind of pitiful really as neither of us had any money for dating and were both avowed non-drinkers at that time. There was the '59 Ford Falcon that his father had salvaged and we did a bit of cruising in that.  Also, we did a fair amount of fishing without ever catching anything of note.  In 1970 both of us went away to college, he to the University of Colorado and me to Cornell College in Mt. Vernon, Iowa.  We both continued with our competitive swimming at school, but he outpaced me making big improvements in his main event, the breaststroke.  He always amazed everyone in practice with the extreme power of his kicking.  
In 1974 we were both out of college looking for opportunities.  He made his way up to the oil field near Gillette, Wyoming, and got established as a derrick hand on the Lohmann Johnson 20 drilling rig.  I joined him a few months later and put in about six months there.  He left before I did with a canoe in his Toyota Land Cruiser with another friend, Jim Stewart from Colorado, and Jim's Samoyed dog, to go explore the Yukon River.  From what I recall of the telling, the dog was a bit of a bother, frequently running away and chasing off the wildlife.  I also recall one day of hitchhiking without someone picking them up resulting in a 35-mile walk.  Fortunately, this was during the summer.  
We got back together again that same summer (1975) in Parkville.  I had joined the Peace Corps and was scheduled to go to Senegal in March of the next year leaving me with more than half a year to consume. I had spent my last semester of college in England, and seeing that life was cheap and pretty stimulating there, decided to go to London until March when I would depart for Africa.  Don had decided to go to commercial diving school in Long Beach to become a bell diver.  Recognizing that we were embarking on major new endeavors going in completely different directions, we decided what the hell, there's the Missouri River that's been right there flowing through our lives for 22 years, why not create one final adventure together and swim across it, which we did along with Jim Stewart and our old swim buddy, my college roommate, Doug Smith. It turned out to be much easier than we expected.  We had hiked up the river a thousand yards or so thinking that the well-known fast current would take us down quite a distance.  Surprisingly we were able to pretty much swim across in a straight line and didn't run into any dangerous whirlpools, driftwood, or debris.  After completing the trip across to Kansas and then back to Missouri, grimy scum did pretty well cover us, though.  Fortunately today the river is much cleaner and the aquatic life much richer.
After four or five months of diving school Don went to Scotland to work in the North Sea oil fields. Since that time he has almost continuously been involved in commercial diving and supervising around the world in such places as the Persian Gulf, the Mediterranean off Egypt, Equatorial Guinea, Nigeria, Gabon, the Red Sea, Malaysia, Taiwan, and the Caribbean. Most of it has been oil field related, but he has punctuated his activities with some notable salvage work.
In August of 2000 the Kursk, a Russian nuclear submarine sank under mysterious circumstances northeast of Murmansk, Norway.  Don was the only American diver on the team to descend 300 feet to it, cut it open, and try to discover what had actually happened there and bring out the bodies.  In November the American press got wind of this episode and there was a bit of a media frenzy surrounding him for a few weeks, which I witnessed firsthand.  We both happened to be in Parkville at that time as I was staying at his house with him and his brother.  He did several national radio interviews.  A couple of local TV stations came by to talk to him and the video interviews were aired locally with portions picked up nationally.  The opening salvo in this media assault was an article by Bill Graham of the Kansas City Star.
Parkville diver recalls opening underwater tomb of sunken Russian sub
By BILL GRAHAM – The Kansas City Star
Date: 12/02/00 22:15
The Russian nuclear submarine Kursk was an immense, dark shape on the Barents Sea floor when Don Degener first saw it.
It was Oct. 21, and the stricken Kursk lay in the ocean gloom — five stories high, more than 500 feet long, 18,000 tons.
Inside, 118 Russian sailors had died, most killed by an explosion in the Kursk's bow Aug. 12. Some might have drowned — or worse, suffocated when the air ran out.
For nearly three decades Degener, 48, has been a professional diver, working on oil rigs or construction projects deep in oceans around the world. The job this time was to cut open the Kursk and help Russian divers retrieve the bodies. He was the only American on an 18-man team formed for the mission.
Degener remembers that first dive, when he and his partner dropped from a diving bell into the murky sea. They were 350 feet down in the cold water, breathing a mix of oxygen and helium. The 65-foot umbilical hose attached to their diving helmets brought them air and circulated warm water into their neoprene suits. On the seabed lay the Kursk.
"It was just a big, black shape — huge. It's immense," Degener recalled recently at his Parkville home. He was in his second-floor office, a tiny room jammed with computers, books and travel bags. To help describe his Kursk adventure he stood, squared his big swimmer's shoulders and began to draw a sketch of the submarine on a note board.
He drew its exploded bow, explaining precisely and energetically what he had seen. Pieces of the sub were scattered in a "wreckage field" on the seabed. The middle and rear of the sub were intact. Four large radar, periscope and radio masts were raised on the conning tower, indicating that the Kursk had been near the surface before the explosions.
The sketch looked like a salmon, its head crushed and flattened but the lower jaw protruding. He sat down and stared at the drawing for a moment, and then ran a hand through his hair.
"Anybody that was in that front end," he said, "there's no remains to be found."
As terrible as the sinking of the Kursk was, it was not the worst nuclear submarine disaster in history. That occurred in 1963 when the USS Thresher sank near Boston, killing all 129 on board.
When the Thresher went down, Degener was only a boy poking around ponds and the Missouri River at Parkville. But he was already on a path that would lead him to the Kursk.
From farm to sea
The Degener family home sits on a high, wooded ridge just west of old Parkville.
When Don Degener was a boy, there were ponds in the deep draws. He helped his father use a jackhammer to pound rock so they could build a concrete swimming pool behind the house. The ponds and the pool were his make-believe oceans.
Now he uses the hills to train for diving in real oceans, running back and forth from Parkville's riverfront trails. He is a bachelor, with calm eyes and a quick smile. He bubbles with stories.
"Dad hired a diver once, when I was a kid, to fix a leak in our pond dam. The guy showed up, and he has flippers and face mask and scuba gear, and I watched him go down and disappear into that muddy pond water."
As a boy he preferred adventurers over cowboys as television idols.
"One of my favorite TV shows when I was a kid was "Sea Hunt," Degener said, referring to the Lloyd Bridges diving classic. "Then those Jacques Cousteau documentaries came along. I thought I was going to be an oceanographer."
Diving so impressed him that at age 11 he rigged an air hose to a bucket and spent a half-hour walking on the bottom of the swimming pool.
Working on the farm made him handy with tools, and he swam on high school and college teams. After his schooling he worked in Wyoming oil fields for a while until, in 1975, he headed to Los Angeles to enroll in a diving school.
"I haven't worked a day in the United States since," Degener said. "All my career has been overseas."
He has done underwater construction, welding, concrete work, steel cutting and electrical work, mostly for the Halliburton Co., a Dallas-based energy services giant formerly headed by GOP vice presidential candidate Dick Cheney.
"He's got absolutely a wealth of knowledge in the gas and oil industry in the subsea sense," said Chris Carrier of Liverpool, England, a fellow diver for Halliburton. "There's probably not a job he hasn't done, worldwide."
The work is not always glamorous or lucrative. Deep-sea divers are paid $25 an hour, Degener said.
"Sometimes it's just manual labor, like carrying 50-pound sandbags through mud for repairs."
Sometimes, however, the work is exhilarating.
Degener once helped recover a dead British fighter pilot who had crashed into the sea. Another time he went down 810 feet — one of the deepest human dives for salvage ever — to look for gold bars on the HMS Edinburgh, a British ship sunk in 1942. They found gold and while looking for more had to move huge pallets of 40-year-old bombs.
"That was much more dangerous than the Kursk," he said, "because of the depth, cold water temperatures, bad weather conditions and an old ship with bombs."
For the Kursk operation, Russia hired Halliburton to help recover bodies and evidence. A branch out of Aberdeen, Scotland, handled the operation. Degener joined 11 other divers — nine British, one Norwegian and one South African. All had worked together for years around the globe.
"Don's very strong in the water, and he's aware of what's going on all the time," said fellow diver Brian Law, 50, of Manchester, England. "…If something happened and you needed somebody to get you back to the (diving) bell and up and running again, Donny would be the man to do it."
Six Russian divers joined the team, and Carrier trained them to use equipment they knew nothing about. Then the diving ship Regalia steamed to the Kursk wreck site.
"It's the adventure of a lifetime," said Don's brother, Greg Degener, a former commercial diver from Parkville. "It's not a pleasant adventure. But it's the culmination of 26 years of diving."
Opening the tomb
On Oct. 20, Degener "blew down" into divers' chambers aboard the Regalia, a platform-shaped ship the size of a football field and riding on pontoons. Machines pumped an oxygen and helium mix into the chambers until his body had adjusted to sea-bottom pressures 10 times as great as atmospheric pressure.
The next day he was on the seabed.
"First dive," he wrote in his Oct. 21 diary entry. "Divers and I continued cutting into the Kursk hull with an HP cutting machine forward of the tail fin."
The cutter is a frame-mounted nozzle that fires a water-and-cutting-grit mix out of a nozzle at a pressure of 15,000 pounds per square inch, like a sandblaster.
"That thing will cut your leg off like a light saber out of `Star Wars,' " Degener said.
They first attached the cutter to the Kursk and later the seabed, improvising with equipment as they worked. When it ran, the roaring noise was so painfully loud they backed away to quieter water.
In between cuts, they heard the whine of the Regalia's props overhead. Computers guided by satellites adjusted the ship's props to hold it in place against wind and waves.
The 12 Halliburton divers worked in teams of three. Their job would be to cut open the submarine. Only the Russians would be allowed in to recover the bodies.
Two divers went to the wreck, and one stayed behind in the bell to monitor gauges and equipment. They worked around-the-clock, six-hour shifts in the sea, illuminated by lights from the bells and flashlights on their helmets.
Russian divers waited inside the pressurized living compartments in a lower deck aboard the Regalia. They watched the hull-cutting on television; cameras were mounted on the divers' helmets. On the surface, supervisors in white rooms filled with gauges and controls watched television alongside Russian military commanders.
Commands translated by a Russian woman chirped in the divers' helmet earphones, and they spoke to one another through microphones. They carried spare air tanks on their backs in case the air hoses broke.
"If you can't get back to the bell, you're dead," Degener said.
Then they cut into the rubber sheathing covering the sub. Degener said the glue holding it on was so strong they had to use underwater jackhammers to peel it off.
An outer steel hull less than an inch thick was cut more easily. Beneath it was a layer of support beams, pipes and wiring that had to be tediously cut with torches.
On Oct. 23 bad weather stopped the work. Crews were holed up in three, six-bunk compartments connected to each other and the diving bell loading zones by crawl tubes. Those compartments were kept at the same pressure as the sea bottom.
The men's voices had the tinny, squeaky sound of someone who sucks air from a helium balloon and then speaks. They passed food and laundry through a pressure lock.
Degener read books in his bunk or watched television through a porthole, as a low hum from computer and exhaust fans echoed off white walls.
"Rough weather," he wrote in his diary. "Can't cut or burn through the pressure hull. I watched the report on BBC World News about our job."
Sometimes, he said, those at home knew more than the divers about what was happening.
Finally, crews anchored the cutting machine to the sea bottom and cut a roughly 6-foot-wide hole in the 3-inch steel that forms the inner hull protecting the crew.
Degener worked on the shift that finished cutting into the Kursk on Oct. 24. The next day, in his pressurized living quarters, he watched television images from the Russian divers' helmet-mounted cameras as they entered the dust- and soot-filled water in the Kursk.
Inside, the Russians crawled through a door into a rear compartment where those who survived the initial blast had gathered near an escape hatch.
"Everybody watching was rather sad about it, grim," Degener said.
Life's frailties
Russian divers moved slowly, pulling bodies out one at a time, raising them to the surface in wire baskets. Law said the dead wore green overalls and looks of terror.
"Terror and fear. And they were such young men as well, some 18 or 19."
Degener would make 16 dives to the Kursk, mostly to cut through rubber and steel as dictated by Russian commanders on the surface.
Sometimes he assisted the Russian divers, who were not experienced with the equipment or diving at such depths.
"They showed courage," Degener said. "Here were some of their comrades inside. All of us agreed they did their job very well."
Degener helped cut holes in compartment four, where documents were found, and in compartment three, where nothing but twisted wreckage remained. The work alternated between cutting and the Russians' search for bodies.
"Operations on section 9 halted due to a note found on a body," Degener wrote in his diary Oct. 27. "A grim reminder of life's frailties."
The note, later broadcast around the world, said that 23 survivors had gathered in the rear compartment in hopes of rescue but that the sub's systems were failing.
Most sailors were in forward compartments and died instantly in the blasts, Russian officials said.
Divers recovered only 12 bodies, and only a few more were visible in inaccessible rear passages.
On Oct. 31, Degener served as bellman for two Russian divers as they made the last attempt to recover bodies. The dive stopped when Russian officers decided it was not safe to try for the remaining bodies.
Russian divers closed inside hatches. Degener helped other divers plug holes in the hull with steel that had been cut away.
Crews carried Geiger counters but detected no radiation.
"My mom's 87th birthday," Degener wrote on Nov. 7. "Surveying damage for experts in front of a conning tower."
He stood in front of the submarine, tilting the video camera on his helmet under directions from the surface. Two Russian divers stood in front of the red and white eagle painted on the tower as he took their picture.
Afterward Degener began five days of decompression, passing time by watching United States presidential election coverage on the BBC. Late on Nov. 11 he was back on the surface, where nature's vivid blues and greens are striking to those used to gray water and white rooms.
"The Russians and I had dinner together, and they asked me how I became a diver when I come from the middle of America," he said. "I explained that it's something I've always wanted to do since I was a little boy.
"If you want to realize your dream, it's just a matter of keeping after it."
Diving satisfied his love for the outdoors, nature and seeing all corners of the world. Now it has also made him part of history.
Visiting the Kursk would have been a perfect adventure, he said, if not for the sad reality of so many deaths.
"I've been on a Russian submarine," Degener said, "and I've had the honor of being the only American to have been there."
To reach Bill Graham, call (816) 234-5906 or send e-mail to bgraham@kcstar.com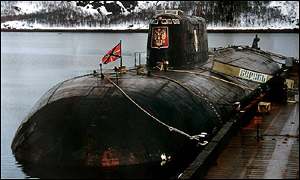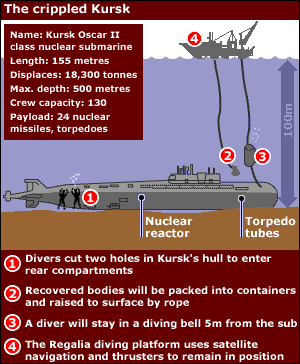 Books available on the Kursk disaster – click on a book for pricing


Feedback and Comments
I hope you found this post on my friend's life and adventure interesting. If you have any questions, comments, or your own personal experience, please feel free to share in the comments section. I'd love to see what you have to say.  If there is no comments section directly below, click here:  >>comments<<