We may earn money or products from the companies mentioned in this post.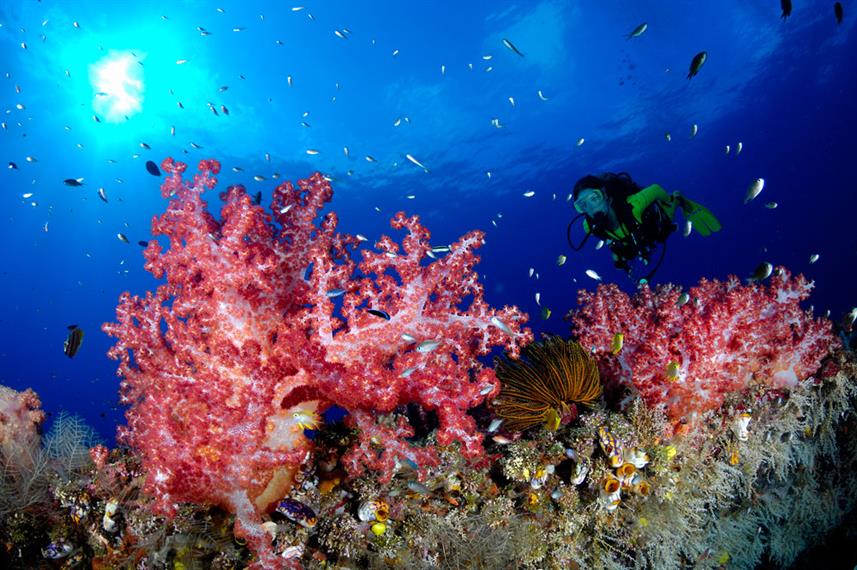 This is the ninety-eighth in a series of reviews of the best dive resort locations around the world.  In this post, the focus is on Papua New Guinea. In addition to this series on dive resort locations, the best worldwide liveaboard diving locations and services are reviewed in their own series.  To check them out, or others in this series, click on Liveaboards/Resorts on the menu at the top and choose a title from the list.
Have you ever been diving in Papua New Guinea before?  If so, I'd love to know about your experience.  What liveaboard or dive shop did you use?  What are the best dive spots and the conditions there like the visibility, current, water temperature, sealife attractions, etc.?  Please post your response in the comments section at the bottom and we'll all learn something we can use.
Scuba Diving PNG
Background – 42,000-45,000 years ago Africans were the first settlers in New Guinea.  Today with a landmass of 452,860 square kilometers (174,850 square miles), the "Independent State of Papua New Guinea" is the least explored region by outsiders with serious speculation that there are still several small civilizations of people as yet undiscovered.  It is a country of 8,000,000 with at least 851 languages representing the most cultural diversity for a population in the world.  Papuans developed agriculture 7,000 years ago and traditional subsistence farming is still the economic staple for most of the 82% of the citizens who live rurally.  The rugged highlands and rain forests are rich in minerals, natural gas, and replenishable resources and since 2006 GDP has been growing at greater than a 6% clip.   Unfortunately, law and order are not well maintained at times and that has a negative effect on everything.  Intriguing fauna related to that in Australia is on the main island.  (The outer islands were never linked by land to the main island.)  There are a number of active volcanoes and majestic mountains like Mount Wilhelm at 4,509 meters (14,793 feet) which receives snowfall in winter, as well as stunning beaches on the shoreline.  Traditional headhunting and cannibalism that New Guinea is famous for are reported to have disappeared by the early 20th century and today 96% are Christians.  Primary education is common and another modernizing influence for the still very traditional people.  English is the official language, though it is not widely spoken.  There are a couple of commonly used pidgin languages including Tok Pisin which is related to English.  Australian and English inspired organized sports have a degree of popularity with rugby league at number one.  It is suggested that traditional tribal warfare has been abated or replaced to a degree because of this.  Other sports played include Australian Rules football, association football, rugby union, and cricket.  For detailed demographic, historical, and cultural information on Papua New Guinea, go here:  Papua New Guinea – Wikipedia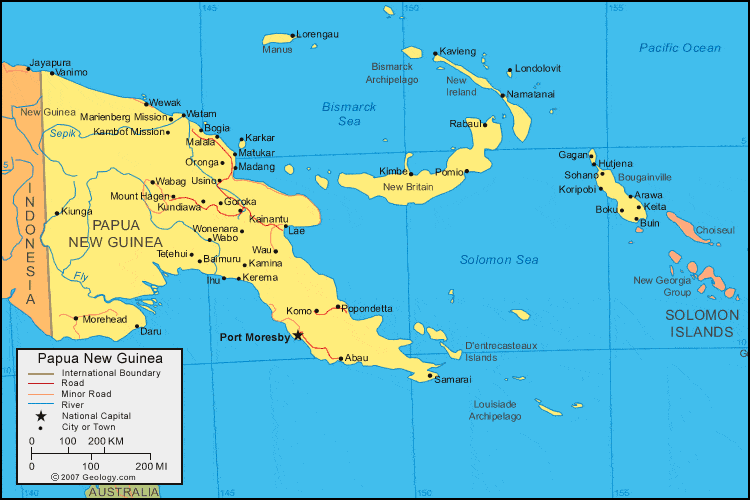 Undersea World – Part of the coral triangle, Papua Guinea has excellent biodiversity on a variety of pristine, healthy reefs, from barrier reefs, walls, pinnacles, and coral gardens, to a large number of WWII airplane and shipwrecks that are accessible even to near novice divers.  Many great muck diving sites are also available to the macro photographer's delight.  Highlights include a variety of exotic frogfish, scorpionfish, seahorses, pipefish, nudibranchs, anemone shrimp, crabs, lobster, cuttlefish, octopus, and many other invertebrates.  There is an equal diversity of reef fish like clown triggerfish, trumpetfish, moray eels and large schools of yellowback fusiliers, black snappers, and surgeonfish.  And then there are the pelagics and bigger creatures that include whitetip, blacktip, and grey reef sharks, silvertip, hammerhead, and whale sharks, dugongs, dolphins, whales, eagle, and manta rays, dogtooth tuna, turtles, and big schools of rainbow runners, jacks and barracuda.
Seasons and Conditions – Diving is good all year.  It is always quite warm with air temperature daily averages around 24-25°C (75-77°F).  Water temperatures go from 23-31°C (74-88°F).  Most divers would need no thicker than 5 mm of protection when the water is at it's coolest. It rains significantly every month with a wetter time from December to March, which may affect the visibility some.  The range for visibility is 20-45 meters (68-150 feet) with the best from May to November.  If you are diving in a muck area or around mangroves it will likely put the visibility at the low end of the range.  Most sites do not have much current, but in some areas, there is the possibility of more.  Check with your dive guide.  There are sites suitable for all levels of diver.  The available dive shops can offer a full range of diving coursework, equipment rental, guiding, and boat cruises.  Currently, five major liveaboard yachts also cruise Papua New Guinea.  Check the details below.
Here is my review of Papua New Guinea liveaboards and links to several of the top-rated PNG liveaboard yachts: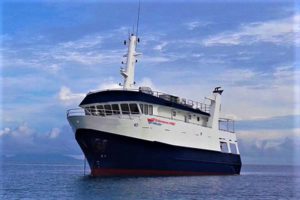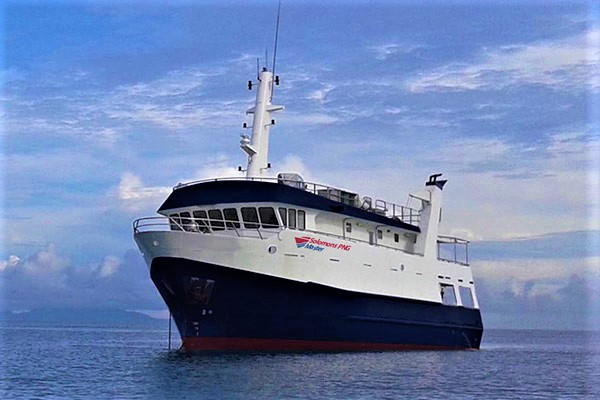 Solomons PNG Master, Papua New Guinea Liveaboard – Check the Price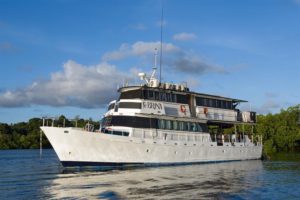 MV Febrina, Papua New Guinea Liveaboard – Check the Price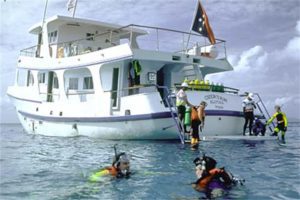 MV Chertan, Papua New Guinea Liveaboard – Check the Price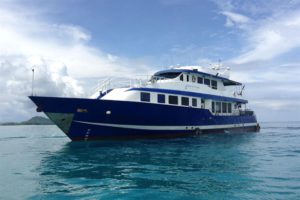 MV Spirit of Niugini, Papua New Guinea Liveaboard – Check the Price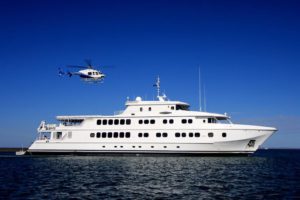 True North, Papua New Guinea Liveaboard – Check the Price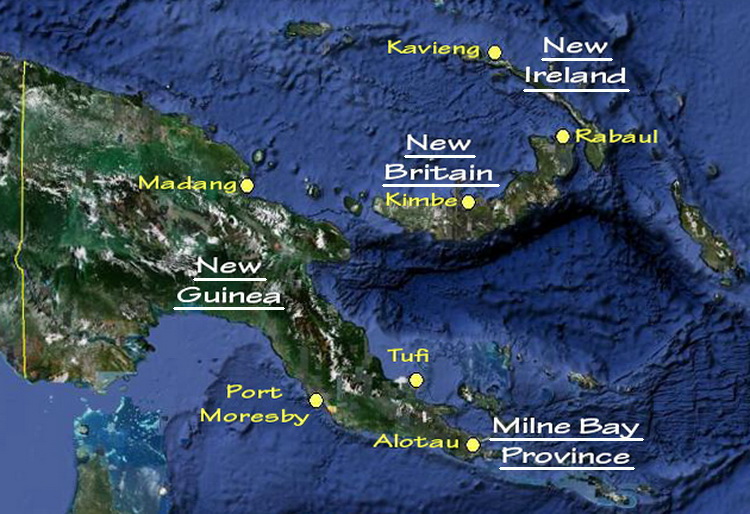 Selected Papua New Guinea Diving Sites
Port Moresby – the capital of the country, the gateway to the coral sea, a barrier reef, Nateara Reef is there, variety of sites inside and outside the lagoon, known for good macro diving, a number of wrecks
Milne Bay – located at the eastern tip of the main island, 400-600 islands in the bay, variety of sites, nice reefs, coral gardens, walls, muck diving, pygmy seahorses, unusual scorpionfish, manta rays, hammerheads, pelagics
Kimbe Bay – on New Britain Island, huge marine protected area, pristine corals, great biodiversity, variety of fish and invertebrates, gigantic sea fans, hammerhead, and silvertip sharks on the offshore reefs, Witu group of volcanic islands is reached from there
Rabaul – part of New Britain province, major Japanese base area during WWII, more than 50 ships sunk in the harbor, most covered from a volcanic eruption in 1944, 10 have been found and are regularly dived
Kavieng – at the remote northern tip of New Ireland, pristine reefs, strong current possible in the channels, large pelagics, schooling silvertip sharks, ship and plane wrecks, muck diving areas, too
Madang – reefs, wrecks, channels, underwater shoals, huge volcanic seamount, Planet Rock which tops at 5 meters (15 feet) and descends to 615 meters (2,000 feet), strong current possible, big schools of silvery jacks and reef fish
Tufi – numerous fjords, WWII wrecks, barracuda, hammerhead sharks, more than 30 sites
Papua New Guinea Photos
With the pristine coral reefs, wrecks, biodiversity including manta and eagle rays, turtles, a variety of sharks, dolphins, whales, macro critters and reef tropicals, and interesting onshore scenery, as well, there are many excellent photo opportunities.  For information and reviews of dive cameras, click here:
Papua New Guinea Hotels, Transportation, and Dive Shops
Transportation
Air – Jacksons International Airport is the country's only international airport, in Port Moresby.  A number of Australian and Asian cities are served by Air Niugini, Airlines of Papua New Guinea, Pacific Blue, and Qantaslink. Domestic air service is available to most of the provincial capitals on Airlines of Papua New Guinea and Air Niugini.
Sea – Several Liveaboards serve PNG.  Check the details up above.  There are no international ferries landing in PPG.  Internal ferries run between Madang, Lae, and Port Moresby on the main island and Kieta, Rabaul, and Kimbe on the islands.  Shipping lines also provide several trips a week for passengers hopping between cities.  For local transportation, banana boats can be hired.
Land – Entry by car from West Papua is possible, but you will need to have a visa in hand, which you can arrange at the consulate in Jayapura, Indonesia.  The road network isn't very extensive.  The passage can be arranged on PMVs (public motor vehicles) with the locals.  Ask your hotel for information.
For a few more details on transportation logistics, please click here:  Wikioyage – Papua New Guinea
Lodging and Dive Shops – There are hotels in all the cities, towns, and resort areas where there are dive shops.   The shops offer full services including equipment rental, dive courses, guiding, and boat dive cruises.  The website linked below has the details and can arrange the booking.  Each of the links is for a particular area where there are dive operations.  Many of the hotels also have an in-house dive shop.  You can easily find the location on the map provided on the site.  Their rates are guaranteed to be the lowest and it is free to cancel or change dates.
Things to Do in Papua New Guinea (aside from scuba diving)
The pristine natural environment of mountains, forests, rivers, and seaside of PPG is unmatched.  Cross-cultural interaction with the mostly very friendly local people in their villages is often welcome.  There are also many historic and wartime sites and relics of interest.  These are excellent options to explore.  Logistics can be an obstacle.  Once you decide on where you plan to do your diving, I suggest getting some advice from the people at your hotel on the local options.
These videos can give you a feel for the country and of its attractions.
A cushion for emergencies provides peace of mind when on vacation.  I recommend this diving insurance as they have worldwide coverage and provide scuba divers a quality insurance and medical assistance service.

Feedback and Comments
I hope you found this post on Papua New Guinea scuba diving interesting and useful. If you have any questions or ideas, please feel free to share them in the comments section.  I'd love to know about your diving experience or concerns.  Have you ever been diving in Papua New Guinea?  If there is no comments section directly below, click here:  >>comments<<