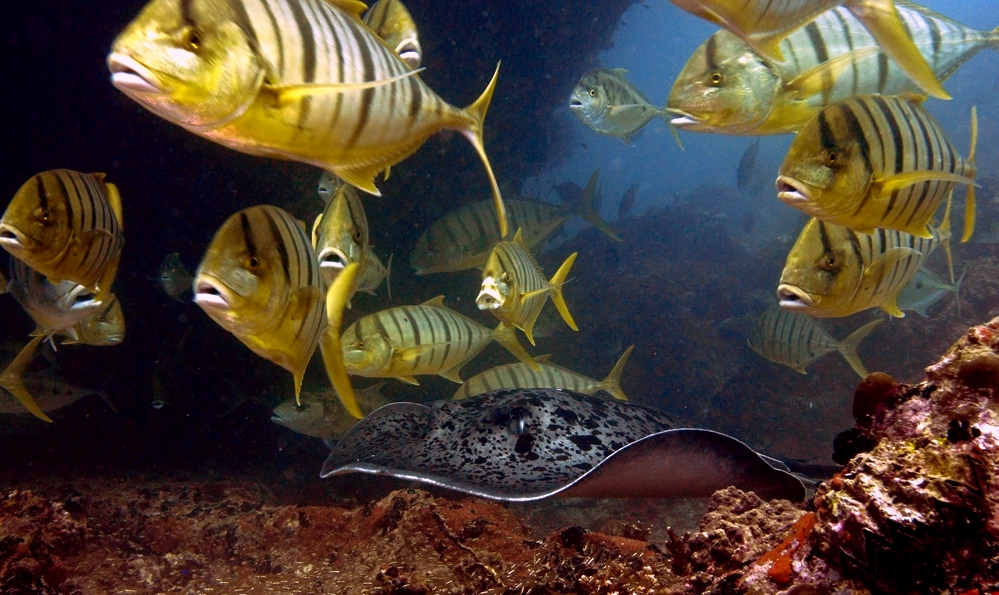 This is the nineteenth in a series which introduces and describes the various dive services and sites for worldwide liveaboard dive safaris.  The focus in this one is on Seychelles liveaboards.
In addition to this liveaboard series, the best worldwide dive resort locations and services are reviewed in their own series.  To check them out, or other liveaboards, click on Liveaboards / Resorts on the menu at top and choose a title.
Seychelles Island Cruises – Diving, Snorkeling and Island Tours
The Seychelles is a 115 island archipelago set 480 km (300 miles) from the east coast of Africa, 4 to 10 degrees below the equator, that tip to tip extends over 1,100 km (687.5 miles) in length.  The 41 inner islands are granite based with surrounding coral walls, pinnacles and canyons that have been hell on passing ships while providing a rich habitat for over 1,000 species of fish. The outer 74 islands are atolls or with a coral foundation.  On shore there is also a variety of unique flora and fauna.  UNESCO has designated two World Heritage Sites in the Seychelles and the world's largest coral atoll, Aldabra, is part of the archipelago.
Most human inhabitants are located on the main inner islands, Mahe, Praslin and La Digue, where the bulk of the resorts are also located.  The vast majority of islands are not inhabited and besides the big three, only Alphonse and Desroches have accommodations.
While not world class for corals, perhaps in part due to the granite foundation, the reef is pristine and the rich sea life has benefited greatly from the banning of spear and dynamite fishing in the 1960s.  The inner island substrata is made up of a shallow plateau, suitable for snorkeling, kayaking and beginner scuba divers, deep drop-offs and a number of well preserved wrecks.
The plurality of the local operators are on the north side of Mahe, doing most of their diving there and not going to the south side very often.  There are 30 sites north of Mahe, about a dozen good sites around Praslin and La Digue and 75 in all on the inner islands.  The number of divers is low enough that sites are not crowded.  The best ones are reputed to be Aldabra Atoll (outer islands),  Shark Bank and the Ennerdale Wreck.
The difficulty level of the diving is suitable for beginners with only a few requiring advanced skills.  Most liveaboards offer open water diver courses and even discover scuba diving.  The most popular courses offered are the advanced open water and specialty underwater photography certifications.  Many excellent snorkeling locations are available and passengers are encouraged to participate.
The smaller critters and macro life are quite fascinating.  There are also numerous brightly colored reef fish like surgeonfish, rabbit fish, lionfish, parrotfish and batfish, but the main draw is this long list of larger attractions:  hawksbill and green turtles, swordfish, marlin and sailfish, barracuda, giant grouper, grey and whitetip reef sharks, bull sharks, hammerheads, stingrays, Napoleon wrasses, whale sharks and manta and eagle rays.
It is always warm and diving is good year round with calmest seas and best visibility from March through May.  It is coolest and windiest in the monsoon season of July and August. The fall months are the best time for mantas and whale sharks.  Water temperatures range from 78-84° F (26-29° C) requiring no more than 3mm of protection and often times only a shortie.
Visibility is almost always good at 65-100ft (20-30m).  From June to October rougher surface conditions cause a decrease in vis to the lower end of the range.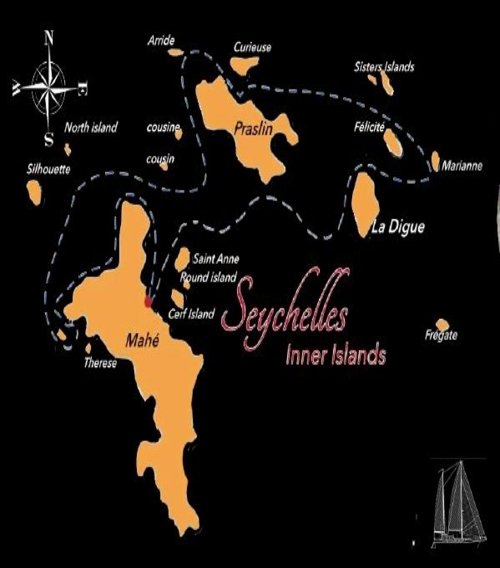 Seychelles Liveaboard Dive Boats
There are 5 great liveaboard boats cruising the Seychelles inner islands.  They all are friendly to snorkelers, kids and non-diving passengers and offer extensive land touring.  Facilities and services are outstanding on all even though pricing is fairly reasonable.  Of the 5, the MY Pegasus doesn't offer scuba diving, focusing more on land based touring and shallow water activities.
MV Galatea ($270/day)
SY Sea Bird ($218/day)
SY Sea Star ($218)
SV Sea Pearl ($128/day)
MY Pegasus ($263/day)
MV Galatea ($270/day)
September – June dives the Seychelles
8 day itineraries include: Praslin, La Digue, Curieuse, Little Sister and Grand Sister
Selected dive sites:  Coral Garden, Aquarium, Twin Barges, Aldebaran, Bay Ternay National Marine Park, Shark Bank, Bobby Island, Mariane, Sister Bank, Coco Island, Ave Maria, Brissaire (sites may vary)
Amenities include: leisure deck, audio & video entertainment, air conditioned saloon, aircon cabins, sun deck, indoor saloon, warm water showers, outdoor dining, en-suite bathrooms
Western and local food
The crew speaks English, German, French, and Italian
Onboard kayaks
Non-diver (snorkeler) friendly
Diving is separately priced
Dive courses available
1 x 7m diving boat and 1 x dinghy
SY Sea Bird ($218/day)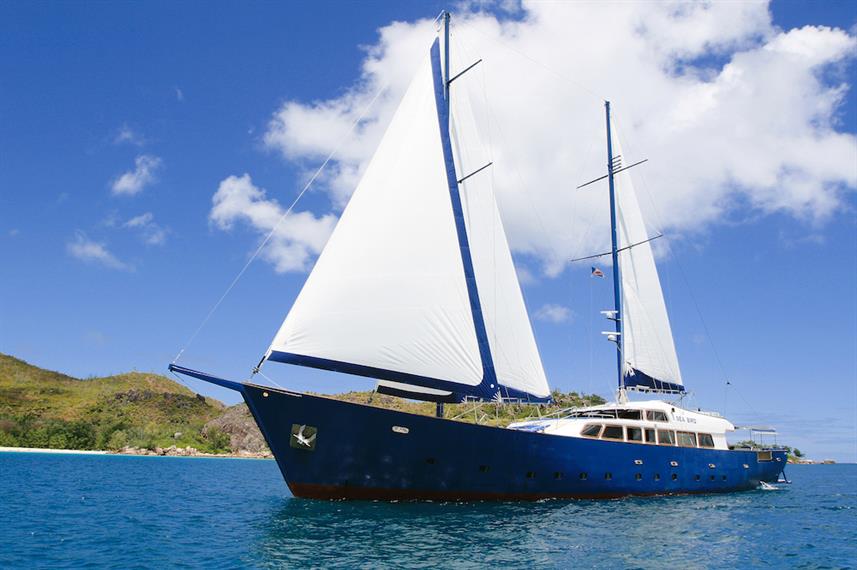 Year round dives the Seychelles
8 day itineraries include: Round Island, Praslin, World Heritage Site, the Vallee de Mai Nature Reserve, La Digue, Grande Soeur and Petite Soeur (the Sisters), Coco Island, Booby Island, Aride Island, Curieuse, St. Pierre, St. Anne (itinerary may vary)
Amenities include: laundry service, leisure deck, shaded diving deck, warm water showers, outdoor dining, audio & video entertainment, library, air conditioned saloon, aircon cabins, sun deck, indoor saloon
Separate rinse for u/w camera, charging stations
Western and local food
The crew speaks English and French
Non-diver (snorkeler) friendly
Onboard kayaks
Diving is separately priced
Dive courses available
Tenders for diving
SY Sea Star ($218)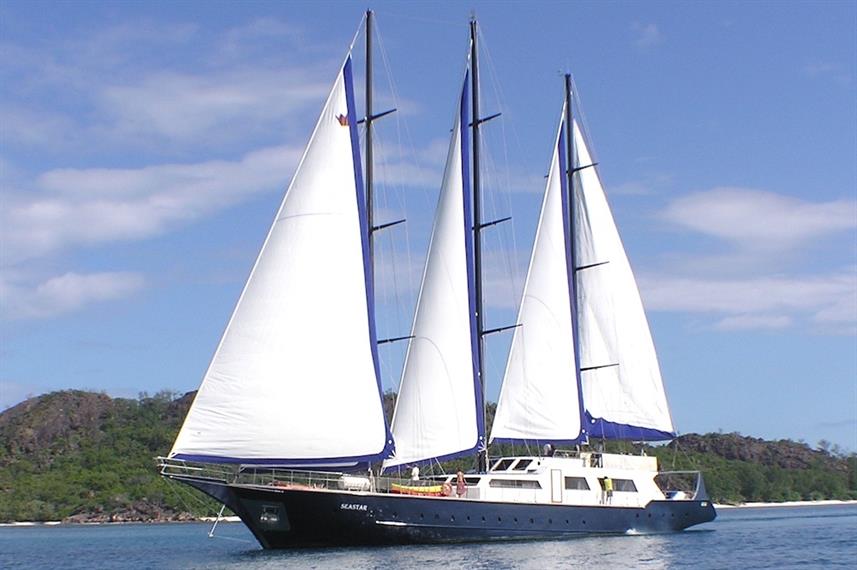 Year round dives the Seychelles
8 day itineraries include: Round Island, Praslin, World Heritage Site, the Vallee de Mai Nature Reserve, La Digue, Grande Soeur and Petite Soeur (the Sisters), Coco Island, Booby Island, Aride Island, Curieuse, St. Pierre, St. Anne (stops may vary)
Amenities include: laundry service, leisure deck, shaded diving deck, warm water showers, outdoor dining, audio & video entertainment, library, air conditioned saloon, aircon cabins, sun deck, indoor saloon, en-suite bathrooms
Separate rinse for u/w camera, charging stations
Western and local food
The crew speaks English and French
Non-diver (Snorkeler) friendly
Onboard kayaks
Non-Diver (Snorkeler) Friendly
Diving is separately priced
Dive courses available
Tenders for diving
SV Sea Pearl ($128/day)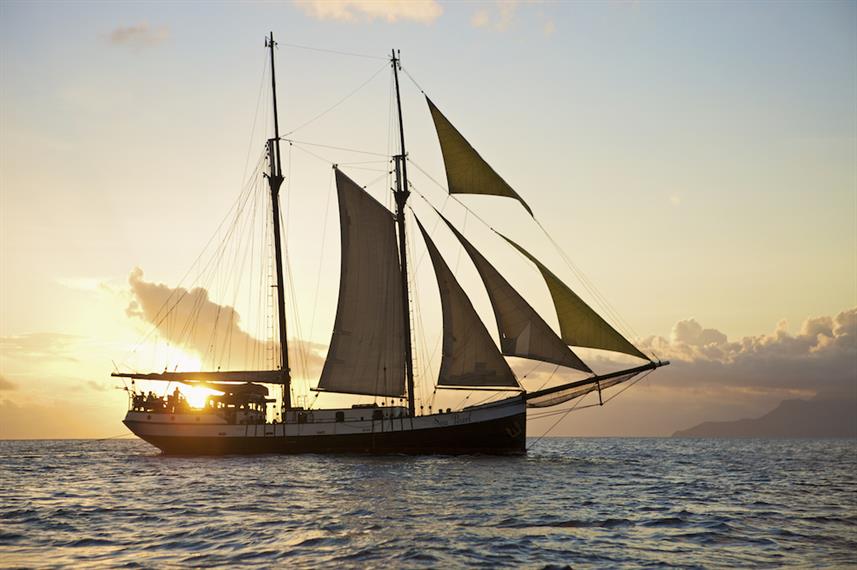 Year round dives the Seychelles
8 day itineraries include: Round Island, Praslin, World Heritage Site, the Vallee de Mai Nature Reserve, La Digue, Grande Soeur and Petite Soeur (the Sisters), Coco Island, Booby Island, Aride Island, Curieuse, St. Pierre (stops may vary)
Amenities include: laundry service, leisure deck, shaded diving deck, warm water showers, outdoor dining, audio & video entertainment, library, air conditioned saloon, aircon cabins, sun deck, indoor saloon, en-suite bathrooms
Separate rinse for u/w camera, charging stations
Western and local food
Onboard kayaks
Non-diver (snorkeler) friendly
Diving is separately priced
Dive courses available
Tenders for diving
MY Pegasus ($263/day)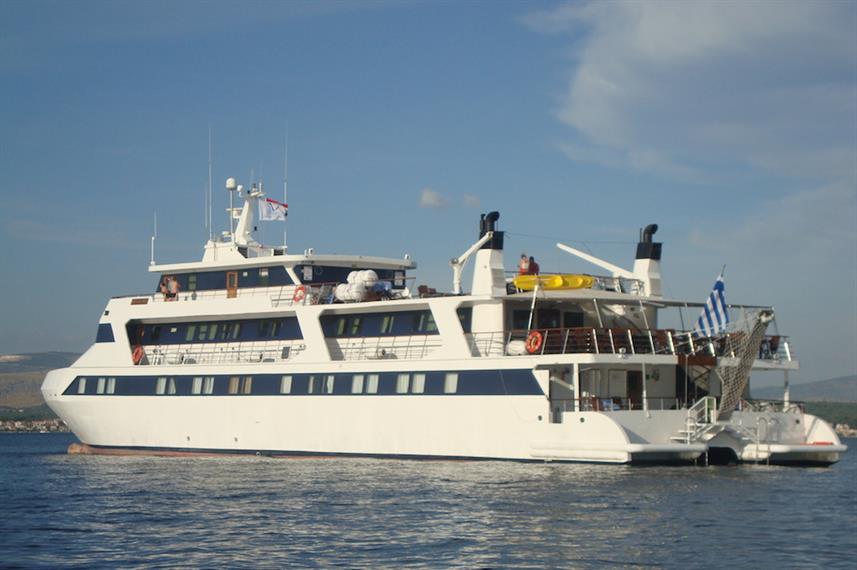 Year round cruises the Seychelles
Island hopping itinerary includes: Mahe Inter Island Quay, St Anne Island, Curieuse, Cousin Island, Anse Lazio, Aride, St Pierre, Baie St Anne, Praslin, Felicite or Grand Soeur, La Digue, – Moyenne Island
Amenities include: laundry service, massage, leisure deck, shaded diving deck, warm water showers, outdoor dining, audio & video entertainment, TV in cabin,paid internet, library, air conditioned saloon, aircon cabins, sun deck, indoor saloon, en-suite bathrooms
Western and local food
The crew speaks English, French, and Russian
Snorkeling
No scuba diving (island hopping, land tours, snorkeling only)
| | MV Galatea | SY Sea Bird | SY Sea Star | SV Sea Pearl | MY Pegasus |
| --- | --- | --- | --- | --- | --- |
| | | | | | |
| Length | 30 m | 42 m | 40 m | 36 m | 45 m |
| Guests | 14 | 18 | 18 | 16 | 44 |
| Equipment | €10/dive | €190/7 days | €190/7 days | €30/day | No |
| Nitrox | No | No | No | No | No |
| Diving Package | €180/6 dives | €196/8 dives | €196/8 dives | €196/8 dives | No Diving |
| Dive Courses On Board | Yes | Yes | Yes | Yes | No |
| Snorkeling, Kayaking Available | Yes | Yes | Yes | Yes | Snorkeling only |
| Price/Day | $270 | $218 | $219 | $128 | $263 |
I hope you found this post on Seychelles liveaboards interesting and useful.  If you have any questions or ideas, please feel free to share them in the comments section.  If there is no comments section directly below, click here:  >>comments<<