We may earn money or products from the companies mentioned in this post.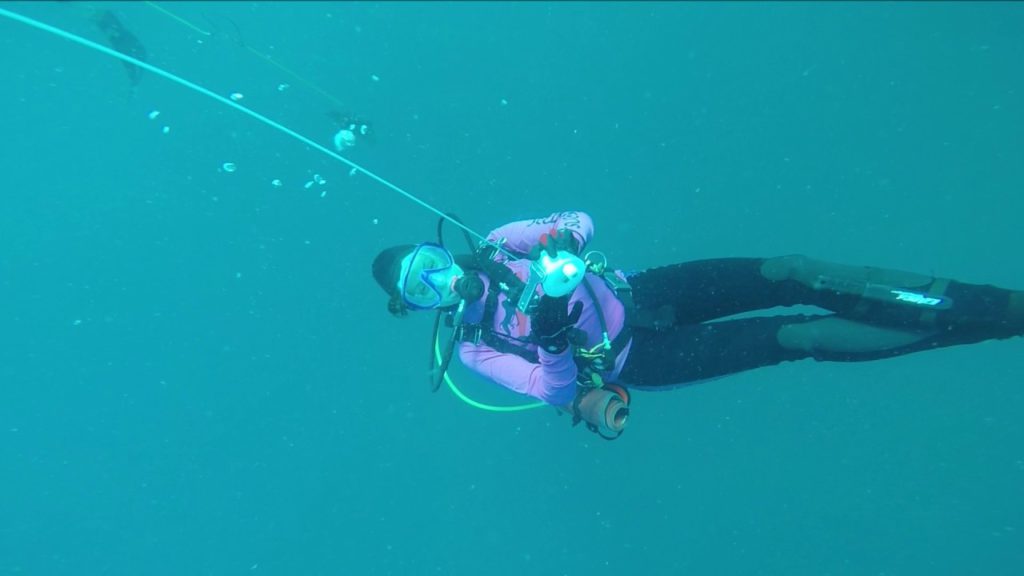 What is Nitrogen Narcosis?
Every diver thinking of going deeper than the 18 meters (60 feet) prescribed for open water divers in the course needs to consider carefully this question.  Described as "rapture of the deep" by Jacques Cousteau and "the martini effect," some less experienced divers are thinking, "Yeah, where do I sign up?" They need to know that nitrogen narcosis is a serious and potentially dangerous condition.
Nitrogen narcosis (also known as inert gas narcosis) is caused by breathing concentrations of nitrogen (or another inert gas) at high partial pressures while underwater.  As higher concentrations of nitrogen enter the bloodstream, the nervous system slows down and the diver begins to have a narcotic or intoxicating effect.  The deeper the dive the greater the partial pressure of nitrogen and the greater the effect.  Judgment and other mental processes become impaired and potentially dangerous situations can evolve.
When Does Nitrogen Narcosis Take Effect
There are general guidelines for the depth that the narcotic effects begin.  Many divers can detect a difference at around 30 meters (100 feet) but some divers are more susceptible than others and will have symptoms even shallower.  For all the narcosis gets increasingly strong while going deeper.  Recreational diving limits have been set at 40 meters (130 feet) by the training organizations in part for this reason.
Nitrogen Narcosis Symptoms to Watch For
Slowed Mental Ability – loss of decision-making ability, slow reaction to signals, short-term memory loss, forgetfulness, fixation on thoughts
Physical Effects – loss of balance, loss of dexterity, poor coordination, numbness, convulsions
Visual Effects – hallucinations, tunnel vision
Overconfidence– disregard for safety, foolish behavior
Changes in Mood – feeling euphoric, drunk or giddy, sudden depression, anxiety
All of these to one degree or another can be dangerous from mild lapses in perception to immediately life-threatening convulsions.
Prevention of Nitrogen Narcosis
At depths of 18 meters (60 feet) or shallower, it is extremely rare for anyone to have any symptoms of nitrogen narcosis.  So for complete avoidance, stay shallow.
Dealing With Nitrogen Narcosis After Onset
It is possible to move back to a shallower depth and the symptoms may subside to a degree.  Recent studies indicate symptoms persist through ascent and even post-dive at the surface for a while.   At depth, symptoms have a slow onset.  You will need to decide whether to continue or move shallower.
Ascending to a Shallower Depth – If you decide to move to a shallower depth, communicate with your buddy that you are feeling the effects of narcosis by using the hand signal of moving your index finger in a circle at the side of your head.  From there ascend with your buddy slowly to a shallower depth.
Wait at the New Depth – After a few moments, the symptoms may subside to a degree.
Reevaluate – If the symptoms have subsided you can decide whether or not to continue the dive.  If you do, it would not be wise to attempt again the original depth.
There will be no long term effects or hangover from the narcosis though symptoms can persist even at the surface for a while, as noted earlier.  Another key point to consider is that on a stress-free dive just cruising along in easy conditions, narcosis is one thing.  When there is an emergency or very testing environmental conditions the physical and mental deficits will be amplified.
Here is an article reviewing and discussing recent findings:  Does Nitrogen Narcosis Impairment Persist
Changes in Symptoms of Nitrogen Narcosis at Different Depths
A More Comprehensive List of Symptoms as Depth Increases:
0-10 meters (0-33 feet)

:

unnoticeable, minor, or no symptoms at all

10-30 meters (33-100 feet)

:

mildly impaired reasoning and performance, mild euphoria

30-50 meters (100-165 feet):

delayed responses, calculation errors, wrong choices, overconfidence and sense of well-being, laughter, talkativeness, anxiety

50-70 meters (165-230 feet):

sleepiness, impaired judgment and confusion, hallucinations, dizziness, delay in response to signs and instructions, uncontrolled laughter and hysteria, terrors

70-90 meters (230-300 feet):

poor concentration, mental confusion, stupefaction, loss of memory

>90 meters (>300 feet):

hallucinations, sense of impending blackout, unconsciousness, changes in facial appearance, convulsions, death
Tips for Safe Deep Diving
Be Healthy and Physically and Mentally Prepared  Before diving, make sure you are rested and healthy and avoid alcohol and drugs.  Anxiety, fatigue, drug intoxication, and hangovers all have a direct effect on the onset and exacerbation of nitrogen narcosis.
Descend Slowly – A slow relaxed descent along a descent line, if possible, will result in you being less stressed and fatigued upon reaching the site and thus decrease any effects of nitrogen narcosis.
Breathe Slowly and Deeply – Slow, deep, relaxed breathing with full exhalation while calmly diving is an efficient way to keep from overexertion and aggravating narcosis.
Get Some Training – All the major training organizations offer an advanced class beyond the initial open water course that has a component with a deep dive to 30 meters (100 feet).  Nitrogen narcosis is covered and tests are performed on the surface and at depth to demonstrate the effects. A deep diving specialty course is an additional option that can give you even more supervised experience.  Good buoyancy control can also aid in decreasing fatigue and air consumption which can be a further assist.  Having a strong skillset helps lead to confidence and reduction of anxiety.
Know Your Gear – When you go on a deep dive you want to be very familiar with your equipment knowing that your mental capacity may be diminished due to narcosis.  You want to be able to operate everything and find your accessories, clips, gauges, etc. easily without having to think excessively about it.  It would be best not to try out new gear on a deep dive without having used it first in a shallow setting to get acclimated.
Dive with a Buddy You Can Rely On – You need someone you know well with the appropriate level of experience and training.  It would be good to be able to recognize normal and abnormal behavior in your buddy and the vice versa.  Here is a review of the buddy system.
Plan Your Dive and Dive Your Plan
This is one of the basic rules of diving which has added importance on a deep dive.  Get together with your buddy and dive group, if there is one, and agree on your plan.  Here are the major points:
Be clear on the maximum depth and time limits.  Take into consideration increased air consumption on deep dives and shorter no-decompression limits.
Checking air consumption periodically is imperative.  Agree on a time frame such as every 5 minutes to check your own gauge and that of your buddy.  Check your dive time if you are diving from a table and no decompression limit if you are on a dive computer at the same time you check on your air consumption.
Get a slate and write down your agreed-upon plan in clear and easy to read notation.  It should include your minimum tank reserve pressure to begin the ascent, maximum dive time, maximum planned depth, and a map of the planned route.  Carry this with you on the dive in a secure and easy to retrieve location.  This is your plan to refer to should there be any confusion.  Dive it!
Conclusion – Safe Deep Diving is Possible and Fun
There are lots of intriguing sites to explore that are deep. With knowledge of the parameters of nitrogen narcosis, preparation, practice, and planning this world opens up for you.  Coral shoals, shipwrecks, caverns, and caves are all exciting places for you and your buddy to safely discover.
Feedback and Comments
I hope you found this post on nitrogen narcosis interesting and useful. If you have any questions or ideas, please feel free to share them in the comments section.  I'd love to know of any experience or thoughts you have.  If there is no comments section directly below, click here:  >>comments<<