We may earn money or products from the companies mentioned in this post.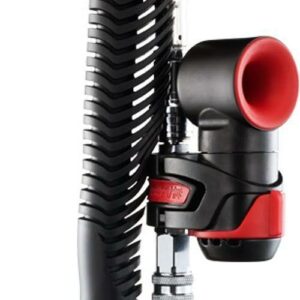 In the early days of the open water diver course, we learned to use basic hand signals as a means of communication to help maintain safety and fulfill our role as a dive buddy, dive guide, or instructor.  Before you can deliver the signals it is necessary to gain attention.  This is where underwater noisemakers or signals start to come into play.  There are devices that produce sounds, lights, or electronic signals to alert others underwater and in some cases above.  There are other systems of lights, noisemakers, electronic devices, and marker buoys specifically for use at the surface.  Each has its useful place in the repertoire of equipment that adds to safety and a sense of security in everyday use and in emergency situations.
Below are brief reviews with key features outlined for a range of these devices to consider before your next dive.
Which is the Best Scuba Underwater Noise Maker or Signal?
Trident Tank Banger Underwater Signaling Device
Dive Alert New Ideation Plus Version 2 Signaling Device 
Scuba Choice Scuba Diving Safety Tank Rattle Stick Signal
Nautilus LifeLine Marine GPS with Neoprene Pouch and Coil Lanyard
H2YO Underwater Noisemaker Rattle
SecurityIng Strobe Light Underwater Signaling Device
DiveSmart 5 ft Scuba Diving Open Bottom Surface Marker Buoy (SMB) Kit 
For reviews of a range of SMBs, please check out this article:
Scuba Choice Stainless Steel Tank Rattle
Mares Magnetic Shaker Scuba Diving Communication Device 
Purpose and Usage
Safety is paramount in scuba diving and we strive to maximize it.  When an emergency arises fast and efficient communication is essential and that is where an underwater noisemaker becomes most important.  It enables a diver to quickly call attention to himself to initiate further communication to handle the situation.
Otherwise, sometimes your buddy is out of reach or looking the other way and you would just like to get his attention to show him something or perhaps change direction or give some other message.  The noisemaker quickly alerts him and you are able to coordinate from there.
Strobes and other lighting devices can help with location for night diving and low light situations.  GPS alert systems can let people on the surface know your position which can prove especially useful when there is strong current or other rigorous conditions.  Likewise, surface marker buoys, whistles, and other surface noisemakers help people above water to much more easily locate divers, aid in pick-up, and otherwise help keep them out of harm's way in difficult conditions.
Size and Weight
As sport diving develops more and more equipment is available to enhance the experience.  It's imperative to minimize the size and weight of these communication devices as much as possible.  They should be strategically located for ease of use whether clipped to a D-ring, attached to other equipment, stowed in a pocket, or handheld with the aid of a lanyard.  When the time comes to deploy the device it should be ready to use immediately.
Feedback and Comments
I hope you found this post on scuba underwater noisemakers or signals interesting and useful. If you have any questions or ideas, please feel free to share them in the comments section.  If there is no comments section directly below, click here:  >>comments<<