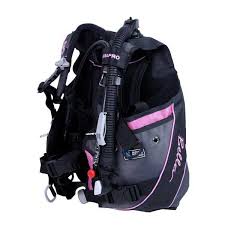 Updated June 11, 2021
Scuba equipment that is a bad fit or designed for men or "generic" divers can be uncomfortable and even unsafe to use.  That's particularly true for a BCD that can slide around, pinch, or generally make you miserable.
When you spring for your own equipment why not get a BCD that is designed for a woman's anatomy and figure?  There are many on the market today created with you in mind.
I will try to make the selection process a bit easier by presenting key factors in the design and use of a BCD that you can check through this link:
Beyond that, some of the best BCDs designed for women have been selected and presented below as an introduction to the range available.  For each BCD key features and specifications are outlined with videos provided to fill in the gaps and demonstrate.  At the end is a comparison table.
If you have any questions or concerns, please let me know in the comments section at the bottom.  I'd love to know your thoughts.
Best BCDs for Women
The Aqua Lung Pearl is designed specifically for women's needs including an integrated and patented sports bra.
It utilizes a hybrid system combining features of jacket and back inflation types and an integrated weight system.
The two large pockets have large zippers and there are 4 plastic D-rings for attaching accessories.
It combines plenty of lift with a comfortable fit.
Key Features
Best Use: beginners
Style:  jacket
Lift capacity:  23-44 pounds (10.45-20 kg)
Weight: 8 pounds (3.64 kg)
Sizes from XS to L
Integrated sports bra with Lycra panels
2 large pockets and 4 D-rings
Flexible backplate for easy packing and storage
The Zena is a lightweight and very comfortable back inflation model with a sizing system that allows waist size, chest size, and torso length to be fitted separately taking the female form into consideration.
The front zipping closure allows room for the largest of female chests.
There are few pockets and no shoulder dump valve on this foldable BCD suitable for travel.
Key Features
Best Use: busty women
Style: back inflation
Lift capacity:  31 pounds (14 kg)
Weight: 6.2 pounds (2.8 kg)
Sizes from XS to XL
Integrated weight system
1 small foldable and detachable mesh pocket
The Cressi Travelight BCD is just what its name represents.
It is an easily and conveniently packed piece of gear ready for travel on very short notice that is much lighter and more compact than a traditional BCD.
Cressi has incorporated comfort, good balance, trim underwater, and good lift capability.
It includes a wraparound fit that is easily adjusted for the female body shape and different sizes.
Key Features
Best Use:  travel
Style:  jacket
Lift capacity:  13.5 to 36 lbs. (6.1 to 16.3 kg)
Weight:  5 To 6.2 lbs (2.3 To 2.8 kg)
Sizes from XS to XL
Integrated weight system
8 D-rings, 2 rear trim pockets, padded back panel
Lightweight and easy to pack, not as durable as some BCDs
It's rugged and durable with a streamlined underwater profile and strong ascension capacity with an integrated ballast system improved over previous models, making it flatter, lighter and discreet.
It also has back pockets for additional ballast.
Key Features
Best Use:  beginners
Style:  jacket
Lift capacity:  29.2 – 45 pounds (13.3 – 20.4 kg)
Weight:  8.65 pounds (3.93 kg)
Sizes from XXS to XL
Integrated weight system
2 large velcro closed pockets
Extremely affordable, simple design, lightweight, durable
Good dive shop BCD
The Ladyhawk has a narrow neck yoke and padded shoulder designed for women.
Along with swiveling buckles and easily adjustable straps, all body types fit comfortably in this BCD.
The sturdy design with welded seams and plenty of lift capacity makes it suitable for rigorous conditions.
There's adequate storage space with stainless steel D-rings and 2 roll-up expandable pockets.
Key Features
Best Use:  all around
Style:  back inflation
Lift capacity:  33.7 pounds (15.3kg) All Sizes
Weight:  7.2 to 8.13 pounds (3.261 to 3.68kg)
Sizes from XS to L
3 dump deflation system
Integrated weight system
Stainless steel D-rings
Flexible easy to pack backplate
Expandable pockets
The Scubapro Hydros has a minimalist design of durable components that is comfortable for all body shapes.
It has a monprene fast-drying harness and lots of injection-molded plastic parts for a fabric-free and very lightweight construction.
It is streamlined and extremely rugged for daily use or travel.
Key Features
Best Use:  extra durable
Style:  back inflation
Lift capacity:  36 to 40.5 pounds (16.3 to 18.3 kg)
Weight:  8 to 9 pounds (3.63 to 4.09 kg)
Sizes from XS to L
Includes Air 2 alternate inflator
Integrated weight system
2 stainless steel D-rings
2 dump valves
No pockets
Crotch strap available
Fairly expensive
The Aqua Lung Dimension i3 has the integrated i3 single touch control inflation/deflation system that eliminates the deflator hose for more streamlined movement.
The backpack is thin and keeps the tank close to the center of gravity aiding in even weight distribution while the back inflation design further aids streamlining by placing the air cell behind the diver.
It is a bit heavy out of the water, but well-padded and very comfortable for divers of all sizes after the descent.
Key Features
Best Use:  all around
Style:  back inflation
Lift capacity:  22 to 42 pounds (10 to 19 kg)
Weight:  8 pounds ( 3.63 kg)
Sizes from S to XL
Integrated i3 control system designed for a single touch control for both inflation and deflation
Integrated weight system
Back inflation keeps the air cell behind the diver for better streamlining
Flat e-valves have a one-way design to keep water out
Multiple dump feature to empty all valves at once
The Scubapro Bella is durable and comfortable with a wrap-around bladder for comfort and stability designed with the female anatomy in mind.
There is lots of padding, metal zippers and rings, and welded seams for this sturdy BCD.
It is a little heavy as a travel BCD but excellent for rugged conditions and cold water diving.
Key Features
Best Use:  all around
Style:  jacket
Lift capacity:  22 to 42 pounds (10 to 19 kg)
Weight:  9 pounds (4.09 kg)
Sizes from XS to XL
Integrated weight system
6 metal rings, 2 pockets on each side, and a small zipped pocket on the cummerbund
Contoured hip indents, monprene pads in the shoulder area
Adjustable waist and chest straps that slide up and down
Pictured with the Air II alternate inflator which is optional and not included here
Women's BCD Comparison Table
Picture
BCD
Type
Best Suited For
Lift Capacity
Rating
Price
Aqua Lung Pearl
Jacket
Beginner
23-44 pounds
(10.45-20 kg)
4.7
$$
Zeagle Zena
Back Inflation
Busty Women
31 pounds
(14 kg)
4.8
$$
Cressi Travelight
Jacket
Travel
13.5 to 36 pounds (6.1 to 16.3 kg)
4.2
$
Cressi Start Pro 2.0
Jacket
Beginner
29.2 - 45 pounds (13.3 - 20.4 kg)
4.2
$
Scubapro Ladyhawk
Back Inflation
All Around
33.7 pounds
(15.3kg) All Sizes
4.5
$$
Scubapro Hydros Pro
Back Inflation
Extra Durable
36-40.5 pounds
(16.36-18.3 kg)
4.8
$$$
Aqua Lung Dimension i3
Back Inflation
All Around
35 pounds
(15.9 kg)
4.6
$$
Scubapro Bella
Jacket
Cold Water
22-42 pounds
(10-19 kg)
4.6
$$
Picture
BCD
Type
Best Suited For
Lift Capacity
Rating
Price
For more information concerning BCDs, please check these popular reviews:
Comments and Feedback
I hope you found this post on the best BCDs for women interesting and useful. If you have any questions or ideas, please feel free to share them in the comments section.  If there is no comments section directly below, click here:  >>comments<<