We may earn money or products from the companies mentioned in this post.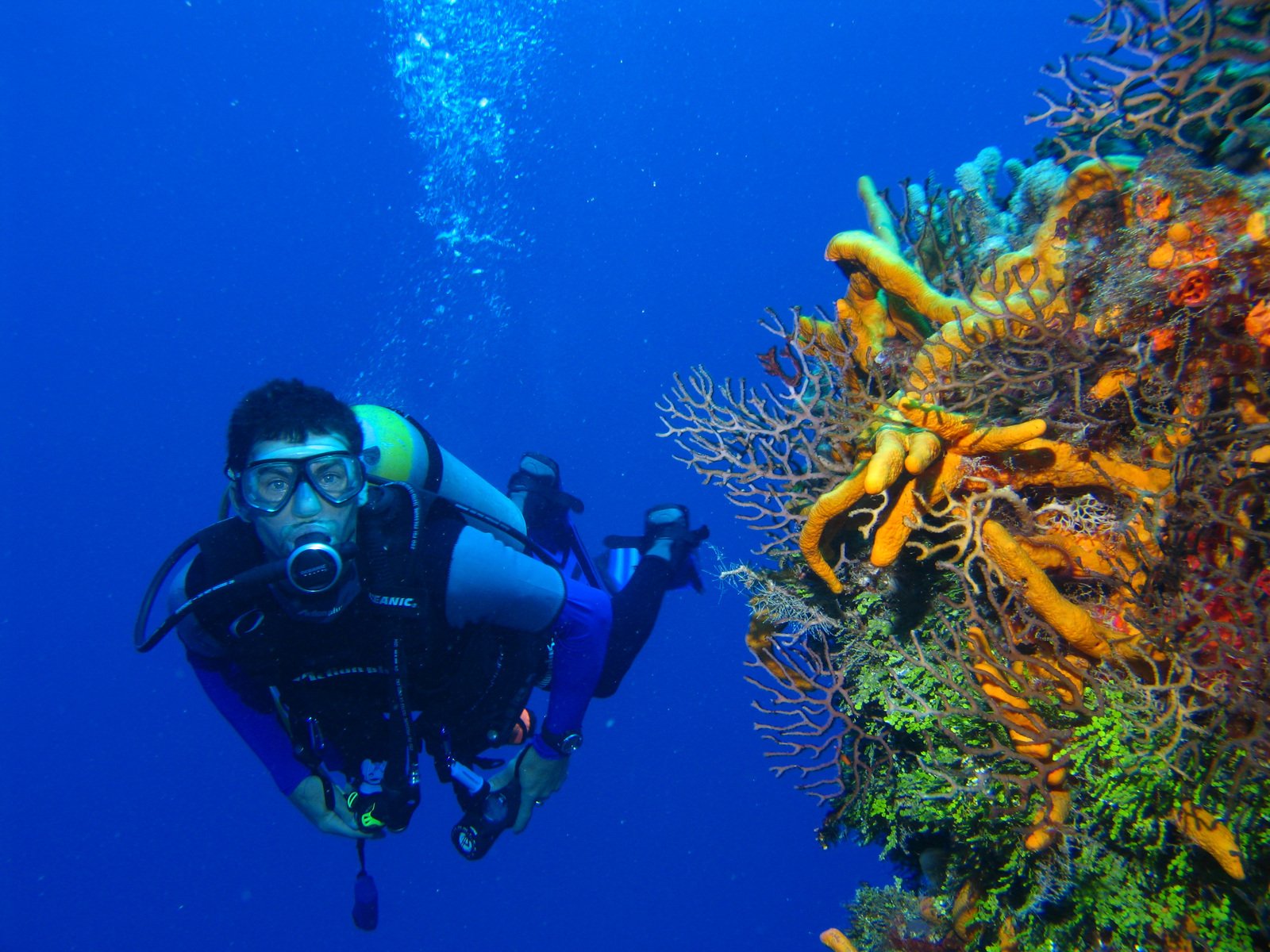 For my reviews of different types of BCD models, please check out these three posts:
What is a Scuba BCD?
A buoyancy control device (BCD) or buoyancy compensator (BC) is the key piece of equipment to help a diver control buoyancy during the dive.  That's why it's important to choose a BCD that is comfortable and suits the personal needs of the diver to ensure the best possible diving experience.  
Buoyancy allows the diver to safely ascend and descend, as well as to be effectively streamlined during the dive and in a controlled position.  Like most major pieces of scuba gear, BCDs are not cheap.  There are a number of styles that come in various shapes and sizes with many different features.
First, we will look at the basic parts of a BCD.  Then there is an exposition on how to choose the most appropriate one.  And last of all here we'll describe how to take care of a BCD.
Basic Parts of A Scuba BCD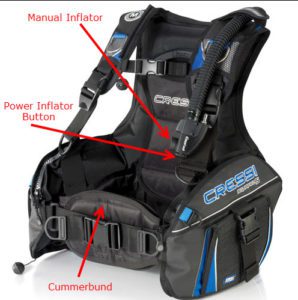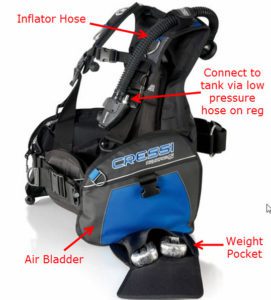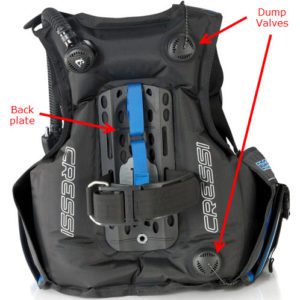 Dump Valves   
Air can be let out of the BCD through the deflator or through a dump valve system.  Most BCDs have two or three dump valves.  One is next to ​​the left shoulder and another is located at the lower back of the BCD where it is practical to deflate while in an inverted position, that is to say, declined with your head down.  You can also deflate your BC by pulling the inflator hose.
Pockets and D-rings             
Most jacket-style models have two or more pockets and a number of D-rings, however, not all models, like back-inflation BCDs, do this. Pockets are useful for storing your accessories or even for extra weight storage.  D-rings might also be useful for hooking up a dive light, camera or other gear.
Inflator/Deflator Mechanism 
The standard inflator/deflator system permits a diver to inflate or deflate the scuba BCD at the push of a button.  Two types of inflators are available.  Power inflators are connected to the tank with a low-pressure hose from the first stage. An easily controlled amount of air is added into the BCD when the button is pushed.  The manual inflator lets you add air into the BCD by blowing into a mouthpiece on the inflator hose.
Air Bladder                     
Air bladders are the most important part of a BCD and are designed to hold air.  They can be located in the back of the BCD, at both sides of the jacket, or along both the sides and back.  They can be inflated or deflated to adjust buoyancy.  
Adjustable Band   
This is located on the back of the BCD and is used to attach it to the scuba tank. It is designed to easily secure the tank to the BCD.
Straps                                           
BCDs are all designed with straps that wrap around your torso to hold the jacket in place.  It may involve a cummerbund styling.  In addition, there will be straps with buckles to firmly secure the fit.
How To Choose a BCD
A buoyancy control device, otherwise known as a BCD, jacket or dive vest, is a vital piece if gear used to adjust and calibrate a diver's buoyancy. BCDs are designed to be easily inflated or deflated with a touch button to allow the diver to hover, ascend or descend underwater. It also serves as a harness that holds the tank and the attached components that allow you to breathe from it.
BCDs come in four different styles – jacket, back inflation, hybrid, and travel jacket.
The jacket or harness style is the most commonly used BCD.  The entire BCD, including the front, back, and sides, is inflatable giving a tight feeling like wearing a big winter jacket.  Jacket BCDs are usually recommended for beginners because they are considered easier to use on the surface and underwater for streamlining and to create good buoyancy for all diving conditions and environments.  When you inflate this type of BCD the front and back will fill up with air engulfing your body.  This style also provides the most control in the easiest manner during your dive.
Back inflation BCDs are inflated only in the section on the back and are lighter in weight. This style often feels
more comfortable as there is more freedom of movement and it also takes up less space in luggage so is more suitable for divers who travel often.  These BCDs are commonly called wings as only the back portion of the device is inflated. Back inflation BCDs are recommended for experienced and technical divers as often the diver is put in a face-down position when floating on the surface, and are more accommodating for multiple or side-mounted tanks.
A hybrid BCD combines the two styles and inflates ¾ in the back and ¼ in the front. This type reduces the amount
of air in the back part of the rig when compared to the wing style. A hybrid will keep the diver in a more vertical position, which many divers will appreciate.
A travel jacket BCD  is lighter and more manageable than a standard jacket BCD because it either
has a back-pack on the back or, in some cases, the back-pack is in the form of a foldable plate.  Some models have even eliminated the lateral pockets and some of the rings for hanging accessories.  They can be extremely light and convenient to carry in your baggage, but the primary drawback is that they tend to have less buoyancy, so it may not be appropriate for cold water diving, where you will need to use a lot of ballast due to the thickness of the suit.
Sizing and Fit BCDs are often available in men's and women's models. Due to differences in anatomy the location of the chest straps needs to be rearranged.  BCDs for each gender should feel snug when inflated and not be too loose.  A poorly fitting BCD can prevent streamlining and potentially create drag.  You must have the ability to tighten and loosen straps and buckles when fully inflated on the surface and comfortably be able to breathe.
Integrated Weights Some buoyancy compensators are designed with weight integration so that the use of a weight belt may not be necessary. If a drysuit or wetsuit is used, an integrated weight system may not be sufficient.  Thus, divers are advised still to get a weight belt. Weight integrated BCDs are more comfortable than using a standard BCD with a weight belt and can help lessen stress or bruising to the hips particularly for females doing warm water diving.  Divers should be well aware of how to ditch integrated weights in an emergency.
Lift Requirements Every BCD has a lift capacity based on how much it will be able to hold when it is inflated to capacity on the surface.   Divers should learn early in training to correctly manage weight during the dive, which is to be correctly weighted and not overweighted.  Divers should not use a BCD to compensate for improper weighting.  It is necessary to discover how much lift is needed.  The answer depends on factors such as how cold the water is and the thickness of the wetsuit. A thicker wetsuit is more buoyant, so a higher lift capacity is required from the BCD.  In warmer water, less lift capacity is needed as less thermal protection is used.
Alternate Inflator Regulators  It is possible to use an alternate inflator regulator with any scuba BCD.  BCDs all
come with a basic inflator/deflator mechanism that can be replaced with an alternate inflator regulator, which allows the same inflation and deflation mechanism of the BCD, and the function of an alternate air source in one unit.
Straps, Pockets and Attachment Points – Divers carry a lot of accessories and the more advanced or technical the diving, the more the diver will carry.  A suitable number of pockets, straps, and D-rings are necessary for your torch, camera, surface markers, whistles, lines, etc.
Several D-rings on a BCD are quite useful and pockets permit more streamlining when accessories are tucked inside.  There is less danger of damaging the environment by dragging something onto it and also a decreased chance of getting snagged on something in a narrow space.
Care and Maintenance of Your Scuba BCD
Now that you have a BCD, how can you most effectively take care of it to get the longest life out of it?  This is what you should have learned at your dive shop when you did your first open water course. 
Before diving:
Inspect the inflator hose and valve connector for damage, corrosion or cracking.
Fully inflate your BCD and leave it for several minutes to check for leaks.
Examine the backplate, tank band, and buckles.
After diving:
Follow these steps:
A large basin or tub is useful, but what is important is to get all the saltwater (or dirty freshwater) off and out of the BCD.  W

ash the outside and inside of the BCD completely

.  Make sure the inflator and dump valves are well rinsed.  Remove any sand or debris from the pockets, harness, etc.
Put

 fresh water into the bladder of the BCD

through the low-pressure inflator hose.  P

ress the deflator button

as you put the freshwater into your BCD until at least 1/4 full.  A hose is helpful for this process.
Blow some air into the

 BCD and thoroughly turn and shake it so that 

the freshwater passes through and around the inside, then drain it through the dump valves.

Inflate the BCD slightly

 to prevent the inside pieces from sticking together and hang it in a cool, dry place.
I hope you found this post on BCDs interesting and useful. If you have any questions, comments or your own personal experience, please feel free to share in the comments section below.  I'd love to know what you think.   If there is no comments section directly below, click here: 
 >>comments<<