We may earn money or products from the companies mentioned in this post.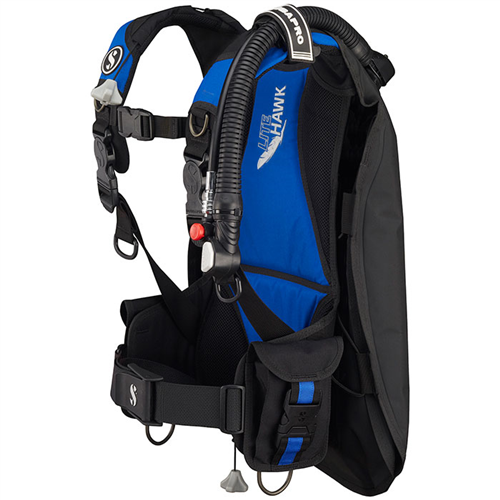 If you are planning to travel to any of the great locations around the world to do some diving, rather than just taking in the local spots near home, then portable, light, easy to pack, and stow gear is important.  That is particularly true when it comes to a BCD which can be bulky and heavy.  There are many lighter, easier to pack BCDs available, but you want to make sure you are getting one with the features you need and will be durable enough to last for many dive trips.  I will try to make the selection process a bit easier by presenting key factors in the design and use of a BCD in a buying guide and then introduce a range of some of the top travel models.  After that is a table for you to compare important features.
Best Travel BCDs Buying Guide
For a detailed introduction and key considerations when selecting a BCD including travel BCDs, with photos, videos, and maintenance guidelines, please click here:
Below is a detailed description and comparison of the best travel BCDs of 2019.  For each BCD key features and specifications are outlined.  Videos are provided to fill in the gaps and demonstrate.  At the end is the comparison table.
Best Travel BCD Reviews
This high-quality durable back inflation model provides plenty of lift and stability, fits a range of heights with a system of adjustable straps, and is lightweight for travel.  But that is just the beginning.  With a few quick folds, the Oceanic Jetpack also serves as a zippered carry-on bag with room to include the rest of your travel scuba diving gear.  Transporting your equipment has never been easier.
Features:
Material: 1000 denier Cordura, 420 denier nylon urethane laminated bladder material, quick dry 800 denier double-coated nylon
Lift capacity: 30 lbs (13.63 kg)
Dry weight: 6.3 lbs (2.86 kg)
Women's version: NA
Integrated weight system
No backplate for easy packing
Waist and chest straps adjust up and down for all heights, one size fits all
Doubles as a semi-dry backpack and lightweight BCD all in one
The Zuma is an ultra-light BCD great for travel with lots of features, is quite comfortable, and still has plenty of lift capacity.  It has an innovative tank support system that doesn't require a hard pack.  Padding is in the right places to provide stability and comfort and there is plenty of storage capacity in pockets and on D-rings.
Features:
Material: not listed
Lift capacity: 22 to 34 lbs (10 to 15.45 kg)
Dry weight: < 4.4 lbs (2 kg)
Women's version: NA
Integrated weight system with the patented SureLock II mechanical weight release system
Padded shoulders and spine, and extra lumbar support
Adjustable chest strap
Easy access fold down pockets, 4 D-rings, grommets for knife attachment
Exceptionally lightweight and easy to pack for travel
Material: patented Bioflex bladder, (Bioflex material- a living fabric that stretches)
Lift capacity:  32 to 38 lbs (14.5 to 17.24 kg)
Dry weight:  5.5 lbs (2.5 kg)
Women's version:  Oceanic Biolite Women's
Integrated weight system
No backplate
D-rings for storage
Waist and chest straps slide up and down to fit all heights
Lightweight, takes up little space so ideal for travel
The Cressi Travelight BCD is just what its name represents.  It is an easily and conveniently packed piece of gear ready for travel on very short notice, that is much lighter and more compact than a traditional jacket style BCD. Cressi has incorporated comfort, good balance and trim under the water and good lift capability. There are a total of eight D-rings, two rear trim pockets and two large accessory pockets to allow you to carry and store gear such as knives, dive lights and gauges. A padded back panel provides comfort and is flexible enough to move with you.
Material:  210 denier nylon
Lift capacity:  13.5 to 36 lbs. (6.1 to 16.3 kg) size dependent
Dry weight:  5 To 6.2 lbs (2.3 To 2.8 kg)
Integrated weight system
Women's version:  Cressi Travelite Women's
Lightweight, packs down well for a jacket style BCD
Plenty of D-rings, padded back, lots of storage
Recalibrated speed of inflation is now 50% greater
The Scubapro Go is a basic jacket style BCD that is stable and comfortable with substantial lift capacity in a lightweight package.  There is plenty of storage, easy to access zippered pockets, D-rings and side grommets for knife attachment.  It has a flexible backplate and double tank straps for balance in any position and reduced pressure on your back.  It folds and fits nicely in the provided travel bag.
Material:  Nylon 210 denier material covered in polyurethane for protection
Lift capacity:  22 to 42 lbs (10 to 19 kg)
Dry weight: 6 lbs (2.73 kg)
Integrated weight system
Women's version:  NA
Multiple pull-dumps on shoulders and lower rear
Lightweight and folds for packing in its own travel bag
Plenty of D-rings, pockets, and grommets
The Zeagle Scout is a durable, back inflation BCD.  It has reasonable lift capacity and a comfortable flexible padded backplate.  There is no integrated weight system which allows more storage possibilities, reduces weight, and aids in packing for travel.  It is very reasonably priced while maintaining exceptional quality.
Material:  1000 denier nylon
Lift capacity:  24 lbs (10.9 kg)
Dry weight: 6.7 lbs (3 kg)
Traditional weight system
Women's version:  NA
Efficient Bx power inflator system for easy rinsing of the bladder
Sewn-on lumbar pad
Adjustable elastic waist panels and sternum strap
2 zippered pockets, 5 stainless steel D-rings, and mounting grommets
Low priced
The LTS (Light Travel System) back inflation BCD is extremely light and designed to handle single AL80s and steel 85s.  Lift capacity is substantial on this comfortable and durable model.  Chest and hip D-rings provide storage on this easy to pack travel model.
Material:  1000 denier nylon wing with a 420 denier urethane laminated internal nylon bladder
Lift capacity:  30 lbs (13.63 kg)
Dry weight: 5 lbs (2.27 kg)
Integrated weight system
Women's version:  NA
Chest and hip D-rings for storage
Comfortable back pad
Torso and Waist Adjustment Webbing Straps
Very lightweight modular design stows easily
This back inflation system does an excellent job of freeing up movement in the chest and shoulders while providing good lift capacity.  Buoyancy regulation is possible in a variety of underwater positions with a 3-dump deflation system.  The exceptionally lightweight and flexible backpack makes stowage for travel easy.
Material:  420 denier nylon
Lift capacity:  29.2 lbs (13.2 kg)
Dry weight: 4.8 to 5 lbs (2.2 to 2.3 kg)
Integrated weight system
Women's version:  NA
Optional Air 2 alternate inflator
3-dump deflation system
Flexible backpack
Quick release rotating shoulder buckles and two position sternum strap
High quality at a reasonable price
Picture
BCD
Type
Dry Weight
Lift Capacity
Rating
Price
Oceanic Jetpack
Back Inflation
6.3 lbs
(2.86 kg)
30 lbs
(13.63 kg)
4.4
$$$
Aqua Lung Zuma
Back Inflation
(2 kg)
22-34 lbs
(10-15.45 kg)
4.6
$$
Oceanic Biolite
Back Inflation
5.5 lbs
(2.5 kg)
32 to 38 lbs
(14.5 to 17.24 kg)
4.6
$$
Cressi Travelight
Jacket
5 to 6.2 lbs
(2.3 to 2.8 kg)
13.5 to 36 lbs
(6.1 to 16.3 kg)
4.7
$
Scubapro Go
Jacket
6 lbs
(2.73 kg)
22 to 42 lbs
(10 to 19 kg)
4.7
$$$
Zeagle Scout
Back Inflation
6.7 lbs
(3 kg)
24 lbs
(10.9 kg)
4.5
$
Hollis LTS
Back Inflation
5 lbs
(2.27 kg)
30 lbs
(13.63 kg)
4.7
$$
Scubapro Litehawk
Back Inflation
4.8 to 5 lbs
(2.2 to 2.3 kg)
29.2 lbs
(13.2 kg)
4.8
$$
Picture
Wetsuit
Type
Dry Weight
Lift Capacity
Rating
Price
For more information concerning BCDs, please check this review:
Comments and Feedback
I hope you found this post on the best travel BCDs interesting and useful. If you have any questions or ideas, please feel free to share them in the comments section.  If there is no comments section directly below, click here:  >>comments<<