We may earn money or products from the companies mentioned in this post.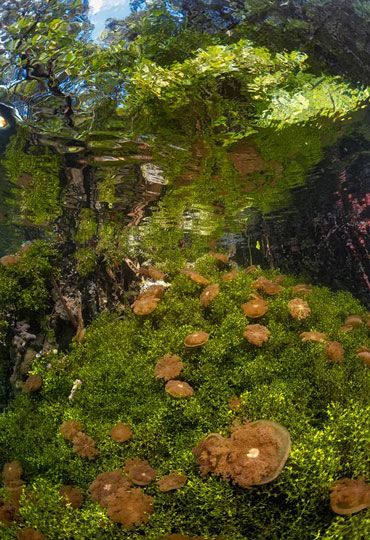 This is the thirty-sixth in a series which introduces and describes the various dive services and sites for worldwide liveaboard dive safaris.  This one focuses on Derawan Islands, Indonesia liveaboards.
In addition to this one on liveaboards, the best worldwide dive resort locations and services are reviewed in their own series.  To check them out, or other liveaboards, click on Liveaboards/Resorts on the menu at the top and choose a title from the list.
Have you ever been diving in the Derawan Islands before?  If so, I'd love to know about your experience.  What dive shop or liveaboard did you use?  Which dive spots are the best and what are the conditions there regarding the visibility, current, water temperature, sealife attractions, etc.?  Please post your response in the comments section at the bottom and we'll all learn something we can use.
Derawan Islands Diving
Background – The Derawan Islands are part of the Province of East Kalimantan off the coast of Borneo.  They make up a 31 island archipelago with the most well-known islands being Derawan, Maratua, Sangalaki,  Kakaban, Samama, and Panjang.  Derawan and Maratua are the only inhabited islands.  1,300 people live in a single village on Derawan, which also has 3 dive resorts.  Manatua is the other occupied island with 2,700 living in 4 villages, and one dive resort in operation.  Traditional fishing is the primary occupation.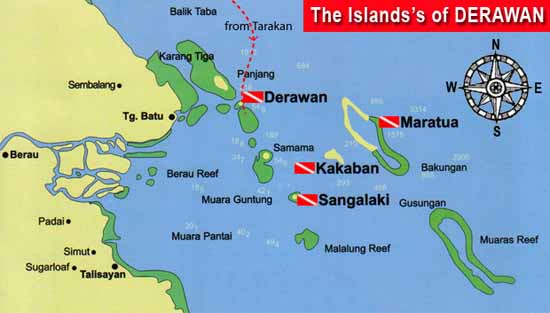 Undersea World – The Derawan Islands are known for rich biodiversity with 872 species of reef fish and over 500 species of coral and invertebrates.  The archipelago contains the largest nesting area for turtles in Indonesia and there are two brackish ponds containing endemic stingless jellyfish.  A variety of undersea terrain includes fringing reefs, walls, caves, and lagoons that provide excellent habitat for schooling barracuda, a variety of sharks, including whale sharks, manta rays, and a nice array of macro critters.
Sangalaki is known the world over for manta rays.  Several sites close to the beach have mantas with wingspans as wide as 3.5 meters feeding on the rich supply of plankton or hovering around cleaning stations often in the range of snorkelers.  Sangalaki also has a government-run turtle nursery you can visit.  This is also a great spot to find whale sharks.
Kakaban has some rich coral sites and caves to explore.  The most famous site is Barracuda Point which has schools of its namesake, big tuna, and sharks.  In addition, there is the brackish lake in the middle of the island that has the non-stinging jellyfish and a number of endemic tunicates, anemones, crustaceans, and flatworms.  The surrounding shore is fringed with mangroves.
Maratua has an excellent fast drift dive through the channel into the lagoon and another site called "Big Fish Country" that frequently brings attractions including mackerel, tuna, barracuda, turtles, eagle rays, and hammerhead, thresher and grey reef sharks.  There are also 13 caves that have been explored and hundreds more yet to be penetrated significantly.
Palau Panjang and the contiguous Palau Derawan are famous for macro critters like frogfish, blue ring octopus, harlequin and tiger shrimp, pipefish, sea dragons, and pygmy seahorses.
Palau Sambit is known for hawksbill turtles and frequent sightings of tiger sharks.
Seasons and Conditions – Diving is good all year in the Derawan Islands with temperatures pretty steady throughout the year. The average air temperature is 26-27°C (79-81°F). The sea temperature is 26-30°C (79- 86°F). Some divers might like a 3 mm wetsuit when the water is at its coolest.  It rains a fair bit all year but is a little stronger in November through January.  Sitting 2 degrees above the equator, the islands aren't really visited by a monsoon season.  Significant current possible on some of the sights and visibility is usually greater than 20 meters (68 feet).  There is diving suitable for all levels.  Both liveaboards can provide Nitrox and a number of PADI courses on board.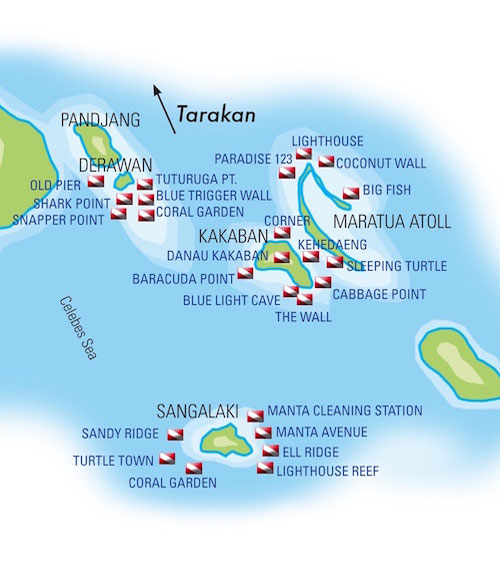 Derawan Islands Liveaboard Dive Boats
There are only these two great liveaboard yachts cruising the Derawan Archipelago.  Both are friendly to snorkelers and non-diving passengers and offer some shoreside opportunities.  Facilities and services are outstanding and the pricing is quite reasonable.  They only have short seasons in Derawan and spend the rest of the year cruising other top Indonesian regions.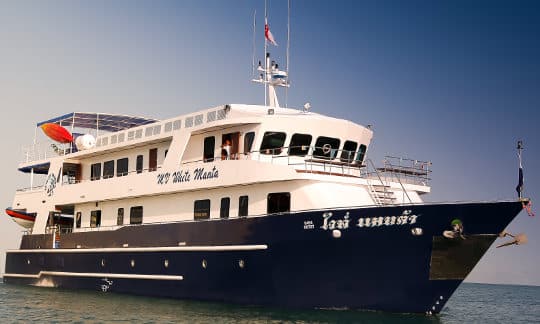 May through August: Eleven 7 day tours of the Derawan Archipelago that include Sangalaki, Kakaban, and Maratua Islands
Derawan Itinerary: Day 1 – check-out dive and night dive, Day 2 – 4 dives around Sangalaki and Kakaban, Day 3 – 4 dives around Kakaban and Jelly Fish Lake, Day 4 – 4 dives around Maratua, Day 5 – 4 dives around Maratua, Day 6 – 4 dives around Maratua, sail back to Tg. Batu, sleep onboard in the port, Day 7 – breakfast and goodbyes, check out of the boat and transfer to a local hotel or the airport
September through April: itineraries include Raja Ampat, Ambon/Banda, and Misool/Halmahera/Lembeh
Most cabins have ensuite bathrooms, sea view windows, aircon
Indonesian and international meals, outdoor dining, indoor saloon, aircon saloon
Laundry service
Camera station, separate rinse for u/w camera, charging stations
Massage
Audio & video entertainment
Sun deck
Hot tub
Shaded diving deck
Non-diver (snorkeler) friendly
Experienced English-speaking divemasters (4 divers per guide)
Certification courses available including PADI Advanced Open Water Diver, Rescue, EFR, specialties and Gas Blender
Nitrox available
2 motorized dinghies
Raja Ampat Aggressor – $215/day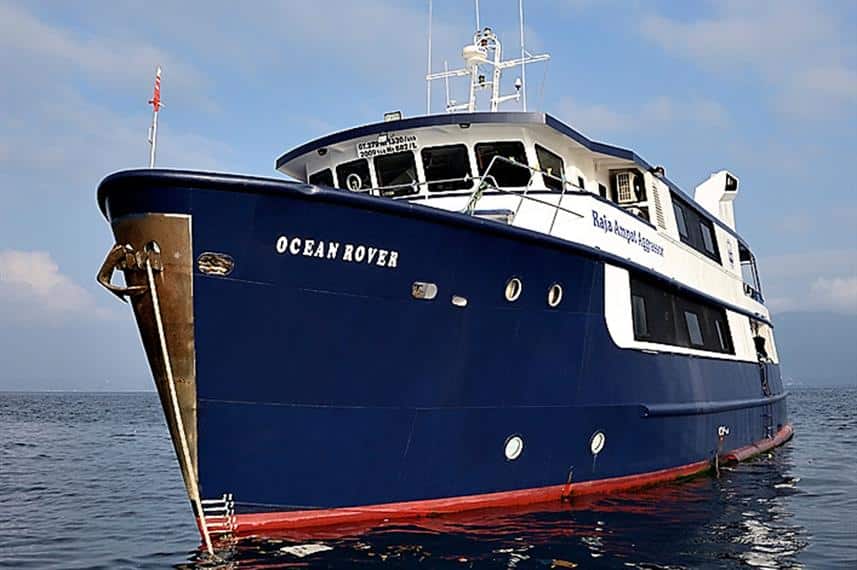 July and August: Six 8 day tours of the Derawan Archipelago that include Sangalaki, Kakaban, Maratua, Panjang, Derawan, and Sambit Islands
Derawan Itinerary: Day 1 – get underway, no diving, Day 2 – 4 dives around Derawan, Day 3 – 4 dives around Sangalaki, Day 4 – 4 dives around Kakaban, Day 5 – 4 dives around Pulau Sambit, Day 6 – 4 dives around Maratua, Day 7 – 2 dives around Manatua, depart to Tarakan, Day 8 – disembark and transfer to Tarakan International Airport or partner lounge in the area
September through June: itineraries include Raja Ampat, Banda Sea, Komodo, and Flores
Camera station, camera room with table and charging point, charging stations
Daily housekeeping
Audio & video entertainment, library, paid internet
TV in cabins, en-suite bathrooms, aircon, non-smoking rooms
Indoor air-conditioned saloon
Sun deck, leisure deck
Western and local food, full-board option, bar, outdoor dining
English speaking crew
Warm water showers
Outside showers
Separate rinse for u/w camera
Experienced English speaking divemasters (6 divers per guide)
Non-diver (snorkeler) friendly
Nitrox available
Rinse hoses, shaded diving area
Tenders for diving
Emergency rafts
|   | KM Raja Manta | Raja Ampat Aggressor |
| --- | --- | --- |
| | | |
| Length | 36 m | 30 m |
| Guests | 20 | 16 |
| Crew | 19 | 14 |
| Equipment | $50/day | $175/week |
| Nitrox | $6/fill | $150/trip |
| Snorkeling | Yes | Yes |
| Dive Courses On Board | Yes | Not Reported |
| Single Supplement | +90% | +65% |
| Price/Day | $230 | $330 |
Derawan Archipelago Photos
With the interesting undersea terrain, walls, caves, and lagoons, beautiful corals, stingless jellyfish, barracuda, hammerhead and whale sharks, manta and eagle rays, and turtles, there are many excellent photo opportunities.  For information and reviews of dive cameras, click here:
A cushion for emergencies provides peace of mind when on vacation.  I recommend this diving insurance as they have worldwide coverage and provide scuba divers a quality insurance and medical assistance service.
Feedback and Comments
I hope you found this post on Derawan Islands scuba diving interesting and useful. If you have any questions or ideas, please feel free to share them in the comments section.  I'd love to know of any experience you have diving in the Derawan Islands.  If there is no comments section directly below, click here:  >>comments<<