We may earn money or products from the companies mentioned in this post.
Full faced masks have been used in commercial and scientific diving for quite a while, providing a less cumbersome and lighter alternative to diving helmets. Today more and more recreational divers are using them as more entry-level, user-friendly, less expensive models have been introduced. Divers enjoy the comfort provided when the mouth is freed up from holding a regulator mouthpiece and there is full-face protection from the elements. Oral communication is an option with your fellow divers and even with the surface when an intercom system is installed. This is one reason these masks have been used in commercial diving.
Best Full Face Scuba Mask Reviews
Ocean Technologies Guardian Full Face Mask
Many commercial divers use the OTS Guardian including my close friend and many others in the gold dredging business in Alaska. It is one of the earliest brands and is still held in high favor today. It provides wide visibility and is a sturdy and robust model. The ambient breathing valve is positioned higher out of the water than on other models making it good to use on the surface. With no mouthpiece to clinch, jaw fatigue is eliminated and with this model air circulation is good and the mask probably won't fog up.  It is low-weight at 6 pounds and comes in a variety of colors.  You'll note the second stage comes in from the right side.  Most first stages will work with the Guardian.
Ocean Technologies Guardian Full Face Mask with Buddy Phone Communications Package
Check the Price & Details
Ocean Technologies Guardian Full Face Mask Package
Check the Price & Details
View More From Ocean Technologies
Ocean Technologies Spectrum Full Face Mask
This popular model is attractive to many divers because it allows them to use their own regulators
and thus decreasing the cost of going to a full face mask.  It is possible to take the mouthpiece off and attach your reg to the front of the unit.
The Spectrum is suitable to 50 meters for water as cold as 10 degrees C, the performance of the regulator creating the limit of the overall mask.
View More From Ocean Technologies
OTS Spectrum and Guardian Comparison Video
Dräger Panorama Nova Dive Sport Full-Face Diving Mask
Dräger model
 has an exhalation purge valve for easy clearing of water and an adjustable pressure relief system. The anti-fog visor has easy to use nose clips for equalizing on the descent. It is designed to operate in temperatures from 2 to 40°C (35.6 to 104°F).  The 3 connection ports can all be used for the regulator second stage with the least breathing resistance from the central port.  The remaining two ports can be used for a microphone unit.  The regulator can be changed underwater without removing the mask and when on the surface it can easily be detached from the mask for the breathing of ambient air.  In addition, there is a wide field of vision and convenient adjustable 5-point head harness. The mask has been designed to use with rebreathers, as well
Ocean Reef G Divers Full Face Mask
This full-face mask comes with a communications package option in 2 sizes with 4 different color options. It also comes with an integrated balanced 2nd stage regulator and a low-pressure hose. This is designed with a patented bellows style face skirt and is molded out of premium-grade silicone rubber. It also uses a spring profile alongside a large seal which is double the size in order to provide solid support and a convenient and comfortable fit. The head strap comes attached directly to the face shield, enabling pressure to be equally distributed together with the mask skirt. The unique face strap and seal are patented by the manufacturer.
Ocean Reef Unisex Space Extender Full Face Integrated Diving Mask
It is designed for cold water usage and has a balanced, on-demand, integrated regulator.  The polycarbonate visor is siloxane double coated to resist scratching.  It has a 4 position directional exhaust valve, dive/pre-dive switch, and a lifetime warranty!  But what makes this model immediately noticeable is the extender, which comes in a kit (frame and accessories), and the SAV (Surface Air Valve) is included.
Special Considerations When Using a Full Face Scuba Mask
Mask Clearing – While a full-face mask is not very likely to flood, when it does happen it is a little harder to clear, due to the larger volume. The situation is exacerbated in that while the mask is flooded it may not be possible to breathe as long as it is flooded, depending on how much water is in the mask.
Difficulty Putting It On – There are several straps that all need the correct adjustment. If the mask is not placed in the proper position, it may flood or fall off.
Dropping the Mask – With the usual dive mask, if you drop it you simply methodically retrieve it or get out a replacement. With a full face mask, you not only lose the use of the mask, but also the regulator, so there is increased urgency in getting it back on into position. Fortunately, the regulator hose is tethered to your gear, so finding it is a relatively quick process.
Skills Deterioration – Because of the ability to talk when using a full face mask, some divers can tend to forget the standard hand signals, making communication more difficult when diving in a standard mask configuration. Lack of practice in mask clearing or regulator recovery when using a full face mask can result in the same kind of deterioration to those skills.
Cost and Weight – Of course full-faced masks are more expensive and heavier. To safely use a full face mask special training and practice before going to open water should be considered.
Underwater Chat – Some folks are unusually gabby. The tranquil underwater atmosphere may not be the same when diving with someone using a full face mask who just loves to talk. If that is aversive to you, you had better choose your dive buddies carefully and/or set some ground rules before submerging.
The Decision – Is a Full Face Mask For You?
Increasingly recreational divers, as well as technical and commercial divers, find that using a full face mask can be quite advantageous. It's really a matter of your own personal preference whether to use the traditional mask and regulator set-up or a full-face dive mask. Each of the 6 reviewed here comes with its own set of features, including advantages and disadvantages. You should judge based on your own needs which is the best option for you.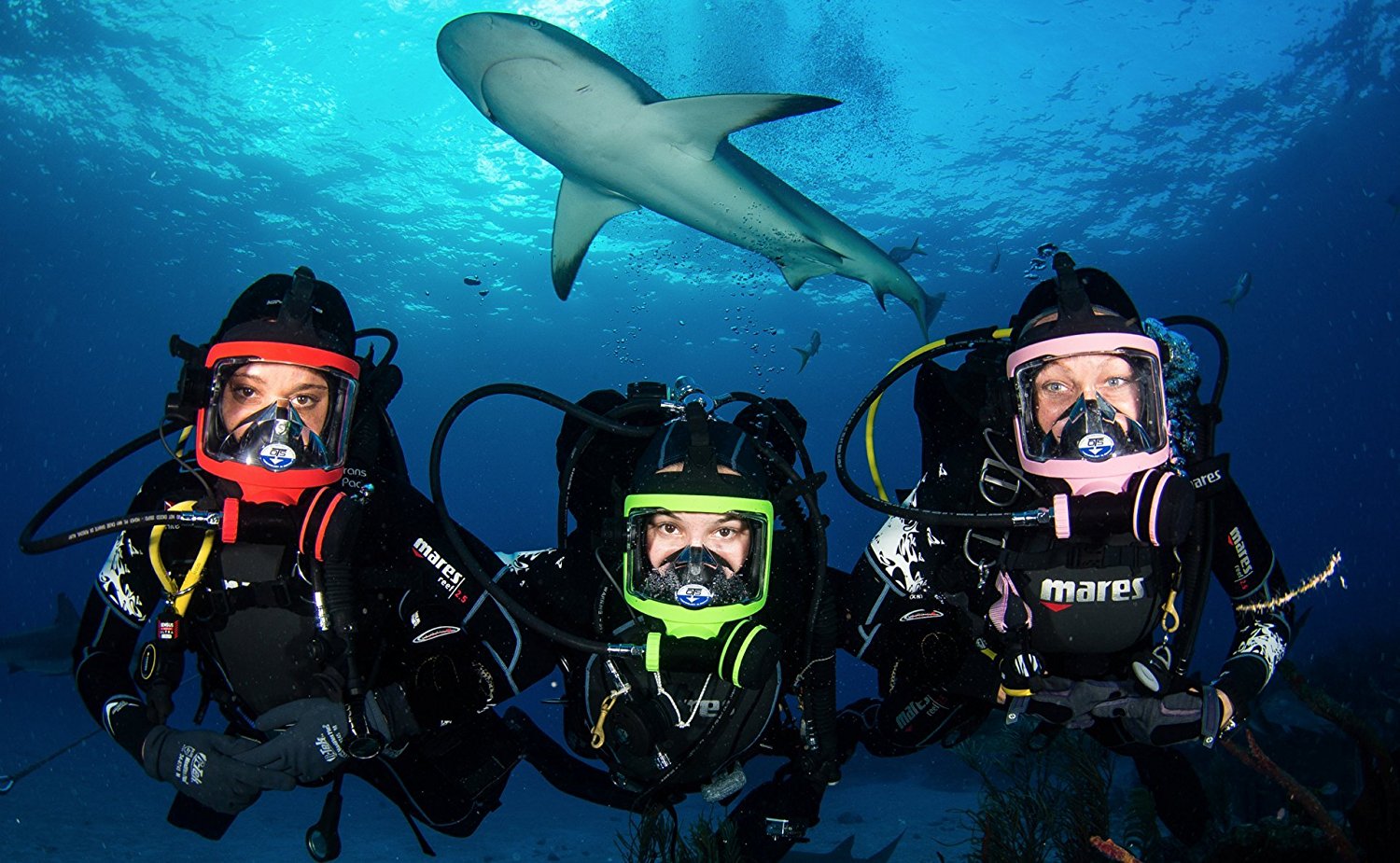 Feedback and Comments
I hope you have found this review of full-face scuba masks to be useful. If you have any questions or comments or your own personal review, please feel free to share them in the comments section below.  If there is no comments section directly below, click here:  >>comments<<