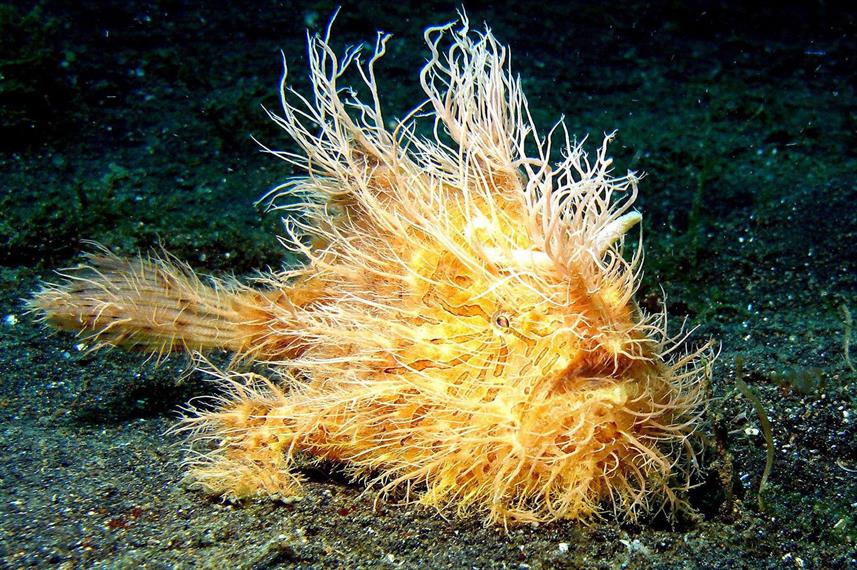 Updated June 14, 2021
This is the thirty-fifth in a series which introduces and describes the various dive services and sites for worldwide liveaboard dive safaris.  This one focuses on several Indonesian sites rarely served by liveaboards, Halmahera and Northern Sulawesi.
In addition to this one on liveaboards, the best worldwide dive resort locations and services are reviewed in their own series.  To check them out, or other liveaboards, click on Liveaboards/Resorts on the menu at the top and choose a title from the list.
Have you ever been diving in Northern Sulawesi and Halmahera before?  If so, I'd love to know about your experience.  What dive shop or liveaboard did you use?  Which dive spots are the best and what are the conditions there regarding the visibility, current, water temperature, sealife attractions, etc.?  Please post your response in the comments section at the bottom and we'll all learn something we can use.
Scuba Diving Northern Sulawesi and Halmahera
The KLM Sunshine has put together some diving itineraries that are unique.  It is rare for a liveaboard to make it to Bunaken, Lembeh, Togian, or Sangihe in Northern Sulawesi or to the Western Halmahera region.  Quite a few go to destinations to the southwest near Wakatobi and on the southern side of Halmahera Island to Raja Ampat.  The Sunshine is doing combinations of these areas giving divers access to some of the best macro and muck diving in the world along with spectacular large creatures on pristine rich coral reefs all on the same cruise.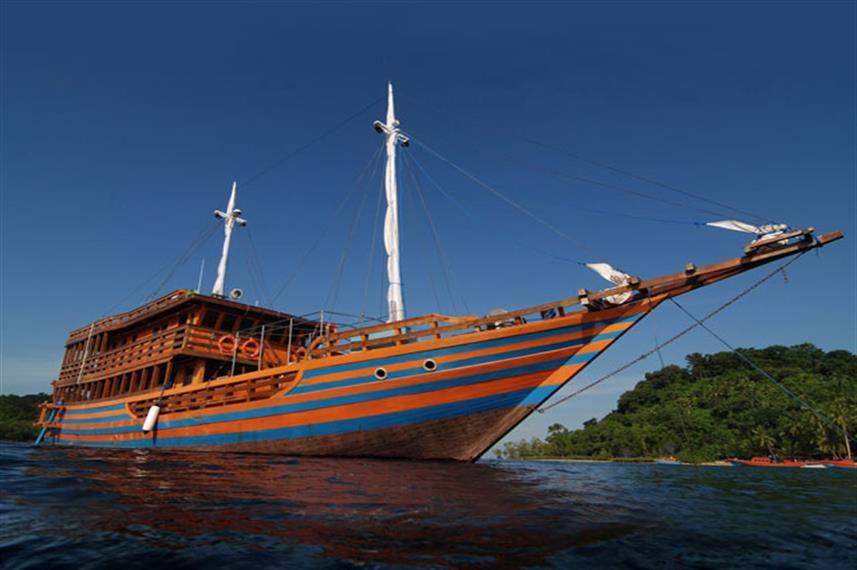 Services and Facilities
Daily housekeeping
Audio & video entertainment, library
Aircon cabins, en-suite bathrooms, non-smoking rooms
Family cabins, sea view cabins
Indoor saloon
Outdoor dining
Western and local food, vegetarian options, buffet style, beer available, snacks all day, fine wines,  beach bbq, half-board option, full-board option
Camera station, camera room with table and charging point, charging stations
Leisure deck, observation deck, sun deck
Warm water showers, outside showers
Snorkeling equipment
Separate rinse for u/w camera
Nearly 1:1 crew-to-guest ratio
English and Indonesian speaking crew
Nitrox available, nitrox courses
Dive deck, shaded diving area
Tenders for diving
Check the additional details at Liveaboard.com
April Itinerary – Halmahera Trip (2 cruises of 13 and 12 days): Lembeh Strait, Tifure Island, Bacan Labaha Island, Tifore, Nappo Atoll, Siko Island, Lata Lata, Dragon Rock. Highlights: pristine coral, muck diving, big creatures including schools of barracuda, mantas rays, sharks, mimic octopus, rhinopias, wonderpus, nudibranchs, and more.
May, September, October Itinerary – Sangihe Archipelago (4 cruises of 7 days): around the islands. Highlights: Around Siau Island in the north, Mahengetang Volcano, undersea vents, lava flows, and volcanic terrain, southern island including Biaro Island have patch reef, sweetlips, snappers, bumphead parrotfish, nudibranchs, frogfish, cuttlefish, shrimp, seahorses, flamboyant cuttlefish, batfish.
June and August Itinerary – Bangka, Lembeh, Buyat, Gorontalo, Una Una, and Togian Islands (2 cruises of 10 and 11 days), Highlights: Bangka and Lembeh – muck diving, Togian Islands (Tomimi Bay) – great visibility, rich marine life, Una Una (in the Togians) –  walls and white sand beaches.
July Itinerary – Central Sulawesi – Tompotika (2 cruises of 7 days), Highlights: healthy reef, black sand reminiscent of Lembeh, many macro critters, no other divers.
December Itinerary – Lembeh Strait, North Sulawesi Mainland, Bunaken National Park (1 cruise of 8 days, Highlights: muck in Lembeh, schools of fish and pristine rich reefs, nudibranchs,  rhinopias, octopus, wonderpus, harlequin shrimp, flamboyant cuttlefish, snake eels, stonefish, ribbon eels, stargazers, frogfish, hairy frogfish
For my review of resorts and liveaboard diving for Bunaken Island and Lembeh Strait and more details regarding the diving conditions there, please check out this review:
Seasons and Conditions
There is some weather variation in the range of areas covered by the KLM Sunshine, but it is safe to say that it is warm year-round and diving is good every month.
From May to December you can expect more rain, but it doesn't often hinder diving for long.
The water is also pretty warm in the range of 25-29°C (77-84°F). At the coolest, most divers will be comfortable in a 3 mm wetsuit.
Typically the visibility runs from 10 meters (35 feet) to as high as 40 meters (130 feet).
Current is variable from site to site and can be strong on occasion.
There are conditions suitable for all levels of diver.
The Sunshine will insist to use Nitrox on their liveaboard and can do the certification training with you on board.
The diving around Manado is pretty well served by resorts and tourist facilities.  The various islands of Togian, Sangihe, and Halmahera are not highly populated and organized scuba diving there is not too common.



KLM Sunshine Summary Table
 
KLM Sunshine
Length

31 m
Guests

8
Equipment

21 EUR per day
Nitrox

70-100 EUR per trip
Snorkeler
Friendly
Yes
Non-diver Rate
None
Price/Day

From $98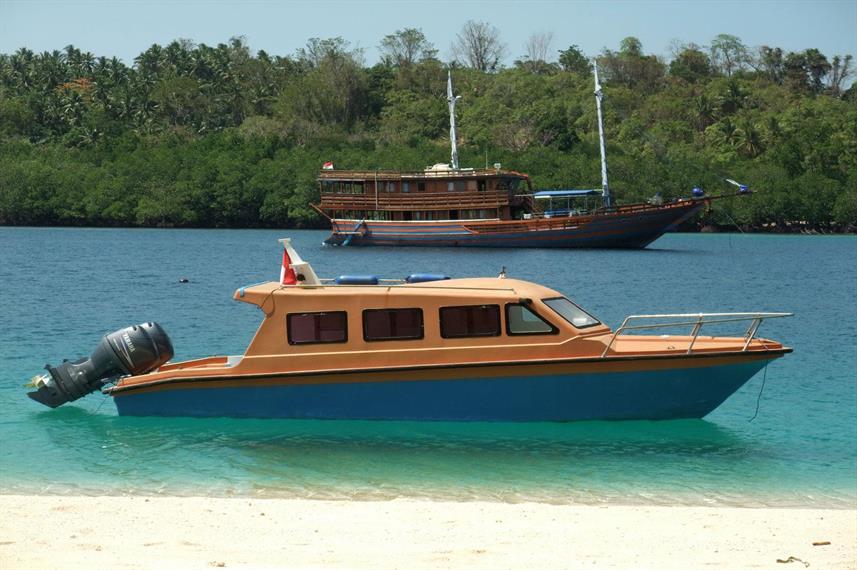 Northern Sulawesi and Halmahera Photos
With the interesting underwater terrain including lava flows, colorful anemones, sponges, fans, coral and encrusting invertebrates, ribbon eels, frogfish, octopus and other macro critters, schools of fish, manta rays, reef sharks, and fascinating scenery on the surface, as well, there are many excellent photo opportunities.  For information and reviews of dive cameras, click here:
Scuba Diving Trip Insurance
A cushion for emergencies provides peace of mind when on vacation.  I recommend this diving insurance as they have worldwide coverage and provide scuba divers quality insurance and medical assistance service.
Feedback and Comments
I hope you found this post on North Sulawesi and Halmahera scuba diving interesting and useful. If you have any questions or ideas, please feel free to share them in the comments section.  I'd love to know of any experience you have diving there.  If there is no comments section directly below, click here:  >>comments<<