We may earn money or products from the companies mentioned in this post.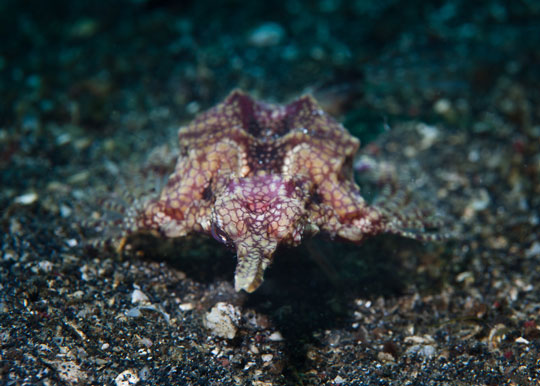 This is the thirty-third in a series that introduces and describes the various dive services and sites for worldwide liveaboard dive safaris.  This one focuses on Alor and Flores Islands, Indonesia liveaboards.
In addition to this one on liveaboards, the best worldwide dive resort locations and services are reviewed in their own series.  To check them out, or other liveaboards, click on Liveaboards / Resorts on the menu at the top and choose a title from the list.
Have you ever been diving in Alors and Flores?  If so, I'd love to know about your experience.  What dive shop or liveaboard did you use?  Which dive spots are the best and what are the conditions there regarding the visibility, current, water temperature, sealife attractions, etc.?  Please post your response in the comments section at the bottom and we'll all learn something we can use.
Alor Diving
The Alor Archipelago is volcanic in origin at the eastern end of the Lesser Sunda Islands, east of Flores. Alor Island is the largest of them at 2,800 square kilometers (1,750 square miles) with a population of 145,000.  Subsistence agriculture is the primary livelihood, but the government has been promoting the production of nuts, spices and wood and the development of mineral and other natural resource extraction.
The scuba diving is characterized by large schools of fish, big pelagics, great macro creatures, and a healthy reef. There are also excellent muck diving areas.  It is remote and little-traveled with substantial drift, at times, suitable for more advanced divers.  The coral life is amazing and dolphins and pilot whales are often sighted.
There are only a couple of dive resorts there that focus primarily on the Pantar Strait, so a liveaboard is the best way to take in the most sites spread over a broad area.
Highlighted Alor Dive Sites
Kal's Dream: The colorful seamount can have substantial current for the diver and a great variety of fish including anthias, fusiliers, surgeonfish, snappers, barracudas, grey reef sharks and rays.
Shark's Galore: Located off of Pura Island, this site is calmer drift-wise, but chances of seeing grey reef sharks and whitetips in numbers are high, along with big dog-toothed tuna.
The Twilight Zone: This freaky site starts near the steamy hot springs and lava flow off of Biangabang village on Pantar Island in the black volcanic sand.  In the shallower water are macro critters of interest like snake eels, mantis shrimp, Pegasus sea moths, octopus, gurnards, soapfish, Bobbit worms, and Spanish dancers, which are large enough, but also the extremely rare and huge Djibouti Giant nudibranch, which can reach lengths of 60 cm (2 feet). The reef extends to 40 meters (130 feet) in depth.
Diving is good year-round with a January-February wet season when the surface can be rougher and visibility reduces.  Stronger current occurs from March to December and in October and November.  From May to September is the southeast monsoon, which means more wind, rather than rain. The visibility may decrease to 12 meters (40 feet), but this is when the plankton bloom happens and increases feeding activity.  Outside of the monsoon season visibility is usually 25-30 meters (85-100 feet).  Mola Mola are more likely to be spotted in September. Water temperatures year-round are in the range of 25-32°C (77-89.6°F).
Alor Reef Summary
Depth: 12-40m (40-130ft)
Visibility: 12-30m (40-100ft)
Currents: occasionally strong
Surface conditions: occasionally rough
Water temperature: 25-32°C (77-89.6°F)
Experience level: advanced
Number of dive sites: 15+
Diving Flores Indonesia
Flores Island is the tenth-largest in Indonesia and to the east of Sumbawa just next to Komodo and west of Lembata and the Alor Archipelago. Its name means flowers in Portuguese and it has a population of 1.8 million.  Komodo Dragons are living wild in the western section and the island was the home of the dwarf stegodon, which became extinct 12,000 years ago, and the Flores Man, known as the Flores Hobbit, that died out, by most recent estimates, at least 50,000 years ago.
The area around Maumere, the largest city, suffered in the past from dynamite fishing and the 1992 tsunami.  It has recovered and developed since that time and today there is great diversity and new coral development. Overall, diving around Flores is to the north of the island and characterized by great diversity and macro life.  The conditions are suitable for intermediate and advanced divers and it is remote enough that there is not a lot of diving traffic there.  The sites are fairly well spread out geographically making a liveaboard the best way to take in the best sites.
Highlighted Flores Dive Sites
Maumere: The sea around this city is far from pristine, but there are a number of wrecks and macro life worth exploring.
Adonara Island, in Eastern Flores: Wildlife includes ribbon eels, frogfish, weedy scorpionfish, and the wonderpus octopus.  Many uncharted sites are in channels and headlands along the coastline ripe for exploring.
Babi Island:  There is a healthy reef wall to 50 meters (165 feet) frequently with excellent visibility.  Moray and ribbon eels, snappers, parrotfish, angelfish and a great diversity of reef fish are prevalent.  A rich variety of corals, sponges, gorgonians, crinoids, and other invertebrates flourish to depths as great as 35 meters (116 feet).  Strong currents, at times, make for exciting drift diving.
Lambata Island: The Lamalera Village headland has boulders and coral slopes that hold a variety of reef fish including fusiliers, butterflyfish, and anthias, to name a few, and gorgonians with their pygmy seahorses, along with reef sharks.  It is a traditional whaling village, regrettably, but that is an indication of cetaceans in the area.
South Pangah Baland: Soft and leather corals cover the sloping wall that descends to 28 meters (95 feet).  The occasional strong currents can keep you busy as you swim with meter-long bumphead parrotfish, sharks and eagle rays with garden eels, mantis shrimp, leaf fish and other macro critters near the bottom.
Wai Terang: This Japanese WWII freighter is resting on its side in 12-25 meters (40-84 feet) just 70 meters (230 feet) from shore.  The encrusting life that has grown since the 1940s has created a fairly rich coral reef with a lot of small fish and invertebrates. Highlights are lionfish, eels, nudibranchs, and cuttlefish.
The dry season is from April to December.  From January to March, it is wetter, but that generally doesn't interfere with the diving for a significant amount of time.  Rain, though, will result in an increased run-off in the western mountainous regions which can reduce visibility.
Flores Reef Summary
Depth: 12-28m (40-94ft)
Visibility: 8-30m (25-100ft)
Currents: occasionally strong
Surface conditions: occasionally rough
Water temperature: 25-30°C (77-86°F)
Experience level: intermediate and advanced
Number of dive sites: ~10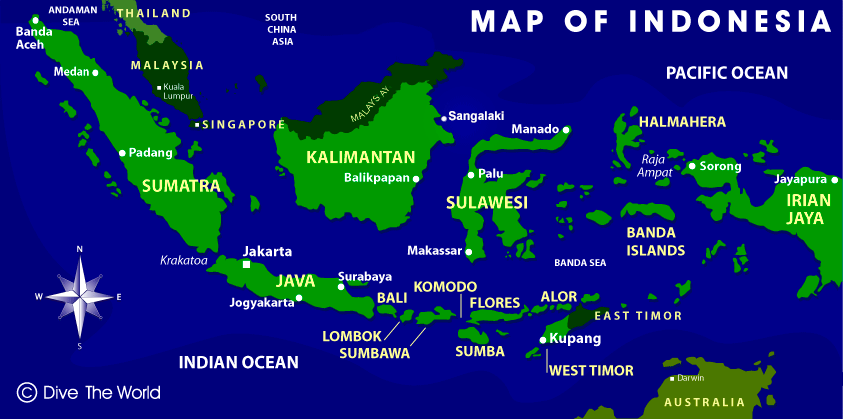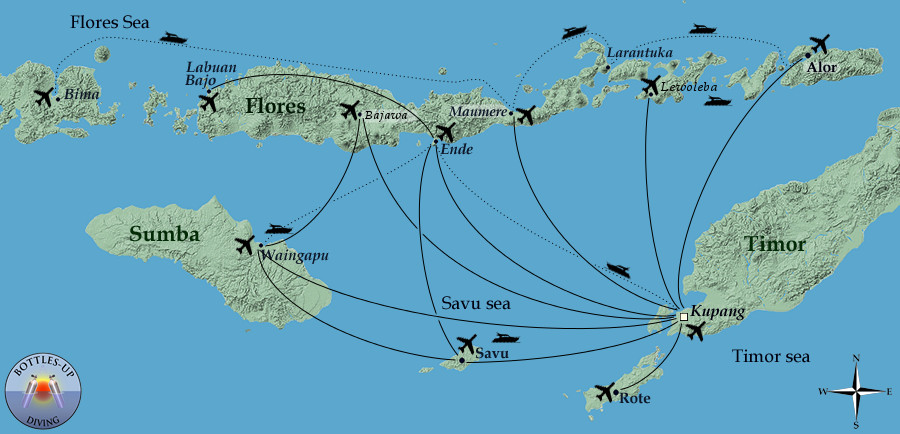 Best Liveaboard Dive Boats – Alors and Flores
There are a number of vessels that tour Alor and Flores.  Most make a few cruises per year spaced between others to nearby areas.  Two devote a large portion of the year to the region.  The Seven Seas has 11 trips specifically to Alor and Flores.  The MY Oceanic go to Alor and Flores for 10 trips and do another 4 to Alor and the Forgotten Islands (to the east).
Here is a summary of the diving tours of the boats that go to Alor and Flores:
Click on the names of the vessels or the Dive the World banner in the right sidebar to get full details on all the cruises.
Of the two primary vessels touring Alor and Flores, The Seven Seas is a little larger with a higher level of luxury.  The MY Oceanic serves much smaller groups and is considerably cheaper.
All the boats listed are well outfitted for diving and provide a very high quality of service.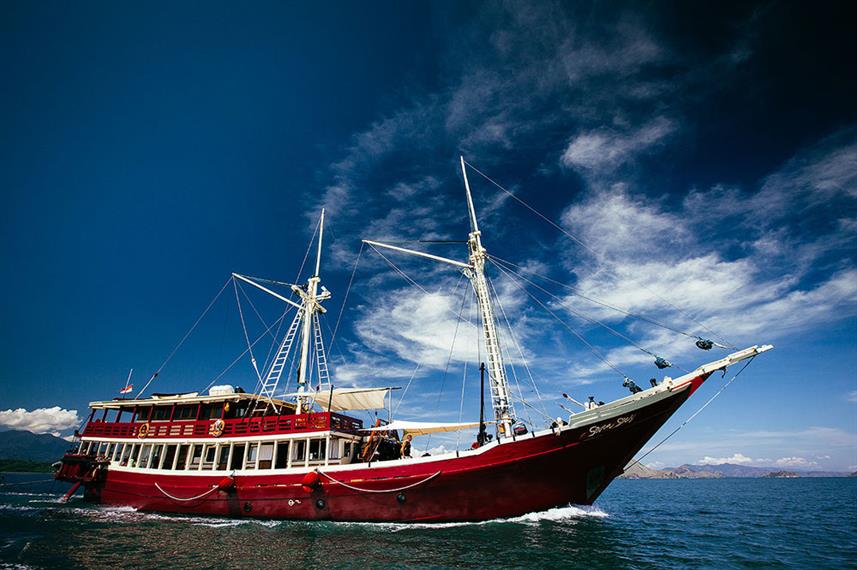 Cruises Komodo, Raja Ampat, Alor, Flores
Eleven 13-15 day trips to Alor and Flores annually
Alor and Flores Itinerary: South Pantar, Solor, Alor, Reong Island, Wetar, Lembata, Ghost Town, Komba Volcano fireworks, beachcombing, whaling village visit, local market visit, excursion Kelimutu Lakes, weaving village visit
Air-conditioned saloon, aircon cabins, audio & video entertainment, warm water showers
Sun deck
Western, Indonesian and vegetarian cuisine
Indoor saloon
Photography station, separate rinse for u/w camera
Charging stations,
Experienced English-speaking divemasters (max 8 divers per DM)
Onboard kayaks
Non-diver (snorkeler) friendly
Nitrox available (free)
2 x life rafts (max. 45 passengers)
3 x 40 HP dive tenders
Check it out on Liveaboard.com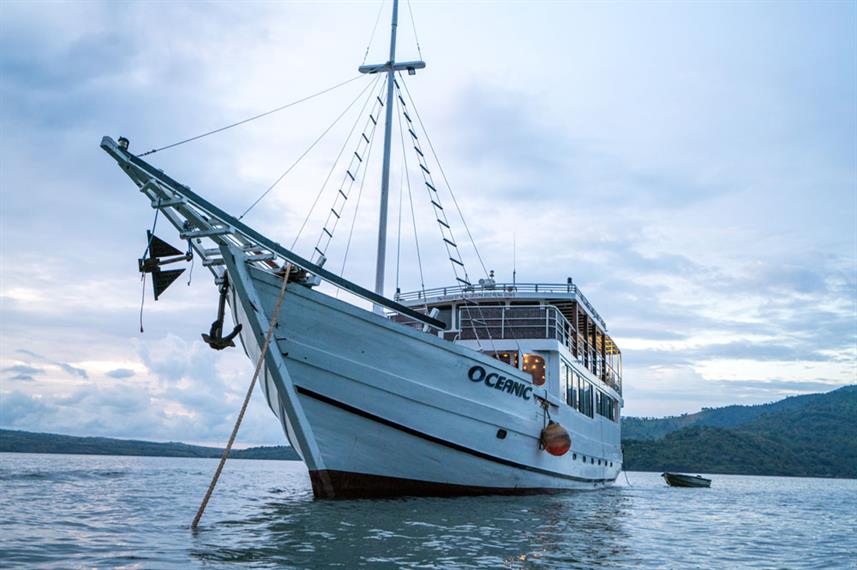 Cruises Komodo, Flores, Alor, and Forgotten Islands
Sixteen 10-12 day trips to Flores, Alor and Forgotten Islands annually
Alor and Flores Itinerary: Maumere, Maragajong, Pulau Besar, West Serbete, Watu Peni, Soangi, The Brewery, West Lembata, West Pantar, Straits of Alor, and village visit to Lamakera
Alor and Forgotten Islands Itinerary: Kalabahi Bay, Pertamina jetty, Wetar, Reong, Nyata, Nus Leur, Terbang Utara, Teun, Nila, Nil Desperandum, Dai, Dawera, Nisnitu, Karang Barasadi, and Reong land excursion
Daily housekeeping, air-conditioned saloon, aircon cabins, en-suite bathrooms, audio & video entertainment, library
Sun deck
Indoor saloon
Warm water showers
Camera room with table and charging point
Charging stations
Western, local and vegetarian cuisine
The crew speaks English, French, Spanish, and Indonesian
A minimum of 50 logged dives or Advanced Open Water certification or equivalent is required to join trips on the Oceanic
Experienced English-speaking divemasters (max 4 divers per DM)
Dive deck
Nitrox available, sidemount diving
Tenders for diving
Emergency rafts
Check it out on Liveaboard.com
The Seven Seas
MY Oceanic
Length

35 m
28 m
Guests

24
12
Crew

20
Unlisted
Equipment

$30/day
$34/day
Nitrox

Free
$11/day
Snorkeler
Friendly
Yes
Yes
Kayaks
Yes
No
Single Supplement
$50 off/night
+65%
Non-diver Rate
None
15% off
Price/Day

$456
$231
Alors and Flores Photos
With the macro life, beautiful, diverse coral reef, megafauna, and lots of fish, there are many excellent photo opportunities.  For information and reviews of diving cameras, click here:
If you would like to have a dive adventure from a land base, there is a choice of accommodation in Maumere, Flores.  Places to stay in Alors are a little harder to find. This website is a good source for available options and can arrange a booking:
Scuba Dive Insurance
A cushion for emergencies provides peace of mind when on vacation.  I recommend this diving insurance as they have worldwide coverage and provide scuba divers a quality insurance and medical assistance service.
Feedback and Comments
I hope you found this post on Alors and Flores scuba diving interesting and useful. If you have any questions or ideas, please feel free to share them in the comments section.  I'd love to know of any experience you have diving there.  If there is no comments section directly below, click here:  >>comments<<