We may earn money or products from the companies mentioned in this post.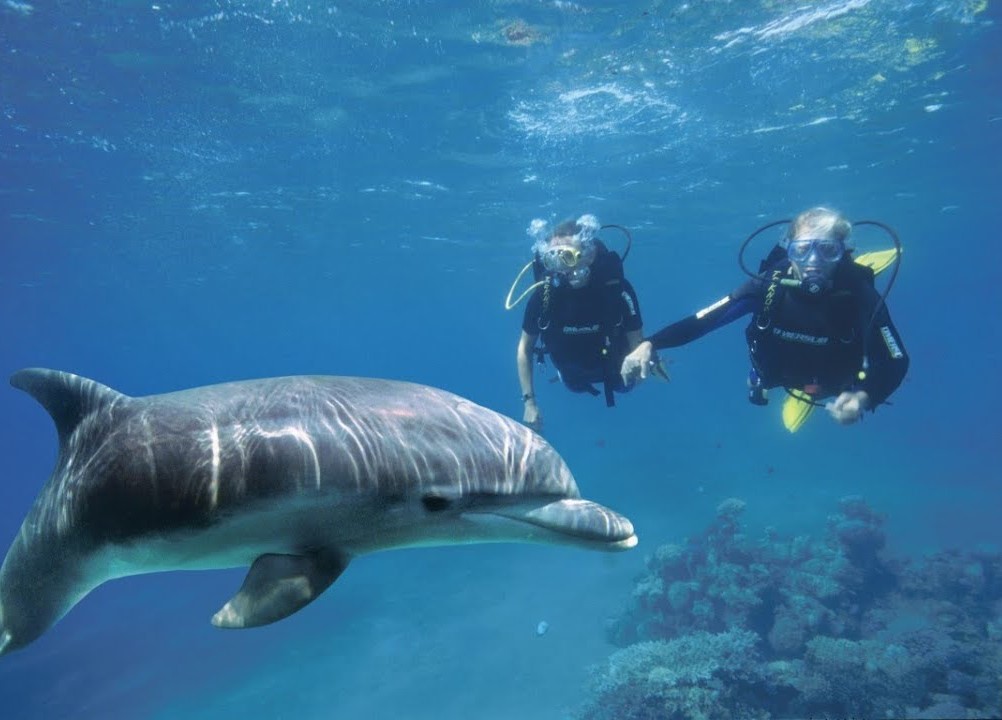 This is the one hundred and twelfth in a series of reviews of the best dive resort locations around the world.  In this post, the focus is on Eilat, Israel. In addition to this series on dive resort locations, the best worldwide liveaboard diving locations and services are reviewed in their own series.  To check them out, or others in this series, click on Liveaboards/Resorts on the menu at the top and choose a title from the list.
Have you been diving in Eilat before?  If so, I'd love to know about your experience.  What dive shop or liveaboard did you use?  Which dive spots are the best and what are the conditions there regarding the visibility, current, water temperature, sealife attractions, etc.?  Please post your response in the comments section at the bottom and we'll all learn something we can use.
Red Sea Diving Eilat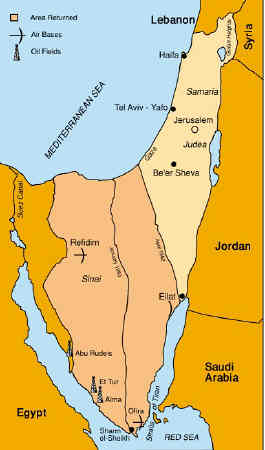 Background – With a population of 85,000 Eilat is the southernmost city of Israel occupying 7 kilometers (4.4 miles) of coastline on the Red Sea's Gulf of Eilat (Aqaba).  Sandwiched between Egypt and Jordan, the Negev Desert separates it from the rest of the country.  It is a 4-hour drive from Tel Aviv or Jerusalem.  Originally Eilat served as an important port for supplies from Asia but developed additionally as a major tourist destination in the 1970s for both domestic and foreign visitors.  Israel's relations with its neighbors have not left Eilat unscathed with terrorist attacks on an Eilat bakery and 3 deaths in 2007 and several attacks on Highway 12 on vehicles in 2011.  As a result, in 2103 Israel built the Israel-Egypt Barrier made of steel with cameras, radar, and motion sensors at the southern border.  It has been peaceful since that time.  For more details on the culture, history, and demographics of Eilat, please go here:  Wikipedia – Eilat
Undersea World – The relatively short coastline in Eilat has a beautiful fringing reef with shallow shelves.  Almost all the sites can be reached without a boat.  After swimming for only a few minutes down the undersea slope you can descend to depths of 21 meters (70 feet) or greater.  This is a part of the Red Sea, so the reef is rich and in this case pristine with a range of hard and soft corals, gorgonians, sponges, anemones, tunicates, and other encrusting invertebrates.  More than 15 sites including several wrecks can boast a variety of macro critters like lionfish, scorpionfish, stonefish, frogfish, crocodile fish, nudibranchs, shrimps, crustaceans, octopus, sea snakes, and many more.  Other marine life highlights are cornetfish, parrotfish, butterflyfish, angelfish, pufferfish, triggerfish, moray eels, and a host of smaller reef tropicals, sometimes clouds of them, along with turtles, barracuda, blue spotted ribbontail stingrays, eagle rays, dolphins, and whale sharks during the summer months.  It's true, the spectacular volume of big sharks, manta rays, and cetaceans is richer out in the main body of the Red Sea, but nonetheless, there is plenty to see here conveniently located close to shore.
Seasons and Conditions – Diving is possible all year in Eilat. The high season for tourism is in July and August when it becomes quite crowded.
Air temperature daily average highs reach 40°C (104°F) in July and August and fall to 21°C (70°F) in January.
Water temperature hits lows in winter of 19°C (66°F) and highs in summer of 29°C (84°F).  A 7mm wetsuit or a drysuit with hood and gloves may be needed when the water is at its coolest.
It is dry all year but bone dry from June through September.
Currents are generally mild but can become a little stronger at times on some sites.
Visibility is usually excellent in the 40-meter (130-foot) range.
There are sites suitable for all levels of diver. A number of dive shops, some in hotels, offer a full range of diving coursework, equipment rental, guiding, and boat cruises.  However, most of the diving is done from shore without a boat being needed.
There is no liveaboard yacht directly cruising the Eilat area.  However, there are many doing dive safaris in the Red Sea.  Here is my review of them and some links to vessels: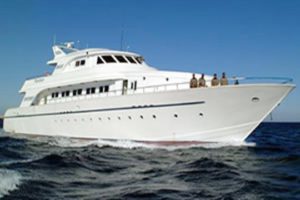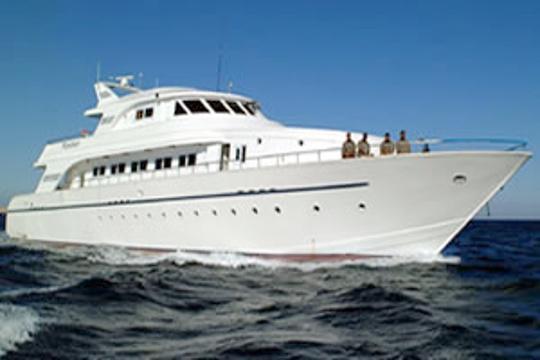 MY Excellence, Red Sea Liveaboard Diving – Check the Price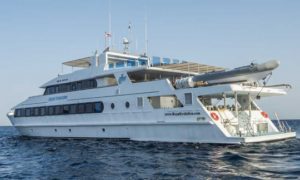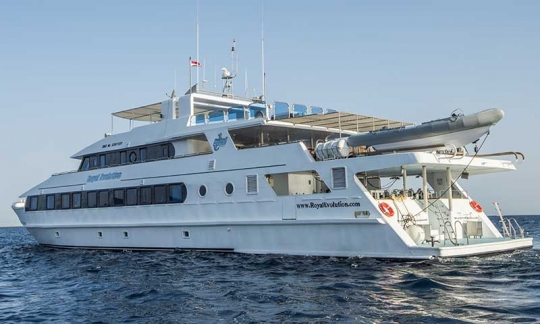 MS Royal Evolution, Red Sea Liveaboard Diving – Check the Price

MY Emperor Elite, Red Sea Liveaboard Diving – Check the Price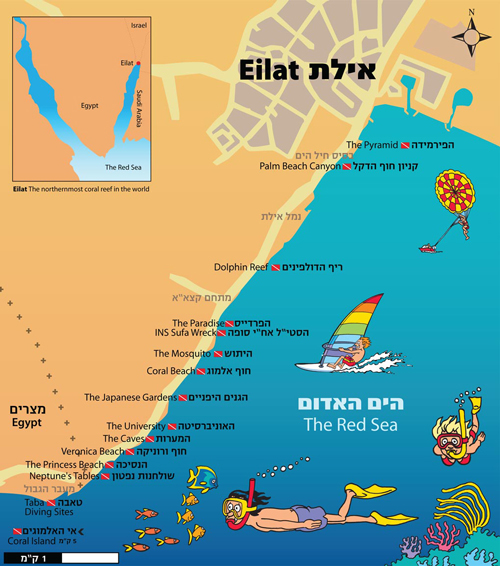 Selected Eilat Dive Sites
Satil Wreck: 24 meters (80 feet), located at Village Beach, near the Coral Beach 80 meters (260 feet) from shore, shore entry, 45-meter (148-foot) missile boat scuttled in 1994 to become an artificial reef, surrounded by seagrass and coral formations, well encrusted with soft corals, penetration possible in several spots, rich marine life with Arabian and Emperor Angelfish, lionfish, crabs, moray eels, octopus, pipefish, fusiliers, filefish, sweepers, grouper, and barracuda, usually only mild southerly current makes the swim easy, suitable for all levels of diver
Paradise: 30 meters (100 feet) maximum depth, shore entry at the Coral Beach, next to the Village Beach, site is beside the Satil Wreck, seagrass in the shallows, on descent the corals are more profuse on a bed of valleys, further descent leads to a flatter section, lots of reef fish around the coral heads, schools of sea goldies and chromis, anemones and clownfish, shrimps, crabs, moray eels, octopus, fusiliers, and emperor angelfish, suitable for experienced level divers
Yetush Wreck: 33 meters (110 feet) maximum depth, shore entry from The Coral Beach next to the Isrotel Yam Suf Hotel, 15-meter (50-foot) long Hawk class gunboat scuttled to become an artificial reef in 1987, well encrusted with corals and sponges, home to nudibranchs, starfish, moray eels, schools of sea goldies, pufferfish, and lionfish, sitting in a bed of corals, garden eels on the sandy slope, suitable for experienced divers
Japanese Gardens: 24-30 meters (80-100 feet) maximum depth, boat access from the Manta Diving Center, rich coral heads and a wall, lots of hard and soft corals, rich in reef tropicals, eels, macro life, and giant clams, watch out for passing pelagics, good for more than one dive, mild current, excellent visibility, suitable for experienced level divers
University: 14-18 meters (46-60 feet), near Lighthouse Beach south of the Underwater Observatory, shore entry, site of several marine experiments, junk electric cables, nets, and various apparatuses have created an interesting habitat for a variety of marine life to observe, rich corals, frogfish, fire urchins, blue spotted ribbontail stingrays, a variety of reef fish, fusiliers, sea turtles, passing tuna, and the occasional whale shark in summer, suitable for all levels of diver
Neptune Tables: 24 meters (80 feet), on the South Beach next to the Princess Hotel, shore entry, dense coral formations at 5 meters (16 feet) leading to a sandy slope with coral formations to 21 meters (70 feet), continuing deeper there are lots of plate and table corals spread around, marine life includes garden eels, nudibranchs, starfish, blue spotted ribbontail stingrays, and turtles, suitable for all levels of diver
Things to Do in Eilat (aside from scuba diving)
Besides diving, a great variety of beachside activities are a major attraction, like snorkeling, parasailing, kayaking, and stand-up paddleboarding.  At night the bars and restaurants come to life. The following videos introduce some other top tourist attractions and give you a feel for the layout in Eilat.
Air – Ramon International Airport located 20 kilometers (12.5 miles) north of the city opened in 2019 and handles all domestic and international flights.  Taxi and shuttle bus service to town is available.
Bus – Intercity buses operate out of the Central Bus Station.  City buses within Eilat run from 7 am to 9 pm.
Taxis cruise the streets and are metered.
On Foot – Walking is a reasonable option in the central city.  You'll want to get a ride from there out to the dive sites.
For more complete details on tourist information, please go here:  Wikivoyage – Eilat
Hotels and Diving – Lodging options in Eilat start at $24 and run to over $1,700 per night.  There are a lot of dive shops in operation, some located in or associated with hotels.  On offer is a full range of services that include equipment rental, diving certification classes, dive guides, and boat tours.  The website linked below has the details and can arrange a booking for the lodging.  You can easily find the location on the map provided on this site.  Their rates are guaranteed to be the lowest and it is free to cancel or change dates.
Photography in Eilat
With the pristine coral reefs, a variety of fish, macro critters, stingrays, and scenic shoreside targets, as well, there are many excellent photo opportunities.  For information and reviews of dive cameras, click here:
A cushion for emergencies provides peace of mind when on vacation.  I recommend this diving insurance as they have worldwide coverage and give scuba divers a quality insurance and medical assistance service.
Feedback and Comments
I hope you found this post on Eilat scuba diving interesting and useful. If you have any questions or ideas, please feel free to share them in the comments section.  I'd love to know of any experience you have.  If there is no comments section directly below, click here:  >>comments<<