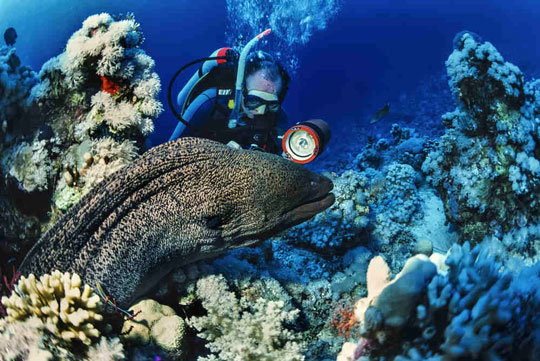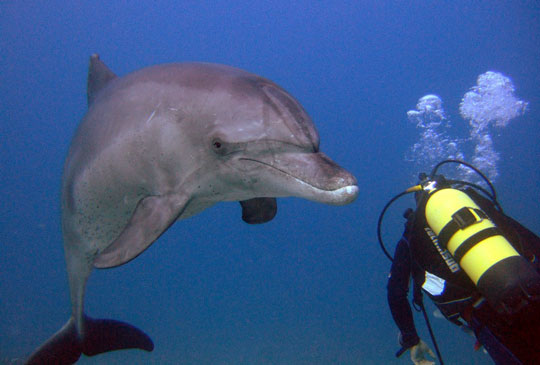 Updated May 24, 2021
This is the thirteenth in a series that introduces and describes the various dive services and sites for worldwide liveaboard dive safaris.  This one focuses on Red Sea liveaboards.
In addition to this series on liveaboards, the best worldwide dive resort locations and services are reviewed in their own series.  To check them out, or others in this series, click on Liveaboards/Resorts on the menu at the top and choose a title from the list.
Have you been diving in the Red Sea before?  If so, I'd love to know about your experience.  What dive shop or liveaboard did you use?  Which dive spots are the best and what are the conditions there regarding the visibility, current, water temperature, sealife attractions, etc.?  Please post your response in the comments section at the bottom and we'll all learn something we can use.
Red Sea Diving Liveaboard Review
When you hear the term "Red Sea," it is synonymous with healthy coral reefs, remarkable pelagics, and fantastic wrecks.  There is tremendous biodiversity with approximately 1,000 species of fish and a relatively low number of divers.  Since the 1990s the Egyptian government has dedicated itself to the preservation of the environment resulting in near pristine conditions in many places.
Some of the world's most famous wrecks varied underwater terrain from rich shallow coral reefs to pinnacles and deep walls, good visibility, and fantastic large pelagics are hallmarks of the Red Sea.
Northern Red Sea and Wrecks
The area around the southern Sinai Peninsula and the Gulfs of Suez and Aqaba is home to a vast array of unusual indigenous life.  Ras Mohammed National Park, about 20 km from Sharm El Sheik, is centrally located in an area of healthy vibrant reefs with lots of reef fish and rich invertebrate life including octopus, cuttlefish, and squid.  Yolanda Reef and Anemone City are highlighted in the park.
Wrecks are extremely abundant in the north and include the Giannis D, Chrisoula K, Carnatic, Kingston, Rosalie Moller, Dunraven, and Thistlegorm.  Click here for a great book about the SS Thistlegorm:
Diving is year-round in the north, but the peak season for whale sharks and manta rays is from the end of April to the end of June.  To see hammerheads and barracuda the best time is from July to September.
For further information about diving in the northern Red Sea, check out this review: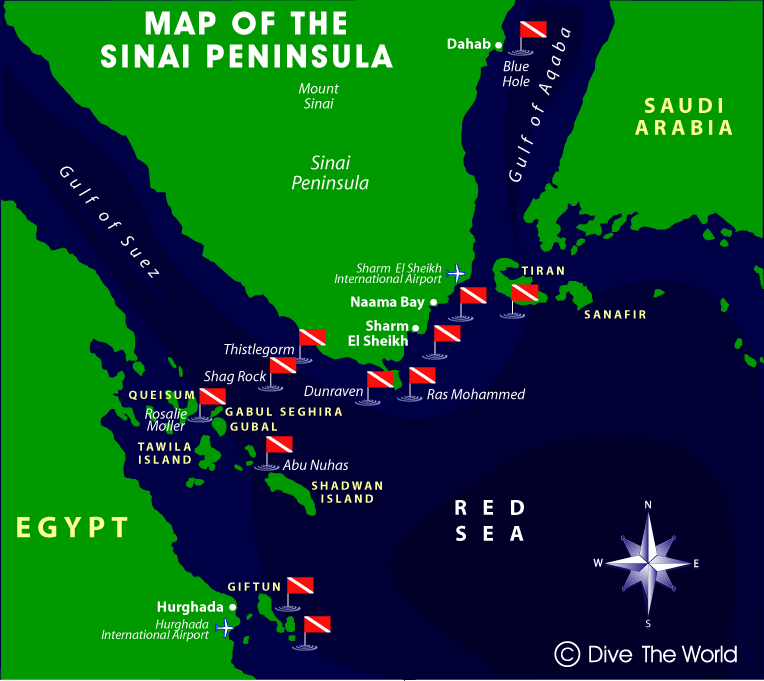 Southern Red Sea
For our purposes, the Southern Red Sea starts in the north at Hurghada, where there is an international airport, on the west-central side.  Top dive sites are Elphinstone, Daedalus, The Brothers, and St. John's on the southern end.  This area is known for good vis, sheer walls, wrecks, and great pelagic action.  You can expect to see shoaling reef fish and large schools of surgeonfish and snappers.  The Brothers is famous for its great soft and hard corals, sheer walls, and pelagics.  Daedalus is a pristine site that can have substantial current that encourages schools of trevallies, tuna, and other pelagics including hammerheads.  St. John's has shallow reef flats with steep walls and abundant reef life with tunnels, swim-throughs, and pelagics.
For further information about diving in the southern Red Sea, check out these reviews: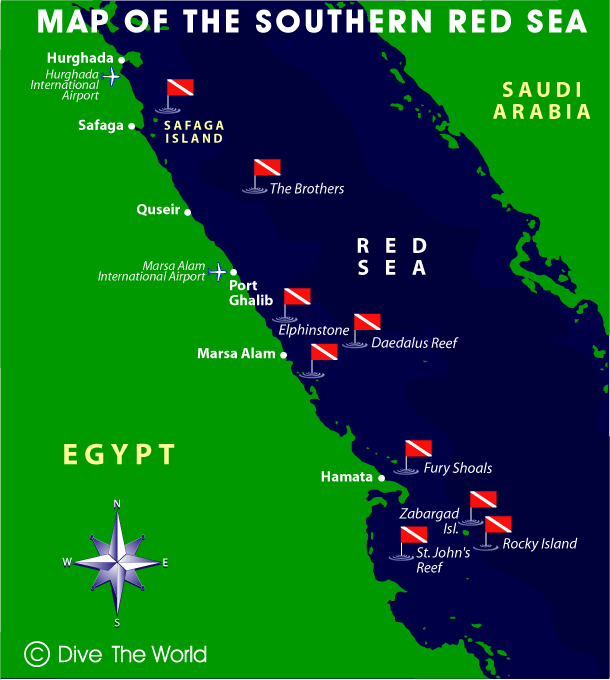 Sudan
The sites in the Sudanese section of the Red Sea are spread over a wide area where there is much less scuba tourism than further north.  The diving environment is characterized as having pristine healthy reefs with sizable populations of sharks and pelagics, lots of schooling fish, and opportunities to experience substantial drift.  There are also deeper wrecks that are suitable for advanced and tech. divers.  Visibility is often greater than 25m (80ft).  One famous site, for example, is Angarosh where there is a deep plateau at 40-55m (130-180ft) rising to 10m (33ft) at the shallowest.  There are pinnacles, caves, and steep walls.
Seasons and Conditions
Scuba diving is year-round in the Red Sea with liveaboards continuously available.  From March to May it is spring with warm and comfortable temperatures.  June to August is summer and can be very hot making it a less popular time, but a good vessel with air conditioning can alleviate that some.  From September to November it is autumn with good conditions, but from December to February the water is colder and the surface more choppy.  Visibility does improve, though, and the sighting of pelagics increases.
Red Sea Liveaboard Dive Boats
Currently, there are 71 dive boats available to us providing all-inclusive scuba vacations in the Red Sea.  During the time of the Covid pandemic, many divers are concerned that transportation restrictions may limit the ability to participate.   Fortunately, almost all of the vessels diving in the Red Sea offer "flexible" or "extra flexible" booking which allows for liberal rescheduling and refund options.  Details are here:
To browse the full list of dive boats to the Red Sea, click here:
Below are details of some of the best of the liveaboard yachts to each region of the Red Sea.
Northern Red Sea and Wrecks Liveaboard Dive Boats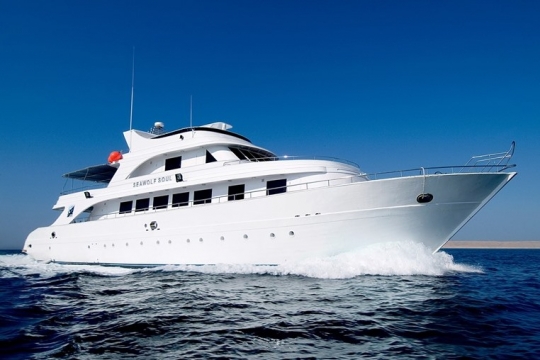 Featuring
Visits Red Sea North & South
Itineraries include: Sha'ab El Erg, Abu Nuhas, Gubal Island, Thistlegorm, Brother Islands, Salem Express, St. John's: Sataya Gota Kebira, Sataya Gota Soghayr, Habili Gaffar, Dangerous Reef, Habili Ali; Elphinstone, Shaab Samadai (Dolphin Reef), Dahra Wadi Gimal, Umm Aruk, Foul Bay: Paradise Reef, Sernaka; Fury Shoals: Shaab Claudio, Shaab Maksour, Abu Galawa Soghayr, Abu Galawa Kebira; Gota Sharm, Shaab Marsa Alam, Abu Dabbab
All cabins with private bathrooms
International and local cuisine
Technical diving facilities
ENOS satellite location and rescue system
Experienced English-speaking divemasters (4-5 divers per DM)
Nitrox for EANx-certified divers
Large boat
2 x 15 person capacity life rafts
2 x Yamaha 25 & 40 HP dinghies
Top Rated – MY Emperor Superior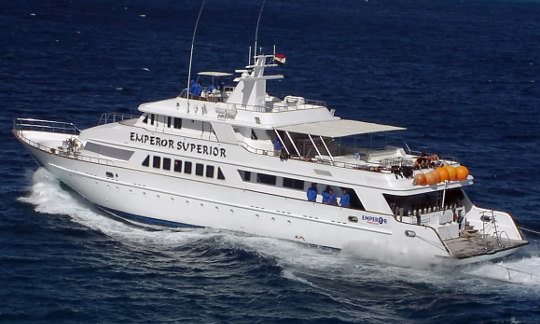 Featuring
Visits Red Sea North
Itineraries include: Sha'ab El Erg, Abu Nuhas wrecks (Giannis D, Carnatic, Kimon M, Chrisoula K), SS Thistlegorm, Gubal Island, Ulysses, Kingston, Carina, Dunraven, Ras Mohammed: Shark Reef, Yolanda, Straits of Tiran: Jackson Reef, Thomas Reef, Gordon Reef, Big Brother, Little Brother,  Straits of Gubal,  Rosalie Moller, Panorama Reef, Salem Express
All cabins with private bathrooms
Cabin for a single traveler
Dedicated restaurant, International, Italian, and local Egyptian cuisine
Large boat with many relaxation spaces
2 experienced English-speaking divemasters
50 person capacity life rafts
2 x 25 HP Yamaha dive dinghies
Free Nitrox for trained divers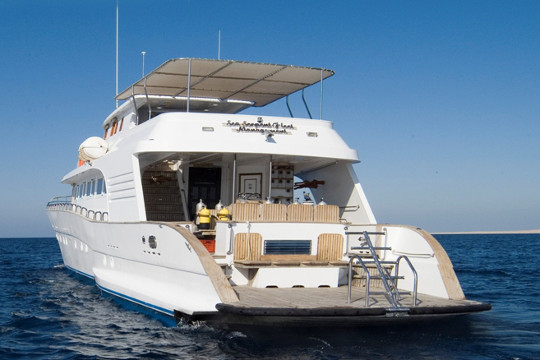 Featuring
Visits Red Sea North
Itinerary: Ras Mohamed, Abu Nuhas wrecks, Thistlegorm, Rosalie Moeller, Hurghada reefs
All cabins with private bathrooms
International and local Egyptian cuisine
Affordable option for 7-night trips
Experienced English-speaking divemasters (10 divers per DM)
Nitrox for EANx-certified divers
12 & 15-liter tanks available
2 x life rafts (total of 45 person capacity)
2 x 25 HP Yamaha dinghies
Southern Red Sea Liveaboard Dive Boats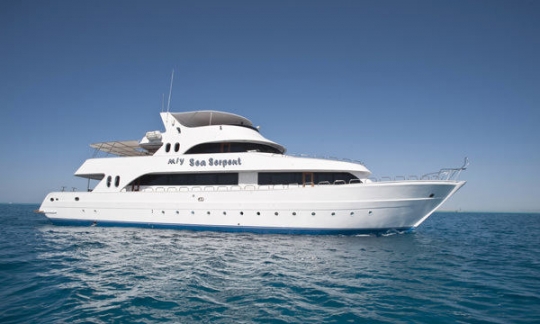 Featuring
Cruises Red Sea North and South
Itineraries include: Daedalus Reef, Zabargad, Rocky Island, Elphinstone, Habili St. John's, Habili Ali, Gota Kebir, Gota Soraya, Wadi Fury Shoal: Gimal, Abu Galawa, Sha'ab Sharm, Ras Mohamed, Thistlegorm, Dunraven, Strait of Tiran, Abu Nuhas wrecks – Giannis D, Carnatic, Kimon M & Chrisoula K
All cabins with private bathrooms, minibar
Dedicated restaurant with bar
International and local cuisine
Experienced English-speaking divemasters (10 divers per DM)
Nitrox for EANx-certified divers
Helium/oxygen blending station
2 Life rafts
2 Yamaha 25 HP dinghies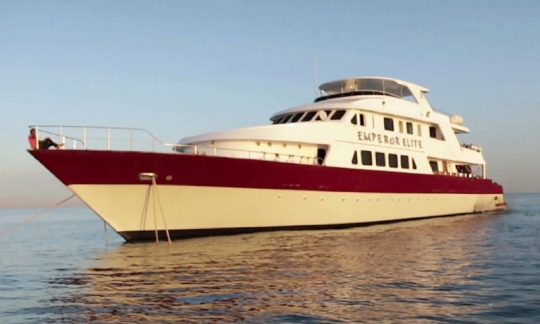 Featuring
Visits Red Sea North and South
Itineraries include: St. John's Reefs (Gota Kebir, Gota Soraya), Fury Shoals Reef System (Sha'ab Claude, Abu Galawa Soraya), Abu Dabab, Sha'ab Sharm, Elphinstone, Panorama Reef, Middle Reef, Abu Kafan, Salem Express, Brother Islands, Abu Dabab, Brothers, Daedalus Reef, Abu Nuhas (Carnatic, Chrisoula K, Kimon M, and Giannis D), Gubal Island, SS Thistlegorm, Ulysses, Rosalie Moller, Shaab El Erg, Kingston, Dunraven, Carina, Straits of Tiran
All cabins ensuite with media players, minibar
Dedicated restaurant, free dinner wine
International, Italian, and local Egyptian cuisine
2 experienced English-speaking divemasters
Free nitrox available for enriched air certified divers
Large boat
40 person capacity life rafts
2 x Yamaha 25 HP dinghies
Sudan Liveaboards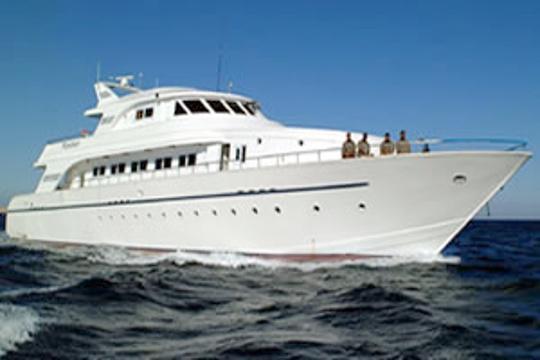 Featuring
Visits Red Sea North and South, Sudan
Itineraries include: Red Sea North – Ras Mohamed, Thistlegorm, Dunraven. Abu Nuhas wrecks (Giannis D, Carnatic, Kimon M, Chrisoula K), Rosalie Moeller, Shag Rock, Hurghada reefs, Big Brother (Aida II, Numidia), Little Brother, Thistlegorm, Red Sea South – Daedalus Reef, Elphinstone, Sudan – The Umbria, Sanganeb, Sha'ab Rumi (Precontinent II), Qita el Banna, Merlo, Angarosh, Abingron, Gota Shambaia,  Jumna, Sha'ab Anbar, Pinnacolo, Keary, Logan, Seil Ada
All cabins with private bathrooms
Dedicated restaurant with bar
International and local Egyptian cuisine
Nitrox for EANx-certified divers
Rebreather facility
2 x 25 person capacity life rafts
2 x Yamaha motorized dinghies – 25 & 40 HP
Most Popular – MS Royal Evolution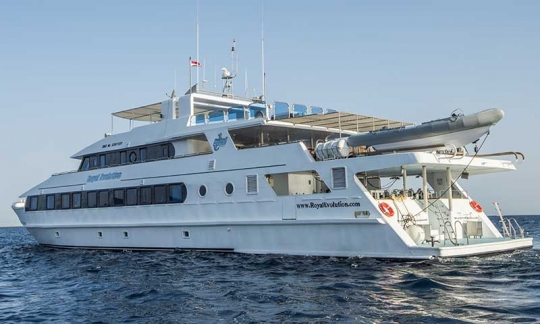 Featuring
Visits Red Sea North and South, Sudan South
Itineraries include: Sudan – Shalalat, Umbria Wreck, Dahret Abid, Habili Abid, Dahret Darraka, Dahret Ghab, Habili Ghab, Protector Reef, Hindi Gidir, Seil Ada, Shaab Anbar, Habili Qaseer (Pinacolo), Jumna, Sanganeb North & South Plateau, Shaab Rumi, Shaab Suadi, Blue Belt (Toyota Wreck), Merlo Reef, Shaab El Hara, Abu Fanadir, Angarosh Reef,  Sanganeb Reef, Cousteau Conshelf (Precontinent II), The Toyota Wreck, Angarosh Reef, Mesherifa, Abington Reef, Merlo Reef, Red Sea North – Abu Nuhas wrecks, Gubal, Rosalie Moller, Ulysses wreck, Brothers, Numibia wreck, Aida wreck and Salem Express (possibly Thistlegorm), Red Sea South – Ras Disha, Middle Reef, Brothers, Daedalus, Elphinstone, Giftun, Abu Ramada, Fury Shoals, St. John's
All cabins with ensuite bathrooms
In-cabin morning coffee/tea service
International, Indian, and Sri Lankan cuisine
4 decks, sun deck with hot tub and music
Experienced English speaking divemaster
10, 12, and 15-liter tanks, nitrox, tech gas blends
Large boat
2 life rafts (50 pax)
3 dinghies – 2 x 55 HP & 1 x 25 HP
Red Sea Liveaboard Dive Boat Comparison Table
|   | MV Seawolf Soul | MY Emperor Superior | MY Dreams | MY Sea Serpent | MY Emperor Elite | MY Excellence | MS Royal Evolution |
| --- | --- | --- | --- | --- | --- | --- | --- |
| Length | 36m | 37m | 28m | 33m | 38m | 34m | 39m |
| Guests | 22 | 25 | 16 | 20 | 26 | 22 | 24 |
| Crew | 12 | 13 | 11 | 12 | 12 | 12 | 16 |
| Equipment | $149/trip | $172/week | $276/trip | $276/trip | $172/week | $278/trip | pricing to be arranged |
| Nitrox | $57/trip | free | $6/tank, $57/week | $6/tank, $57/week | free | $6/day, $58/week | available - pricing to be arranged |
| Single | +50 to 60% | +50% | +100% | +100% | +50% | +100% | +65% |
| Price/Day | $121 | $104 | $162 | $148 | $158 | $162 | $137 |
| North & Wrecks | yes | yes | yes | yes | yes | yes | yes |
| Southern Red Sea | yes | no | no | yes | yes | yes | yes |
| Sudan | no | no | no | no | no | yes | yes |
| | MV Seawolf Soul | MY Emperor Superior | MY Dreams | MY Sea Serpent | MY Emperor Elite | MY Excellence | MS Royal Evolution |
Feedback and Comments
I hope you found this post on Red Sea liveaboards interesting and useful. If you have any questions or ideas, please feel free to share them in the comments section.  I'd love to know of any experience you have.  If there is no comments section directly below, click here:  >>comments<<