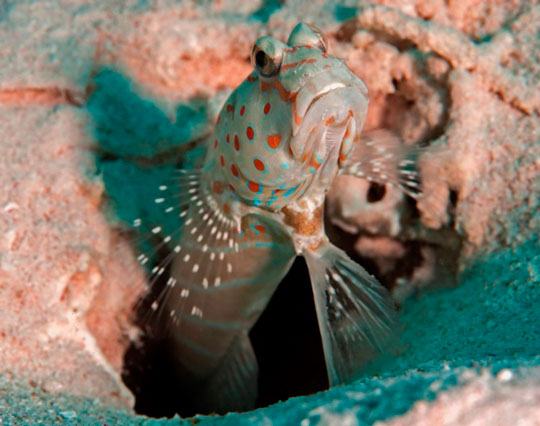 Updated August 21, 2022
This is the one hundred and fifteenth in a series of reviews of the best dive resort locations around the world.  In this post, the focus is on Sharm el Sheikh, Egypt. In addition to this series on dive resort locations, the best worldwide liveaboard diving locations and services are reviewed in their own series.  To check them out, or others in this series, click on Liveaboards/Resorts on the menu at the top and choose a title from the list.
Have you been diving in Sharm el Sheikh before?  If so, I'd love to know about your experience.  What dive shop or liveaboard did you use?  Which dive spots are the best and what are the conditions there regarding the visibility, current, water temperature, sealife attractions, etc.?  Please post your response in the comments section at the bottom and we'll all learn something we can use.
Scuba Diving Sharm el Sheikh
Background
Situated on the coastal strip at the tip of the Sinai Peninsula at the Gulf of Aqaba's mouth overlooking the Straits of Tiran is Sharm el Sheikh.  A simple fishing port when the Israelis started occupation in 1967, it began developing as a tourist destination at that time.  After the return of control of the Sinai to Egypt in 1982, the government encouraged further development, and today with a population of 73,000 it is one of the top tourist destinations in the Arab world that sponsors a variety of international conferences and diplomatic meetings.
Undersea World
Located on the point of the Sinai Peninsula, with the Gulf of Aqaba to the east, the Gulf of Suez to the west, and the main body of the Red Sea to the south, Sharm el Sheik is the recipient of nutrient-rich upwelling that nourishes the coral reefs and marine life creating and sustaining one of the most biodiverse ecosystems in the world.  From this position, the local reefs nearby, and the ones available on day trips to the Straits of Tiran, Ras Mohammed Marine Park, and the series of wrecks further west, including the SS Thistlegorm, are all available to explore and enjoy.
The sites have a compliment of the more spectacular Indo-Pacific species like sea turtles, huge moray eels, reef sharks, hammerhead sharks, whale sharks, eagle rays, manta rays, schooling trevallies, barracuda, batfish, and passing pelagics including tuna, not to mention shoals of reef tropicals, and a fascinating array of macro creatures.  All of these live on a variety of undersea terrain encrusted with a colorful display of soft and hard corals, gorgonians, sponges, and other invertebrates for the most part in near pristine condition.
Seasons and Conditions
Diving is a great year-round activity in Sharm el Sheikh. There are two high seasons for tourism, one in March-May and the other in September-November when it can be quite busy onshore and at the dive sites.  Off-season is a little less hectic.
Air temperature varies significantly throughout the year with daily average highs of 37°C (99°F) in June through August which fall to 22°C (72°F) in January and February.
Water temperature follows the air temperature fairly closely with highs in July-September of 28°C (82°F) and lows of 23°C (73°F) from January through April.  The rest of the year it is somewhere between the two extremes.  A 5-7mm wetsuit will suit many divers when the water is at its coolest.
This desert area is dry all year with no rain at all from May through August.
Currents are often mild but can be strong on some sites for some exhilarating drift diving.
Visibility is usually in the 21-30 meter (70-100 foot) range all year.  It is possible to find it as good as 60 meters (200 feet) on some sites.
There is diving suitable for all levels of diver. The 75 or more dive shops, many in hotels, offer a full range of diving coursework, equipment rental, guiding, and boat cruises.  Day trips can be arranged to more distant locations.
Liveaboard Diving
There are a number of liveaboard yachts directly cruising the Sharm el Sheik area and to other top sites in the northern and southern sections of the Red Sea.  Here is my review of them and some links to top vessels: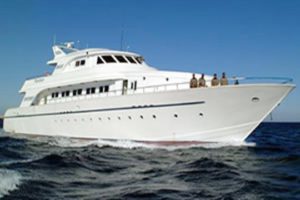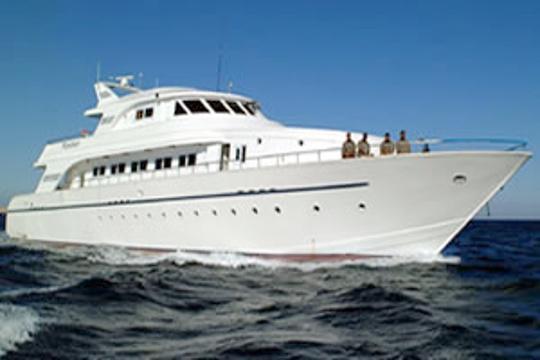 MY Excellence, Red Sea Liveaboard Diving – Check the Price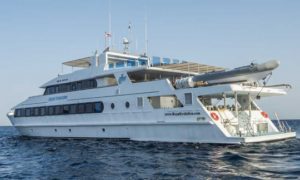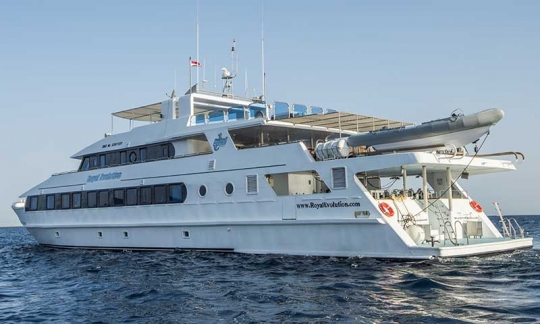 MS Royal Evolution, Red Sea Liveaboard Diving – Check the Price

MY Emperor Elite, Red Sea Liveaboard Diving – Check the Price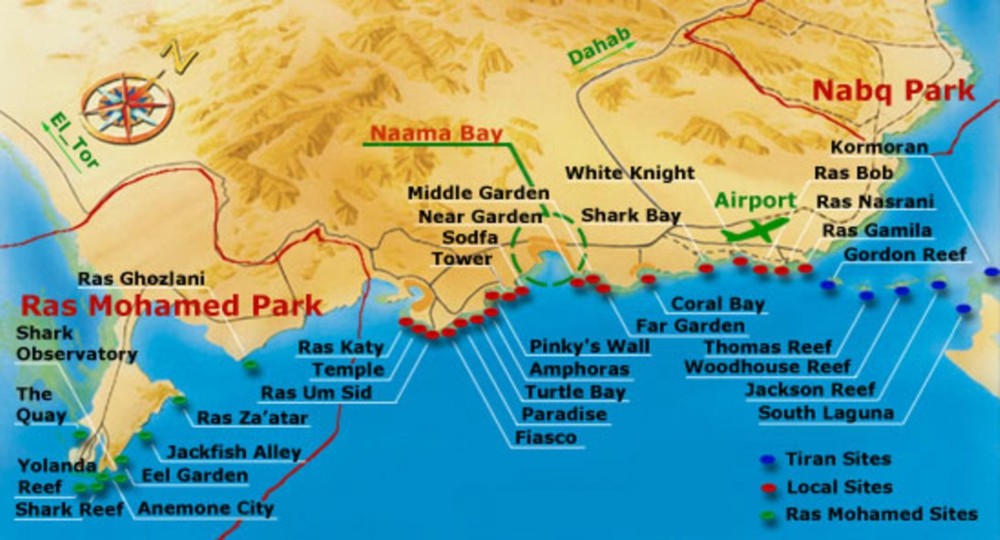 Selected Sharm el Sheikh Dive Sites
Local Sites
Twenty or more sites are just off the shoreline of Sharm el Sheikh.
Ras Bob: shore entry, very shallow site named after a popular local dive instructor/photographer, Bob Johnson, sandy floor with a series of gullies, small caves, and overhangs, highlights include spotted stingrays, crocodile fish, and Napoleon wrasses, suitable for all levels of diver and snorkelers
Sharks Bay: shore entry to a shallow site with lots of macro critters like octopus, stonefish, Spanish dancers, cuttlefish, ghost pipefish, and sea moths, (but no sharks), a great spot for a night dive, suitable for all levels of diver
Tower: canyon with a steep wall to 120 meters (394 feet), a drift dive over a rich coral reef with morays, parrotfish, boxfish, trevallies, and more, suitable for experienced level divers
Amphoras: 12-24 meters (40-80 feet), remnants of a 17th-century Turkish boat that contained amphoras, sandy slope with numerous coral pinnacles, lots of macro critters in the holes and crevices like scorpionfish, nudibranchs, and pipefish, some current possible, suitable for all levels of diver
Tiran
There are numerous interesting sites located in the straits and around Tiran Island.
Jackson Reef: four underwater shoals, lots of coral and marine life, a great drift dive particularly from August through October when scalloped hammerheads are a possibility, suitable for experienced level divers
Woodhouse: long narrow reef dove as a drift dive, has a canyon to 30 meters (100 feet), one portion near Jackson reef is known as the washing machine due to the eddying there, good chance of sea turtles, eagle rays, and schooling jacks, currents can be strong, suitable for experienced level divers
Gordon Reef:  located by the Loullia, a Panamanian cargo vessel, which ran aground in 1981, usually has a drift, metal drums have formed a reef in the mid-section of the reef, many nooks and crannies with macro critters like nudibranchs, a variety of hard and soft corals, octopus, moray eels, eagle rays, and whitetip reef sharks are highlights, suitable for experienced level divers
Ras Mohammed National Park
Created in 1983, this preserve has the reputation of having some of the top dive sites in the world.
Shark & Yolanda Reefs:  located at the tip end of the peninsula, large reef with several pinnacles, one with a steep wall to around 800 meters (2,635 feet) covered in soft and hard corals, the Yolanda, a 74-meter (243-foot) cargo ship sunk in 1980 full of bathroom supplies, in 1987 she fell off the edge in a storm, with much of the cargo spread around on the reef, strong current is possible, highlight marine life includes crocodile fish, scorpionfish, turtles, grouper, tuna, morays, snappers, batfish, unicornfish, barracudas, and Napoleon wrasse, grey reef, blacktip reef, silky, and tiger sharks are all possibilities, suitable for experienced level divers
Ras Ghozlani: site with stunning table corals, and an interesting seascape with pinnacles covered in shoals of glassfish, a turtle nesting beach is nearby, suitable for all levels of diver
SS Thistlegorm Wreck: located northwest of Ras Mohammed, WWII cargo ship sunk by German bombers in 1941, resting upright in 30 meters (100 feet), full of cargo in place including ammunition, trucks, motorcycles, and airplane wings, lots of penetration possibilities, tidal current is possible, suitable for experienced level and technical divers, great depth for nitrox
Things to Do in Sharm el Sheikh (aside from scuba diving)
A lot of what is happening in Sharm el Sheikh relates to the coastal location but there are plenty of historical and cultural sites and activities as well as shopping, eating, and nightlife.  There is a fairly relaxed view regarding alcohol and nightlife with a large number of clubs, bars, discos, and restaurants serving alcohol.
Here are some of the options to consider:
Sites, Shopping, and Other Activities – Naama Bay, Ras Um Sid Beach, St. Catherine's Monastery, Mt. Sinai, Shark's Bay, Sharm Old  Market, Colored Canyon, Nabq Protectorate, Desert Safari, Quad Biking, Soho Square, Parasailing, Swimming with Dolphins, Alf Leila Wa Leila, Aqua Blu & Albatros Aqua Park.
Food, Drink, and Entertainment – Rangoli, Fares Seafood, Karsha Café, Camel Roof Bar, Fairuz, Pomodoro, Bus Stop Lounge, El Masrien, Sala Thai, Moonlight, El Basha, Pacha.
This video gives you a quick glimpse of some of these and more.
Sharm el Sheikh Transportation, Hotels, and Diving Services
Transportation
Air – Sharm el Sheikh Airport is the largest in Sinai and handles 10 million international and domestic passengers annually.
Bus and Car – Buses and cars can travel along the eastern coast from Eilat and points along the way and from Cairo along the western coast.  The trip from Cairo takes 6-8 hours.  The bus station in Sharm el Sheikh is about 1 kilometer from the Peace Road.  From the bus station, there is a taxi service and a less frequent micro-bus service to town.
Taxi – The cars used are modern but price negotiation and payment can be tricky and deceptive.  If you can get your hotel to pick you upon arrival, that will be less stressful.
City Bus – There is a fleet of blue and white tuk-tuks that run on fixed routes that serve as a sort of bus service.  Pricing is not generally negotiable and it is much cheaper than taking a taxi.  You can get on and off anywhere on the route.
For more complete details on tourist information, please go here:  Wikivoyage – Sharm el Sheikh
Hotels and Diving
Lodging options in Aqaba start at $16 and run to around $450 per night.  There are more than 75 dive shops in operation offering a full range of services that include equipment rental, diving certification classes, dive guides, and boat tours.
The website linked below has the details and can arrange a booking for the lodging.  You can easily find the location on the map provided on this site.  Their rates are guaranteed to be the lowest and it is free to cancel or change dates.
Photography in Sharm el Sheikh
With the pristine coral reefs, a variety of fish, macro critters, sharks, rays, shipwrecks, and scenic shoreside targets, as well, there are many excellent photo opportunities.  For information and reviews of dive cameras, click here:
Scuba Diving Trip Insurance
A cushion for emergencies provides peace of mind when on vacation.  I recommend this diving insurance as they have worldwide coverage and give scuba divers quality insurance and medical assistance service.
Feedback and Comments
I hope you found this post on Sharm el Sheikh scuba diving interesting and useful. If you have any questions or ideas, please feel free to share them in the comments section.  I'd love to know of any experience you have.  If there is no comments section directly below, click here:  >>comments<<