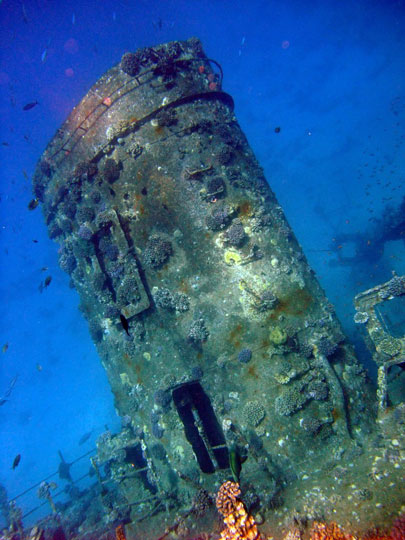 Updated August 7, 2022
This is the one hundred and fourteenth in a series of reviews of the best dive resort locations around the world.  In this post, the focus is on Hurghada, Egypt. In addition to this series on dive resort locations, the best worldwide liveaboard diving locations and services are reviewed in their own series.  To check them out, or others in this series, click on Liveaboards/Resorts on the menu at the top and choose a title from the list.
Have you been diving in Hurghada before?  If so, I'd love to know about your experience.  What dive shop or liveaboard did you use?  Which dive spots are the best and what are the conditions there regarding the visibility, current, water temperature, sealife attractions, etc.?  Please post your response in the comments section at the bottom and we'll all learn something we can use.
Scuba Diving Hurghada Egypt
Background
Hurghada is a city of 262,000 located on the west coast of the Red Sea outside of the Gulf of Suez about a 7-hour drive from Cairo.  Founded in the early 20th century as a simple village, it became a resort area in the 1980s.  With its dry sunny climate, beautiful seacoast, and proximity to Luxor and Nile valley sites, it has developed into the most visited tourist destination in the country.
Undersea World
There are plenty of intriguing local dive sites near Hurghada that are quite attractive and suitable, especially for beginner and less experienced divers.
The reefs just offshore and around Giftun Islands, where there is a marine park, have beautiful rich reefs with a nice variety of hard and soft corals, sponges, and other invertebrates with reef tropicals and macro life typical of Red Sea sites.  Highlights include morays, scorpionfish, octopus, schools of snapper, fusiliers, surgeonfish, jacks, and barracuda, Maori wrasse, turtles, reef sharks, and blue-spotted stingrays.  There is even a location where dolphin encounters are the norm and several wrecks are nearby as well.
Within day-trip range to the north are the Shadwin and Gubal Islands with the 5 Abu Nuhas wrecks.
Hurghada is considered a gateway for liveaboards further north and to the south as far as the southern Red Sea and Sudan.
Seasons and Conditions
Diving is a year-round activity in Hurghada. There are two high seasons for tourism, one in March-May and the other in September-November when it can be quite busy onshore and at the dive sites.  Offseason it will be a little less hectic.
Air temperature varies significantly throughout the year with daily average highs of 36°C (97°F) in July and August which fall to 21°C (70°F) in January.
Water temperature follows the air temperature fairly closely with highs in July-September of 28°C (82°F) and lows in February of 21°C (70°F).  The rest of the year it is somewhere between the two extremes.  A 7mm wetsuit with hood and gloves will suit many divers when the water is at its coolest.
This is a desert area that is dry all year with no rain at all from May through September.
Currents are often mild but can be strong on some sites for some exhilarating drift diving.
Visibility is usually in the 21-30 meter (70-100 foot) range all year.  It is possible to find it as good as 60 meters (200 feet) on some sites.
There are sites suitable for all levels of diver. The 100 or more dive shops, many in hotels, offer a full range of diving coursework, equipment rental, guiding, and boat cruises.  Day trips can be arranged to more distant locations.
Hurghada Liveaboard Diving
There are a number of liveaboard yachts directly cruising the Hurghada area and to other top sites to the north and south in the Red Sea.  Here is my review of them and some links to top vessels: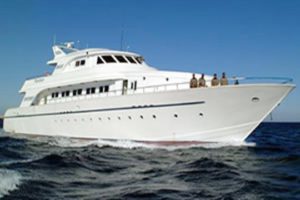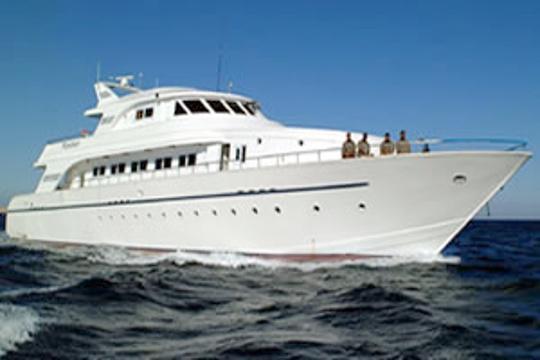 MY Excellence, Red Sea Liveaboard Diving – Check the Price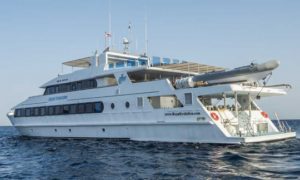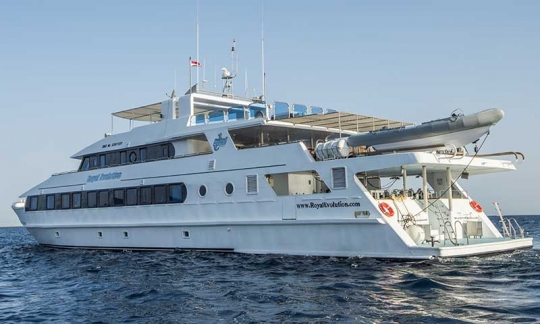 MS Royal Evolution, Red Sea Liveaboard Diving – Check the Price

MY Emperor Elite, Red Sea Liveaboard Diving – Check the Price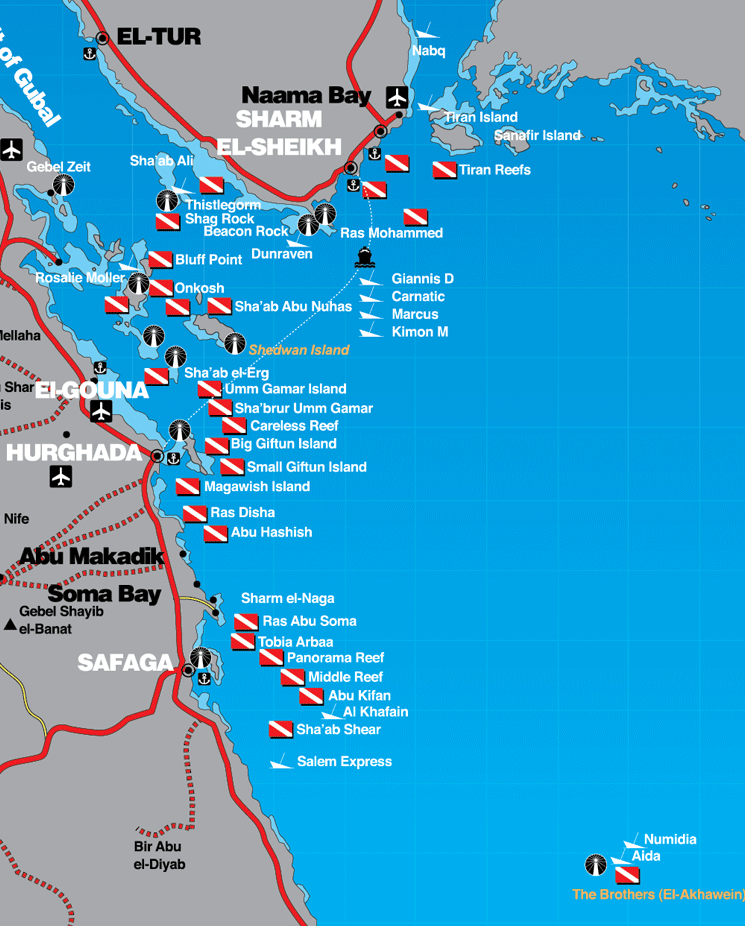 Selected Hurghada Dive Sites
Abu Nuhas Wrecks (Kimon M, Giannis D, Chrisoula K, Carnatic): 5 wrecks, 4 in recreational range at 5-32 meters (16-105 feet), 40 kilometers (25 miles) north of Hurghada, strong currents and choppy surface are possible, different types of ships in good condition, rich marine life, dolphins are possible, suitable for all levels of diver (check out the video below)
Shaab El Erg Dolphin Reef: shallow reef site without any spectacular corals, good site for a check-out dive or to snorkel or dive with bottle-nose dolphins that are likely to be there
Carless Reef: northeast of Big Giftun Island, coral shoal topping at 15-18 meters (50-60 feet) with 2 large pinnacles projecting from them up to around 5 meters (16 feet), from the edge of the shoal the reef falls to 40 meters (130 feet) or more, rich reef with coral bommies, brain and acropora corals, big gorgonians and black coral trees, clouds of reef tropicals, moray eels, jacks, tuna, barracuda, and whitetip reef sharks, sailfish are possible along with a frequently appearing tiger shark, strong currents are possible, suitable for experienced divers
Small Giftun Island: smaller of 2 islands in Giftun National Park, several sites, it has a nice drift dive on a site with a wall, pinnacles, cracks, crevices, shelves, overhangs, caves, and a couple of plateaus, rich sections of fan corals, and a variety of hard and soft corals, nutrient-rich area attracts pelagics including tuna and trevallies, schools of fusiliers, barracuda, Napoleon wrasse, hawksbill turtles, lots of macro life in the nooks and crannies includes cuttlefish, squid, lobster,  sole, Spanish dancers, with the current suitable for experienced divers
Rosalie Moller: 50 meters (164 feet), off Gubal Island to the north, 110-meter (361-foot) coal ship bombed by German aircraft in 1940, the main deck is accessible at 32 meters (105 feet), lots of penetration possibilities, big schools of fish including cardinalfish, fusiliers, glassfish, and yellowtail barracuda, several grouper, and feeding trevallies and tuna, suitable for technical divers
Things to Do in Hurghada (aside from scuba diving)
Not only does Hurghada offer great seaside activities, but there are also wonderful cultural and historical aspects to enjoy, and a lot of fun classical vacation activities, as well.  Here are some special attractions in Hurghada:  Dolphins at Mahmya Island, Makadi Water World, Parasailing, Cruising the Resort Strip, Hurghada Aquarium, St. Anthony & St. Paul Monasteries, Sahara Park Jeep Expedition, a Camel Ride, Astronomical Night Tour, Bedouin Dinner Tour, Abdulmoneim Riadh Mosque, Church of St. Mary, Bedouin Barbecue, Stroll Maina Boulevard, 1001 Arabian Nights Show, Abu Tig Marina, Desert Safari to Hurghada Desert, Eastern Arabian Desert Stroll, Horseback Riding, and Shopping at Senzo Mall.
Hurghada has a relaxed view of alcohol and nightlife with a large number of clubs, bars, discos, and restaurants serving alcohol.  Practically every major hotel has a disco and there are more than a few beach bars.
This video gives you a glimpse of some of the attractions and life in Hurghada.
Hurghada Transportation, Hotels, and Diving Services
Transportation
Air – Hurghada International Airport (HRG) handles direct flights from around Europe, the Middle East, and many locations outside of Europe, as well.  There are also flights that link frequently to Cairo, and daily to Alexandria, Luxor and Aswan, and Sharm el-Sheikh.
Bus – Frequent buses run between Hurghada and Cairo, Alexandria, Quena and Luxor, and Aswan.  The pricing is reasonable and the journey takes from 4-10 hours depending on the proximity of the location.
Long Distance Taxi (Servee) – These run from the Hurghada bus station on El Hegaz Street to all major cities in the country for a negotiated price.
Micro Bus – These run along a fixed route at a fixed price and will stop on demand along the way.
Taxis – Local taxis are numerous.  They charge a price for travel within a district.  The fee increases when you move to another district.  Drivers will play all sorts of games to get your money.  Agree on a price before departure and pay exactly the agreed-upon amount.
Uber and Careem – These are ride-sharing services that are not allowed in some locations like right in front of the bus station.  You will have less hassle in payment than with standard taxis.
For more complete details on tourist information, please go here:  Wikivoyage – Hurghada
Hotels and Diving
Lodging options in Hurghada start at $6 and run to $450 per night.  There are more than 100 dive shops in operation, many in or associated with hotels.  On offer is a full range of services that include equipment rental, diving certification classes, dive guides, and boat tours.
The website linked below has the details and can arrange a booking for the lodging.  You can easily find the location on the map provided on this site.  Their rates are guaranteed to be the lowest and it is free to cancel or change dates.
Photography in Hurghada
With the pristine coral reefs, a variety of fish, macro critters, wrecks, sharks, rays, and dolphins, and scenic shoreside targets, as well, there are many excellent photo opportunities.  For information and reviews of dive cameras, click here:
Scuba Diving Trip Insurance
A cushion for emergencies provides peace of mind when on vacation.  I recommend this diving insurance as they have worldwide coverage and give scuba divers quality insurance and medical assistance service.
Feedback and Comments
I hope you found this post on Hurghada scuba diving interesting and useful. If you have any questions or ideas, please feel free to share them in the comments section.  I'd love to know of any experience you have.  If there is no comments section directly below, click here:  >>comments<<