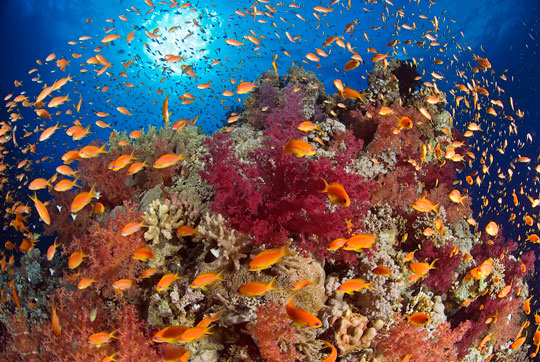 Updated June 7, 2021
This is the one hundred and sixteenth in a series of reviews of the best dive resort locations around the world.  In this post, the focus is on Marsa Alam, Egypt. In addition to this series on dive resort locations, the best worldwide liveaboard diving locations and services are reviewed in their own series.  To check them out, or others in this series, click on Liveaboards/Resorts on the menu at the top and choose a title from the list.
Have you been diving in Marsa Alam before?  If so, I'd love to know about your experience.  What dive shop or liveaboard did you use?  Which dive spots are the best and what are the conditions there regarding the visibility, current, water temperature, sealife attractions, etc.?  Please post your response in the comments section at the bottom and we'll all learn something we can use.
Marsa Alam Egypt Diving
Background
Marsa Alam is situated on the west coast of the Red Sea 740 kilometers (462 miles) from Cairo and 285 kilometers (178 miles) from Hurghada.  Starting as a sleepy fishing village, it transformed into a substantial tourist area after the international airport opened in 2003.  Today the population of 10,000 is primarily involved in servicing the needs of tourists coming for the beautiful beaches and fantastic scuba diving just offshore and at world-class reefs nearby.
Undersea World
With the new airport, there is no hassle getting to this uncrowded, unspoiled, pristine dive site with the most amazing reefs and marine life to be found in the Red Sea.
There are beautiful sites right offshore with easy conditions suitable for the inexperienced and divers in training.  A short distance away you can enjoy very exhilarating currents on a terrain of steep walls, caves, and overhangs with huge sea fans and a tremendous variety of soft and hard corals with a who's who of megafauna nearby.  Dugongs, spinner and bottlenose dolphins, turtles, bumphead parrotfish, barracuda, tuna, and other pelagics are just a start.  There are stingrays, eagle and manta rays, and a long list of sharks including grey reef sharks, silvertip sharks, oceanic whitetip sharks, tiger sharks, thresher sharks, and whale sharks.
Seasons and Conditions
The scuba diving is great all year in Marsa Alam and there are not the huge seasonal crowds that are found in some of the northern Red Sea locations to contend with.
Air temperature varies significantly throughout the year with daily average highs of 33-37°C (91-96°F) from May through October which fall to 24°C (75°F) in January.
Water temperature follows the air temperature reasonably closely with highs in August of 29°C (84°F) and lows of 22°C (72°F) in March.  The rest of the year it is somewhere between the two extremes.  A 5-7mm wetsuit will suit many divers when the water is at its coolest.
This is a desert area with 5mm (.1 inch) of rain per year.
Currents are often mild on sites close to shore but can be strong offshore for some exhilarating drift diving.  From November through February stronger winds create more surface chop.
Visibility is usually in the 21-30 meter (70-100 foot) range all year.  It is possible to find it as good as 60 meters (200 feet) on some sites.  The plankton bloom in April and May can decrease it some.
Wildlife – Whale sharks usually come in May and June.  The season for hammerhead sharks and manta rays at Elphinstone Reef is from May through August.  Oceanic whitetip sharks are more likely to be seen at Elphinstone Reef from October through December.
There is diving suitable for all levels of diver. Many of the offshore sites are better for the more experienced. The local dive shops, many in hotels, offer a full range of diving coursework, equipment rental, guiding, and boat cruises.  Day trips can be arranged to more distant locations.
Marsa Alam Liveaboard Diving
There are a number of liveaboard yachts directly cruising the Marsa Alam area and to other top sites in the northern and southern sections of the Red Sea.  Here is my review of them and some links to top vessels: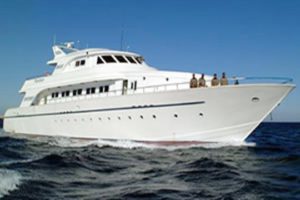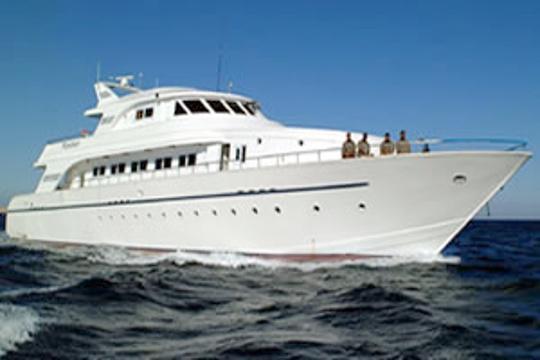 MY Excellence, Red Sea Liveaboard Diving – Check the Price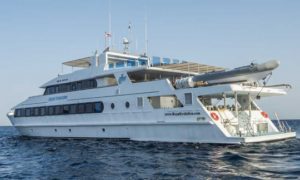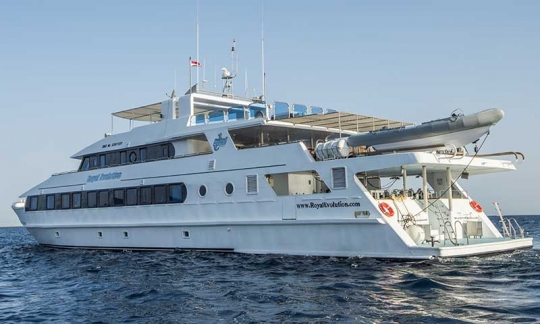 MS Royal Evolution, Red Sea Liveaboard Diving – Check the Price

MY Emperor Elite, Red Sea Liveaboard Diving – Check the Price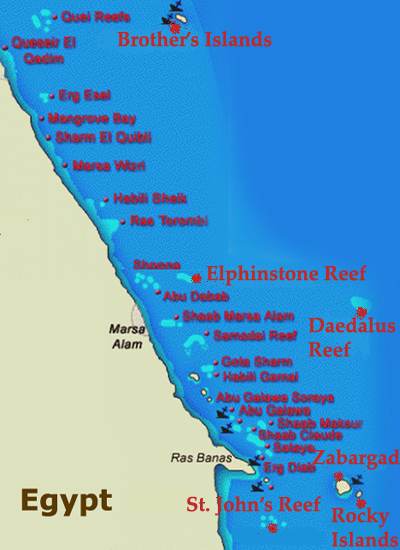 Selected Marsa Alam Dive Sites
Elphinstone: 100 meters (328 feet) maximum depth, offshore 375-meter (1230-foot) long reef, lots of hard and soft corals, gorgonians, and black coral, has plateaus in the north and south which are good spots to see a variety of sharks including whitetip reef sharks, oceanic whitetip sharks, scalloped hammerheads, grey reef sharks, silvertip sharks, and thresher sharks, other highlights include manta rays, trevallies, barracuda, and tuna, occasionally tiger sharks also make an appearance, currents can be strong, suitable for experienced level divers
Daedalus Reef: offshore 80 kilometers (50 miles to the east) of Marsa Alam in a marine park, huge reef with a sheer wall all the way around it, pristine hard and soft corals and diverse marine life, at the south end is a plateau sloping from 30-40 meters (100-130 feet) and then dropping off, best to plan a drift from north to south, highlights include schooling surgeonfish, fusiliers, and jacks, oceanic whitetips, shoals of hammerheads, grey reef sharks, and the occasional thresher shark, suitable for experienced level divers
Sha'ab Samadai Reef (Dolphin House): nearby offshore reef, has some shallow areas and drop-offs, swim-throughs, a cave, and pinnacles, a horseshoe-shaped reef with the interior of the horseshoe a sheltered lagoon, a very tolerant pod of spinner dolphins is often there swimming close to divers, the coral reef and other marine life is attractive, currents are generally mild, suitable for all levels of diver
Abu Dabbab: located 30 kilometers (19 miles) to the north of Marsa Alam, 21 meters (70 feet) maximum depth, shore access, a reef with a sandy bottom and little current, there are 2 resident dugongs and a number of tolerant green turtles, guitar sharks may also appear, intriguing resident macro critters include thorny seahorses, hairy pygmy pipehorses, and ghost pipefish, visibility can be poor at times, suitable for all levels of diver
Shaab Marsa Alam: located just in front of Marsa Alam, beautiful hard corals with black snappers, yellow goatfish, and occasional whitetip reef sharks and tuna, also a wreck sunk 20 years ago in 12 meters (40 feet) on the south side of the reef with lots of fish including crocodile fish and barracuda, dolphins may also make an appearance, suitable for all levels of diver
Fury Shoals: south of Marsa Alam, several pristine reefs of unspoiled hard and soft corals, sites have a varied terrain including fringing reefs, lagoons, drop-offs, and wrecks, there is a resident pod of dolphins, whitetip and grey reef sharks, the occasional oceanic whitetip shark, barracudas, trevallies, dogtooth tuna and the usual rich variety of Red Sea reef fish and macro life, there are sites suitable for all levels of diver
Abu Galawa Tug (Fury Shoals): located south of Marsa Alam, tugboat sunk around 1945, the stern is at 17 meters (56 feet) and the bow nearly breaks the surface, well encrusted with invertebrate life, penetration is not recommended, just outside of the wreck is a rich coral garden on the outer reef, highlights at the wreck are Napoleon wrasses, suitable for all levels of diver
Ras Samadai: near Marsa Alam, narrow peak extending above the surface with a fringing reef and  a pool surrounded by rich coral pinnacles, moray eels, reef sharks, and black stingrays are common, pelagics like tuna often swim by, bottlenose dolphins can be seen languishing in the pool, suitable for all levels of diver
Things to Do in Marsa Alam (aside from scuba diving)
Aside from some of the best diving in the Red Sea (and the world), there are activities related to the beach scene, water activities, and fun in the sun, as expected.  As you can see by looking at a map, Marsa Alam is far from the beaten path but there are historic and scenic places to visit on tours and day trips that include the Temple of Seti, Emerald Mine, Wadi Hammamat, Wadi el Gemal National Park, and the Tomb of Sayyed El Shazli.  In addition, you can take a shot at horseback, camelback, and 4-wheeling treks into the desert.
It is hard to find a video that demonstrates fully these activities with most focusing on the main attraction which is the water world.  This one gives you a quick glimpse and a feel for the active life of a tourist in Marsa Alam.
Marsa Alam Transportation, Hotels, and Diving Services
Transportation
Air – Marsa Alam International Airport has year-round and in some cases seasonal connections not only to Cairo and other domestic airports, but also to many European cities including Prague, Milan, Birmingham, Brussels, Warsaw, Frankfurt, Dusseldorf, and Brno, among others.
Bus – Long-distance bus service is available from Cairo, Luxor, and Hurghada.
Car – The drive in from Cairo, Giza, or Alexandria takes more than 10 hours.
Local Transport – Local buses and taxis are available in Marsa Alam.  Hotel-arranged transport from the airport is more convenient.
For more details on air connections, please go here:  Wikipedia – Marsa Alam International Airport
Hotels and Diving Services
Lodging options in Aqaba start at $25 and run to around $250 per night.  There are numerous dive shops in operation, some within or associated with hotels, offering a full range of services that include equipment rental, diving certification classes, dive guides, and boat tours.
The website linked below has the details and can arrange a booking for the lodging.  You can easily find the location on the map provided on this site.  Their rates are guaranteed to be the lowest and it is free to cancel or change dates.
Photography in Marsa Alam
With the pristine coral reefs, a variety of fish, macro critters, sharks, rays, shipwrecks, and scenic shoreside targets, there are many excellent photo opportunities.  For information and reviews of dive cameras, click here:
Scuba Diving Trip Insurance
A cushion for emergencies provides peace of mind when on vacation.  I recommend this diving insurance as they have worldwide coverage and give scuba divers quality insurance and medical assistance service.
Feedback and Comments
I hope you found this post on Marsa Alam scuba diving interesting and useful. If you have any questions or ideas, please feel free to share them in the comments section.  I'd love to know of any experience you have.  If there is no comments section directly below, click here:  >>comments<<