Updated on October 26, 2022
What should you look for in a pair of scuba diving boots?  You want them to be comfortable and protect your feet from rubbing and scraping from your fins, the surfaces you walk on, and cold water temperatures.  What kind of diving are you doing, how frequently, and what is your budget?  These are all considerations in deciding which model of the many on the market you choose.
To help you decide which dive boots best suit your style of diving, twelve of the best have been selected to introduce you to the range.  First, there is a buying guide, followed by reviews with key features, photos, videos, a comparison table, and maintenance tips.
If you have any questions or concerns, please use the comments section at the bottom.  I'd love to know your thoughts.
Best Dive Boots Buying Guide
Thickness
Water temperature and an individual's personal tolerance to it are the main factors in choosing the thickness of your neoprene scuba diving booties.  Sizing runs from 2-7 mm.  Generally speaking, if the water temperature is above 22-23 degrees C (72-74 degrees F), 2-3 mm thickness is adequate.  If the temp is below 19-20 degrees C (66-68 degrees F), 5-7 mm is probably suitable.
If you have some doubts, going with the thicker version will most likely be okay for you.  It is rare for snorkelers or divers to feel that their feet are intolerably warm, which is certainly possible with a wetsuit.
​High or Low Profile
High-cut boots provide more support and warmth to your ankle.  Particularly if you have long walks over uneven surfaces and/or the equipment you are carrying is very heavy, high-cut boots can help prevent the turning of an ankle or otherwise aid in preventing a slip or fall.
Low-cut boots are most suitable for warm water diving or snorkeling and occasions when long walks with equipment are not necessary.  Obviously, there is less ankle support, but for many, they are more comfortable and don't involve as much friction on the skin as the heavier high-cut boots.  They are lighter and use less space in luggage, as well.
Hard or Soft Sole
Hard sole dive boots provide increased protection of the foot when it is necessary to walk on hot sand or uneven hard and uneven surfaces like rocks and coral rubble.  It is important to have a good fit, especially for wide feet as hard-sole boots are not as flexible as the soft-sole version.
Soft-sole dive boots are more flexible and comfortable and suitable for boat diving and easy smooth walks.  They are also more accommodating for wider feet.
Size
Scuba boots are sized like shoes and, with some exceptions, come in whole men's sizes only.  Women need to deduct 1 or 2 from the men's size given.  The boots should have a comfortable fit much like regular shoes.  They mustn't be too small as the neoprene compresses at depth and potentially can uncomfortably squeeze the feet and toes.  Being too large can also pose the problem of too much water inside, causing slipping and sloshing around which can rub and irritate the skin and potentially slip right off.  Your fins need to be compatible with the booties you choose.
Best Dive Boots Reviewed
Features and Considerations
5 mm neoprene (available in 6.5 mm)
exclusively designed drainage grooves on the sole (DS draining system) to prevent suction effect between boot and foot pocket
hard rubber sole, good for long walks
added heal protection
highly flexible added arch support and thicker outer sole
fin ridge on the heel
glue and stitch construction
easy to put on and take off
Rating: 4.2
Price: $$$
Features and Considerations
5 mm neoprene
thick rubber sole for extra traction and comfort when walking
comes in both tall and short versions (this is the tall version)
durable zipper closure
velcro zipper holder
toe and heel caps for added protection
fin retainer ridge above the heel
thick rubber sole for added traction and comfort when walking
Rating: 4.5
Price: $$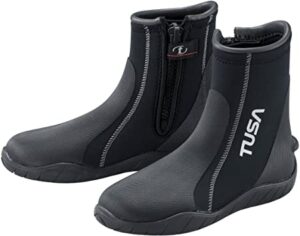 Features and Considerations
extra soft 5 mm neoprene
super traction, molded, thick hard rubber soles for comfort when walking
long zipper with velcro zipper closure for easy on and off
reinforced top for less rubbing
jersey interior adds more warmth
built-in fin ridge
internal toe and heel guards
Rating: 4.2
Price: $$$
Features and Considerations
top-level dive bootie
5 mm neoprene
super-elastic neoprene in the ankle area for extra comfort
extremely strong and durable materials
a thick athletic shoe-like soles with gripping tread
Rating: 4.8
Price: $$$
Features and Considerations
3 mm neoprene
vulcanized rubber non-slip sole
lightweight
glued, blind-stitched seams
full-length, self-locking, corrosion-resistant zippers
durable
affordable
Rating: 4
Price: $$
Features and Considerations
available in 5 mm and 7 mm neoprene
quick-drying comfortable microfleece lining
3 silicone o-ring watertight technology
Aquasilk laminate exterior
double glued and blind stitched
complement for the aqua lock wetsuit
Rating: 4.5
Price: $$
Features and Considerations
very warm 8 mm neoprene for cold water
glued and double-stitched seams
large zipper with velcro tab zipper stop and a cold water dam
heavy-duty durable materials and hard sole
Rating: 5
Price: $$
Features and Considerations
5 mm nylon 2 neoprene
fin strap holder
long zipper
durable comfortable fit
sure grip sole
affordable
Rating: 5
Price: $$
Features and Considerations
5 mm Supretex neoprene
durable anatomically correct ergonomic design
reinforced zipper with hook and loop zipper lock
flexible vulcanized rubber sole
Rating: 4.4
Price: $$$
Features and Considerations
3 mm neoprene
low top pull-on boots (no zipper)
glued and blind stitched seams
durable
heavy-duty traction sole
affordable
Rating: 4
Price: $
Features and Considerations
lightweight 5 mm neoprene
thick, non-slip sole
non-corrosive zipper with zipper guard
affordable
Rating: 4.2
Price: $
Features and Considerations
2 mm nylon 2 neoprene
low-top pull-on bootie
vulcanized rubber grip sole
lightweight and flexible
glued and blind stitched
protective tall heel
affordable
Rating: 4.5
Price: $
Scuba Diving Boots Comparison Table
Taking Care of Your Boots
Rinse and soak in fresh water for a few minutes
Allow them to dry thoroughly out of the sun
Store in a clean, dry place
Comments and Feedback
I hope you found this post on scuba diving boots interesting and useful. If you have any questions or ideas, please feel free to share them in the comments section.  If there is no comments section directly below, click here:  >>comments<<