We may earn money or products from the companies mentioned in this post.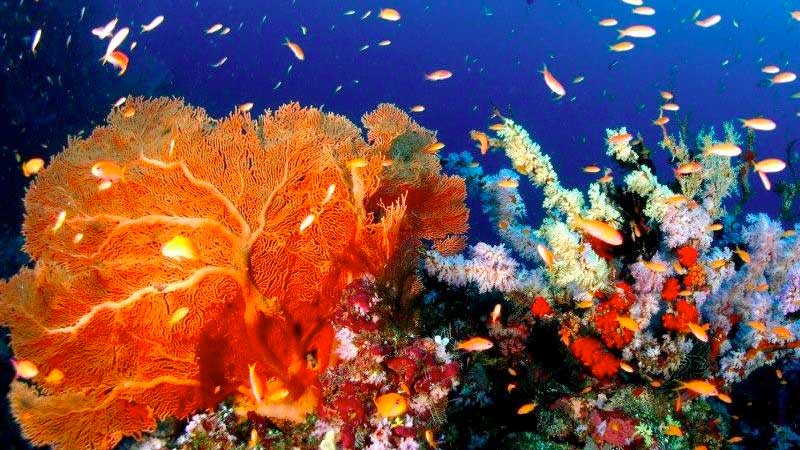 This is the forty-fifth in a series of reviews of the best dive resort locations around the world.  In this post, the focus is Pulau Weh, Indonesia.
In addition to this series on dive resort locations, the best worldwide liveaboard dive locations and services are reviewed in their own series.  To check them out, or others in this series, click on Liveaboards/Resorts on the menu at the top and choose a title from the list.
Have you ever been diving on Pulau Weh before?  If so, I'd love to know about your experience.  What dive shop or liveaboard did you use?  Which dive spots are the best and what are the conditions there regarding the visibility, current, water temperature, sealife attractions, etc.?  Please post your response in the comments section at the bottom and we'll all learn something we can use.
Pulau Weh Diving
Background – Pulau Weh (Weh Island) is situated in the Andaman Sea about 15 kilometers (9 miles) from the northwestern tip of the big Indonesian island of Sumatra.  This warm tropical island of white sand beaches and rain forest is volcanic in origin with a population of around 25,000.  The largest town is the fairly nondescript Sabang and the economy is driven by agriculture (cloves, coconuts), low-level fisheries and increasingly eco-tourism.  The mangroves and shallow reefs sustained substantial damage from earthquakes and the tsunami in 2004 and previous fishing practices, but today under a wildlife protection program on a major portion of the land and the surrounding sea there has been significant recovery and a widespread attitude of conservation is in place.  A fairly relaxed version of Sharia law is in effect and there are small numbers of Christians and Buddhists.
Underwater World – While not as spectacular as some of the more famous Indonesian diving areas like Raja Ampat, Pulau Weh has a very rich and beautiful coral reef with a good diversity of fish life.  It is off the beaten path permitting a perhaps more relaxing and laid back environment of uncrowded diving.  The over 20 dive sites offer a volcanically flavored terrain of walls, coral, boulders and black sandy areas.  There are several wrecks, a famous canyon and an underwater volcano with hot water flowing out into the surrounding sea.  The seascape features huge sea fans, table coral and barrel sponges with a variety of anemones, urchins, starfish, sea cucumbers and macro photography targets like anemone crabs, cleaner shrimp, mantis shrimp, slipper lobsters, nudibranchs, octopus, cuttlefish, moray and ribbon eels, frogfish, stonefish, pipefish and sea horses.  Reef fish include boxfish, butterfly fish, sweetlips, waspfish, batfish, blue spotted stingrays, coral bream, fusiliers, pufferfish, parrotfish, triggerfish, goatfish, snappers, groupers, schools of barracuda and jacks, Moorish idols, bannerfish, peacock flounders, spadefish, bumphead parrotfish, Napoleon wrasses, whitetip, blacktip and grey reef sharks, leopard and whale sharks, eagle and manta rays, dolphins and infrequently, orcas.  Megamouth shark corpses have washed up, so there is some hope of seeing one if you are extremely lucky.
To check out liveaboard diving opportunities, click here: liveaboard diving
Seasons and Conditions – It's warm with great diving year-round in Pulau Weh.  Water temperatures follow suit and stay in a tight range of 29-30°C (84-86°F). It rains a fair bit every month with more likelihood of heavy showers from October to February and increased winds during that period.  Visibility extends in some circumstances to 40 meters (130 feet).  Some sites are calm and suitable for absolute beginners and others can have pretty stiff current for adrenaline-rush drift diving.  The diving operations are spread to the major beach areas and offer the range of equipment rental, services, guiding and coursework.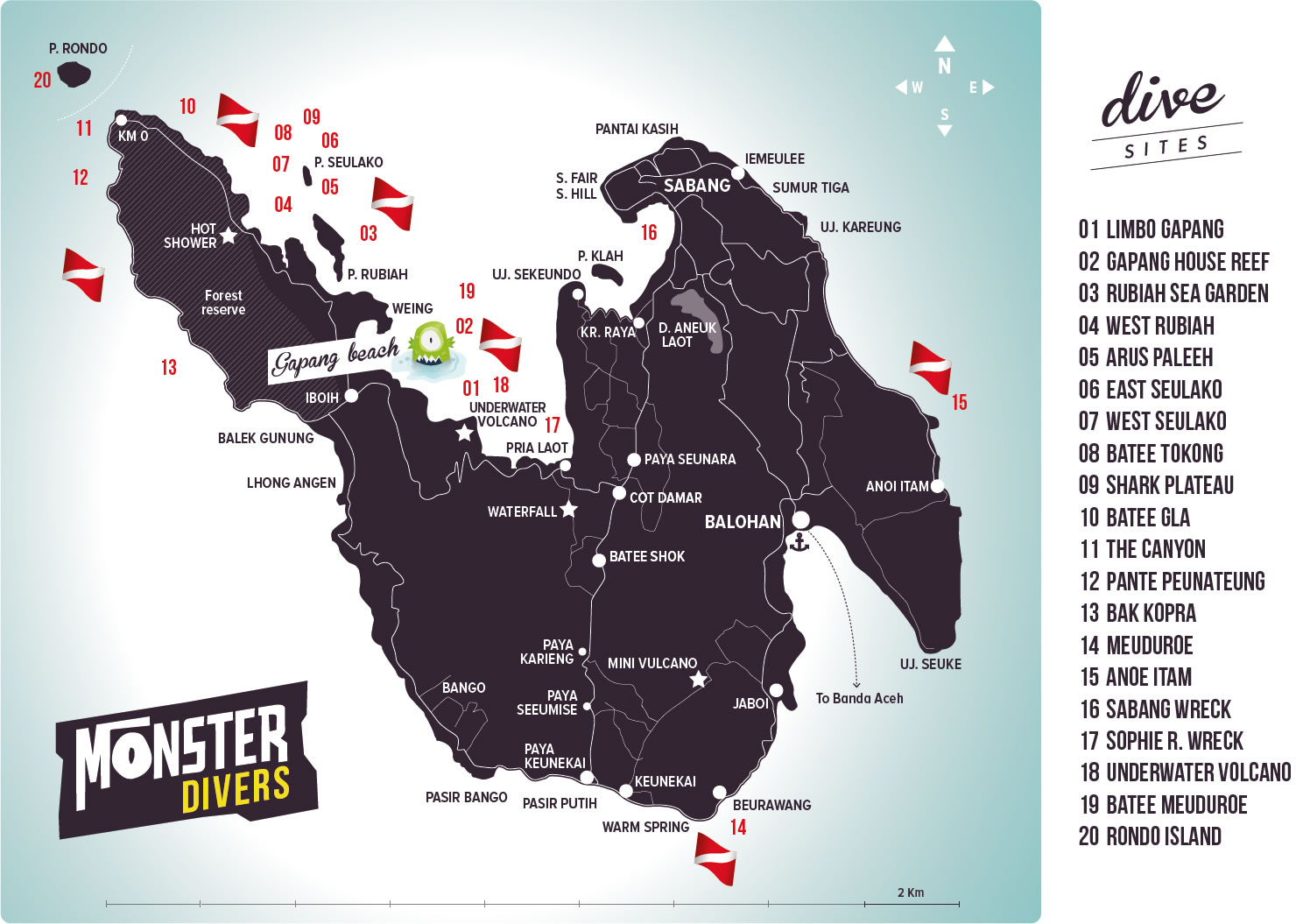 Sampling of the Best Pulau Weh Indonesia Dive Sites
The Canyon: two canyons separating two rocky outcrops from 10-30 meters (35-100 feet), nearby a gorgonian covered wall extends to 60 meters (200 feet), a cave at 29 meters (97 feet), huge schools of small reef fish, big schools of barracuda, Napoleon wrasses, at 40-45 meters ( 130-145 feet)  potential for sharks, eagle and manta rays, experienced level
Sophie Rickmers Wreck: 55 meters (185 feet) maximum depth, 134 meter (435 foot) ship scuttled by her crew in 1940 in a sheltered bay, wheelhouse at 37 meters (125 feet), decks at 45 meters (145 feet), groupers, moray eels, black-spot angelfish, advanced and technical level
Batee Meuduroe: 35 meters (115 feet) average depth, rich corals, sloping reef, lots of schooling fish, pelagics and sharks, experienced level
West Seulako: two large overhangs at 12-15 meters (40-50 feet), fairly deep penetration possible, outside a gentle slope of volcanic rocks and coral heads, soft corals, gorgonians, frogfish, cuttlefish, ribbon eels, crabs, shrimp, octopus, batfish, black snappers, sweetlips, blacktip reef sharks, trevallies, beginner to experienced level
Rubiah Sea Garden: 30 meters (100 feet) maximum depth, rocky slope from 10 meters (35 feet) with large hard corals, soft corals and a big variety of reef fish, sandy bottom at 30 meters (100 feet), several species of moray eel, garden eels, hawksbill turtles, flatworms, nudibranchs, bubble anemones, good dive to do shallow, good night dive, all levels
Underwater Hot Springs: 5-15 meters (15-50 feet), hot water bubbles creating cracks and vents mostly around 6 meters (18 feet), sulphuric aroma, hot fresh water is mixed with seawater, not a lot of life, but an interesting phenomenon to swim around in, can combine the dive with nearby coral sites or the Tugboat Wreck (Sabang Wreck), beginner level
Tugboat Wreck (Sabang Wreck): 14 meters (46 feet) average depth, rich encrusting corals and macro life, attractive reef nearby, beginner level
Batee Tokong: 25 meters (83 feet) maximum depth, rocks breaking the surface, sloping wall with lots of sea fans, descending to a plateau, wall from 12-18 meters (40-60 feet), Napoleon wrasses, groupers, white and blacktip reef sharks, schooling trevally and barracuda, rays, several species of moray eel, rich macro life in the nooks and crannies, strong currents possible, experienced level
Pante Peunateung (Rice Field Terrace): drop off from 30 meters (100 feet) extending to 70 meters (235 feet), huge sea fans, big schools of pelagics including tuna and mackerel, eagle and manta rays, barracuda, jacks, blacktip, whitetip and grey reef sharks, possible orcas, shallow area from 20 meters (68 feet) in look for Napoleon wrasses, several species of moray eel, octopus, lobster and other macro critters, significant current downward is possible, advanced level
Pulau Weh Photos
With the interesting underwater terrain, wrecks, giant sea fans, coral, macro life, rays, sharks, turtles, colorful reef fish, and fascinating scenic landscapes, there are many excellent photo opportunities.  For information and reviews of dive cameras, click here: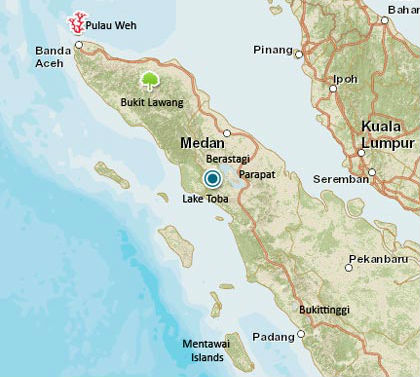 Pulau Weh is accessible by air and by sea.  There are 3 flights weekly from Medan to Sabang on Pulau Weh.  Fast ferries taking one hour and regular ones taking two and a half hours to travel back and forth from Banda Aceh twice daily.  There are regularly scheduled direct flights to Banda Aceh from Medan, Jakarta, Kuala Lumpur and Penang.  From Singapore, it requires an intermediate stop.
On Pulau Weh, there is shared transport in cars and minibusses with fixed prices per vehicle, per journey.  Motorbikes and becaks are available for a bargained price.  It is also possible to rent motorbikes and bicycles.
There are at least 7 dive shops operating on Pulau Weh on Gapang, Iboih and Lhong Angen Beaches providing a full range of services including equipment rental, dive courses, guiding and boat dive cruises.  Several of them are associated with resorts.  Resort pricing is very reasonable starting at $9 per night.  The website linked below is a good source for the available options and can arrange the booking.  Their rates are the lowest and it is free to cancel or change dates.  Accommodation at this link includes Banda Aceh hotels, as well.
Pulau Weh Things to Do (aside from scuba diving)
In the Muslim tradition, there is no partying that includes alcohol.  Some stores sell it for consumption back in your room, however.  There are restaurants with local specialties and some western oriented ones.  Mountain biking and bicycle tours are a popular option.  Snorkeling and island hopping to a couple of the small islands nearby can be arranged with a local fishing boat skipper or through your dive shop.  You won't want to miss Waterfall Air Terjun Pria Laot or the sunset at Kilometer Nol.  Actually, though, relaxing on the beach is the number two activity after scuba diving.  Across the water at Banda Aceh options are more plentiful with nature tours and Sumatran culture and lifestyle the attractions.
A cushion for emergencies provides peace of mind when on vacation.  I recommend this diving insurance as they have worldwide coverage and provide scuba divers a quality insurance and medical assistance service.
Feedback and Comments
I hope you found this post on Pulau Weh scuba diving interesting and useful. If you have any questions or ideas, please feel free to share them in the comments section.  I'd love to know of any experience you have diving there.  If there is no comments section directly below, click here:  >>comments<<