We may earn money or products from the companies mentioned in this post.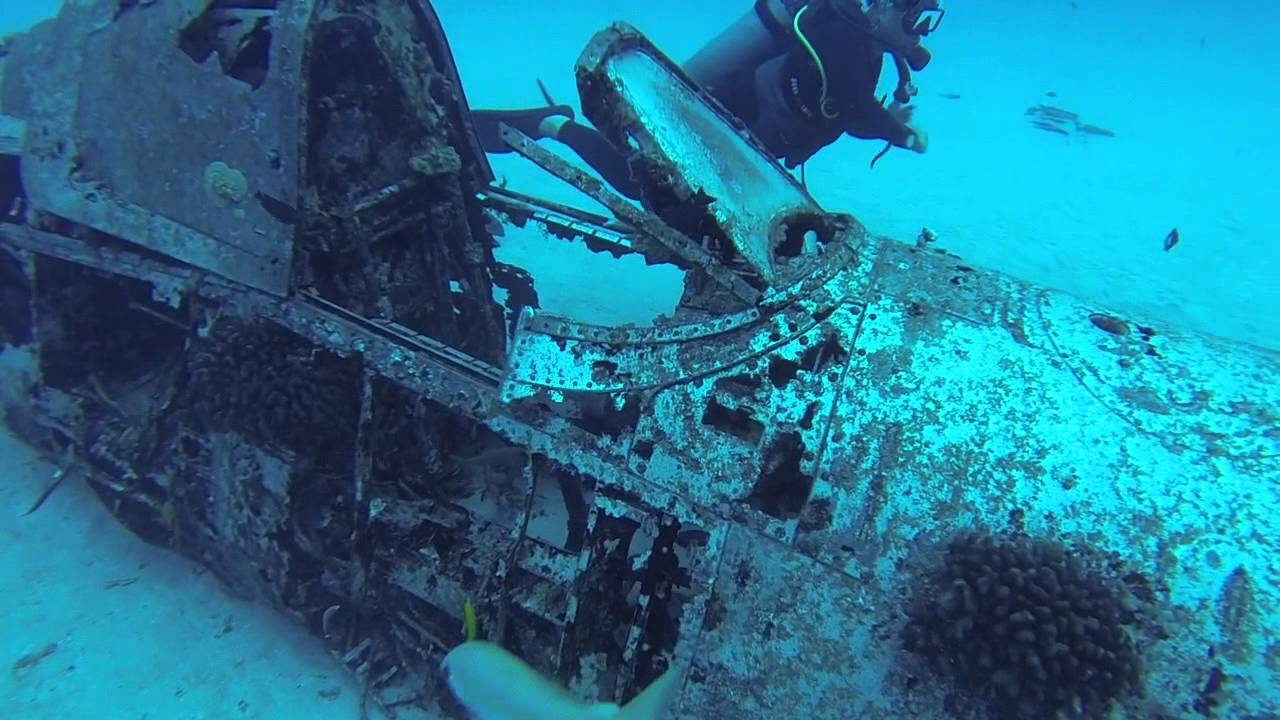 This is the eightieth in a series of reviews of the best dive resort locations around the world.  In this post, the focus is Oahu, Hawaii. In addition to this series on dive resort locations, the best worldwide liveaboard diving locations and services are reviewed in their own series.  To check them out, or others in this series, click on Liveaboards/Resorts on the menu at the top and choose a title from the list.
Have you ever been diving in Oahu before?  If so, I'd love to know about your experience.  What dive shop or liveaboard did you use?  Which dive spots are the best and what are the conditions there regarding the visibility, current, water temperature, sealife attractions, etc.?  Please post your response in the comments section at the bottom and we'll all learn something we can use.
Scuba Diving Oahu
Background – Oahu is the third largest island in the state of Hawaii with around 1,000,000 people, which is more than 70% of the population of the whole state.  Honolulu, on the southeast coast, is the capital of Hawaii and the only major city.  There are two shield volcanoes separated by a broad valley (known as a saddle) on this island that is 71 kilometers (44 miles) long and 48 kilometers (30 miles) wide.  Features of the island that come to mind like Waikiki, Pearl Harbor, Diamond Head, and the North Shore are symbols that have made Oahu the icon for a tropical island paradise that it has become.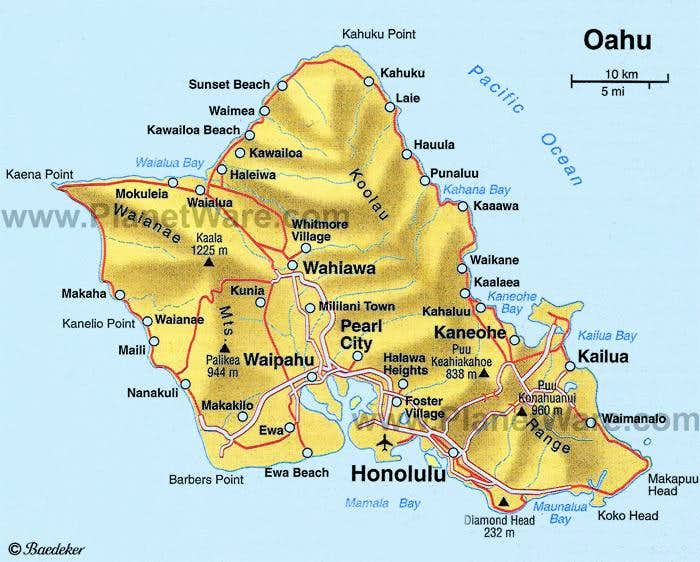 Undersea World – The volcanic activity that created the Hawaiian Islands has left an interesting undersea terrain of arches, lava tubes, ledges, caverns, craters and bommies to explore.  There is a nice variety of Indo-Pacific reef life, much of it endemic, including moray eels, lionfish, butterflyfish, angelfish, frogfish, nudibranchs, jacks, barracuda, lots of turtles, whitetip reef sharks, eagle and manta rays, dolphins and occasional sightings of hammerhead sharks.  You will notice from the videos, however, that the coral and encrusting growth is not as rich as around the big island, for example, or many of the popular Pacific island areas.  What they do have around Oahu is a number of accessible shipwrecks, lots of reef sharks and humongous relaxed green turtles almost everywhere.
Seasons and Conditions – Oahu is a good spot for diving year round.  The average daily air temperature highs are from 24-28°C (78-82°F).  Water temperature runs from 21-23°C (71-74°F) in winter and 24-26°C (75-79°F) in summer.  3-5mm wetsuits are recommended.  There is greater than a 50% chance of rain all year, but it does not affect diving much.  The surf can be higher in the winter months, which can make access to some sites more difficult.  Currents also can be strong but are predictable, something the dive shops will have a handle on.  Visibility is typically excellent in the 15-30 meter (50-100 foot) range.  There are conditions suitable for all levels of diver.  At least 29 dive shops operate on Oahu providing a full range of diving coursework, equipment rental, guiding and boat cruises.
There is not a liveaboard that directly cruises the Oahu dive sites, but there is one that dives on the big island.  Here is my review and a link to that liveaboard: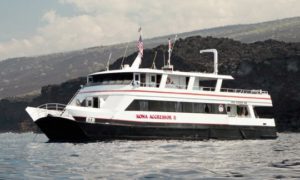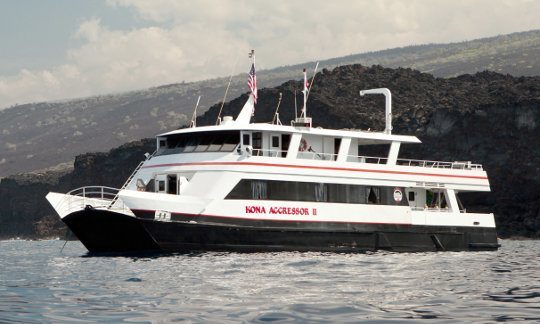 Kona Aggressor II, Hawaii Liveaboard, Check the Price
Selected Oahu Dive Sites
Corsair Plane Wreck: 32 meters (107 feet), ditched by its pilot in 1946 while training when it ran out of fuel, in pretty good condition, can sit in the cockpit, some instruments and glass are still intact, lots of reef fish, moray eels, frogfish, octopus, schools of amberjacks, spotted eagle rays, garden eels in the sand nearby, experienced level
Sea Tiger Wreck: 36 meters (120 feet), 57-meter (190-foot) Chinese fishing boat seized by the US Coast Guard for illegal activities, sunk by a submarine company in 1996 to become an artificial reef, sits upright on a sandy bottom, not much coral growth, some penetration and swim through opportunities in the cargo holds, at the bridge and amidships, some access has been closed off for safety, schooling fish, octopus, nudibranchs, moray eels, eagle rays, crown of thorns starfish, experienced level
YO-257 Wreck: 29 meters (97 feet), 52-meter (175-foot) navy oiler sunk by the Atlantic Submarine Company to become an artificial reef in 1989, sitting upright, rich sea life and encrusting corals and sponges, long swim through of the whole stern possible with octocoral inside on the walls and ceiling, large turtles often inside, moray eels, pelagics, experienced level
San Pedro Wreck: 29 meters (97 feet), 30-meter (100-foot) Korean fishing boat sunk by the Atlantic Submarine Company in 1996 a couple hundred feet (60 meters) from the Y0-257 as an artificial reef, bridge has collapsed, good swim through opportunity, lots of green turtles, whitetip reef sharks often inside or nearby, experienced level
Mahi Wreck: 28 meters (95 feet), 56-meter (185-foot) minesweeper/cable-layer scuttled in 1986 to become an artificial reef, the bridge has collapsed, considered unsafe to penetrate, lots of reef fish, many pufferfish, nudibranchs, octopus, whitetip reef sharks, eagle and manta rays, experienced level
Baby Barge: 19 meters (65 feet) at the base of the barge, 25 meters (85 feet) maximum depth at the nearby reef, wreck has deteriorated so penetration is no longer possible, the cavern at the deep side of the barge has whitetip reef sharks and many green turtles, 30 meters (100 feet) away is a reef with an overhang with frogfish, lionfish, moray eels, nudibranchs, turtles and whitetip reef sharks, experienced level
Fantasy Reef: 16 meters (55 feet), many fish species, some endemic, spot for many green turtles, current possible, good drift dive, all levels
Kewalo Pipe: 18 meters (60 feet), retired drainage pipe laid in the 1940s, encrusted in coral, reefs alongside, leaf scorpionfish, devil scorpionfish, bluefin jacks, moray eels, hawksbill turtles, possible manta rays, all levels
Rojo Reef: 18 meters (60 feet), healthy south shore reef, deeper coral growth unaffected by swells here, schooling reef fish, variety of reef tropicals, octopus, eels, all levels
Turtle Town: 12 meters (40 feet), near Ala Moana Beach Park, resident green turtles near the boat tie, lava flow finger reef, all levels
Oahu Photos
With the interesting undersea terrain, wrecks, lots of turtles, a variety of fish, moray eels, reef sharks, eagle rays and barracuda, scenic beach and mountain vistas, and historical, cultural and city shots as well, there are many excellent photo opportunities.  For information and reviews of dive cameras, click here:
Flights from all over the world have Oahu as a destination.  There is a broad range of transportation options available after arrival.  Please click on this website for details.  Wikitravel – Oahu
There are many hundreds of resorts, hotels, and lodges ranging from $30-$750 per night and beyond that. Many have an in-house dive center or are associated with one.  In all there are at least 29 dive shops offering services including equipment rental, dive courses, guiding and boat dive cruises.  The website linked below is a good source for the available options and can arrange a booking.  You can easily find the locations on the map provided on this site.  Their rates are the lowest and it is free to cancel or change dates.
Things to Do on Oahu (aside from scuba diving)
The list of options on Oahu is long.  For the major attractions, beaches, gardens and scenic views, activities to try and shopping, check out this site: Wikitravel – Oahu
This video is a fairly thorough introduction to things to do and living tips on Oahu.
A cushion for emergencies provides peace of mind when on vacation.  I recommend this diving insurance as they have worldwide coverage and provide scuba divers a quality insurance and medical assistance service.
Feedback and Comments
I hope you found this post on Oahu scuba diving interesting and useful. If you have any questions or ideas, please feel free to share them in the comments section.  I'd love to know of any experience you have diving in Oahu.  If there is no comments section directly below, click here:  >>comments<<