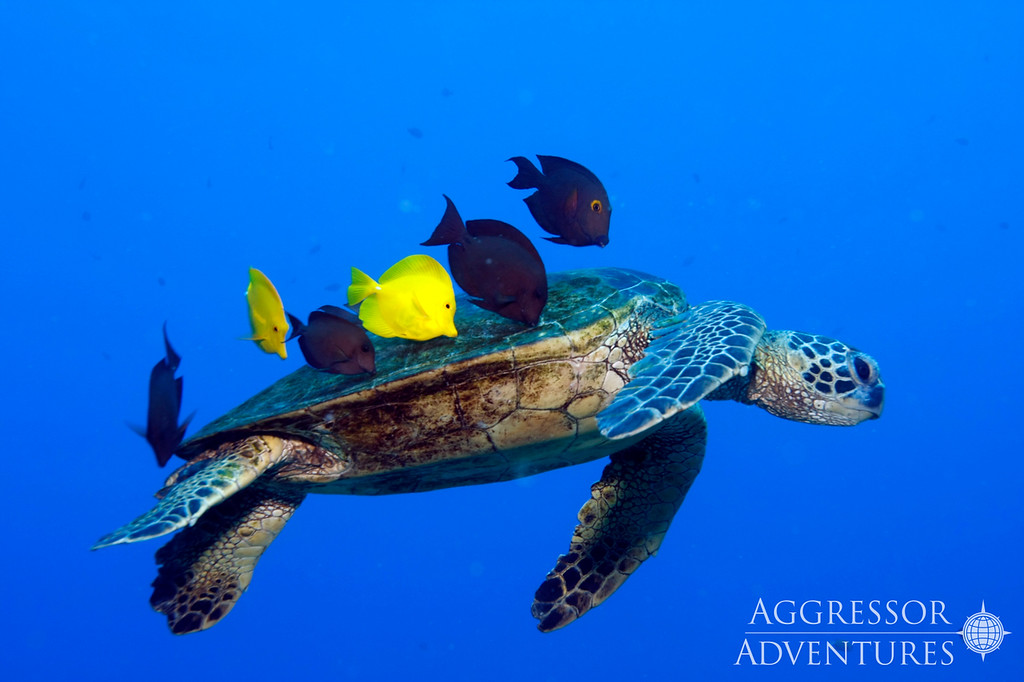 Updated August 6, 2022
This is the fourteenth in a series that introduces and describes the various dive services and sites for worldwide liveaboard dive safaris.  This one focuses on Hawaii liveaboards.
In addition to this series on liveaboards, the best worldwide dive resort locations and services are reviewed in their own series.  To check them out, or others in this series, click on Liveaboards/Resorts on the menu at the top and choose a title from the list.
Have you ever been diving in Hawaii before?  If so, I'd love to know about your experience.  What dive shop or liveaboard did you use?  Which dive spots are the best and what are the conditions there regarding the visibility, current, water temperature, sealife attractions, etc.?  Please post your response in the comments section at the bottom and we'll all learn something we can use.
Best Scuba Diving Hawaii Liveaboard
Undersea World
The volcanic activity that formed the Hawaiian Islands has left a fascinating seascape of arches, craters, bommies, and lava tubes to explore.  Many sites are rich in corals, especially hard corals.
About 20% of the fishes are endemic, with many examples in the butterflyfish and angelfish families.  Otherwise, there is a great variety of macro life that includes the Hawaiian lionfish, frogfish, moray eels, nudibranchs, Spanish dancers, lobsters, conchs, harlequin shrimp, octopus, spotted boxfish, sea cucumbers, and scorpionfish.  Commonly observed colorful reef tropicals are squirrelfish, wedgetail triggerfish, porcupine puffers, orange-band surgeonfish, unicornfish, peacock razorfish, peacock groupers, Moorish idols, yellowtail coris, parrotfish, trumpetfish, and many others.
There is also no lack of megafauna with large trevallies, spinner dolphins, green turtles, grey reef, whitetip reef, oceanic whitetip, tiger, and hammerhead sharks, eagle rays, monk seals, and seasonal humpback whales in the winter.  Mantas are also common and there is a great spot to see them on night dives, as well.
Seasons and Conditions
Diving is possible on the Big Island all year.
The average daily air temperature highs range from 81°F (27°C) in February to 87°F (30.5°C) in August and September.
Water temperature runs from lows of 76°C (24°C) in December through March to highs of 80°C (27°F) in August through September on the surface.  Thermoclines are possible.  3-5mm wetsuits are suitable when the water is at its warmest.  Some divers may opt for 6-7mm of insulation when it is coolest
There is substantial rain all year with a drier season from May through September.  Rains are usually of short duration and not intense.
Current can be strong at times on some sites.  In the summer months, it is windier and surface chop can be greater.
Visibility is typically 50-100 feet (15-30 meters).
Best Hawaii Liveaboard Scuba Diving – Kona Aggressor II
The "Kona" in Kona Aggressor II represents Kona, on the big island of Hawaii. Kona Aggressor dive safaris focus on the dive sites on the west side of this island.  Diving is good all around the Hawaiian Islands, but this area arguably has the best.  There are 22 primary dive sites on the Aggressor cruise (see map below) and most of the diving is suitable for open water divers.
Somewhat surprisingly, there is only one major liveaboard company operating in Hawaii, the Aggressor Fleet.  Certainly, it is possible to charter other excellent vessels of various sizes and configurations, but that method tends to be very expensive.  The very reasonable Aggressor rates are even more favorable when compared to paying for a decent Hawaiian hotel and trying to get in a good 5-6 dives a day, including night dives, on top of accommodation fees.  This is one of the best all-inclusive scuba vacations on a very comfortable boat that has been in operation in this location since 1989.  The food and service are outstanding and for a maximum of 14 divers, it can become a close-knit and personal experience.
People have a great time on this Aggressor liveaboard doing up to 5 or 6 dives per day and enjoying the camaraderie, food, and service in between.  The Aggressor motto is "Eat.  Sleep.  Dive."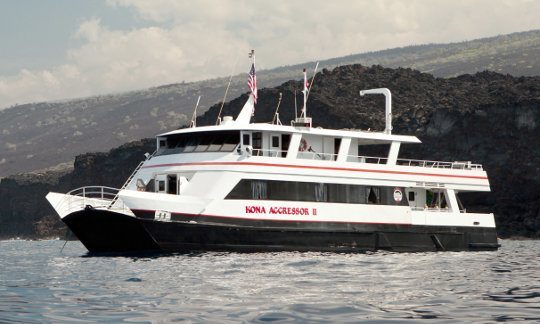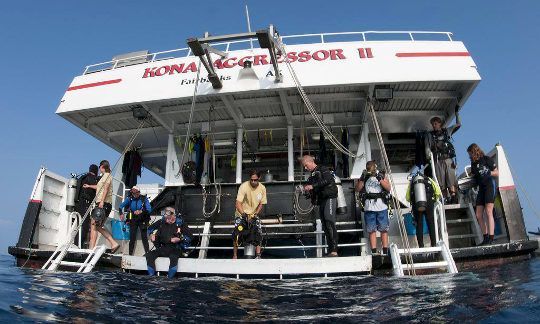 Featuring
Cruises the west coast of Hawaii island
Itinerary: Turtle Pinnacle, Shark Fin Rock, Amphitheater, Lion's Den, 3 Room Cave, Paradise Pinnacle, Au Au Crater, Tubastrea Tunnel, Catacombs, The Maze, Black Coral Forest, and Rainbow Reef
24 meters long (79 feet)
Maximum of only 14 guests,
Single supplement: +65%
All cabins have en-suite bathrooms
Complimentary local beer and wine
Shaded wet bar and grill
Daily meals prepared by an onboard chef
Tanks and weights
Scuba equipment rental ($

175

per week)
Nitrox fills for enriched air certified divers ($

100

per person per tour)
Air-conditioned accommodations
Comfortable galley accommodations complete with a flat-screen TV
Helpful crew and deckhands
Final evening cocktail
Wifi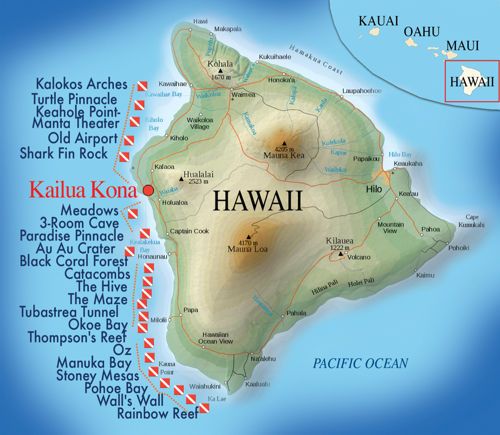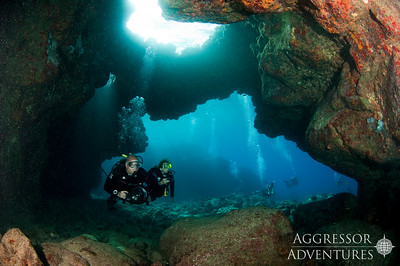 There aren't any liveaboards cruising the other islands of Hawaii, but diving from resorts is great in all of them.  Here are my reviews for the other major islands of Hawaii:
Things to Do in Hawaii – the Big Island (aside from scuba diving)
Hawaii is the classic tropical paradise that abounds in natural beauty and activities to fascinate a tourist.  Here is a sample of sights and activities to consider:
ATV Tours, Hawaii Volcanoes National Park, Golfing, Botanical Gardens, Lava Viewing, Hot Ponds, Farmers Markets, Beaches, Camping, Lava Tubes, Horseback Riding, Hiking, Biking, Helicopter Tours, Luaus and Hula Dancing, Picnicking, Stargazing, Swimming with Dolphins, Whale Watching, Scenic Drives, Standup Paddleboarding, Surfing, Ziplining.
This video paints an attractive portrait of the natural attractions and range of activities available on the Big Island.
Hawaii Transportation, Hotels, & Diving Services
Transportation
Air – There are two major airports on the Big Island.  The busiest is Kona International Airport in Kalaoa on the west coast and the second is Hilo International Airport on the east coast.  They both connect to island destinations and to each other.  Kona handles flights to/from many western continental US locations and Japan.  Hilo has a connection to LA as well as the local islands.
Boat – There is currently no inter-island boat or ferry service.
Local public bus service is very limited but available.  Tour buses can be arranged.
Rental of bicycles and scooters/mopeds is a possibility for transportation if you're staying in one area.
Hitchhiking is convenient and very easy with the aloha spirit permeating the roadways.
Car rental makes movement around the long distances of the island much more fruitful and convenient.  You are best advised to make a reservation early online as they tend to get booked up months in advance.  Major agencies are available as well as Craigslist for less immaculate models.  4-wheel drive vehicles are available from some agencies.  Harper Rentals has them that are authorized to go off-road.
For more details related to all of the above transportation options and other tourist information, go to Wikitravel-Big Island.
Hotels and Dive Shops
On the Big Island, there are hundreds of lodging options from $79 per night on up for your time before and after the cruise or if you would just like to spend some time in this fantastic location.  If you would like to do some shore-based diving, there are dozens of dive shops in operation offering a full range of services that include equipment rental, diving certification classes, dive guides, and boat tours.
The website linked below has the details for the lodging and can arrange a booking.  You can easily find the location on the map provided on their site.  The rates are guaranteed to be the lowest and it is free to cancel or change dates.
Hawaii Photos
With the macro life, beautiful, diverse coral reef, and lots of fish, there are many excellent photo opportunities.  For information and reviews of diving cameras, click here:
Scuba Diving Trip Insurance
A cushion for emergencies provides peace of mind when on vacation.  I recommend this diving insurance as they have worldwide coverage and provide scuba divers a quality insurance and medical assistance service.
Feedback and Comments
I hope you found this post on Hawaii liveaboards interesting and useful. If you have any questions or ideas, please feel free to share them in the comments section.  I'd love to know of any experience you have.  If there is no comments section directly below, click here:  >>comments<<