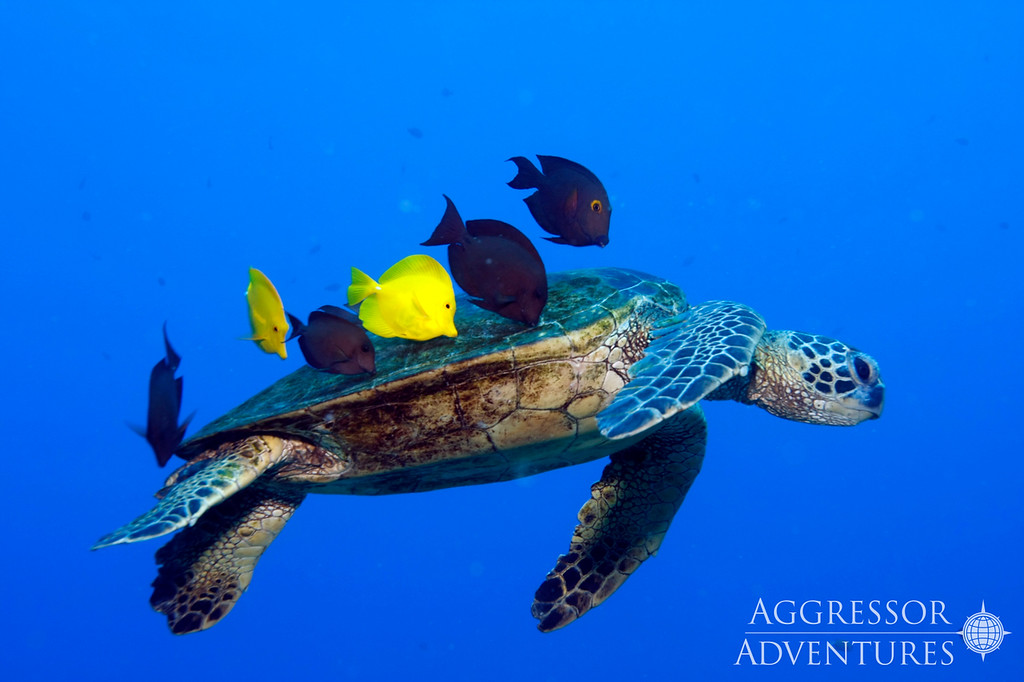 This is the fourteenth in a series which introduces and describes the various dive services and sites for worldwide liveaboard dive safaris.  This one focuses on Hawaii liveaboards.
In addition to this series on liveaboards, the best worldwide dive resort locations and services are reviewed in their own series.  To check them out, or others in this series, click on Liveaboards/Resorts on the menu at top and choose a title from the list.
Best Hawaii Scuba Diving Liveaboard
Somewhat surprisingly, there is only one major liveaboard company operating in Hawaii, the Aggressor Fleet.  Certainly, it is possible to charter other excellent vessels of various sizes and configurations, but that method tends to be very expensive.  The very reasonable Aggressor rates are even more favorable when compared to paying for a decent Hawaiian hotel and trying to get in a good 5-6 dives a day, including night dives, on top of accommodation fees.  This is one of the best all inclusive scuba vacations on a very comfortable boat that has been in operation in this location since 1989.  The food and service are outstanding and for a maximum of 14 divers, it can become a close-knit and personal experience.
Kona Aggressor II ($266/day)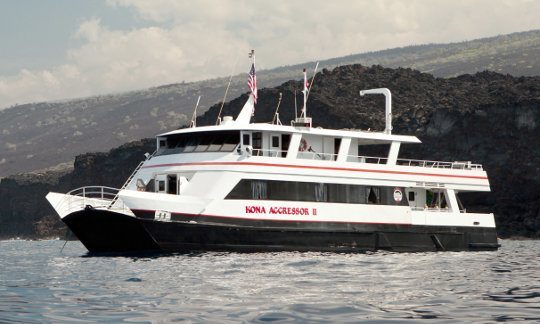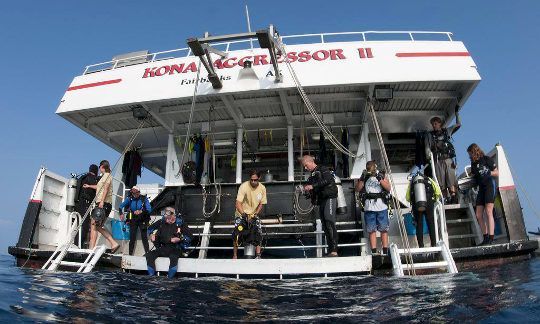 Featuring
Cruises the west coast of Hawaii island
Itinerary: Turtle Pinnacle, Shark Fin Rock, Amphitheater, Lion's Den, 3 Room Cave, Paradise Pinnacle, Au Au Crater, Tubastrea Tunnel, Catacombs, The Maze, Black Coral Forest and Rainbow Reef
24 meters long (79 feet)
Maximum of only 14 guests,
Single supplement: +65%
All cabins have en-suite bathrooms
Complimentary local beer and wine
Shaded wet bar and grill
Daily meals prepared by an onboard chef
Tanks and weights
Scuba equipment rental ($

175

per week)
Nitrox fills for enriched air certified divers ($

100

per person per tour)
Air-conditioned accommodations
Comfortable galley accommodations complete with flat screen TV
Helpful crew and deckhands
Final evening cocktail
Wifi
Check it on Dive the World by clicking their banner on the right sidebar or at the bottom and going to Liveaboards / Hawaii
Best Hawaii Scuba Diving – Kona Aggressor II
The "Kona" in Kona Aggressor II represents Kona, on the big island of Hawaii. Kona Aggressor dive safaris focus on the dive sites on the west side of this island.  Diving is good all around the Hawaiian Islands, but this area arguably has the best.  There are 22 primary dive sites (see map below) and most of the diving is suitable for open water divers.
The Hawaiian Islands result from volcanic activity which has created a fascinating seascape of arches, craters, bommies and lava tubes to explore.  About 20% of the fishes are endemic, with many examples in the butterfly fish and angelfish families.  Otherwise, there is a great variety of reef life that includes the Hawaiian lionfish, frogfish, eels, Spanish dancers and visitors like large trevallies, dolphins, turtles, oceanic whitetips, hammerheads, and mantas, which are famous here for their appearance during night dives (as evidenced in the video above).
Water temperatures run from 72 to 80°F (22 to 26°C) and there are thermoclines.  3-5mm wetsuits are recommended.  Many divers prefer to use a hood, as well.
People have a great time on this Aggressor liveaboard doing up to 5 or 6 dives per day and enjoying the camaraderie, food, and service in between.  The Aggressor motto is "Eat.  Sleep.  Dive."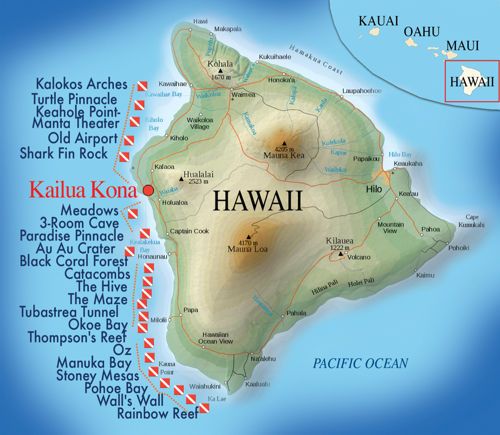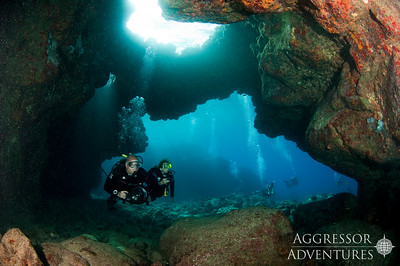 If you would like to book a liveaboard or want fuller information on all the available options, please click on the Dive the World banner just below at the bottom or in the right sidebar.  Then go to Live Aboards / Hawaii. 
There is not a liveaboard going to Oahu, but diving from a resort there is very interesting.  For my review, please click here:
Hawaii Photos
With the macro life, beautiful, diverse coral reef and lots of fish, there are many excellent photo opportunities.  For information and reviews of diving cameras, click here:  Best Underwater Cameras Compared and Reviewed
A cushion for emergencies provides peace of mind when on vacation.  I recommend this diving insurance as they have worldwide coverage and provide scuba divers a quality insurance and medical assistance service.
I hope you found this post on Hawaii liveaboards interesting and useful.  If you have any questions or ideas, please feel free to share them in the comments section.  If there is no comments section directly below, click here:  >>comments<<