We may earn money or products from the companies mentioned in this post.

Giant Moray Eel (Photo courtesy of TripAdvisor and Molokai Fish & Dive Center)
This is the one hundred and sixty-second in a series of reviews of the best dive resort locations around the world.  In this post, the focus is on Molokai, Hawaii. In addition to this series on dive resort locations, the best worldwide liveaboard diving locations and services are reviewed in their own series.  To check them out, or others in this series, click on Liveaboards/Resorts on the menu at the top and choose a title from the list.
Have you been diving in Molokai before?  If so, I'd love to know about your experience.  What dive shop or liveaboard did you use?  Which dive spots are the best and what are the conditions there regarding the visibility, current, water temperature, sealife attractions, etc.?  Please post your response in the comments section at the bottom and we'll all learn something we can use.
Molokai Scuba Diving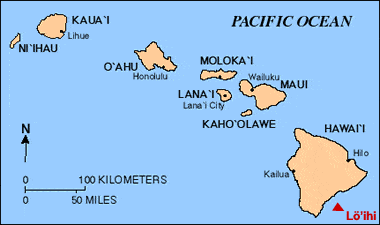 Background – Molokai, known as "the Friendly Isle," is the birthplace of the hula and the fifth largest Hawaiian Island at 35 miles (61 kilometers) in length by 10 miles (160 kilometers) in width.  Located 25 miles (40 kilometers) across the Kaiwi Channel from Oahu and north of Lanai and Maui, it has a population of 7,500.  Developing geologically from two shield volcanoes the highest point is at 4,970 feet (1,510 meters). It has the highest sea cliffs in the world and the longest fringe reef in the US at 25 miles (40 kilometers).  The low western half is dry and denuded by goats while the eastern half has lush wet rainforests.  Recent studies indicate that indigenous peoples started arriving after 1,000 AD from the Marquesas Islands.  Captain Cook was the first westerner to sight the island with the first landing made by Captain George Dixon in 1778.  Missionaries arrived in 1832.  Coffee and sugar production started in the 19th century along with cattle and coconuts set up by King Kamehameha V on the Molokai Ranch.  Local resistance to western disease was weak and a number were introduced including Hansen's disease (leprosy) for which the famous colony was set up there that ran from 1866-1969.  The ranch company still operates today and has been the developer of a limited amount of tourism.  Local resistance has been strong with protests against the ranch involving arson and animal poisoning.  In 2015 there were only 64,767 tourists to go to Molokai compared to 3 million in Maui.  This amount of tourism is important to the economy along with agriculture but there is high unemployment with one-third of the population on food stamps.  For more historic, cultural, geographic, and demographic information, please check Wikipedia-Molokai.
Undersea World – With almost no commercial activity and a small amount of diving traffic, the 40 dive sites on the long fringe reef and offshore are in pristine condition.  Many of the best sites require a boat to access with Scuba Dive Molokai and Molokai Fish & Dive the two most recommended operators.  On some sites you can go deep and substantial drift is possible but there are sites suitable for all levels of diver.  In addition to the fringe reef, the volcanic terrain has a good variety of ridges, boulders, pinnacles, canyons, walls, swim-throughs, and blue holes with diverse hard corals especially, including antler, cauliflower, blue rice, and green lobe corals.  In the nooks and crannies, there are fascinating macro critters like lobsters, crabs, octopus, frogfish, and conchs.  Colorful reef tropicals include blue-striped grunts, wrasses, parrotfish, butterflyfish, bannerfish, triggerfish, surgeonfish, angelfish, and trumpetfish.  Megafauna highlights are very common green turtles, eagle and manta rays, whitetip reef sharks, hammerheads, whale sharks, Hawaiian monk seals, dolphins, and humpback whales in winter.
Seasons and Conditions – Diving is possible on Molokai all year.
The average daily air temperature highs range from 79°F (26°C) in January and February to 86°F (30°C) in August and September.
Water temperature runs from lows of 76°C (24°C) in December through March to highs of 80°C (27°F) in August through September.  3-5mm wetsuits are suitable when the water is at its warmest.  Some divers may opt for 6-7mm of insulation when it is coolest
There is substantial rain all year with a drier season from May through September.  Rains are usually of short duration and not intense.  In the wetter eastern half of the island where the most explored dive sites are located, there are 300 inches (7,600 mm) of rainfall per year.
Current can be strong at times on some sites.  In the summer months, it is windier and surface chop can be greater.
Visibility is typically 50-100 feet (15-30 meters).
There are conditions suitable for all levels of diver.  Several dive shops operate on Molokai providing a full range of diving coursework, equipment rental, guiding and boat cruises.  Some of the shops on Maui also make trips to the Molokai sites.
There is not a liveaboard that directly cruises the Molokai dive sites, but there is one that dives on the big island.  Here is my review and a link to that liveaboard: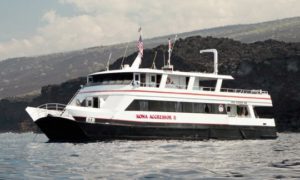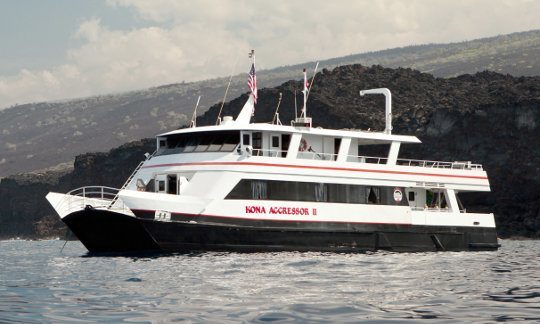 Kona Aggressor II, Hawaii Liveaboard, Check the Price
There is great diving on all the major islands of Hawaii.  Here are my reviews.
Selected Molokai Dive Sites
The most popular area to dive is around Mokuho'oniki Rock (Elephant Rock), which is an islet designated on the map to the right.  The sites on the map are not perfectly placed but are in the general area there in the Pailolo Channel.  Below are descriptions.
Fish Bowl: 40-100+ feet (12-30+ meters), ledges at 50-60 feet (15-18 meters) are a good spot for whitetip reef sharks to hunker down along with octopus, lobsters, and reef fish, in what can be strong currents, hammerheads are possible, below the deeper edge of the bowl are big coral covered boulders, suitable for experienced level divers
Fish Rain: 100 feet (30 meters), in the Pailolo Channel strong currents can push the fish down from the top of a wall like rainfall, a good variety of reef tropicals and pelagics are there like mahi-mahi, bluefin jacks, and the possibility of hammerhead, tiger, Galapagos, and whale sharks, and monk seals, suitable for experienced level divers
Hole in the Wall: 40-100 feet (12-30 meters), pinnacle from the bottom at 100 feet (30 meters) topping at 40 feet (12 meters), the name comes from a hole in the cliff wall above the water onshore, hard corals to look for include snowflake and wire corals in the shallow areas along with lots of reef tropicals, moray eels, and macro critters in the nooks, deeper are black coral trees, and the possibility of sharks, mantas, and humpback whales in the winter, currents can be strong, suitable for experienced level divers
The Cove: 20-100 feet (6-30 meters), gradual slope with lots of antler corals that drops off more sharply at 50 feet (15 meters), look for black coral trees deeper, marine life highlights include butterflyfish, porcupine puffers, long-nose hawkfish, reef sharks, and manta rays, in the evenings or at night slipper lobsters or Spanish dancers might make an appearance, suitable for all levels of diver

Things to Do in Molokai (aside from scuba diving)
With the conscious effort to keep tourism at a low level, the scenic beauty of Molokai is largely undisturbed.  Here is a sample of sights and activities to consider:
Kalaupapa National Historical Park, Purdy's Macadamia Nut Farm, Halawa Valley, Saturday Farmers Market, Halekealoha (Live Music), Halawa Beach Park, Sandy Beach, Kayak or Standup Paddle Tour, Kumimi Beach, Hot Bread Lane, Molokai Forest Reserve, St. Joseph Church, Mana'e Goods and Grindz, Ali'i Beach Park, Fly into the Molokai Leper Colony, Explore North and South Sea Cliffs by Boat, Popohaku Beach Sunset, Helicopter and Air Tours, Kapuaiwa Coconut Grove, Ironwood Hills Golf Course, Camping.
This video paints an attractive portrait of the natural attractions and some of the activities available on Molokai.
Air – Located in Ho'olehua, 5 miles (8 kilometers) from the town of Kaunakakai, Moloka'i Airport (MKK) has two runways that handle commuter/air taxis, general aviation, and some military traffic.  4 airlines in operation altogether offer flights to all the islands including multiple daily flights to Honolulu and Maui.  A second airport, Kalaupapa Airport (LUP) provides links to Moloka'i Airport.  Most are small aircraft with the 9-seat Cessna Caravan a popular model.
Boat – There is a daily ferry between Lahaina, Maui and Kaunakakai, Molokai.
Car rental is available through Alamo and Molokai Car Rental at the airport.
Tour buses can be arranged to many sights.
Mules and horses are possible for shorter distances.
For more details related to all of the above transportation options and other tourist information, go to Wikivoyage-Molokai.
Hotels and Diving – In Molokai there are only a few lodging options ranging from $107 to $281 per night and several dive shops in operation.  They offer a full range of services that include equipment rental, diving certification classes, dive guides, and boat tours.  Scuba Dive Molokai and Molokai Fish & Dive are the two most recommended shops.  The website linked below has the details for the lodging and can arrange a booking.  You can easily find the location on the map provided on their site.  The rates are guaranteed to be the lowest and it is free to cancel or change dates.
Photography in Molokai
With the colorful coral reefs, a variety of fish, sharks, whales, seals, and beautiful onshore targets, as well, there are many excellent photo opportunities.  For information and reviews of dive cameras, click here:
A cushion for emergencies provides peace of mind when on vacation.  I recommend this diving insurance as they have worldwide coverage and give scuba divers a quality insurance and medical assistance service.
Feedback and Comments
I hope you found this post on Molokai scuba diving interesting and useful. If you have any questions or ideas, please feel free to share them in the comments section.  I'd love to know of any experience you have.  If there is no comments section directly below, click here:  >>comments<<