Carthaginian II Wreck (Photo courtesy of Maui Diving & TripAdvisor)
Updated June 9, 2021
This is the one hundred and sixty-first in a series of reviews of the best dive resort locations around the world.  In this post, the focus is on Maui, Hawaii. In addition to this series on dive resort locations, the best worldwide liveaboard diving locations and services are reviewed in their own series.  To check them out, or others in this series, click on Liveaboards/Resorts on the menu at the top and choose a title from the list.
Have you been diving in Maui before?  If so, I'd love to know about your experience.  What dive shop or liveaboard did you use?  Which dive spots are the best and what are the conditions there regarding the visibility, current, water temperature, sealife attractions, etc.?  Please post your response in the comments section at the bottom and we'll all learn something we can use.
Scuba Diving Maui Hawaii
Background
Maui is the second-largest Hawaiian island and the largest in Maui County which includes Moloka'i, Lana'i, and unpopulated Kaho'olawe, and the Molokini crater.  The population of the island is 145,000 with 26,000 in the commercial and financial hub, Kahului.
Volcanic in origin like all of Hawaii, Maui has a tropical climate and diverse terrain dominated by volcanoes.  The western cones are older and more eroded than those in the east with Mount Haleakala peaking above 10,000 feet (3,000 meters).
The first westerner to see Maui was Captain Cook in 1778, though he didn't land due to lack of a suitable site.  Shortly thereafter traders, whalers, loggers, and missionaries arrived with local rulers maintaining control of the Kingdom until 1893 when American business interests took over.  A year later the Republic of Hawaii was formed.  The government lasted in that iteration until the US annexed Hawaii in 1898.  It became the 50th state in 1959.
Today tourism is the driving economic force in Maui with 3 million annual visitors.  It is not a one-trick pony, though, with retail, health care, business services, agriculture, and IT playing significant roles.
For more historic, cultural, geographic, and demographic information, please check Wikipedia-Maui.
Undersea World
Most of the diving on Maui is done along the western coastline which has undamaged rich reefs with a good diversity of marine life and a lot of hard corals, especially, as well as a nice array of soft corals, sponges, and other encrusting invertebrates on the volcanic terrain.
Most sites are accessible from shore and have a good variety and volume of fish and macro critters with highlights including helmet conchs, lobsters, crabs, octopus, frogfish, moray eels, anthias, damselfish, blue-striped grunts, wrasses, parrotfish, trumpetfish, triggerfish, surgeonfish, snappers, angelfish, reef sharks, manta rays, and lots of turtles.
Pulling back and taking a wide-angle view at the 5 islands of Maui County, there are numerous shallow channels with the southern edge bordered by Molokai, Lanai, and Kahoolawe creating a shield to strong ocean swells flowing across from lower in the Pacific.  If the reefs along the shoreline begin to seem quite similar to each other, 3 miles off the south shoreline is Molokini Island with its half-moon crater clearing the surface and several types of underwater topography including a steep drop-off to more than 100 meters.
For further variety, Lanai Island is only an hour away from Lahaina Harbor by dive boat for a number of sites with a much different flavor.  On the ride over you have a good chance to enjoy dolphins, flying fish, and humpback whales, which are most often seen in the January to April time slot.
Other highlights in the area are occasional appearances of a variety of much sought-after sharks like whale sharks, Galapagos sharks, hammerhead, oceanic whitetip, and tiger sharks, and playful monk seals.
If that is not enough there are caves, caverns, and swim-throughs, and intriguing wrecks like the scuttled Carthaginian II at 100 feet (30 meters) in depth.
Seasons and Conditions
Diving is possible on Maui all year.
The average daily air temperature highs range from 79°F (26°C) in January and February to 86°F (30°C) in August and September.
Water temperature runs from lows of 76°C (24°C) in December through March to highs of 80°C (27°F) in August through September.  3-5mm wetsuits are suitable when the water is at its warmest.  Some divers may opt for 6-7mm of insulation when it is coolest
There is substantial rain all year with a drier season from May through September.  Rains are usually of short duration and not intense.
Current can be strong at times on some sites.  In the summer months, it is windier and surface chop can be greater.
Visibility is typically 50-100 feet (15-30 meters) on the inshore sites and 100-150 feet (30-45 meters) on offshore sites.
There are conditions suitable for all levels of diver.  Around two dozen dive shops operate on Maui providing a full range of diving coursework, equipment rental, guiding, and boat cruises.
Hawaii Liveaboard
There is not a liveaboard that directly cruises the Maui dive sites, but there is one that dives on the big island.  Here is my review and a link to that liveaboard: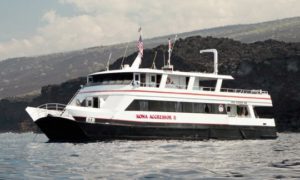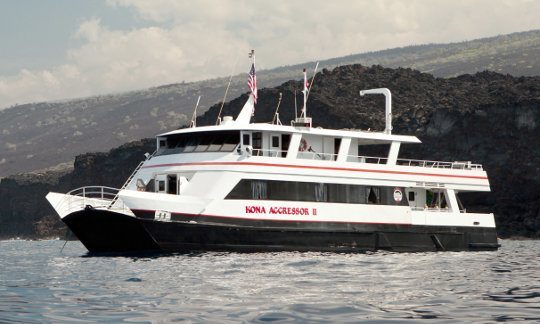 Kona Aggressor II, Hawaii Liveaboard, Check the Price
There is great diving on all the major islands of Hawaii.  Here are my reviews.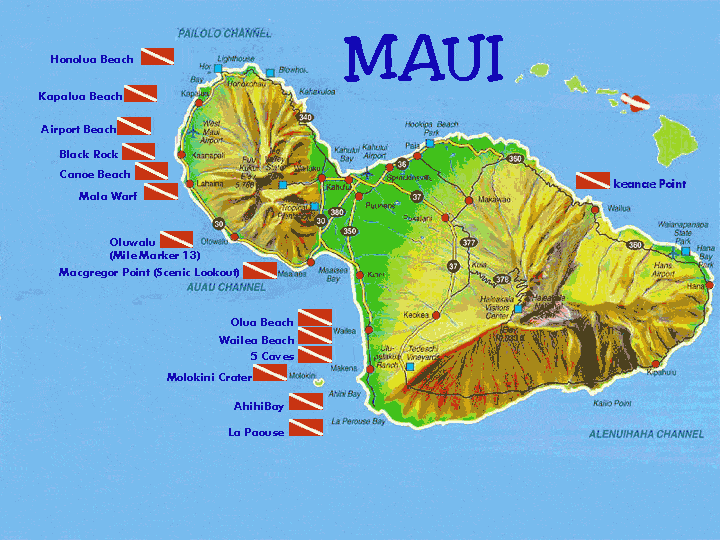 Selected Maui Dive Sites
Carthaginian II Wreck: 97 feet (30 meters), 100-foot (30-meter) 2-mast schooner built in 1920 scuttled to become an artificial reef in 2005 off Puamana Beach Park, resting upright, easy penetration into the holds, look for frogfish, trumpetfish, schools of snappers, and grey reef and whitetip reef sharks patrolling around and inside the wreck, little current, suitable for experienced level divers (check out the video at the top)
Honolua Bay: 18-45 feet (5-14 meters), shore entry, marine preserve with a variety of corals and reef tropicals, highlights are barracuda, bluefin jacks, and manta rays, suitable for all levels of diver
Airport Beach: 8-50 feet (2.5-15 meters), shore entry, sandy coastline with the reef starting at 8 feet (2.5 meters), nice corals with reef tropicals like lemon butterflyfish, Moorish idols, lionfish, needlefish, and yellowtail coris, look for green turtles and the occasional hawksbill turtle, mild currents run from north to south, excellent site for the open water course dives, suitable for all levels of diver
Mala Wharf: 35 feet (10 meters), shore entry, concrete pier built in 1922 that partially collapsed in 1992 during Hurricane Iniki, rich encrusting invertebrates on the pier and rocks, lots of reef tropicals and macro critters, highlights are frogfish, whitetip reef sharks, and green turtles, suitable for all levels of diver
Hellcat Wreck: 32 feet (10 meters), off the coast of Kihei, World War II F-6-F Hellcat Fighter rests overturned on its back with the engine 60 feet (18 meters) away, suitable for all levels of diver
Molokini Crater: 3 miles (5 kilometers) offshore from South Maui, state seabird and marine sanctuary, half-moon shaped crater from an extinct volcano with several dive sites, the back wall site is a sheer drop-off to 300 feet (100 meters), known for excellent visibility and the chance to see whale sharks, oceanic whitetip sharks, tiger sharks, and manta rays, other marine life includes, lobsters, bluefin jacks, filefish, bannerfish, triggerfish, yellow tangs, surgeonfish, parrotfish, and groupers, suitable for experienced level divers (check out the video above)
Lanai First Cathedral:  45-60 feet (14-18 meters) off the south coast of Lanai, a 45-minute boat ride from Lahaina Harbor, big lava tube cavern reminiscent of a cathedral, light penetrating from many openings, marine life includes schools of squirrelfish, blue-line grunts, trumpetfish, pyramid butterflyfish, eels, surgeonfish, parrotfish, cowries, and grey reef sharks, tidal flow can create strong currents propelling divers within, suitable for experienced level divers (check out the video below)
Things to Do in Maui (aside from scuba diving)
Maui is a tropical paradise that abounds in natural beauty and activities to fascinate a tourist.  Here is a sample of sights and activities to consider:
Drive to Hana, Learn to Play a Ukelele, Old Lahina Luau, Little Beach, Maui Grown Coffee, Makena Cove, Kaanapali Surf School, Feast at Lele, Maui Whale Festival, Slack Key Guitar Festival, Wa'a Paddle Tour, The Seven Sacred Pools, Maluaka Beach, Made in Maui Festival, Maui Wines, Hyatt Penguins, Maui-Lanai Ferry, Paia Fish Market, Black Rock Cliff Dive, Joey's Kitchen, Hawaii Food and Wine Festival, Hawaiian Shave Ice, Ironwood Ranch, Lahaina Historic Trail, Kula Botanical Garden, Haleakala National Park, O'o Farm, Maui Ocean Center, Loco Moco, Stargazing.
This video paints an attractive portrait of the natural attractions and range of activities available on Maui.
Maui Transportation, Hotels, & Diving Services
Transportation
Air – Kahului Airport (OGG) is linked to the other airports in the state and to many US and Canadian cities along the western corridor and inland cities including Calgary, Chicago, Dallas, Denver, Edmonton, Phoenix, and Salt Lake City.  Smaller general aviation airports are located in Kapalua (JHM) and Hana (HNM).
Public bus service is available to the main towns at reasonable rates.  In fact, there are three free routes. There is also a rural shuttle that runs three times a week.
Shuttle services, like Executive Shuttle and others, provide transportation to Maui tourist destinations.
Car Rental – Many locations aren't accessible by public transport and a car adds greatly to convenience.  Several major companies have offices at Kahului and Kapalua Airports and numerous hotels and other off-airport locations.  Pricing is generally more expensive at the airports.
For more details related to all of the above transportation options and other tourist information, go to Wikitravel-Maui.
Hotels and Diving
In Maui, there are hundreds of lodging options from $51 to$2,495 per night and two dozen or more dive shops in operation.  They offer a full range of services that include equipment rental, diving certification classes, dive guides, and boat tours.
The website linked below has the details for the lodging and can arrange a booking.  You can easily find the location on the map provided on their site.  The rates are guaranteed to be the lowest and it is free to cancel or change dates.
Photography in Maui
With the colorful coral reefs, a variety of fish, sharks, whales, seals, and beautiful onshore targets, as well, there are many excellent photo opportunities.  For information and reviews of dive cameras, click here:
Scuba Diving Trip Insurance
A cushion for emergencies provides peace of mind when on vacation.  I recommend this diving insurance as they have worldwide coverage and give scuba divers quality insurance and medical assistance service.
Feedback and Comments
I hope you found this post on Maui scuba diving interesting and useful. If you have any questions or ideas, please feel free to share them in the comments section.  I'd love to know of any experience you have.  If there is no comments section directly below, click here:  >>comments<<