We may earn money or products from the companies mentioned in this post.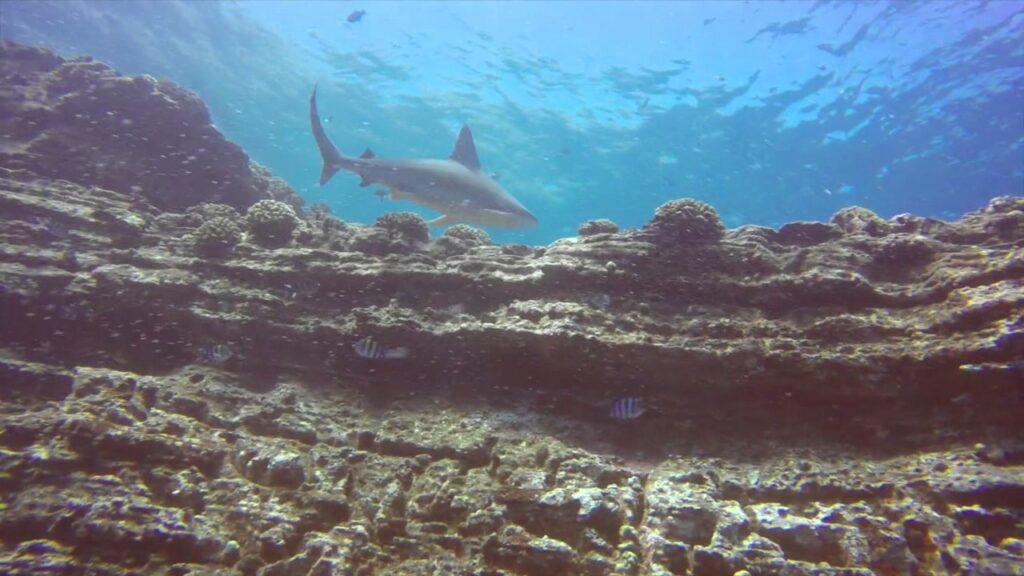 This is the one hundred and sixtieth in a series of reviews of the best dive resort locations around the world.  In this post, the focus is on Kauai, Hawaii. In addition to this series on dive resort locations, the best worldwide liveaboard diving locations and services are reviewed in their own series.  To check them out, or others in this series, click on Liveaboards/Resorts on the menu at the top and choose a title from the list.
Have you been diving in Kauai before?  If so, I'd love to know about your experience.  What dive shop or liveaboard did you use?  Which dive spots are the best and what are the conditions there regarding the visibility, current, water temperature, sealife attractions, etc.?  Please post your response in the comments section at the bottom and we'll all learn something we can use.
Best Scuba Diving Kauai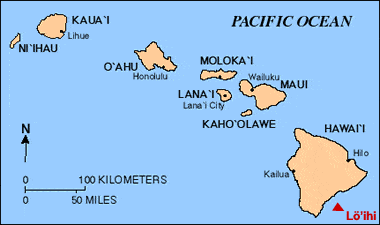 Background – Kaua'i, known as the Garden Island, with more sandy coastline than any other Hawaiian island, has a population of 67,000 and is situated 105 miles (168 kilometers) across the Kaua'i Channel from Oahu.  Originating from volcanic activity 5,000 years ago it is geologically the oldest of the islands.  The highest peak is Mount Kawaikini at 5,243 feet (1,598 meters) and the climate is tropical with one region of the island receiving 460 inches (11.684 meters) of rain per year.  Captain Cook first landed in 1778 but Kaua'i has not been the target of economic exploitation to the extent of the other major islands.  However, today tourists number more than 1.3 million per year with only 3% of the population involved in agriculture.  The natural beauty of Kaua'i has been recognized by its inclusion in 70 Hollywood movies.  The biggest city is Kapa'a in the east with a population of 10,000.  Number two with half that number is Lihu'e, site of the airport in the southeast.  Other towns are Po'ipu in the south, Princeville in the north, and Waimea in the west.  For more historic, cultural, geographic, and demographic information, please check Wikipedia-Kauai.
Undersea World – The volcanic origin of Kauai has left an intriguing undersea topography of lava ridges, caves, arches, walls, swim-throughs, craters, and pinnacles to explore on dozens of dive sites.  While not as rich in colorful soft corals as some other sites around the world at the same latitude, there is a nice encrusting life of hard corals, and other invertebrates including black coral, sponges, and gorgonians in places.  The other marine life is quite diverse with 25% of it endemic along the Hawaiian chain with 680 species of fish, 420 of which are inshore.  Megafauna highlights to look for are green turtles, dolphins, monk seals, humpback whales, groupers, whitetip and grey reef sharks, silky sharks, sandbar sharks, brown stingrays, and pelagics like tuna.  Among the macro marine life and reef tropicals there are helmet conchs, lobsters, crabs, octopus, moray eels, longfin anthias, damselfish, blue-striped grunts, wrasses, parrotfish, triggerfish, surgeonfish, snappers, and bandit angelfish.  On trips to Niihau Island to the west hammerheads and mantas are often sighted.
Seasons and Conditions – Diving is possible on Kaua'i all year.
The average daily air temperature highs range from 78°F (26°C) in January through March to 85°F (29°C) in August and September.
Water temperature runs from 70-77°F (21-25°C).  3-5mm wetsuits are suitable when the water is at its warmest.  Some divers will opt for 7mm of insulation when it is at its coolest
There is substantial rain all year with a drier season from May through September.
Current can be strong with more on the east and west side sites.  The north and south side sites also have the possibility of moderate to strong currents at times.  Outside the surf zone surface chop is generally moderate with more likely in the winter months.
Visibility is typically excellent in the 50-70 foot (15-21 meter) range sometimes extending to 100 feet (30 meters).
There are conditions suitable for all levels of diver.  At least 26 dive shops operate on Kaua'i providing a full range of diving coursework, equipment rental, guiding and boat cruises.
There is not a liveaboard that directly cruises the Kaua'i dive sites, but there is one that dives on the big island.  Here is my review and a link to that liveaboard: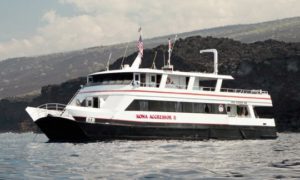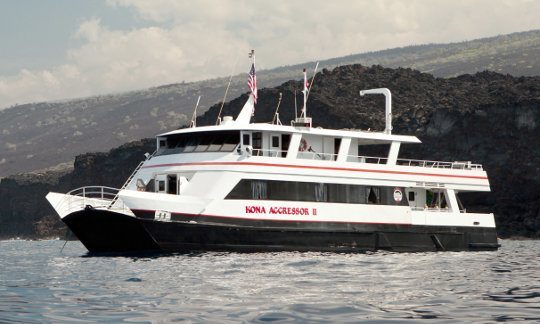 Kona Aggressor II, Hawaii Liveaboard, Check the Price
There is great diving on all the major islands of Hawaii.  Here are my reviews.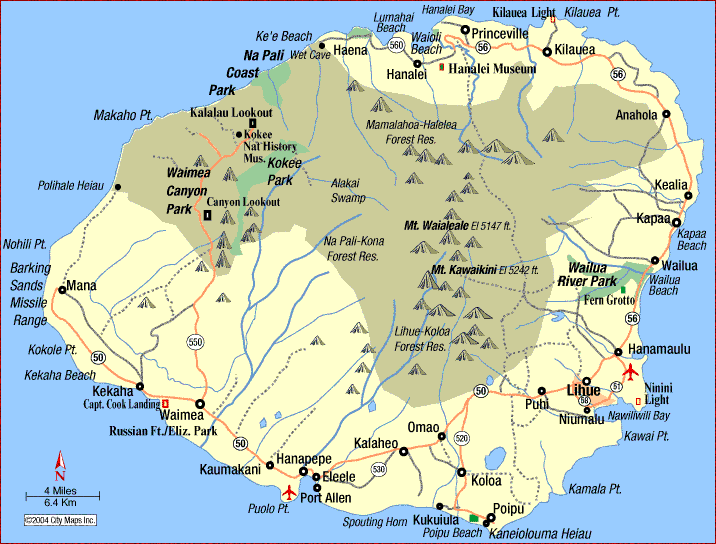 Selected Kauai Dive Sites
Koloa Landing: 5-45 feet (2-14 meters), on the south side in Horseshoe Bay, shore entry, rich fish life includes, large schools of fish, butterflyfish, reef triggerfish, snappers, damselfish, surgeonfish, trumpetfish, cornetfish, moray eels, and turtles, suitable for all levels of diver and snorkeling
Sheraton Caverns:  20-65 feet (6-20 meters), on the south side 400 yards offshore from the Sheraton Kauai, best to have a guide to find it,  intriguing terrain of lava tubes, archways, and caverns with black coral and Kauai's most abundant marine life, look for lobsters, octopus, frogfish, pufferfish, parrotfish, Picasso's triggerfish, butterflyfish, angelfish, wrasses, eels, surgeonfish, blue-striped grunts, reef sharks, and numerous turtles, suitable for all levels of diver
Brennecke's Ledge: 65-84 feet (20-26 meters), on the east end of the south side, boat access, a large shelf at 75 feet (23 meters) and two big caves with macro life and reef tropicals including nudibranchs, arrow, hermit, and spider crabs, lobster, conchs, morays, boxfish, blue-lined grunts, triggerfish, butterflyfish, and squirrelfish, there is a possibility of whitetip reef sharks, and green turtles, deep along the drop-off is black coral, alongside there are often knife jaws, tuna, and dolphins, from December to May there is a possibility of humpback whales, strong current is possible, suitable for experienced level divers
Tunnels: 5-60 feet (2-18 meters), on the north side, shore entry, multiple tunnels up to 75 feet (23 meters) in length, 26 caverns have been counted, highlights are nudibranchs, triggerfish, unicornfish, surgeonfish, butterflyfish, bluefin jacks, green turtles, monk seals, whitetip reef sharks, and black coral, strong current is possible, best done at low tide with a calm surface, suitable for experienced level divers
General Store:  60-90 feet (18-27 meters), on the south side, named for the large selection of marine life, the site is the location of the Pele wreck which sank in the late 1800s, the remains include boilers, the deck, anchors, and some machinery, nearby is a horseshoe-shaped inlet with lava tubes and small caverns, marine life highlights are morays, lobsters, helmet conchs, crabs, octopus, pelagics, and dolphins, strong current is possible but there are places sheltered from it, suitable for experienced level divers
Ni'ihau Dive Sites: 17-mile (27-kilometer) boat ride to 11 or more sites around the island, rich variety of undersea terrain with pinnacles, caverns, canyons, and drop-offs, marine life highlights include nudibranchs, flatworms, red-striped pipefish, tiger cowries, pennant and pyramid butterflyfish, Hawaiian turkey fish, triggerfish, Moorish idols, anthias, turtles, bluefin jacks, whitetip and grey reef sharks, silky sharks, sandbar sharks, hammerheads, and manta rays, for starters, strong current is possible on some sites, there are sites suitable for all levels of diver
Things to Do in Kauai (aside from scuba diving)
This sparsely populated island has unspoiled natural beauty with a relative few creature comforts making this a great destination for a person who loves the outdoors.  Here is a sample of sights and activities to consider:  Helicopter Tours, Sail the Napali Coast & Whale Watch, Waimea Canyon, Koke'e State Park, Poipu Beach Turtles & Seals, Beach Hop the North & South Shores, Polihale State Park, Maha'ulepu Heritage Trail, Spouting Horn Blowhole, Eat Shave Ice, Eat at Warehouse 3540, Farmers' Market, Wailua Falls, Hanalei, Kilauea Lighthouse, Hanalei Valley Lookout, Island Taco, Da Crack, Kauai Poke Co, Eat Healthy Café, Hanalei food trucks, Bar Acuda, Whaler's General Store, Goodland Harvest Market.
This video is an overview that gives you a nice feel for the natural beauty of Kauai.
Air – Lihue Airport (LIH) serves as the main gateway to Kauai with interisland flights and non-stop links to the west coast of the US and Canada.
Boat – Cruise ships use the deepwater port in Nawiliwili for trips between the islands that start and end in Honolulu.
Taxi – Two taxi companies, Pono Taxi, and Taxi Hanalei are authorized for pre-arranged airport pickups.  They provide transport to any location on the island and do island tours.
Bus – Kauaʻi Bus makes runs between major population centers but does not go to many rural sights.
Tour companies are in operation that will take you to the major attractions.
Car rental is the best way to conveniently get to where you want to go.  They are available through most major rental agencies at the airport or by shuttle to a nearby location.
Bicycle – Bike paths are not complete all around the island yet, but are open on the entire east side of the island.
For more details related to all of the above transportation options and other tourist information, go to Wikivoyage-Kauai.
Hotels and Diving – In Kauai there are at least 76 lodging options from $114-639 per night and two dozen or more dive shops in operation.  They offer a full range of services that include equipment rental, diving certification classes, dive guides, and boat tours.  The website linked below has the details for the lodging and can arrange a booking.  You can easily find the location on the map provided on their site.  The rates are guaranteed to be the lowest and it is free to cancel or change dates.
Photography in Kauai
With the colorful coral reefs, a variety of fish, sharks, whales, seals, and beautiful onshore targets, as well, there are many excellent photo opportunities.  For information and reviews of dive cameras, click here:
A cushion for emergencies provides peace of mind when on vacation.  I recommend this diving insurance as they have worldwide coverage and give scuba divers a quality insurance and medical assistance service.
Feedback and Comments
I hope you found this post on Kauai scuba diving interesting and useful. If you have any questions or ideas, please feel free to share them in the comments section.  I'd love to know of any experience you have.  If there is no comments section directly below, click here:  >>comments<<