We may earn money or products from the companies mentioned in this post.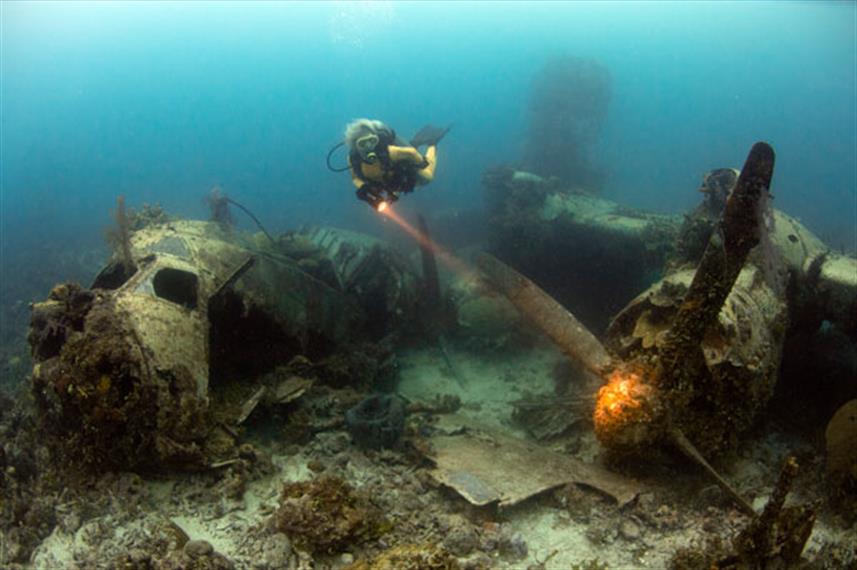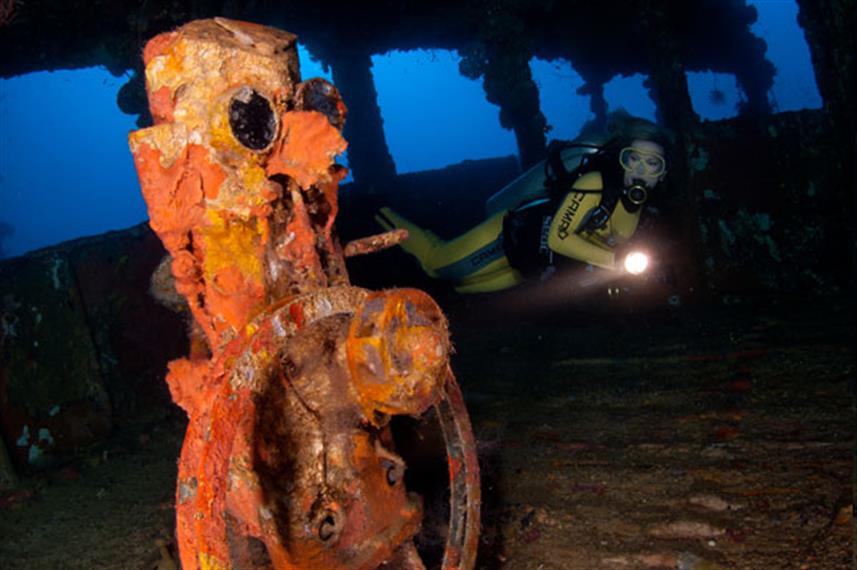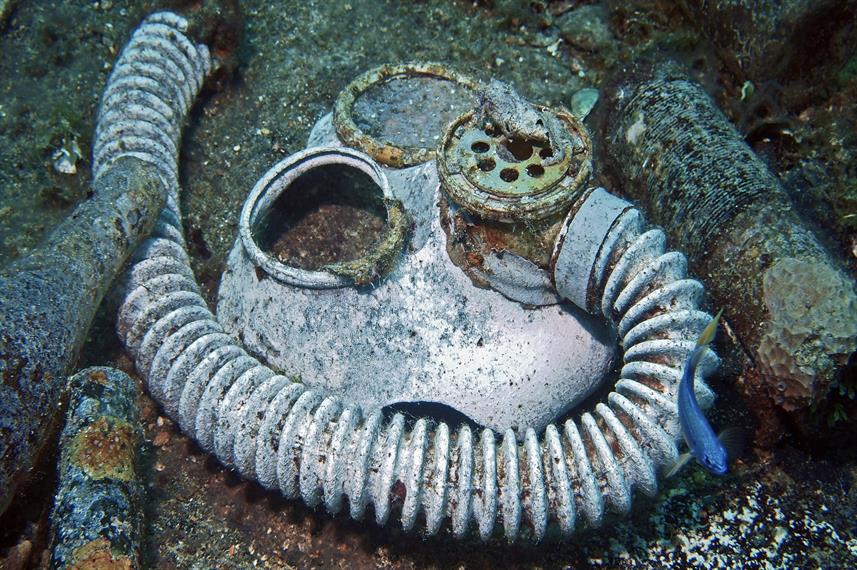 This is the twenty-third in a series that introduces and describes the various dive services and sites for worldwide liveaboard dive safaris.  The focus in this one is on Truk Lagoon and Bikini Atoll liveaboards.
In addition to this series on liveaboards, the best worldwide dive resort locations and services are reviewed in their own series.  To check them out, or other liveaboards, click on Liveaboards/Resorts on the menu at the top and choose a title.
Have you ever been diving in Truk or Bikini Atoll before?  If so, I'd love to know about your experience.  What dive shop or liveaboard did you use?  Which dive spots are the best and what are the conditions there regarding the visibility, current, water temperature, sealife attractions, etc.?  Please post your response in the comments section at the bottom and we'll all learn something we can use.
Truk Lagoon Diving
Truk, or Chuuk, which is now the commonly used name, is a Micronesian atoll with a protected reef around it that encloses a large lagoon of 2,130 square kilometers (820 square miles).  It made its way onto the world stage in World War II when the Japanese put their largest offshore military base there, making it a huge target for the allied forces.  On February 17, 1944, Task Force 58 in Operation Hailstone attacked and destroyed hundreds of aircraft on the ground and in the air and sunk all the ships in the lagoon, itself.
More than 200 aircraft and 60 ships were laid to rest there creating more than 50 viable dive sites.  60+ years of coral growth and reef development has created a rich and fascinating environment for diving beyond the wrecks themselves.  There is great biodiversity with 266 species of fish, lots of encrusting corals and sponges, a rich macro life sheltering in and on the wreck, and many more spectacular residents and visitors like reef sharks, turtles, and rays.  From December to April whale sharks and mantas find conditions to their liking and are frequently sighted.
Many of the "Ghost Fleet" at rest in the lagoon are cargo ships, but there are offensive naval vessels, as well, with lots of artifacts giving glimpses of everyday life, and tanks, deck guns, other weapons, and ammo, some of which is unstable, gas masks and even some human remains, mostly deep inside.
Highlighted Truk Lagoon Wrecks
San Francisco Maru – 385ft/117m cargo vessel
Fujikawa Maru – 433ft/132m cargo vessel
Heian Maru – 509ft/155m cargo vessel
Gosei Maru – 509ft/155m cargo vessel
Aikoku Maru – 498ft/151m cargo vessel
Hoki Maru – 450ft/137m cargo vessel
Shinkoku Maru – 500ft/152m cargo vessel
Rio de Janeiro Maru – 463ft/141m cargo vessel
Kansho Maru – 384ft/116m cargo vessel
Unkai Maru – 305ft/93m cargo vessel
Submarine I-169 – 336ft/102m submarine
Yamagiri Maru – 439ft/133m cargo vessel
Nippo Maru – 353ft/107m cargo vessel
There are some dives for relative beginners, but a lot of the wrecks are deeper and offer penetration opportunities suitable for advanced and technical diving.
Diving is possible year-round with the best conditions from October to April.  From June to October, it frequently rains.  In April and from July through November higher winds can make the surface choppy, but this won't affect the diving much within the protected lagoon.
Visibility is usually pretty good in the sheltered lagoon, but is variable and can be as bad as 25 feet (8 meters).  The weather is tropically warm with water temperatures ranging from 81 to 86°F (27 to 30°C).  A 3mm wetsuit is recommended.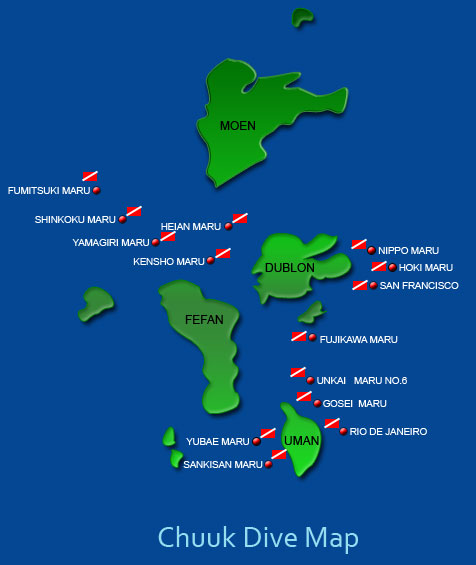 Bikini Atoll Diving
When World War II ended, the cold war and nuclear race with the Soviet Union began.  To test their new atomic bombs the United States set up a testing area in the South Pacific, known as the Pacific Proving Grounds.  A fleet of obsolete ships was brought to Bikini Atoll of the very sparsely populated Marshall Islands.  They wanted to see what the effect of the bombs would be on the ships.  From 1946 to 1958 at least 23 atomic bombs were tested resulting in a fleet of shipwrecks including battleships, cruisers, and an aircraft carrier.  After all this time the reef has had a chance to recover and develop and today there is a pretty rich coral reef supporting a lot of fish and invertebrates.  It is such a special collection of historic ships in such a unique setting that the site was declared a UNESCO World Heritage site for the Marshall Islands in 2010.
Highlighted Bikini Atoll Shipwrecks
USS Anderson – Sims class destroyer
USS Apogon – Balao class submarine
USS Arkansas – Wyoming class battleship
USS Carlisle – Gillam class attack transport
USS Lamson – Mahan class destroyer
Nagato – Japanese Nagato class battleship
USS Pilotfish – Balao class submarine
Sakawa – Japanese Agano class cruiser
USS Saratoga – Lexington class aircraft carrier
Prinz Eugen – German Admiral Hipper class heavy cruiser (damaged at Bikini and towed to Kwajalein where it sank)
Many of the wrecks are deeper than 40 meters (130 feet) and offer significant penetration opportunities.  The Truk Master recommends its itinerary for technical divers with previous wreck experience.
It is warm year-round in the northern Marshall Islands with daily average highs for every month of the year at 30°C (86°F).  The water is also pretty steadily warm at 28-29°C (82-84°F).  The rainy season is from August to October.  It typically isn't severe or torrential in nature. Typhoons are possible from April to December with the most likely time from August through November.  Typhoon influence is also quite mild as the storms are in the early stages in this part of the Pacific and high winds aren't generated until moving much closer to major landfall toward the northwest.  The Truk Master, which sails to Bikini Atoll, goes there from May through July and in October missing most of the rain and typhoon seasons.  Most of the wrecks are relatively sheltered inside the atoll perimeter making visibility pretty good.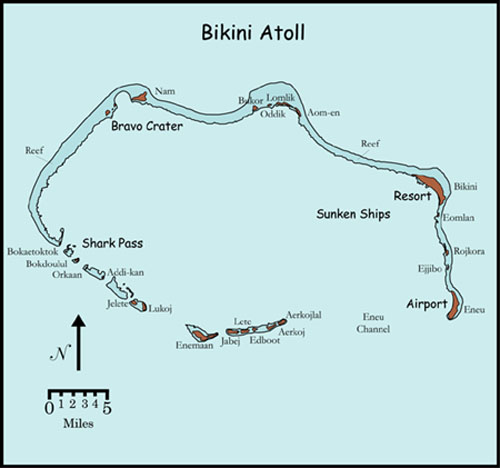 Truk Lagoon and Bikini Atoll Liveaboard Dive Boats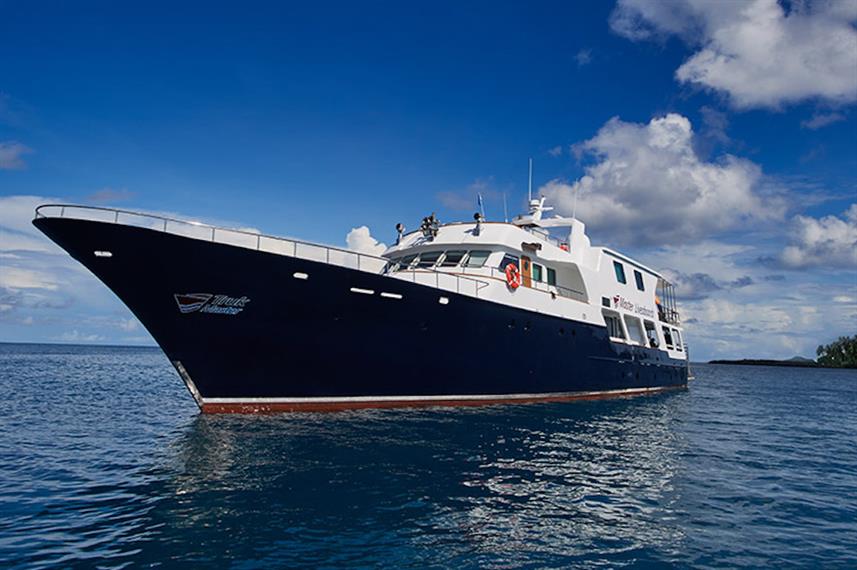 8 and 11-day itineraries to Truk Lagoon from November to April
12 and 15-day itineraries to Bikini Atoll from May to July and October
Laundry service, daily housekeeping
Aircon cabins, air-conditioned saloon, en-suite bathrooms
TV in cabins
Library
Leisure deck and sun deck
Indoor saloon
Audio and video entertainment
Photography station, camera room with table and charging point
Separate rinse for u/w camera
Charging stations
English speaking crew
Western and local food
Outdoor dining
Warm water showers
Shaded diving deck
Nitrox available and rebreather support
2 tenders for diving
Emergency rafts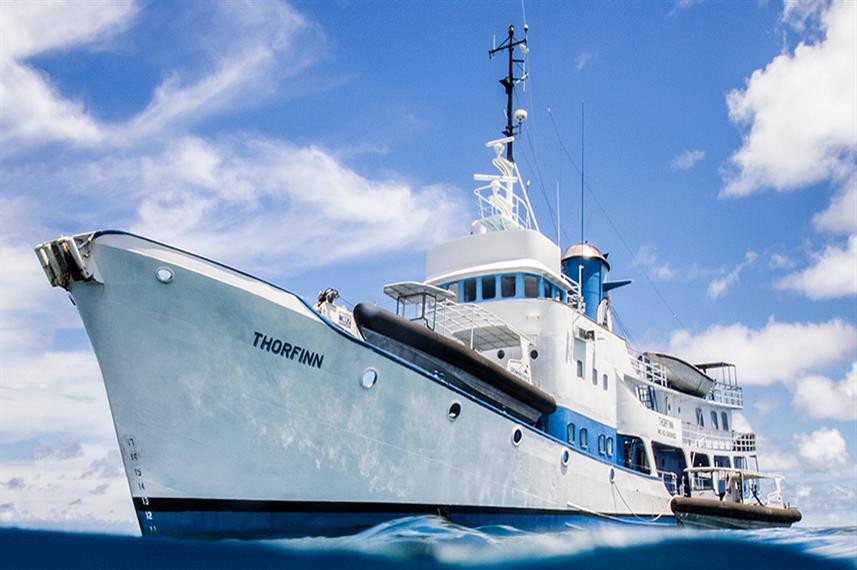 8-day itineraries to Truk Lagoon year-round
Laundry service, daily housekeeping
Audio and video entertainment
Library
Free internet
TV in cabins
Air-conditioned saloon, aircon cabins, en-suite bathrooms
Leisure deck, sun deck
Indoor saloon
Warm water showers
Hot tub
Western and local foods
Outdoor dining
Photography station, separate rinse for u/w camera
Camera room with table and charging point
Charging stations
English speaking crew
Snorkeler friendly
Rinse hosts
Shaded diving deck
Nitrox available, tech diving, rebreather support, sidemount diving
Tenders for diving
Emergency rafts
Truk Master
SS Thorfinn

Length

37 m
58 m
Guests

16
20
Equipment

$175/7 nights
$225/10 nights
not including computer
$40/day
Nitrox

$100/7 nights
$150/10 nights
$12/fill
Snorkeling
Unreported
Yes
Dive Courses On Board
Not Reported
Not Reported
Single Supplement
+100%
+65%
Price/Day

$295
$273
Truk Lagoon
yes
yes
Bikini Atoll

yes
no
Truk Lagoon and Bikini Atoll Photos
With the historic world-class shipwrecks, macro life, beautiful, diverse coral reef and lots of fish, there are many excellent photo opportunities.  For information and reviews of diving cameras, click here:
A cushion for emergencies provides peace of mind when on vacation.  I recommend this diving insurance as they have worldwide coverage and provide scuba divers a quality insurance and medical assistance service.
Feedback and Comments
I hope you found this post on Truk and Bikini Atoll scuba diving interesting and useful. If you have any questions or ideas, please feel free to share them in the comments section.  I'd love to know of any experience you have diving there.  If there is no comments section directly below, click here:  >>comments<<